WEBINAR:
HOSPITALITY
DESIGN STRATEGIES FOR RESILIENCE & GROWTH
The latest Gensler Design Forecast emphasizes the importance of reconnection in a post-COVID world. The hospitality industry has been among the hardest hit sectors during the pandemic due to the global slowdown in business and leisure travel. The industry now has an opportunity to reinvent itself and rethink the guest experience by reconnecting people with place through human-centric, resilient designs that are responsive to future needs.
In this webinar, Gensler's Global Hospitality Leaders Tom Ito and Ana Ardon, with Hospitality Resilience Leader Trevor To, discuss how the hospitality industry is reinventing itself through resilient, human-centric designs that bring people back together for new curated experiences.
A panel discussion follows, led by regional Hospitality Leaders Siobhan Barry, Hogan Chun, and Daniel Craner, with Aviation Leader Ty Osbaugh and Lifestyle Brand Creative Director Denise Korn.
From hotels and resorts, to spas and fitness centers, to restaurants, bars, entertainment, and gaming venues, download Gensler's Design Forecast 2021 to uncover fresh trends and strategies for reinventing hospitality environments for a reimagined guest experience.
Explore Design Strategies for a Post‑COVID World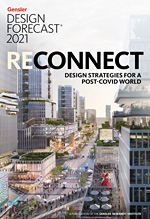 GENSLER RESEARCH INSTITUTE
DESIGN STRATEGIES FOR A POST-COVID WORLD
Download Gensler Design Forecast 2021 (PDF)