Our incredible global team of 6,000+ people is shaping the future of cities every day. It starts with our vision: to Create a Better World Through the Power of Design. This vision comes to life across our expertise in 24 practice areas, our client relationships, our network of global and local leaders, and our diversity of talent.
At Gensler, we are one community. Our community is focused on improving the human experience, guided by a vision that's committed to making a better world and realized through the positive changes we make in people's lives. When we move forward together, that impact is real.
DOWNLOAD OUR ANNUAL REPORT (PDF)
Every day, we see incredible projects and the imaginative design experiences that the talented individuals at Gensler are creating for people living, working, and thriving in cities all over the world. Cities are the sum of their parts, and as designers of airports, hotels, schools, offices, health and wellness centers, sports venues, entertainment destinations, and everything in between, we are uniquely poised to integrate our ideas with our expertise to connect cities and bring them to life for people. That's what differentiates our firm.


Our people and our culture allow us to shape the future
Led by our
Guiding Principles
, we are one global community with a culture that has never been stronger and a purpose that has never been clearer. Now more than ever, we have the opportunity to reimagine the future of cities and create an equitable future for everyone. Guided by our
5 Strategies to Fight Racism
, we are committed to creating places that strengthen neighborhood ties, improve local economies, enhance health and well-being, and make everyone feel safe and welcomed.



Through a combination of research grants and proprietary, longitudinal research studies, the Gensler Research Institute—a network of researchers exploring the intersection of design, business, and the human experience—seeks insights that will help solve the world's most pressing challenges, unlocking new solutions and strategies that will define the future of design.


Gensler's model for Community Impact focuses our efforts and energy toward the urban issues where we can have the most influence. Through our work with the next generation of students, designing for health and wellness, supporting and creating solutions for housing and homelessness, and preserving the environment, we're shaping the future of cities.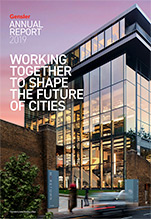 2019
ANNUAL REPORT
WORKING TOGETHER TO SHAPE THE
FUTURE OF CITIES
Our 2019 Annual Report captures the essence of our One Community approach, which is about the global reach and diversity of our firm. With our global scale, breadth of expertise, and unwavering focus on the human experience, we are uniquely positioned to help our clients take on the toughest problems facing cities.