10 Key Design Interventions for a Healthier, Happier, and More Productive Workplace
By Kirsten Ritchie
Health and wellness has quietly become a consequential issue within the business community. Healthy, happier people are more productive, more likely to collaborate, and more likely to innovate in ways that benefit the bottom line. According to Gallup, highly engaged, satisfied employees are 21% more productive and report 37% fewer sick days. So how can a company ensure its workforce is as healthy and happy as possible?
Here are 10 design interventions that can pay significant dividends: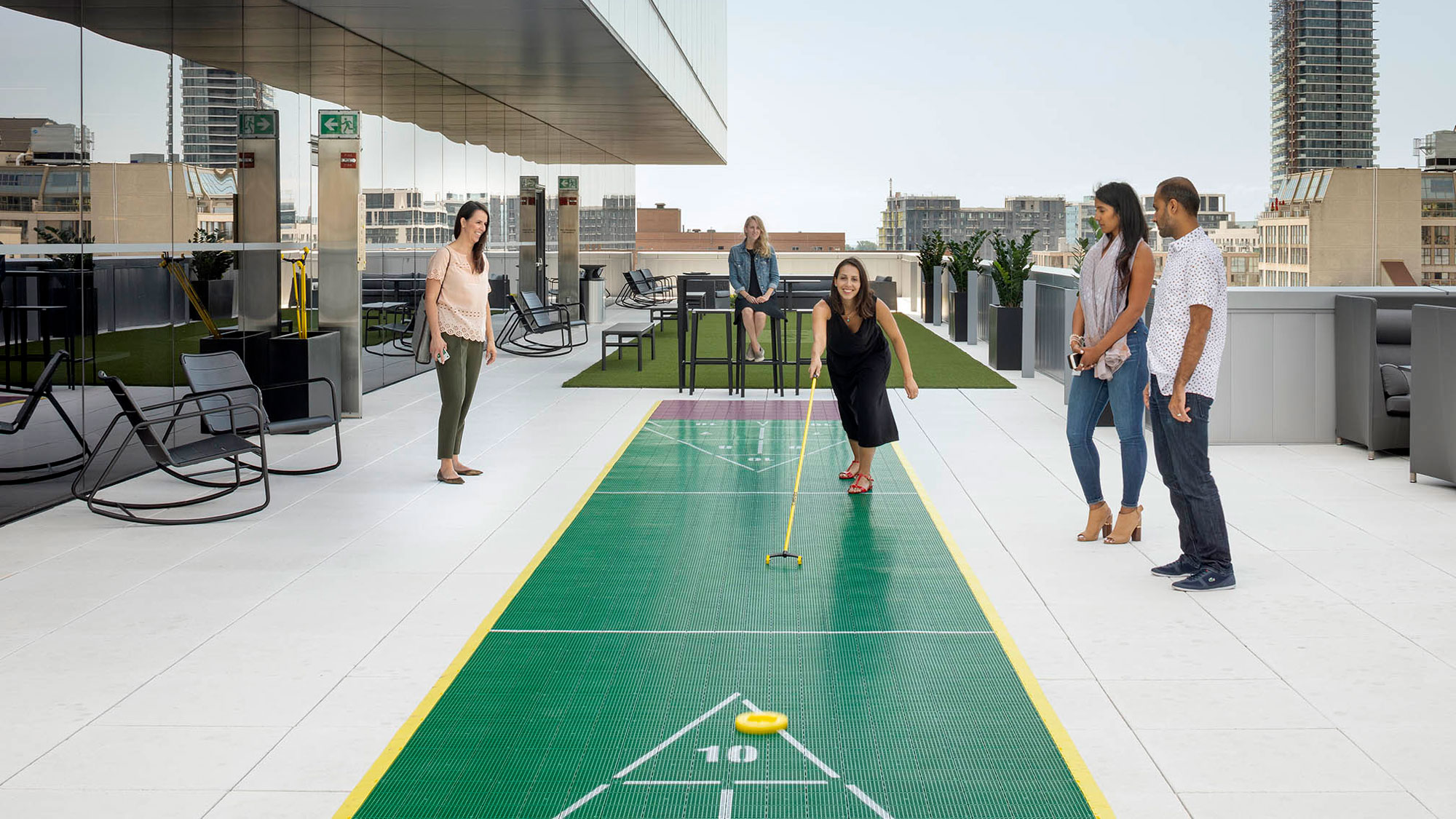 1. Create an Active Workplace
Long periods of sitting cultivate physical and mental lethargy, not to mention chronic health conditions such as cardiovascular disease and diabetes. Height adjustable workstations can help people be more productive, focus better, and improve overall health, according to a study by the Center for Active Design, Perkins+Will, and Steelcase. Activity Based Working (ABW) design — with a variety of workspaces designed for different work tasks — can minimize health risks from prolonged sitting. Indoor and outdoor walking paths, fitness areas, centralized stairs, and other design solutions to get people moving can also pay significant dividends.
2. Provide Easy Access to Water and Healthy Snacks
Combat weariness by ensuring access to fresh, filtered water. According to research from the Health Enhancement Research Organization (HERO), Brigham Young University, and the Center for Health Research at Healthways, employees who ate healthful meals and exercised on a regular basis had better job performance and lower absenteeism. Those who eat healthy are 25% more likely to have higher job performance, the study found. Keep vending machines and refrigerators stocked with natural, healthy foods, which leave people feeling alert and energetic.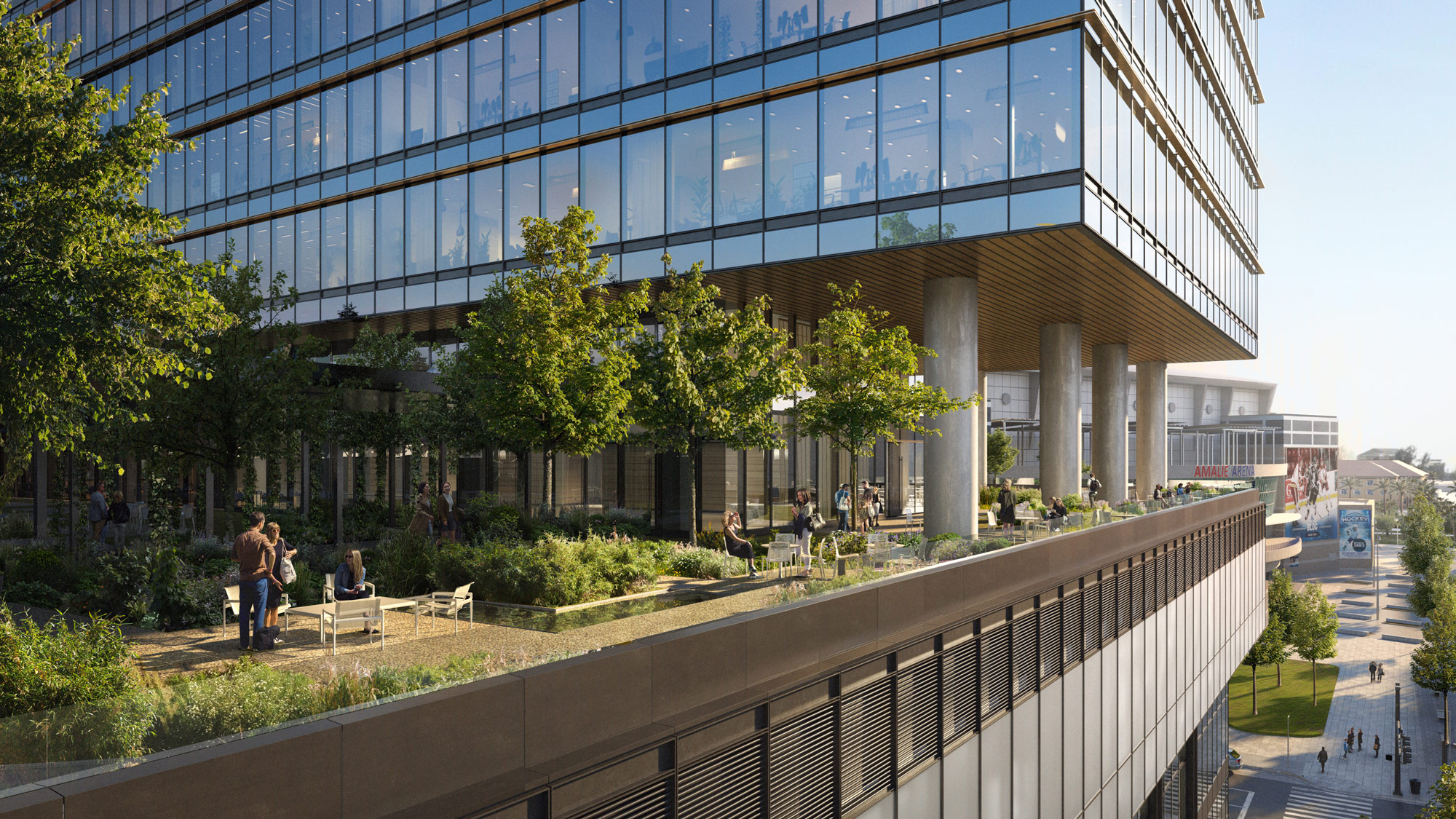 3. Make Sure There Is Good Indoor Air Quality
Air filled with volatile organic compounds (VOCs) is a leading cause of chronic absenteeism, which can cut into productivity and lower the bottom line. Pursuing LEED design strategies, which require buildings to feature materials with low VOC emission profiles, is a simple and effective solution for reducing the presence of VOCs. A 2009 Michigan State University study found that LEED buildings, which filter and circulate air more effectively, reduced absenteeism by 50%. According to the study, workers in LEED buildings were less likely to be affected by respiratory illnesses and reported fewer instances of depression and stress.
High CO2 levels are another cause of employee fatigue. Enclosed workspaces such as conference rooms often lack proper ventilation and can expose workers to higher than normal levels of carbon dioxide, which leads to drowsiness and lethargy. Allow natural air into the workplace, and make sure it is properly ventilated and filtered to minimize VOC and CO2 levels.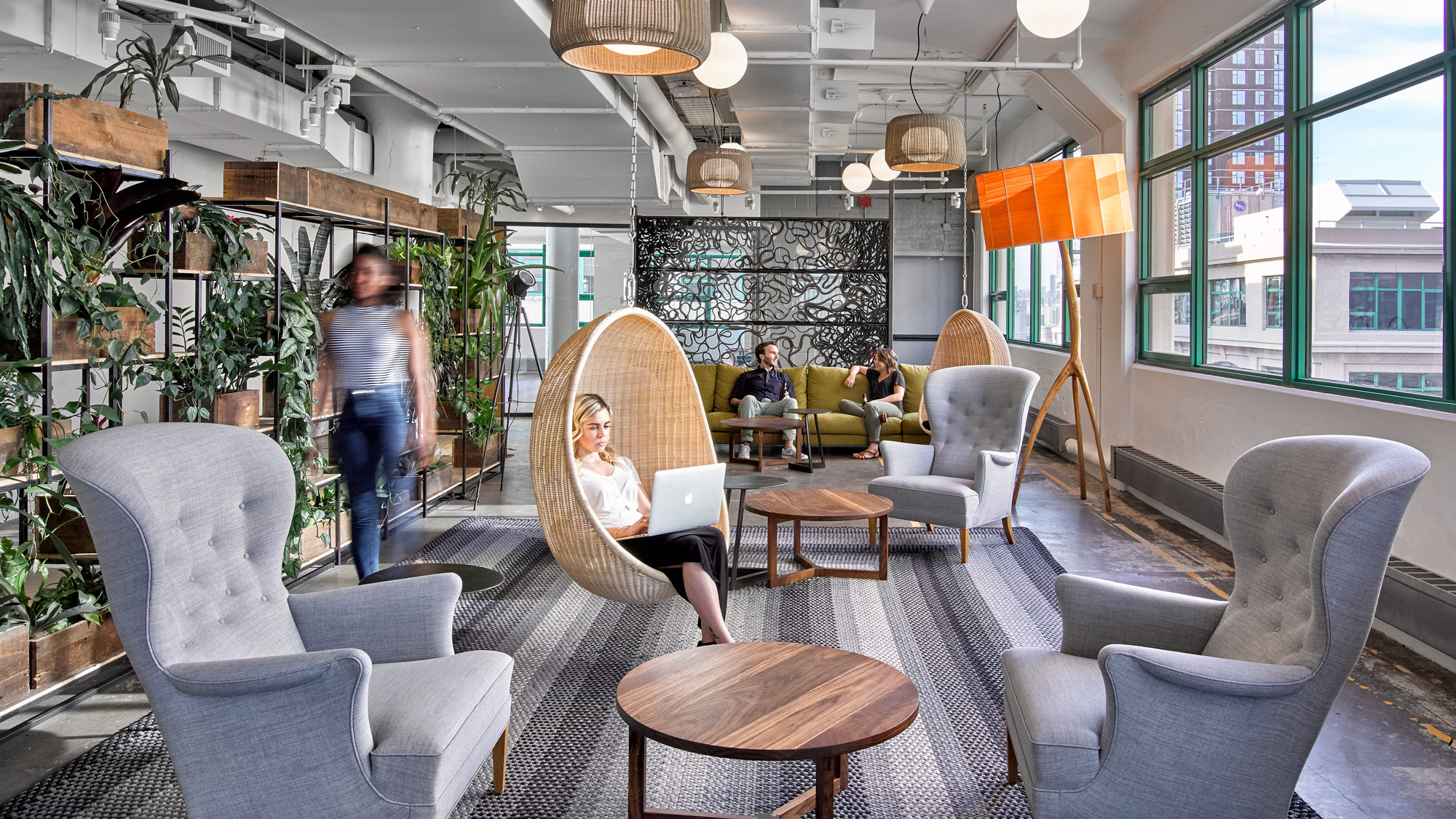 4. Use Biophilic Design Strategies
Increasingly, workplace design is inspired by biophilia — the notion that humans are bonded instinctively to nature. Filling workspaces with plants, natural light, fresh air, and other natural components relaxes employees, reduces stress, and fosters productivity. Researchers from the Universities of Utah and Kansas found that exposure to nature led to a 50% increase in creative problem-solving. All these benefits add up: biophilic elements in the workplace can reduce absenteeism and increase worker productivity, with economic benefits ranging from $1,000 per employee to $3.6 million companywide, according to Terrapin Bright Green's report, "The Economics of Biophilia."
5. Design a Sensory Environment
Equipping a workspace with appropriate levels of light, soothing textures and colors, and the proper level of background noise helps keep employees alert. Considering the sensory elements within an office is critical, since lack of visual stimulation dulls people's senses and contributes to a loss of focus. Vary color schemes and avoid neutral corridors to keep things fresh.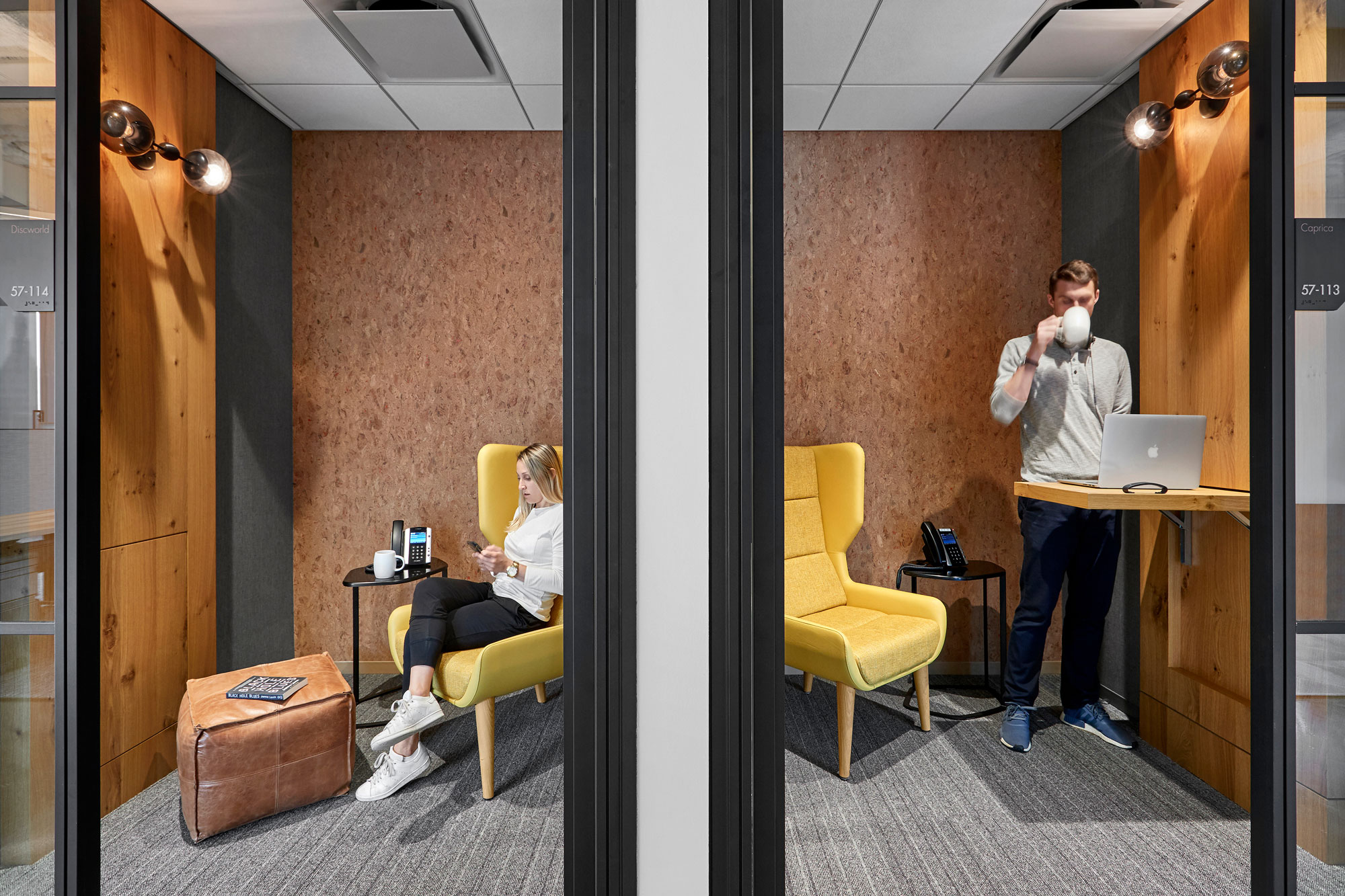 6. Pay Attention to Acoustics
Acoustics play a critical role in contributing to workplace well-being. Researchers Robert Karasek and Töres Theorell discovered that constant, low-frequency background noise disrupts learning, engenders fatigue, and increases stress. Good workplace acoustics mitigate distractions by introducing elements of privacy, shielding people from stress-inducing disturbances. Focus rooms and quiet zones are critical for quiet focus work.
7. Plan for Abundant Daylight
Daylight helps regulate our circadian rhythms and the basic processes our bodies need to function. If an office disrupts this cycle by providing uniform lighting levels, users will begin to feel stressed and disoriented. To prevent this, workspaces should provide access to natural daylight and augment daylight with automated controls and a variety of lighting levels and colors. When natural light isn't available, well-designed light sources can be a substitute.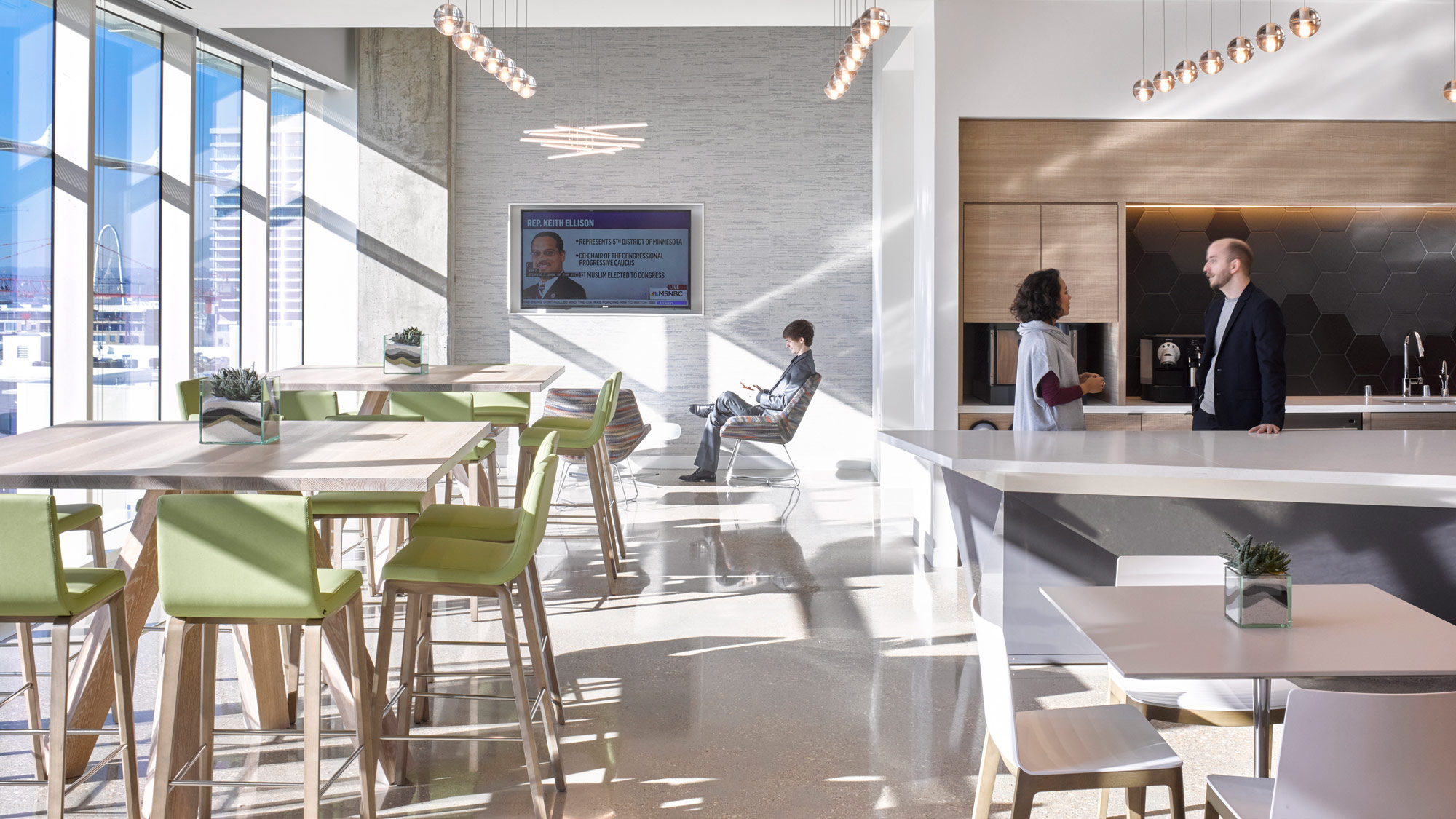 8. Don't Forget About Ergonomics
Breaking up the sedentary work style requires more than just stand-up desks and walking plans. According to the Occupational Safety and Health Administration, 86% of people experience some discomfort from office furniture. Providing comfortable ergonomic furniture and incorporating flexible workstations can prevent injury and keep employees healthy and engaged.
9. Allow People to Control Their Work Environment
Personal control of storage, lighting levels, and temperature allows employees to optimize their comfort levels. According to research from Purdue University and JLL, having individual control of your workspace improves workplace productivity and engagement. And having a variety of settings, from desks to private focus rooms to larger meeting rooms, allows people to choose when and where to work. According to Gensler's 2019 U.S. Workplace Survey, 79% of people in workplaces with a variety of settings, and 71% of people with choice in where to work, report a great workplace experience.
10. Use Branding and Signage as Reminders
Putting healthy design elements into an office is step one. Environmental branding and signage can communicate the location and benefits of healthy design elements in the workplace. With the right design and positive reinforcement, you can nudge people to healthier behaviors.