Activating a Former Gas Station as a Community-Forward Urban Retreat
December 01, 2022 | By Sarah Buscarello, Nick Seglie, Michael Maugel, Jon Gambrill, and Jeff Hall
Denver's Rosedale neighborhood has one small, two-block area for "main street"-style retail and restaurants. So, when the Denver Beer Company approached us to design a new restaurant, ice creamery, and beer tasting room on South Downing Street, the concept was to create an inclusive gathering space that could be used by neighbors, residents, and visitors of all ages. An "urban retreat" that mimics that natural feeling of the mountains while celebrating the brand's desire to sit and share adventure stories over a beer with friends.
Design for Integration
The site near Harvard Gulch Park contained two buildings that were remnants of it's former life as a gas station — still visible in the large canopy — and a previous restaurant conversion. By removing the unnecessary parking lots, reusing structures, and prioritizing the landscape, we were able to bring activity closer to the street frontage with cozy seating, and outdoor areas for eating, drinking, and play.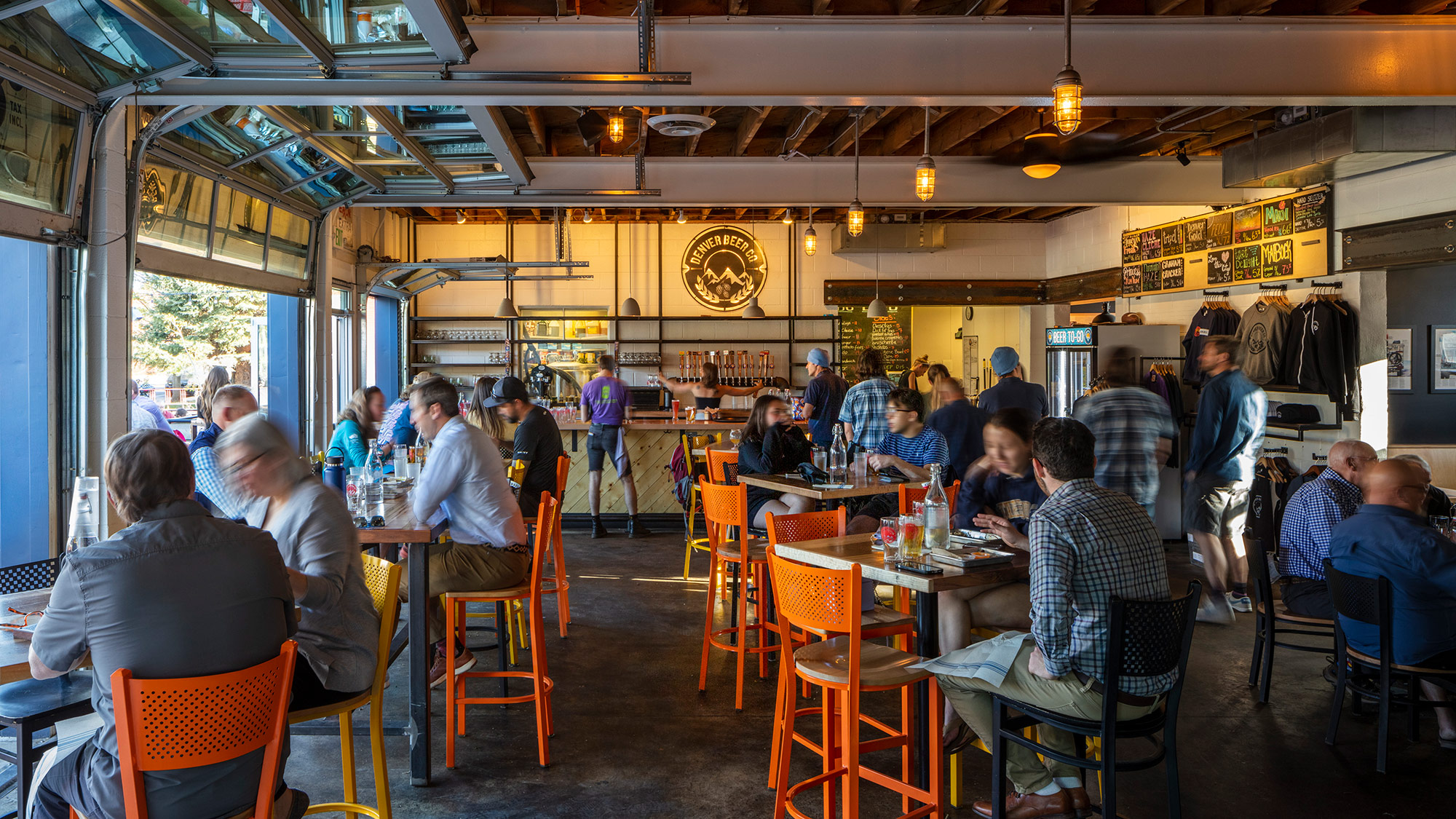 Design for Economy
Early in the design processes we set out goals to achieve. High on the list was not to over-design, and to find value in the existing infrastructure of the site. This idea limited the first cost to only the necessary upgrades. It was also a way of making the building and exterior space feel accessible to people with a range of economic circumstances.
The existing buildings hold less than one-third of the occupants that can enjoy the new, combined restaurant, tasting room, and ice cream shop. The other two-thirds take advantage of the mild Colorado weather — albeit with a few strategies that were added for comfort. Shading devices and misters provide latent cooling on the hottest days, while gas firepits and heaters provide warmth close to occupants on the cooler days. The interior environment can be passively cooled as well, with overhead doors providing ventilation.
Since there was so much seating added, the restrooms needed additional fixtures to meet the demand. A couple creative space-planning solutions allowed a minimal intervention to add accessible fixtures to both restrooms. A small, but important design victory that saved cost and valuable interior space.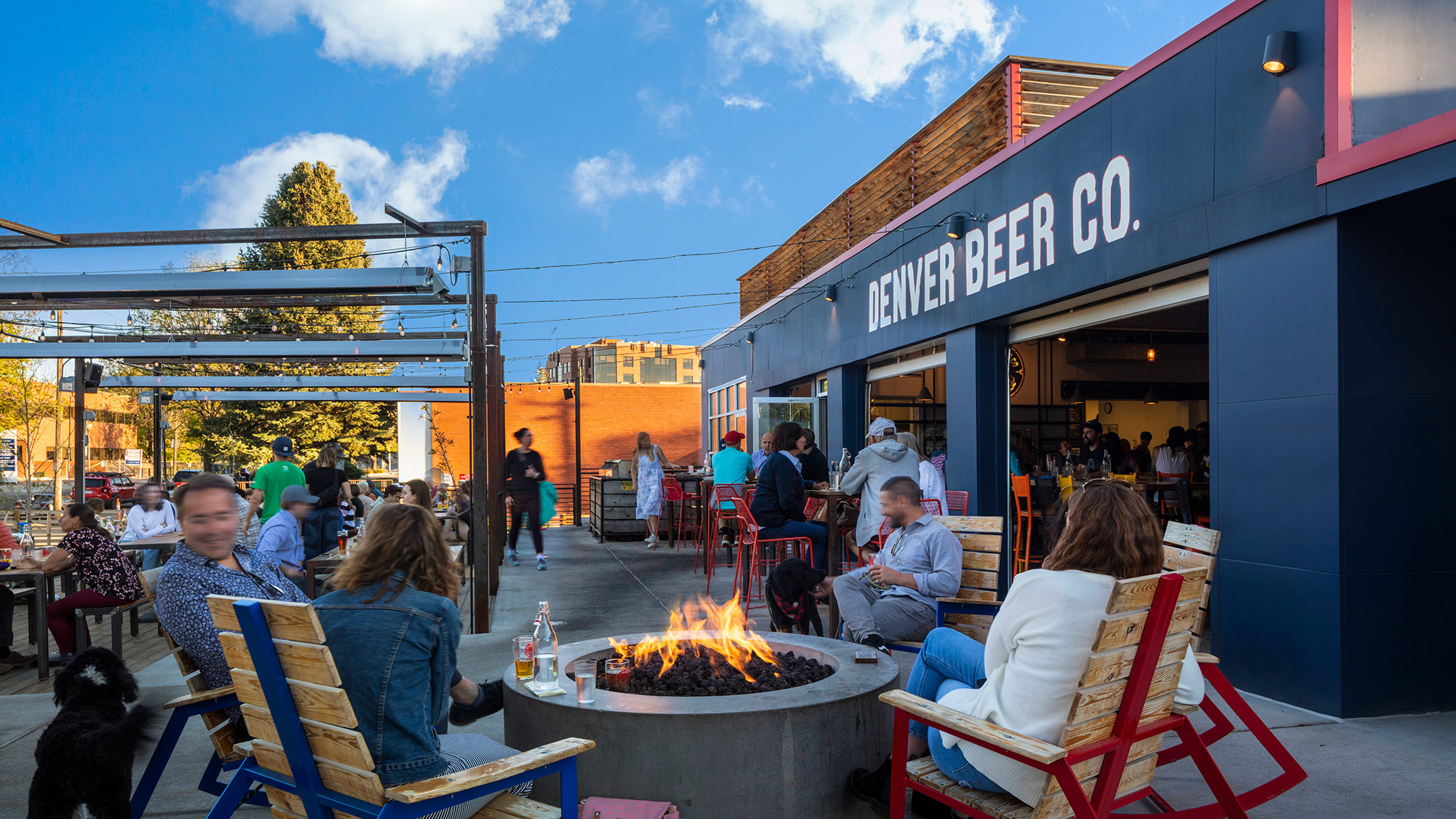 Design for Change
The eating and drinking areas were designed to offer a number of seating, standing, and gathering options — with much consideration for flexible spaces that can be reorganized and reprogrammed for activities and future uses. The furniture is movable to allow for yoga, run clubs, live music, and other events. And branded camp chairs were used to make the space easily modifiable based on the amount of people while emphasizing the camping style of the brand.
Because the project lies within a floodplain, the buildings and surrounding infrastructure have been designed to be reasonably safe from flooding. Because we reduced the non-permeable parking area and replaced it with permeable landscaping, the site will be able to further avoid or mitigate potential flood damage.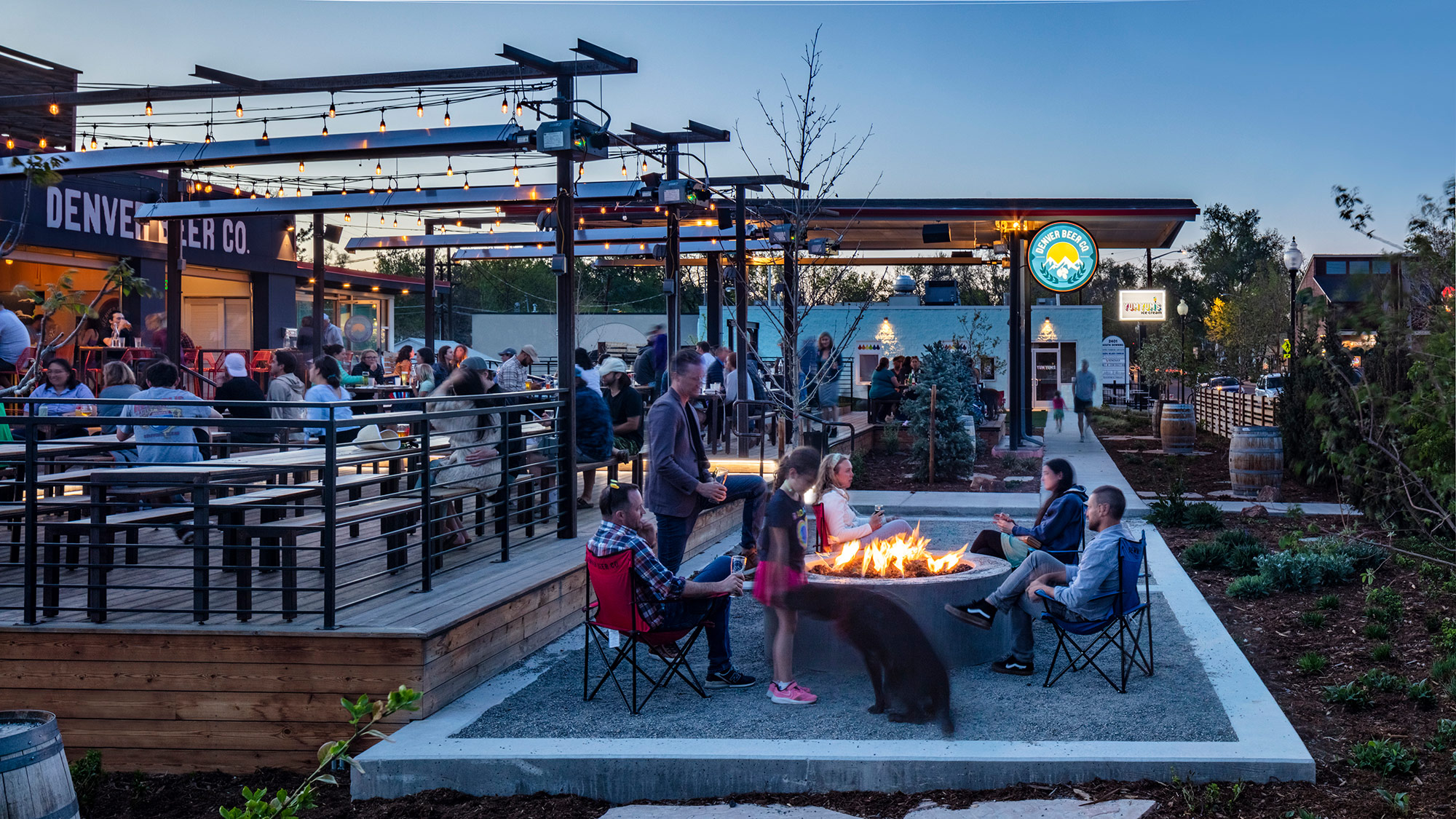 Denver Beer Co. set out to unlock a corner of the neighborhood and give neighbors a place to come together, mingle, and create community. By adapting existing resources and maximizing on space for people, this renovation creates a green, activated, happy space for all adults, kids, and dogs to enjoy our natural urban environment — reinforcing Denver Beer Co.'s commitment to sustainability, while expanding and pushing it into the future.
For media inquiries, email .