High Street Place: From Unused Office Lobby to Vibrant Culinary Destination
November 21, 2022 | By Julie Reker
Editor's Note: this article was originally published in Banker & Tradesman under the headline "Reimagining an Office Lobby as Vibrant Downtown Destination."
For years, the atrium space between the landmarked 160 Federal Street – Boston's first Art Deco skyscraper – and 100 High Street in Boston's Financial District was a forgotten pass-through with scant amenities for building tenants. Originally an actual street, the space was converted into an enclosed atrium with skylights when 100 High was constructed and connected to 160 Federal. Subsequently used as an echo chamber for the occasional personal phone call or a short cut during inclement weather, it remained for many years an outdated albatross shared by the two buildings.
New Ownership and Opportunity
In 2017, Boston-based Rockpoint acquired both 160 Federal Street and 100 High Street in two separate transactions. At the time, the office market in Boston was white-hot, with new office space being developed in neighborhoods across the city and beyond, luring tenants out of the Financial District. In this highly competitive market, Rockpoint was presented with the unique opportunity to reimagine the underutilized atrium interconnecting 160 Federal Street and 100 High Street.
After analyzing the vacant spaces on the ground floor of the buildings, the design team determined that 20,000 square feet could be amalgamated together. With such a significant amount of space available, it was clear that the atrium's amenity-driven solution could provide much more to tenants than the typical lounge or fitness center.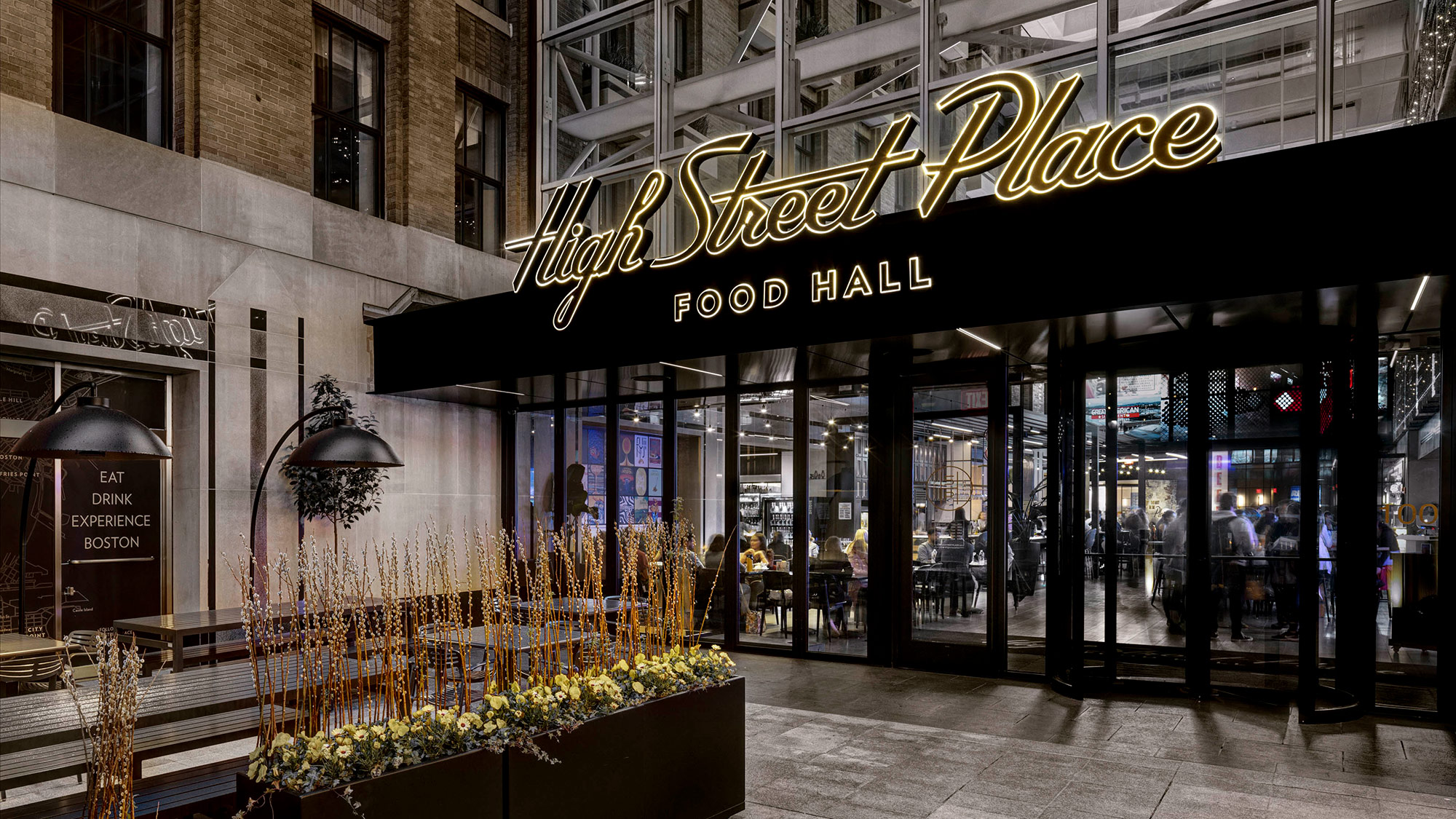 An Amenity for the Building and Beyond
Given the property's close proximity to major transportation hubs, it was poised to draw visitors, tourists and residents of the area, in addition to tenants and surrounding office workers. The goal was to create an amenity that served not only the building tenants but was a destination in and of itself.
Food is a consistent attraction, but a standalone restaurant is singularly focused and the goal was to create a broader attraction. The trend of upscale food halls had found great success in the city. Eataly had come to Boston with long waits to enter, and Boston's Public Market opened to a receptive following. Could another food hall serve as the differentiator for these Class A office buildings in an amenity-driven market?
From the outset, the vision for High Street Place was to create an authentic experience rooted in the region's vibrant culinary scene – high quality foods from local chefs and purveyors that would showcase the best of Boston. The concept is enhanced through the physical transformation of the space. Taking cues from its original function as an urban thoroughfare, with the added inspiration of a Parisian street, the layout simulates an outdoor mercado but with all the comforts of being inside.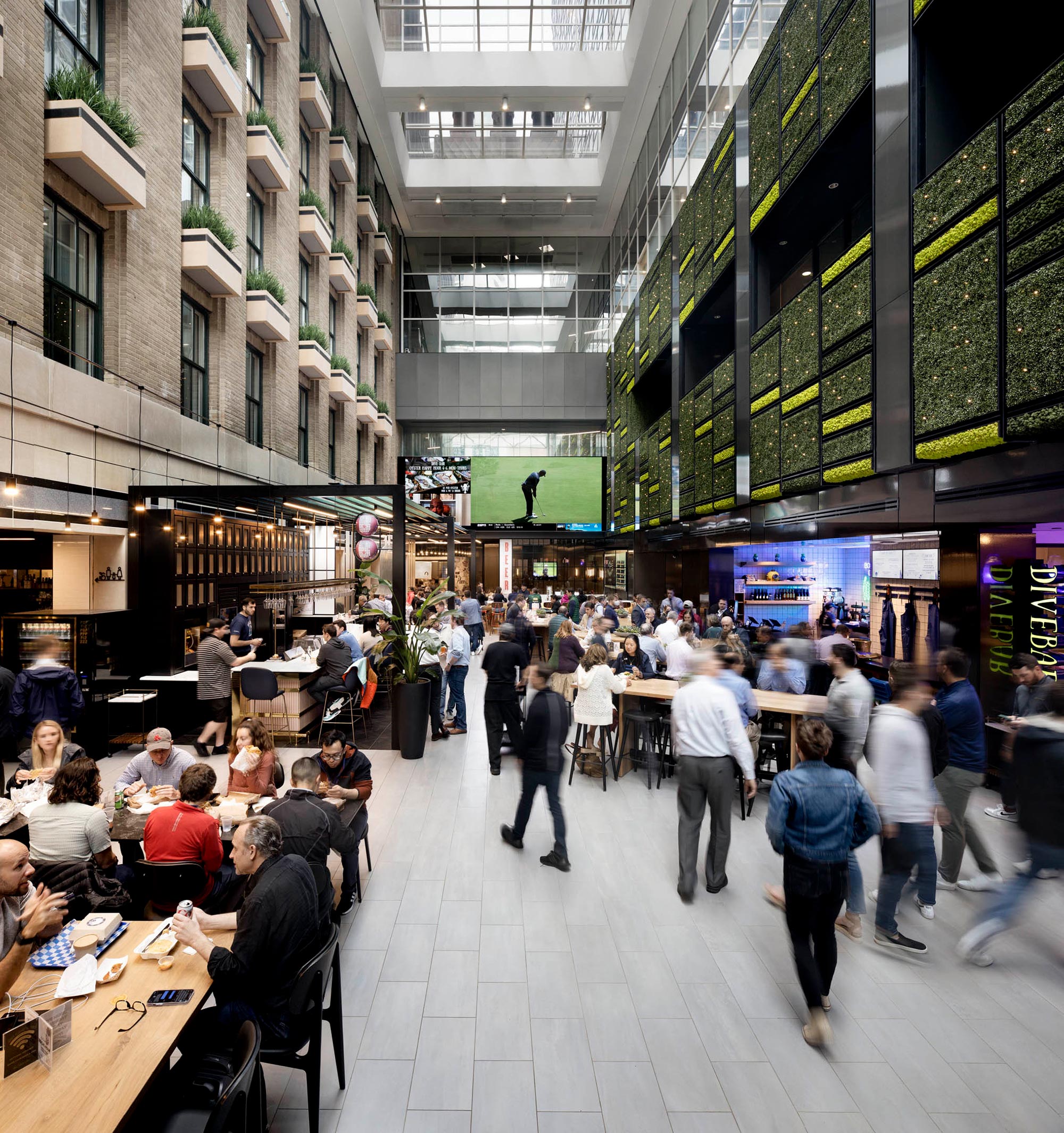 A Disruption of Pandemic Proportions
High Street Place was set to open in March of 2020, but was forced to go on hold as the COVID-19 pandemic set in. When it finally debuted two years later in March 2022, it opened its doors to an entirely different world. In a time of great change and perpetual uncertainty, we could only ask: would people come?
Poised for a Promising Future
On opening day, Boston's newly elected Mayor Michelle Wu heralded the project as a catalyst to bring people back not only to the office, but to downtown Boston. Featuring over 20 local and regional restaurant partners representing the best of Greater Boston's culinary scene, High Street Place has added value on multiple fronts. It enhances the current tenant experience, is attractive to prospective tenants, but has also brought renewed life to its surroundings at a critical moment, providing a central place where people can comfortably be together in person.
Despite lagging office occupancy rates post-pandemic, the success of High Street Place is already clear. It quickly established itself as a popular destination for lunch-goers and tourists, and for meeting up with friends and colleagues. Evenings often feature a DJ or live music, drawing residents and those from outside the city into town and bringing vibrancy and activity to the neighborhood. Through a combination of great food, and robust programming and management, the once forgotten atrium has transformed into a unique destination that keeps people coming back.
For media inquiries, email .