The Hospitality-Driven Workplace
October 20, 2022 | By Samantha Lewis, Shelby Burnett, Kelly Waters
As we try to reestablish the daily rhythms that have been disrupted over the past two plus years, many of us are challenged with transitioning back to the office and adding new routines within our days. For some of us, the transition back to the office, along with the commute and new behaviors that go with it, may be more exhausting than restorative. How can we get these rhythms back, encourage moments of wellness, elevate our service models to craft memorable experiences, and position the office as a restorative and creative place for inspiration and gathering? Further, how can we craft experiences and spaces that heal, introduce next-level service, and integrate helpful technologies that don't overwhelm us? The role of workplace hospitality will be integral to reshaping our future work experiences and helping ease our transition to and from the office.
To better attract, engage, and retain talent in the workplace, it will be critical that organizations take a cue from hospitality, viewing employees as valued guests. Focusing on the employee experience is essential, and this hospitality-driven approach will necessitate a three-part solution that considers service, space, and technology.
Service: Create a better sense of belonging.
With the widespread adoption of hybrid work, employees are no longer bound to a single location to do their jobs. Behind many companies' efforts to get people to return to the office is the desire to create meaningful opportunities for engagement and connection that increase retention, elevate creativity, uplift the individual, establish a better sense of belonging, and invest in their company's culture and brand. With this in mind, organizations can rethink the workplace ecosystem to be a more welcoming, comfortable, and adaptive destination.
We've identified three service strategies that lead with hospitality to create meaningful interactions that will keep your employees coming back to the office:
1. Establish the "first impression." First, let's start with an employee's arrival, the reception, or "first impression." From the airlines letting you know your flight is on time, to delivery services alerting you to the arrival of a package, we are accustomed to receiving communications that help to set our expectations. Why not at the workplace, too? Allow employees to opt into alerts to know who's coming into the office today, what special events might also be happening, and anticipate their needs at the start of the day, like being able to pre-order meals or prioritize time for focus, well-being, and connection. An engaging arrival space, the ability to grab a quick coffee, and the time and space in which to plan their day helps employees decompress from their commute, ease into the workday, and make the most of their time in the office.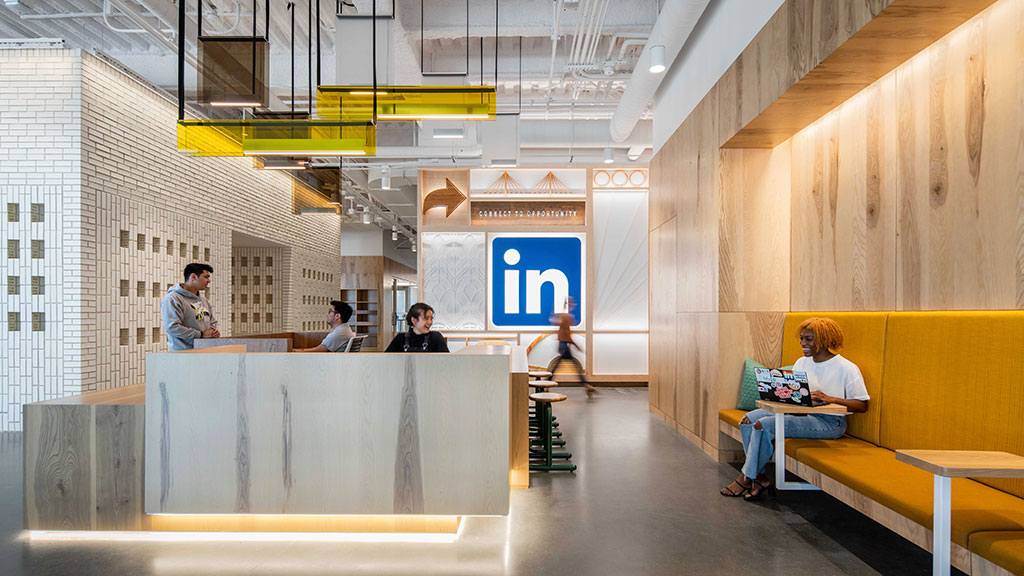 2. Highlight local attractions, artists, and specialty businesses. Find a way to celebrate the local area by bringing in local vendors, artists, farmers markets, pop ups, exhibitions, and more. Showcase one per week or find a cadence that works for your company, and consider having information about the artist, vendor, or experience available via QR codes for visitors to learn more. Rotating experiences will keep the workplace feeling fresh and inspired, and foster stronger connections to the local community. Beyond that, people are valuing their time more than ever and are cognizant of the impact of their carbon footprint outside of their commute. If we can give employees unique, authentic, locally infused experiences at work, it's a win-win for saving time, establishing efficiencies, supporting the community, and increasing engagement.
3. Hire community experience team members with great hospitality skills. From greeting everyone who walks through your door with a "hello," and "how can I help you?" to offering a beverage or a moment of respite, the next wave of workplace hospitality will rely on meaningful engagements and an experience team that embodies a company's brand. Hiring hospitality-driven talent offers new ways to engage employees and clients, like the ability to offer a client the opportunity to come early for a meeting and work out of a buzzy communal space. These community spaces can better engage clients and allow them to be part of the company's culture. For employees, the experience team can provide resources within the community (parking, dining, attraction recommendations) and coordinate inspiring events both inside and outside of the workplace that cater to a spectrum of interests.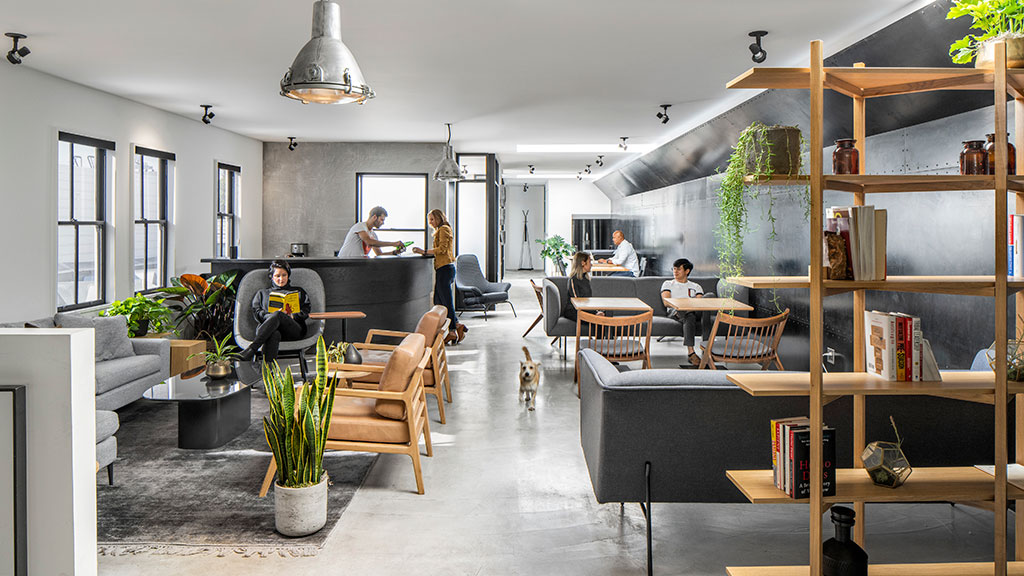 Space: Policy & programs that support joy, well-being, and inspiration have an impact.
1. Create a workplace ecosystem. What if we reimagined the workplace as an ecosystem of places to gather, heal, and be inspired? Whether in an office, a coworking lounge, or a park, connecting with colleagues will continue to be a major reason why we all gather. As we continue to develop systems to focus and collaborate remotely, office days will be reconsidered to support immersive brand experiences, community gatherings, flexible team collaboration spaces, and more varied focus environments. To make these spaces and experiences truly hospitality-driven at their core, they must be totally inclusive in design as a baseline, not an afterthought. This ecosystem should not merely be accommodating universal design needs, but rather delivering a better experience than users might get at home — for focus, stimulation, comfort, and enrichment. It must consider how the needs of each individual may vary and how space and sensory stimuli should adapt to uplevel the experience for those who are neurodiverse, differently abled, and beyond.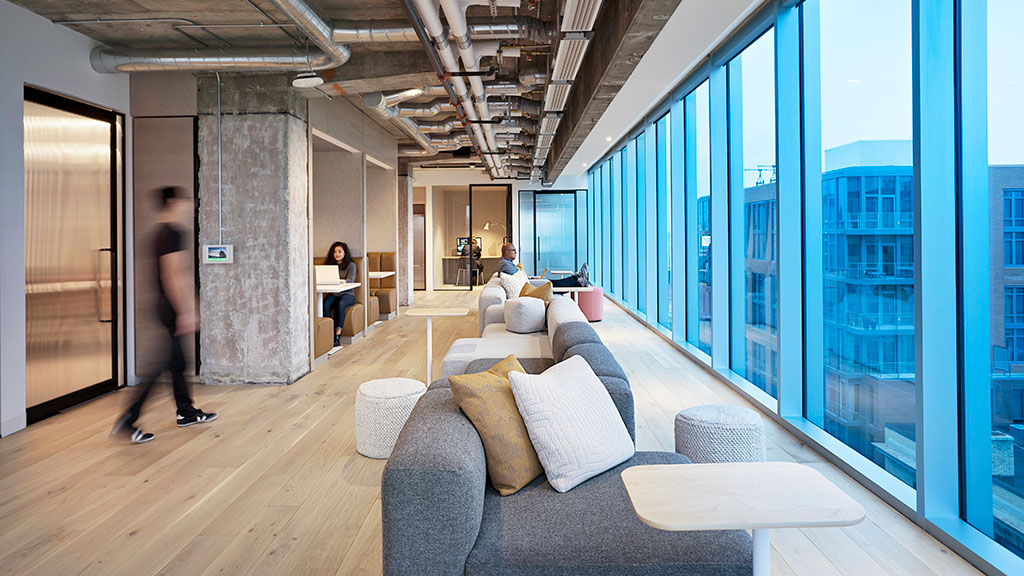 2. Integrate spaces, policies, and programs to foster well-being. Video conferencing fatigue is real. Allowing people time to reset and disconnect in spaces that bring them joy can provide well-rounded work-life balance. We recognize that a workday should no longer be programmed exclusively around hours of productivity, but instead should offer a breadth of spaces, programs, and policies to allow employees holistic agency on how they nurture their minds and bodies at work — from respite or meditation rooms, to gardens, wellness centers, and other spaces and programs that foster worker well-being. Happy employees, who are genuinely passionate about what they do and where they work, are your best brand ambassadors.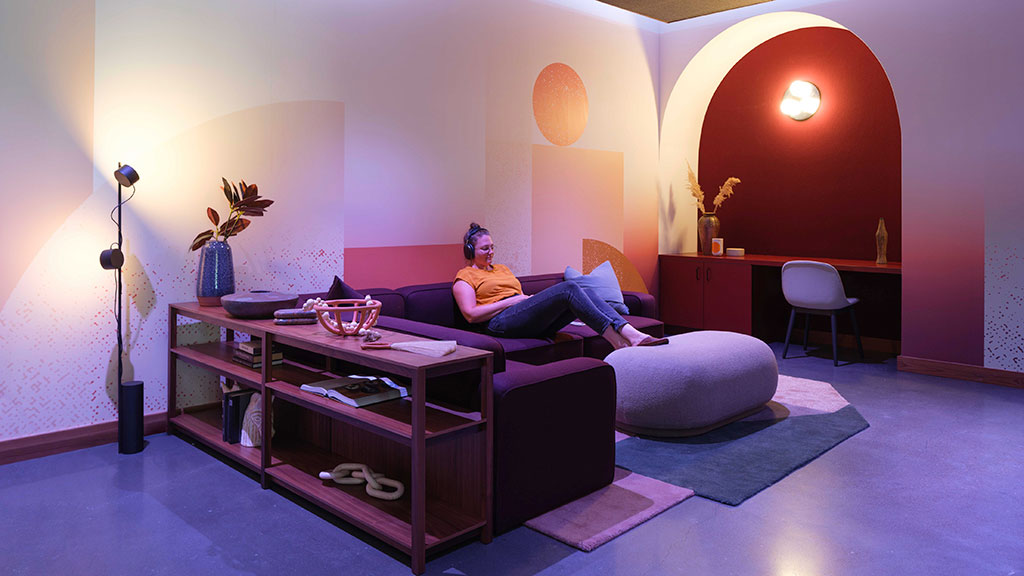 3. Small changes can have a big impact. Often, making small changes can go a long way towards creating well-being experiences for your employees. For example, providing a light-filled office corner with a "no phone/talk" policy and plants for deep focus or mental resets, or having access to building amenities like a ground floor plaza, rooftop, or balconies fitted out for outdoor team meetings can make an impact. Consider offering well-being programs and policies that encourage employees to be active, such as in-person or remote off-camera walking meetings.
Technology: An enhancement, not a replacement.
1. Embrace a digital mindset. User experience extends beyond the physical space. Having a digital mindset, tools, and policy are vital to creating equitable experiences in our hybrid world. Furthermore, investing in seamless and easy-to-use technology is imperative to creating a positive experience for all workers. It is important to not revert to a past that was not designed with the remote participant at the forefront. Whether it is an employee that has found a mentor or friend that works across the country, or the employee whose schedule doesn't sync up with the rest of the teams to be in-office on a given day, we must continually fight for equitable and empathetic digital experiences and find ways for employees to meaningfully engage in meetings, participate in events, and nurture friendship and mentorship through hybrid means.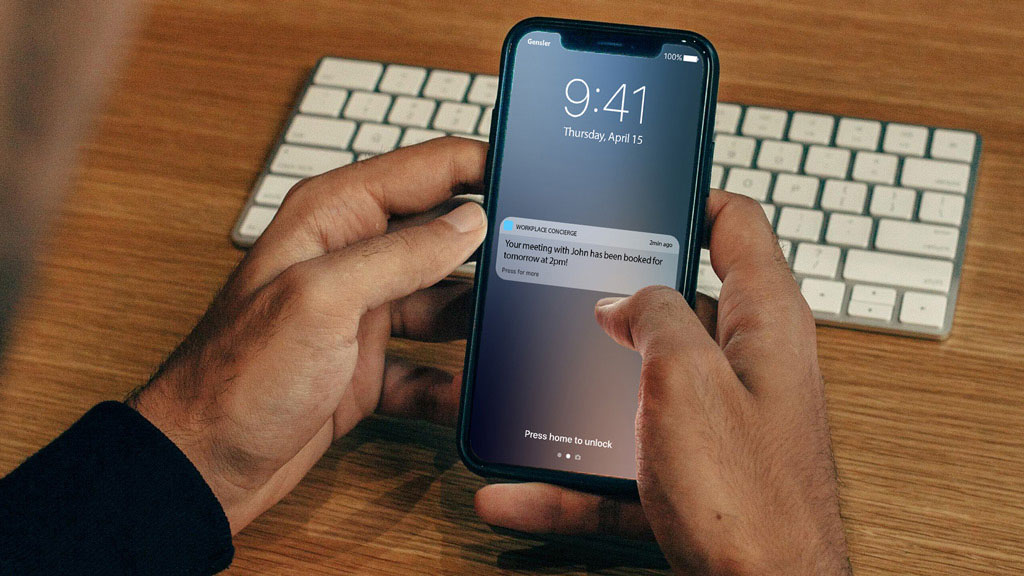 2. Simplify workplace technology. Another strategy to improve the employee experience is to unify and simplify workplace technology and smart building systems. Just as hotels cultivate guest loyalty with thoughtfully personalized technologies, so too should the workplace. Some of our clients have created an integrated app platform that helps their employees with all aspects of arrival on-site, from finding a parking space, to navigating transit systems. In addition, the workplace app helps employees streamline every aspect of their day, from room reservations and food ordering to personal learning and more. Beyond standard offerings, Gensler has also been hired as a user experience partner for more bespoke application features, such as deploying community forums, wellness programs, individualized mentorship, and personalized tools to help protect focus workflows.
3. Every digital touchpoint is an opportunity for engagement. These examples show that any digital touchpoint is an opportunity for a brand impression, connection, and alleviation of pain points. By using technology to streamline basic functions in our days, it allows employees more time for creativity, connection, and joy. For companies, this data and revolving feedback opens a realm of possibilities for better understanding their employees and how they utilize space, and unlocks the ability to continually iterate on the office environment based on what employees want and need.
As we transition back to the office, we recognize that there are opportunities for improvement. By prioritizing the human experience and drawing inspiration from hospitality influenced design, the office can flourish as a restorative and creative place for inspiration, meaningful opportunities to connect, and frictionless experiences and technologies. None of these entities — programs, people, space, technology — can thrive in isolation, but they can be scaled to find what works for your company. It is time to embrace change and demand more from our workplace experience, test new things, and iterate on new ways of coming together and feeling supported in every moment of our work day.
For media inquiries, email .