Why It's Time to Demand More From Our Workplace Experience
July 11, 2022 | By Elizabeth Brink, Natalie Engels, J. Kevin Heinly, Janet Pogue McLaurin
Imagine a future where, rather than coming into work and fumbling with space and technology, a building already knows you're arriving because of a software update from the previous night. We need to demand more from our workplaces and buildings. Our buildings need to serve our communities better. They need to be designed to serve and support people who are using these spaces and doing the work. It is time to demand more from the workplace experience — more from technology, more of the impact we make on resilience, more for our whole selves, more for our health, and more of our investment in humanity.
In today's rapidly changing environment, everyone is asking, "What is the future of work?" Most conversations are focused on the number of days in the office, which misses the point entirely. Work, and the way we work — and even our expectations about work — will always be evolving. The future workplace must be an experience multiplier, and a destination rather than an obligation.
Here are 10 considerations for reimagining the future workplace experience to deliver more:
1. Experiment.
We know the immediate future will be about experimenting, piloting, and learning. A one-size-fits all approach won't work anymore. Workplaces should vary based on each company's unique culture and purpose. The future workplace will need to respond to the needs of employees and changing demographics, as well as the evolving needs of different locations and cultures.
2. Embrace a new mix of uses.
Not only is it the end of the single-use office building — it's also the end of the single-use office campus. The future office building/campus must embrace a mix of uses. A case in point is Mission Point, formerly a traditional corporate campus in Santa Clara, Calif., which has been recently renovated into a mixed-use development with 3 million square feet of office space, but adding 1,800 residential units, retail, childcare, and community spaces. Or Verizon at The Hub, located within Boston's The Hub on Causeway development, which was designed as an 18-story vertical campus to accelerate innovation, collaboration, and connection with its amenities spaces to complement The Hub's public mixed-use spaces.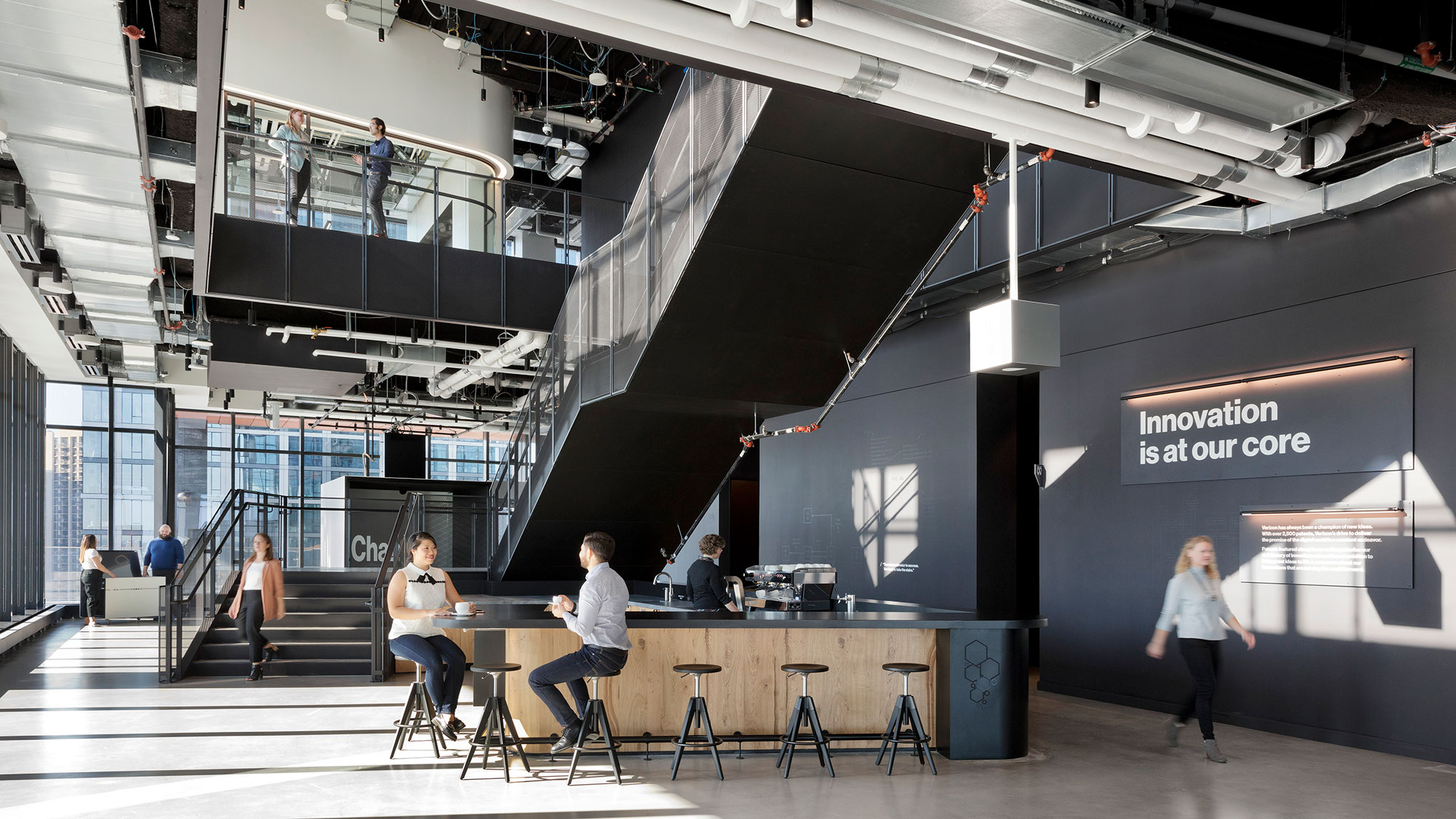 3. Bring the community in.
Our workplaces are demanding more inclusive and welcoming spaces for the community and the public as users. A great recent example is the LA County Department of Mental Health building: public spaces on upper floors are porous, light filled, welcoming, and connected to create a public space within the building, not just at the street level. This is a building that integrates the public, rather than shutting them out.
4. Celebrate well-being and connection.
Light, transparency, biophilia, and spaces for rejuvenation and connection are becoming central parts of workplaces. The new headquarters for Deutsche Bank in New York exemplifies how the human experience is dramatically improved when these factors become central to the design of the trading floors. These themes manifest differently in industry-specific needs and local culture specific ways.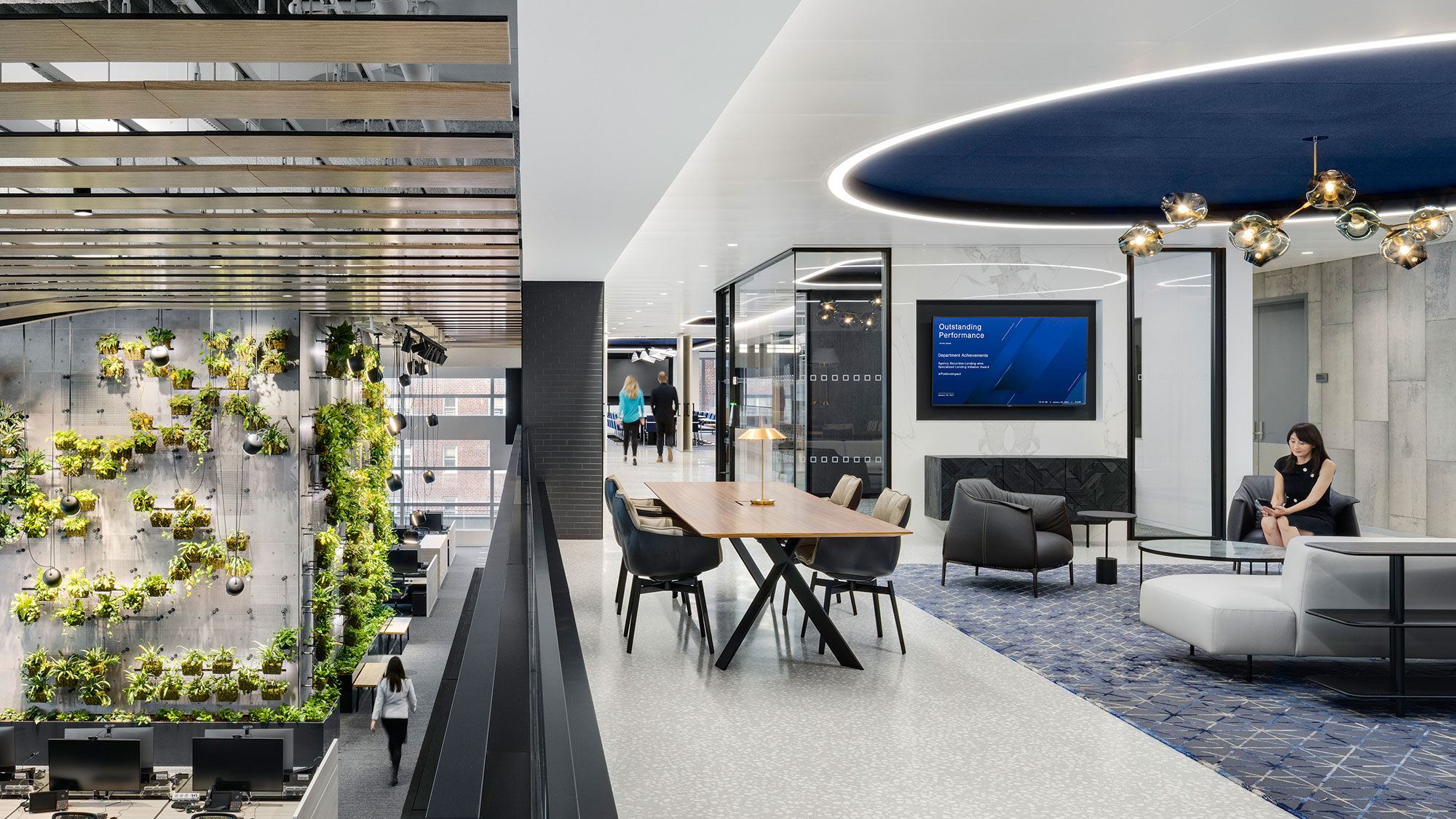 5. Consider whole life design.
What if we designed for an employee's whole life, not just the time that they are in the office? Future-forward companies believe their best employees are living their best lives. As designers, we can improve employee wellness experiences to reduce stress and improve employees' lives — both on the clock and off.
6. Integrate technology with intention.
What if technology was fully integrated into our workday and our spaces? Through thoughtful digital/physical integration, automation, and more, we can create a truly connected workspace that makes work more seamless. For Maars Living Walls, we designed a panel system where a user can flip panels to be opaque or clear or even embed thin LG display monitors for a completely immersive experience. We worked with a confidential mining company client to create an integrated immersive environment to investigate, diagnose, collaborate, discover, and empathize with staff in the office and those in the field.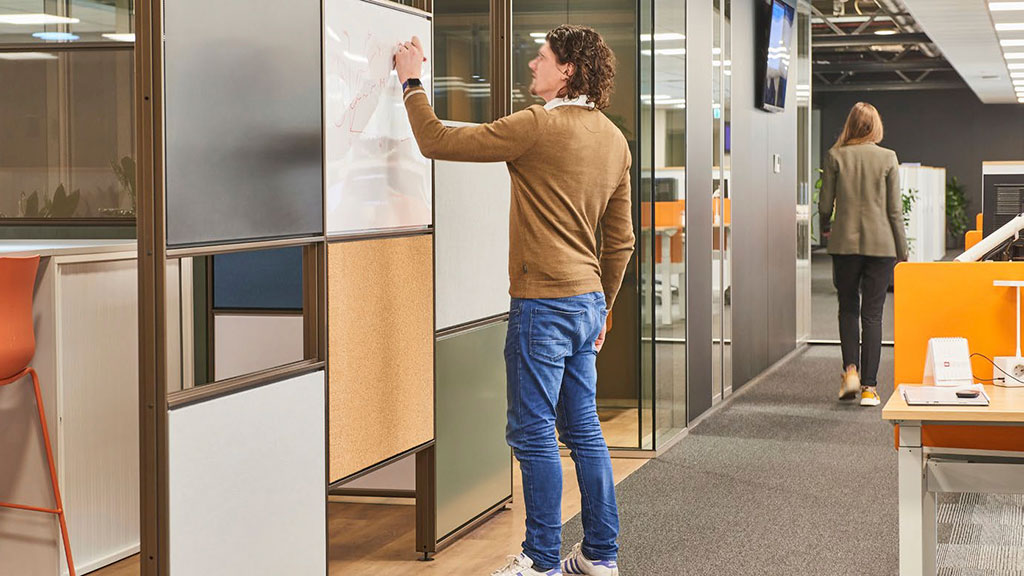 7. Get bold on resilience.
Through adaptive reuse, sustainable materials, water reduction, all-electric buildings, and other sustainable design strategies, buildings can make bold moves on resilience. 100 Chestnut in Somerville, Mass., is one of these bold projects. Designed to achieve LEED Platinum certification, the life sciences building's sustainable features include active and passive measures to mitigate solar heat gain, including triple-glazed windows, an active chilled beam system, and strategic orientation of the façade. The building's infrastructure is designed to be convertible to 100% electric.
Another example of design resilience, One Westside, is an adaptive reuse of an existing mall in Los Angeles, yielding 33% savings on embodied carbon relative to new construction.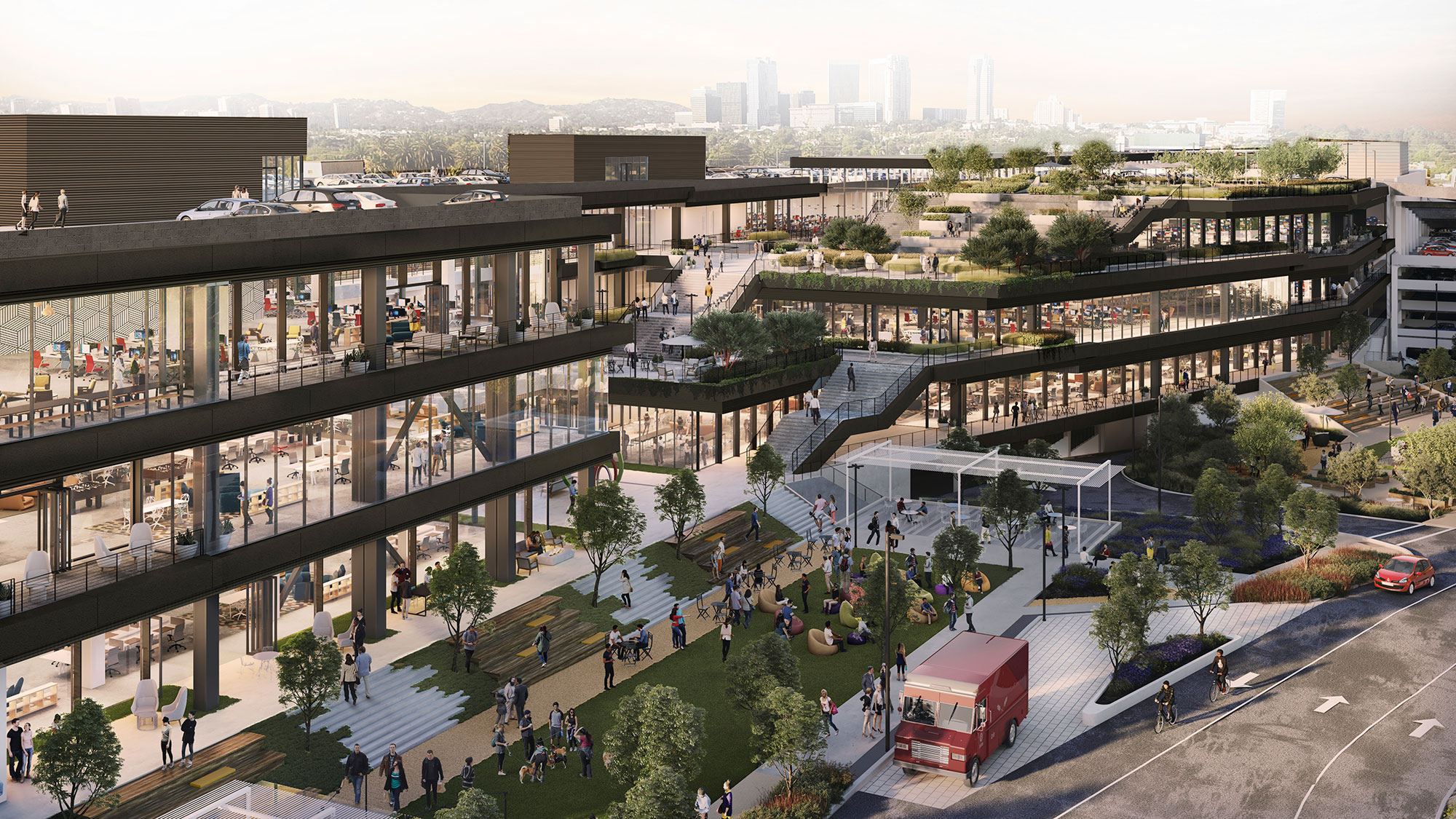 8. Treat employees as valued guests.
What if we designed workspace experiences where the employees were valued guests? In the future, employees can use an app to pick the type of work experience they desire that day. We're working with TELUS to design a digital experience that creates a fully connected workplace experience and places control in the palm of each employee's hand. For another client, we are designing a suite of different experiences that employees can reserve the best type of physical environment to work in each day — both for individual work and the type of group space they need as well.
9. Measure new metrics that matter.
The future of work will demand that we think differently about flexibility, how we measure use, and even what new workplace metrics matter. The benchmarks of yesterday, such as density, aren't relevant with the new ways of working and using space. New terms are emerging, such as average occupancy, capacity, peak days, and workpoints. It won't be about days in the office, but dwell times for different types of individual or group work settings, meeting spaces, and connecting and gathering spaces. All these space types, including outdoor spaces, need to be equipped to work.
10. Design for joy.
As we reimagine the future of work, it's time to design for joy. Workplace is learning from college campuses on how students — our future workforce — are using space. Students don't just study alone in their dorm rooms or libraries; they use the whole campus for individual study, group study, socializing, learning, relaxing, and just having fun. We need to learn from them.
Joy, and joy of work, is an important part of the human experience. The future of work must be a destination, rather than an obligation, and create opportunities for engagement, interaction, and fun.
One example is NFL Media Los Angeles, the NFL's recent headquarters, which not only celebrates what they do, but the joy of football itself. Joy from the connection to purpose across their platform and throughout their connected workplace; it brings all of their teams together. Another project is Signal House, which has a direct connection to the outdoors and amazing views of Washington, D.C. This reinvention of an industrial building exudes the joy of place. The rooftop space is accessible to all tenants and embodies Joy @ Work, and also includes an indoor/outdoor bar, show kitchen, podcast room, DJ booth, karaoke room, and on-site meeting space.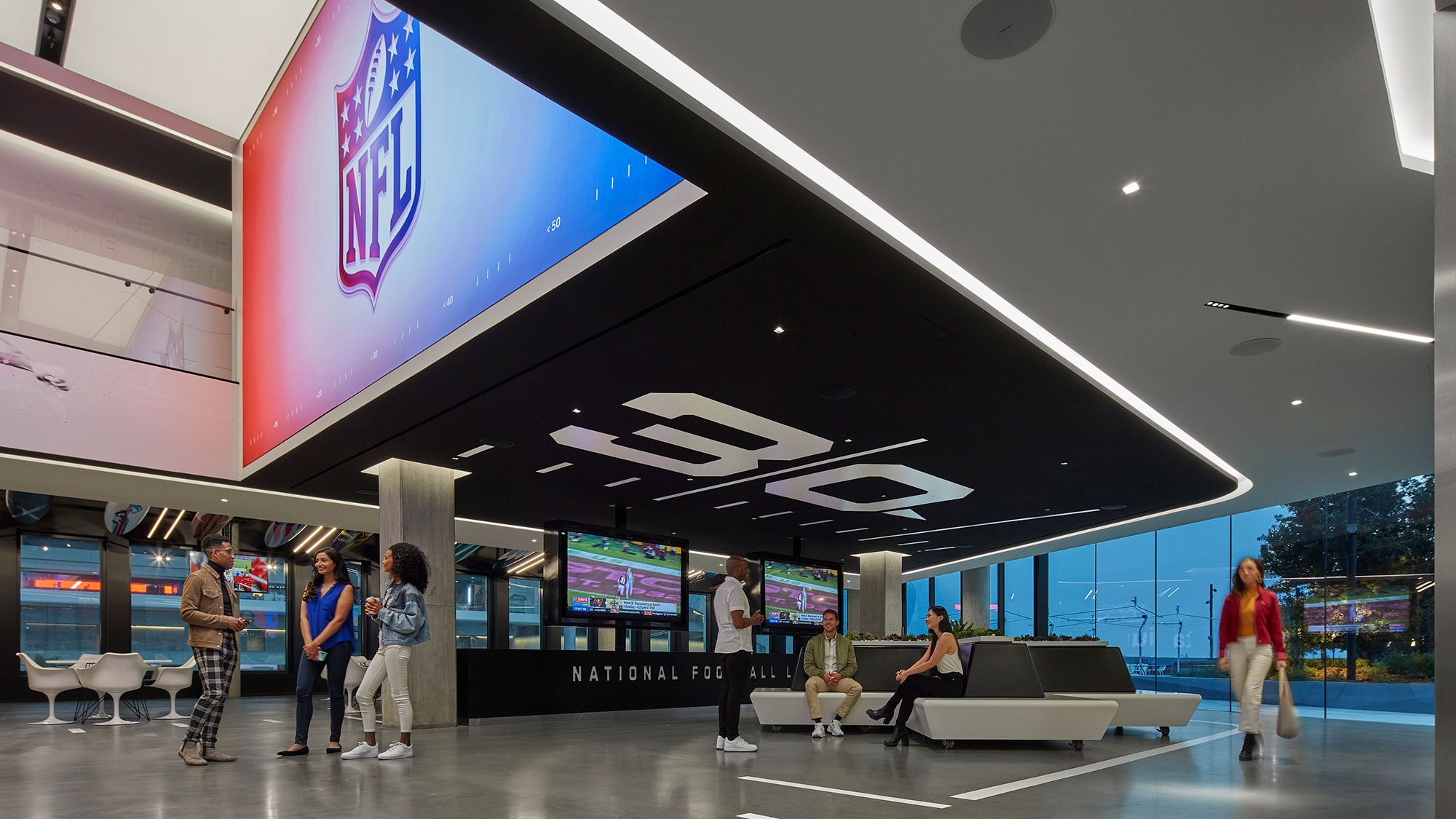 We are in an incredible moment of change and opportunity. We need a workplace experience that provides seamless technology; that better serves our communities; that is bold on resilience; and that is designed to enhance our humanity, health, and our whole selves. Our buildings and designs need to work for us.
For media inquiries, email .