How the Future of Work Is Influencing Workplace Design
January 18, 2023 | By Robin Klehr Avia
Work-from-home during the pandemic led to two simultaneous realizations: technology allows people to work from anywhere and the physical workplace matters more than ever. Will people go back to the office? Absolutely. Will they go back to the same office? Not a chance. While workplace design has changed incrementally for decades, the past few years have radically transformed our expectations of an office. Rather than designing for what's required, now and in the future, we are designing for what's possible.
Work has undergone transformation since I began my career in 1976, and each subsequent decade was defined by specific external economic and cultural shifts. In the past, the largest influences on workplace design have been the state of the economy and the evolution of technology. Going forward, we will prioritize experience through promoting innovation; focusing on worker activities; conveying an organization's culture and mission; and facilitating the use of current and future technologies.
Prioritize innovation
Organizations are focused on innovation, disruption, and forward momentum. Decision-makers recognize that the world is changing rapidly, and these shifts command responses that are not fixed but are ready to adapt as needed. This is why we are designing adaptable spaces to facilitate experimentation, prototyping, and learning at work. Workshops and laboratories are replacing the boardroom as the places where innovation is born and ideas take shape.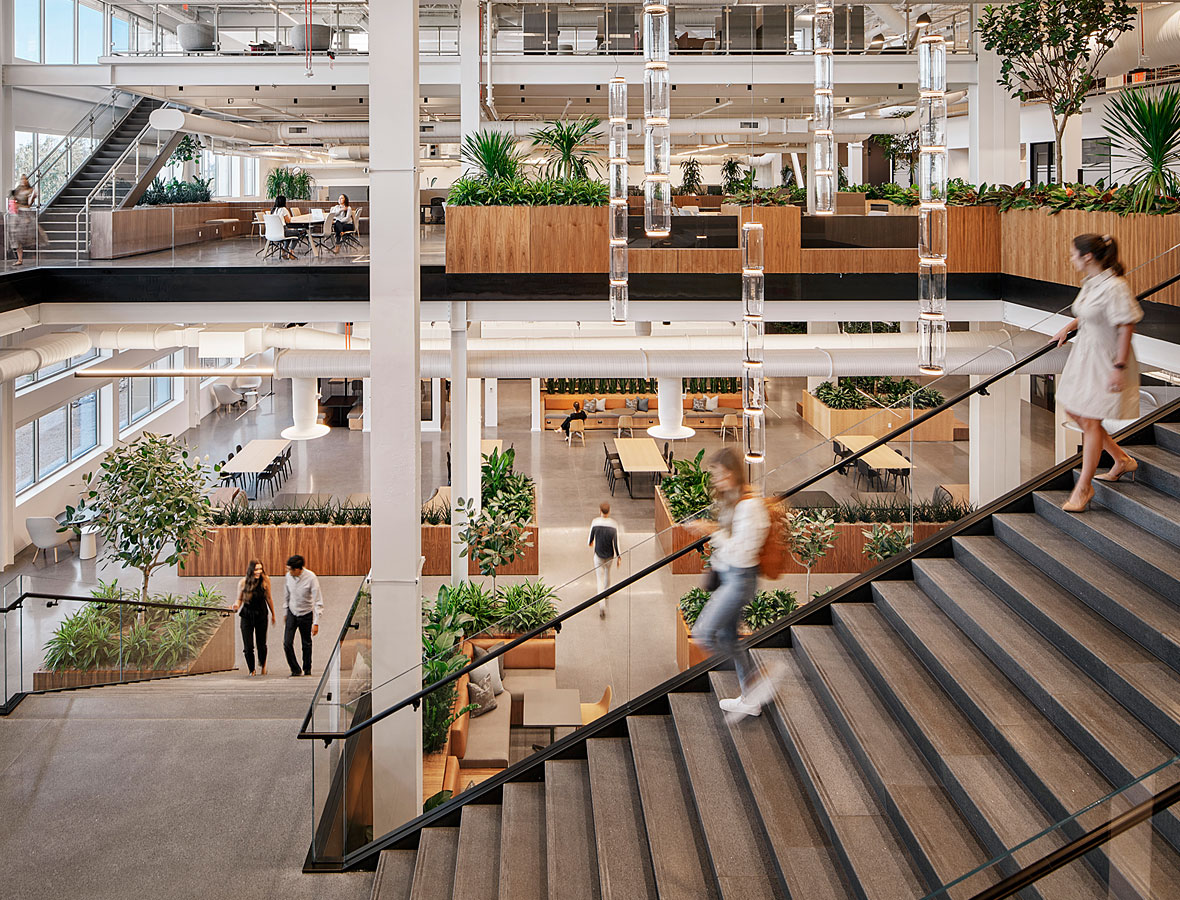 Workplace Performance Index
Interested in learning how your workplace is supporting workers and driving your business outcomes? Discover more with our WPIx.
Designing easily adaptable spaces for activities
Today's employees are increasingly versatile, and departments are less siloed than in the past. Gone are the days when we spoke only to the C-Suite about real estate and interiors. Now and in the future, we will engage with HR, IT, and other stakeholders to consider the multifaceted nature of an organization's workforce and what tools are needed to support their tasks. Identifying a variety of work points — from cafes, lounges, and terraces, to curated neighborhoods — encourages cross-pollination between teams, as well as individual work. These spaces are flexible to support an organization and its workers' future needs beyond what we can anticipate.
Concentrate on culture
Workplace design is focused on employee engagement with their organization's brand and mission. A workplace should be the embodiment of a company's culture and should clearly communicate its values to employees, clients, and partners. The future of work will place even more emphasis on creating a sense of place that inspires, engages, and drives richer experiences.
Integrate technology, enhance engagement
The ways we engage with the office change with each advancement in technology, blurring the boundaries of space, time, and methods of collaboration. Going forward, clients will require strategic integration of digital/physical specialty spaces for activations to foster innovation and partnership. Workplaces equipped with hybrid meeting spaces, podcast recording rooms, and content filming studios will advance the missions of their organizations faster and draw more workers to the office. But the rate of change makes it impossible to predict the technological innovations that are just around the corner. Instead, we are getting ahead of the changing tech needs of the workplace by creating an easily adaptable framework to accommodate the widest range of future experiences.
The future of work we are designing for no longer has a fixed objective. Now, we will have to design spaces that are meant to continue to iterate throughout their lifespan. The possibilities are endless.
For media inquiries, email .