Experimentation in the Workplace: Adopting a Software Mindset
December 07, 2022 | By Alfred Byun and Karina Silvester
In the wake of the COVID-19 pandemic, workspace environments are in the middle of a fundamental shift — one that mirrors the technology shift from hardware to software, moving from a focus on physical components to a new networked operating system of less tangible elements. Workplace systems of the future need to be anticipatory and adaptable to support rapid and dynamic changes and defined by a variety of evolving inputs. The role of the designer now stretches far beyond the physical to create a more purposeful environment programmed to facilitate meaningful and memorable experiences.
Pre-pandemic, traditional real estate delivery teams relied heavily on density metrics like square feet per person (SF/pp) to define the spatial needs to support a given workforce population. Today, teams must adopt a rapid cyclical development approach to build a deep understanding of changing leadership aspirations, functional needs, and cultural workstyle norms to deliver a work system programmed and right-sized for success. With a greater range of hybrid policies, there is a demand for corporate workplace to become higher performing, supporting efficient use of real estate assets while creating positive user experiences.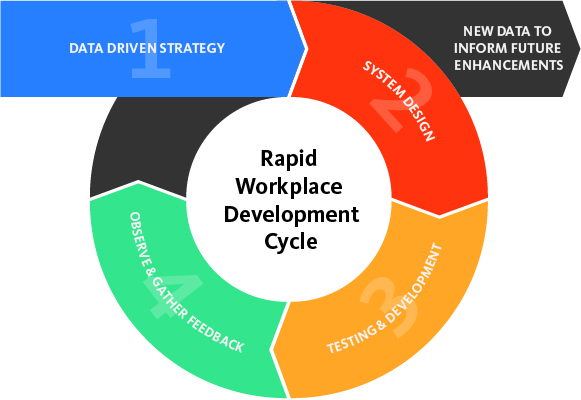 There are four phases that comprise the workplace design and development cycle:
01 | Data Driven Strategy
The workplace of the future requires a responsive platform that can adapt to a more fluid and ever-changing reality, moving beyond traditional benchmarks and static metrics. At the beginning of any workplace design project or new development cycle, design teams should gather all available data to best inform future work needs and behaviors - from utilization data and in-office policies to employee sentiment and leadership goals. These diverse inputs are essential to anticipating a spectrum of utilization and spatial demands on a company's physical workspace. Gensler has developed an in-house simulation tool designed to predict attendance behaviors ranging from the average day to the peak, and accounting for such instances as quiet summer Fridays and annual all-hands sessions. We recommend engaging diverse stakeholders early for a more accurate model for anticipating dynamic workplace needs.
02 | System Design
The components of successful workplace experiences are increasingly dynamic and interconnected. This new complexity has led some of our teams to take a systems-based approach to design, integrating elements of service, technology, and a more nuanced look at a range of workplace behaviors. Over the last 12 months, there has been a significant rise in requests for community managers, convenience concierges, and integrated hospitality elements with the goal of creating more seamless, activated, and authentic spaces. From the process of booking space via a phone app, to the tone of the concierge at arrival, workplace environments are taking cues from premier hotel brands, considering each touchpoint as an opportunity to differentiate the user experience. In addition, programmed events significantly drive new patterns in behavior with some clients implementing on-site team weeks, all-in Wednesdays, monthly Town Halls, or team on-sites creating peaks in physical attendance. On the days that employees come into a physical office, they leave supercharged with the company culture and feeling more connected to their colleagues.
03 | Testing
Prototypes and pilots help organizations evaluate new concepts at an unprecedented pace. With greater variations in work patterns and rolling waves of 'return to office' policies, the physical workplace is pressured to evolve more rapidly than ever before. Gensler's Workplace Surveys conducted during the period of 2020 to 2022 found that employee sentiment continues to change. To gather more accelerated feedback, many real estate teams are implementing quick protocol tests, installing new spatial prototypes, and experimenting with new programming to further activate space in news ways. Pilots can scale from small interventions to larger investments in new space types. While one client added new flexible workstation pods and furniture-based phone booths, another invested in a new flexible and branded community hub to create a cultural center of energy. Mid-lease assessments and quick hit solutioning enable learnings for improved future offerings. For large clients with robust guidelines, these rapid small-scale tests can challenge legacy norms in a low-risk, low-cost approach to inform new future standards.
04 | Observations & Feedback
Key to the success of any change is measuring and assessing the user impact. Once a new space opens or a pilot is deployed, it is critical to follow up on opportunities to listen, observe, and learn. Employee surveys, focus groups, space observation, and utilization data collection can help better understand what is working well and where there might be opportunities to further re-engineer and enhance environments. Feedback loops foster employee ownership in the process and reduce frustration with friction points. Each feedback loop yields new data, offering meaningful input for the next development cycle.
What remains constant is the need to support change as the workplace landscape and user preferences continue to evolve fluidly. Adapting a software development mindset focused on experimentation in the workplace and implementing strategies that put purpose at the forefront, will best position companies to be ready for future workplace updates.
For media inquiries, email .