Q2 Stadium Celebrates Austin's Local Roots With a Unique Stadium Design
July 20, 2021 | By Jonathan Emmett
As Austin's only major league sports venue and the home of the MLS team Austin FC, Q2 Stadium creates a premium, world-class experience for soccer fans. However, Q2 is much more than just a stadium. With a casual and welcoming atmosphere, local food and beverage offerings, landscaped outdoor spaces, a large video board and distributed sound system, hosting year-round concerts and events, the 24-acre complex is a 365-day destination and community asset that capitalizes on the city's cultural heritage, natural landscape, and tech-forward growth.
Gensler Sports worked alongside Precourt Sports Ventures to design Q2, a modern stadium and soccer park that brings fans and visitors together on gamedays and non-gamedays in a venue that reflects the ethos of the city and Austin's unique vibe.
The 20,500-seat stadium, which officially opened last month, demonstrates how sports and entertainment developments can spur economic and urban growth, extend the fan experience, and boost game day profits beyond the gates.
Here's a look at the design behind the new stadium: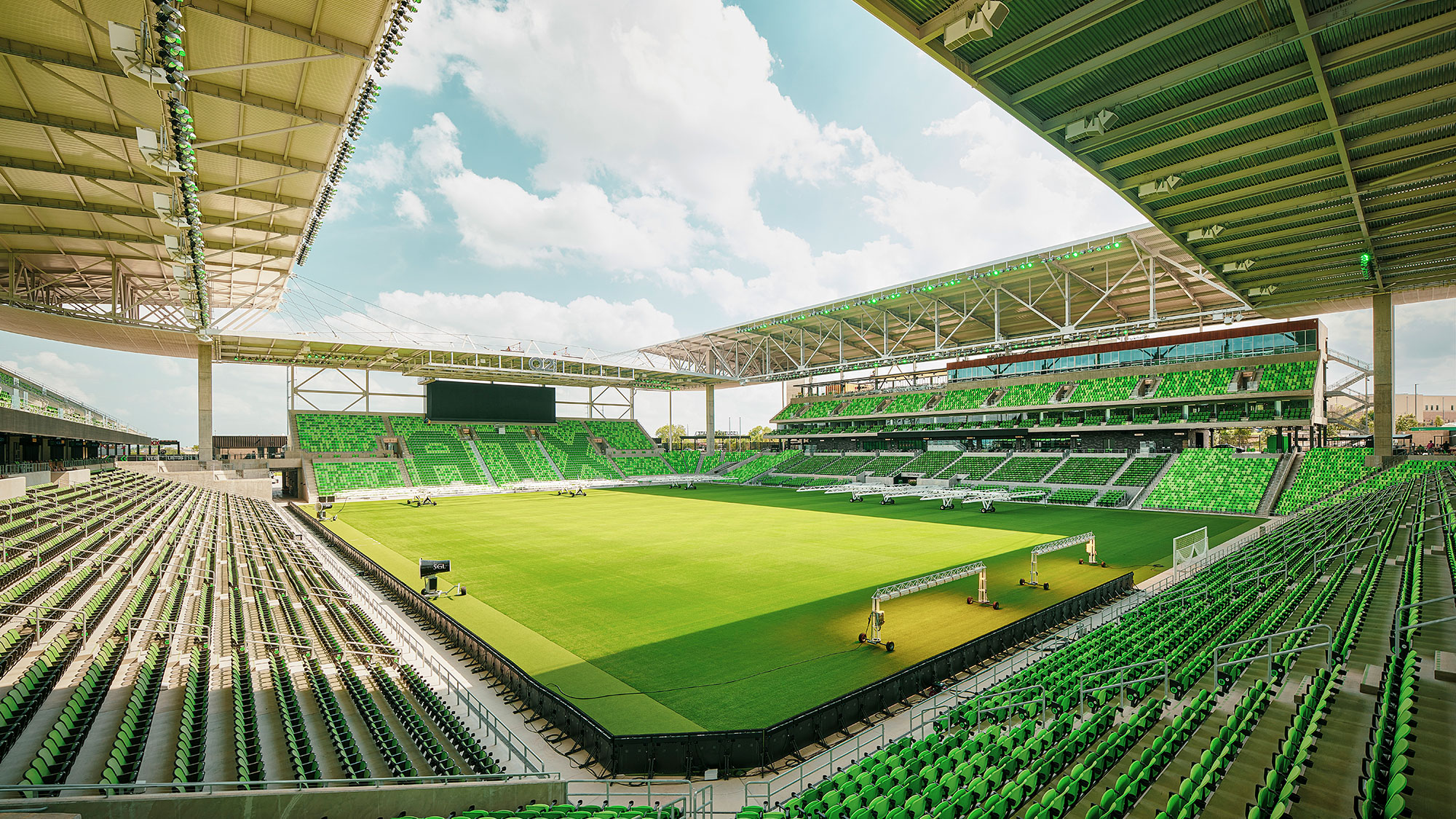 The cantilevered seating bowls and roof canopies create an intimate environment with great views of the action from every seat. The open-air, canopied bowl also ensures a comfortable climate for players and fans. A massive shade structure limits heat build up and sunlight, while the stadium orientation, aided by open corners, allows breezes to naturally cool the environment.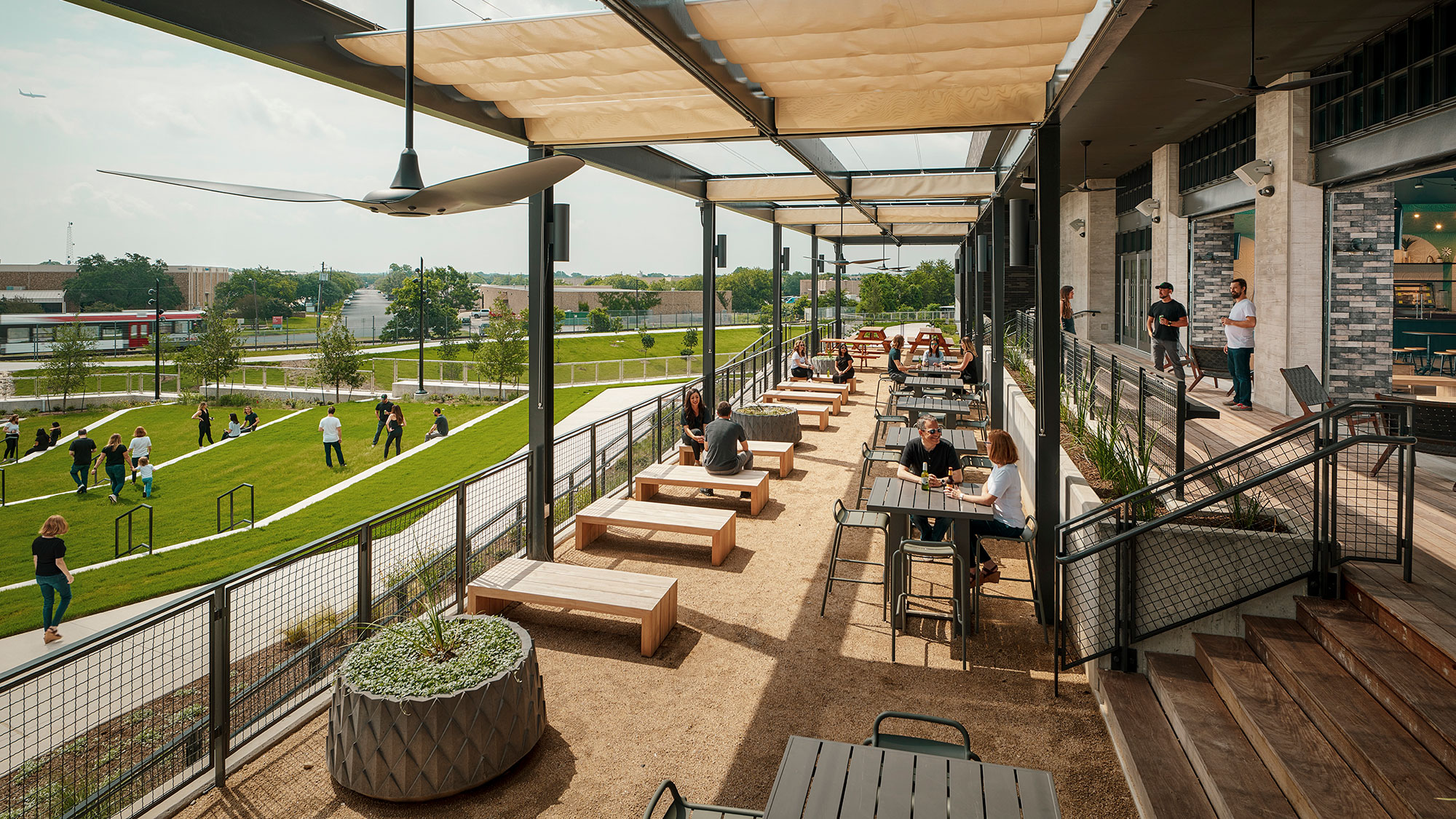 Before and after matches, fans can gather in multiple, landscaped outdoor spaces that surround the stadium, including open concourses, plazas, and an outdoor amphitheater with a stage for live music.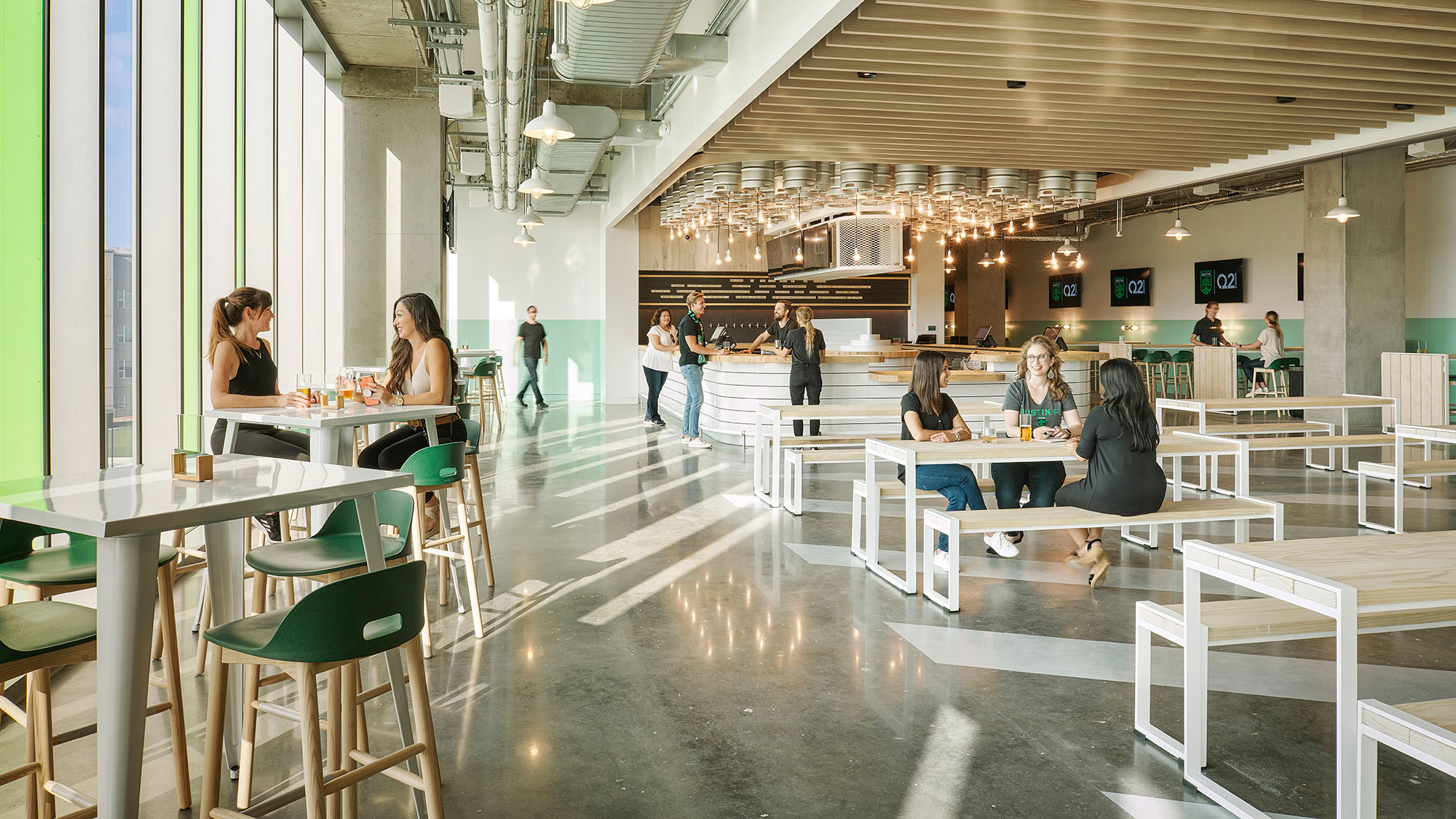 Along with traditional stadium fare, local-branded food offerings and up-and-coming restauranteurs can profile their products. A beer hall (above) that will be open before, during, and after matches features large video screens for pre- and post-game entertainment.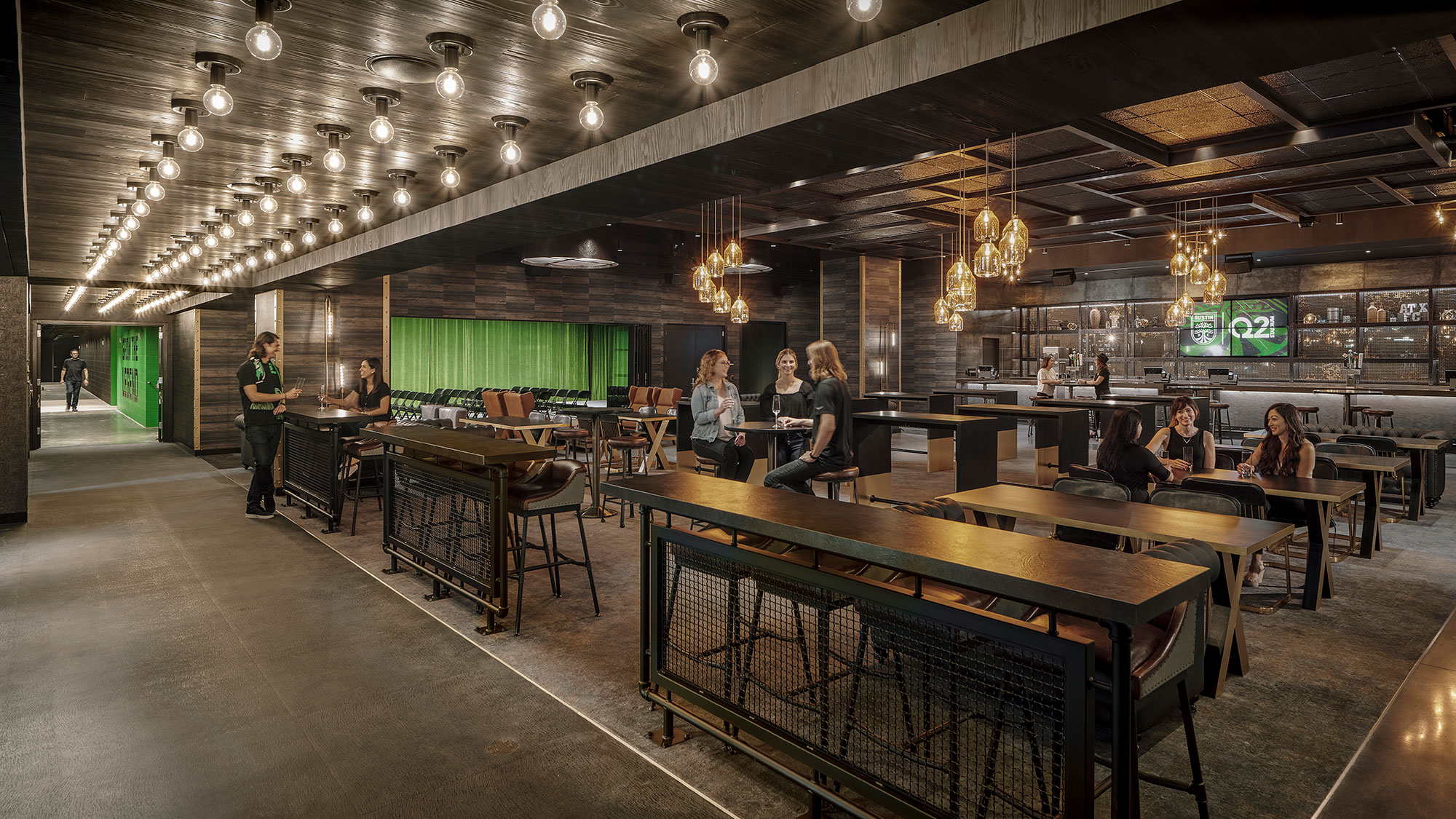 Even premium spaces have a casual, welcoming feel. VIP guests can access air-conditioned clubs and suites, while the exclusive Q2 Field Club (above) comes with VIP seating just steps away from the pitch and the players.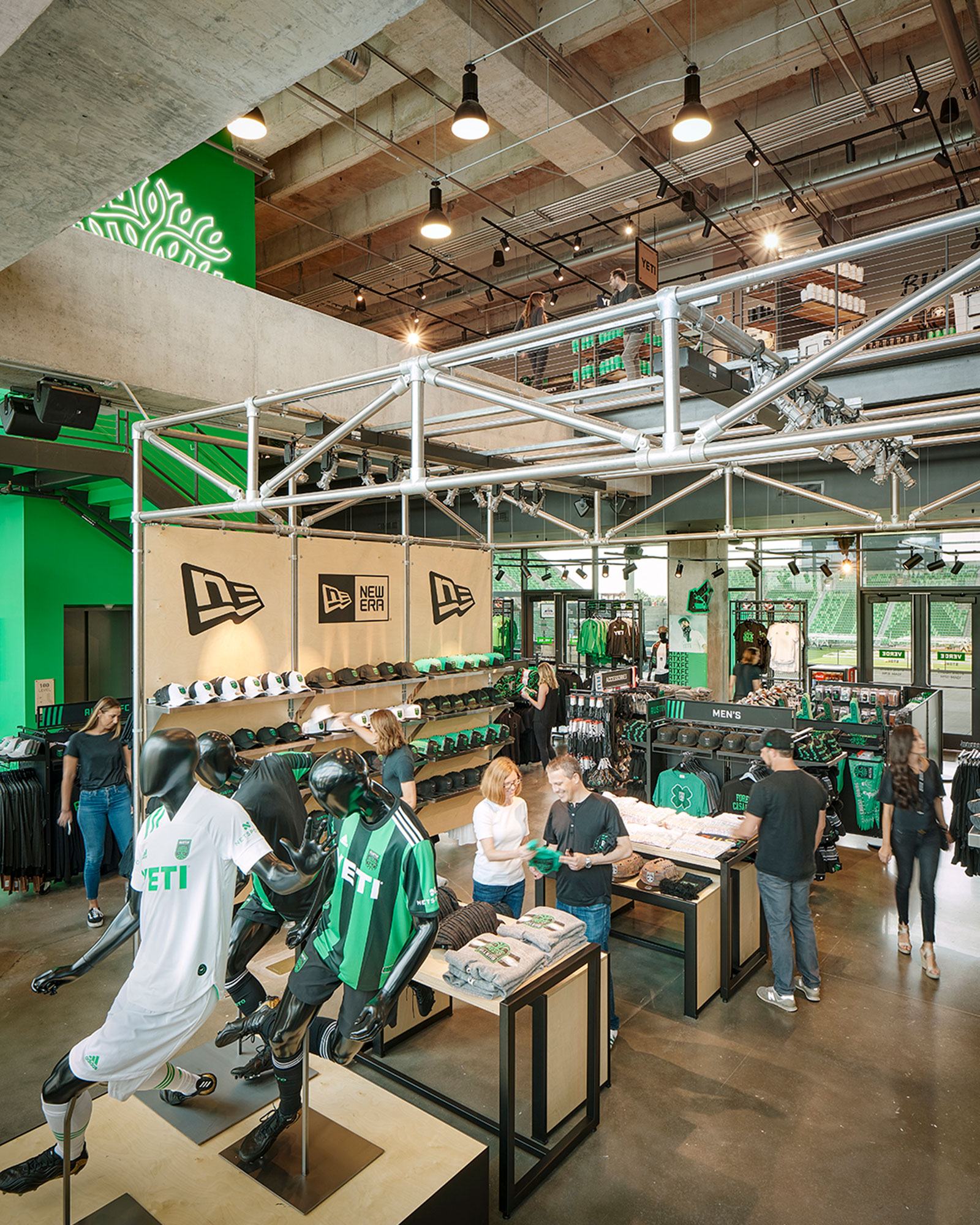 The Verde Store, Austin FC's retail store, features customizable jerseys and unique team apparel. The store also offers team-branded merchandise from YETI, the club's official jersey partner.


"To me, sports is about bringing people together: bringing people together on the field, that teamwork and that chemistry, and bringing the fan base together in a venue, the energy and excitement that creates."
—Jonathan Emmett, design director, Gensler Sports
For media inquiries, email .