Design for the New Hybrid Workplace
October 14, 2020 | By Joseph Joseph, Janet Pogue McLaurin
The workplace is changing at an unprecedented pace. In just a matter of months, we've seen more people work remotely more often. For those who are going into the office, or who plan to go into the office in the coming months, we're seeing an increased need for more collaboration space and socially distanced seating — much different from the dense, workbench seating most organizations wanted before the pandemic.
A new hybrid office is emerging. As more employees shift to remote work, some workers will work from home for part of the week and return to the office for the remainder of the week. Others might work predominantly remotely and come into office just a few times a month for specific tasks. In the new hybrid office, there will be an increased need for more adaptable, reconfigurable space; more varied types of virtual collaboration spaces; more socially distanced spaces, and potentially lower density in headcount to address health concerns.
Amid these profound shifts, companies want to know what they can do to optimize their real estate. Their timetables are much shorter than they used to be; tenants are looking for answers. What can organizations, developers, and landlords do now to prepare while remaining agile as they move into an uncertain future?
Technology holds the key to success, but only coupled with human creativity. We've long emphasized the human experience of place as a critical component of design, and the pandemic has only reinforced this need. We think this should also extend to the tools we use to design. Automation tools have opened new doors for architects and designers to work with their clients, but they fall short without human creativity at the center of the process.
This combination of automation and human interaction is at the heart of our NFORM™ ecosystem, a platform that combines information metrics and design expertise. With this platform, we're now able to leverage Gensler's expertise in designing billions of square feet of workplace interiors, as well as decades of data gleaned from our global workplace surveys about different types of spaces and how people use them, to help our clients navigate the future workplace.
Traditionally, design and modeling activities have been fundamentally disconnected from computational intelligence. Our technology ecosystem has changed that equation by giving designers and clients real-time access to an expansive set of design variables so they can make informed and predictable decisions balancing form, function, and business demands.
The bottom line is that as we plan for the new workplace, we need new design tools to meet the new design demands, and advances in technology and design tools is driving innovation with our clients in the space.
One such tool is gFloorz™. A key computational product in the NFORM ecosystem, gFloorz allows clients to leverage Gensler's history of data and combine that with their own bespoke metrics to test fit interior workplace projects. Designers and clients can work together in real time to collaborate and explore options quickly, test assumptions, rapidly iterate spatial layouts, add or refine variables, and understand the implications of design decisions early in the design process. We are able to help our clients make rapid, informed decisions to analyze, plan, and design their workplace so they can seamlessly pivot and adapt to the changing nature of work.
For example, we worked with a large developer client with tenants across multiple buildings to help them make agile decisions around density and test fitting. Using a customizable gFloorz dashboard that updates designs in real time, the client had the ability to see form and function related to the metrics for different design schemes. Using this dynamic platform, the client could compare multiple floor plans, view program targets, see different seating counts, change the ratios of work seats and collaboration seats on the fly, and project revenue.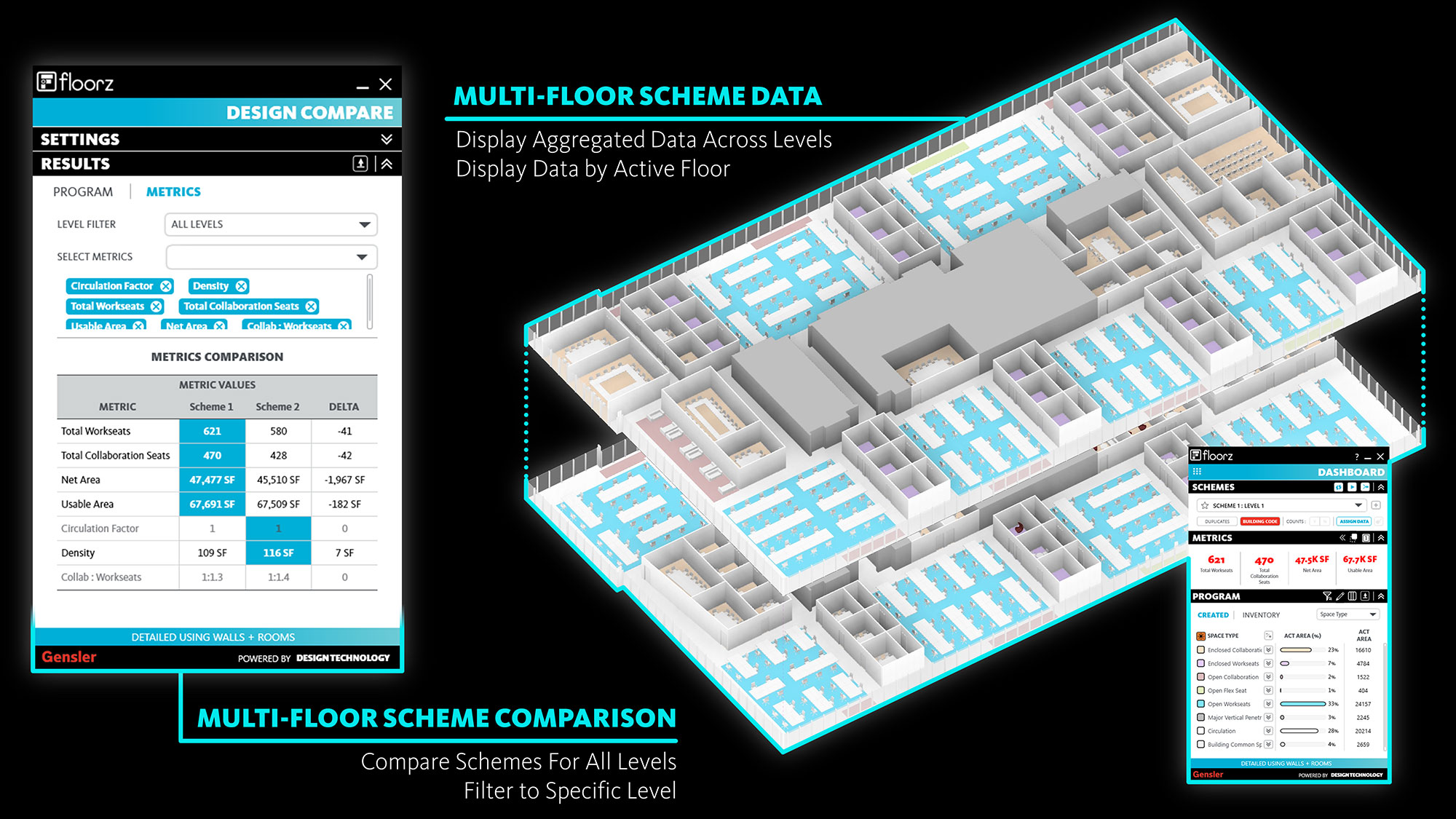 By coupling technology innovation with human empathy, creativity, and experience, we can tackle some of the world's most complex challenges. By investing in tools like these, we can lead the industry to not only shift how we design and work with our clients — we can also inform a generation of designers with a data-driven systems approach to design problems, ultimately improving workplace design and enhancing the human experience.
Watch the video here:
We believe every organization should have the tools needed to plan for success during these uncertain times, and we want to help. Please contact us to begin a conversation about how these tools and can support you now and into the future.
For media inquiries, email .