Designing an Innovation District for the City of Austin
April 25, 2022 | By Todd Runkle
Editor's note: This blog is part of our innovation districts blog series. This blog post originally appeared in the Austin Business Journal.
In 2017, the University of Texas at Austin and Dell Medical School approached Gensler to update the athletics and medical school's master plan and develop Austin's Innovation District on the southern fringe of the Forty Acres. The integration of higher education, housing, live music, medicine, retail, and sports are intentional elements of the future of the city's innovation district. This type of urban, mixed-use center brings in new business and diverse populations, as well as dynamically enhances the culture of a city.
Research from the Brookings Institute describes these "game changing" urban zones as, "the ultimate mash up of entrepreneurs and educational institutions, start-ups and schools, mixed-use development and medical innovations, bike-sharing, and bankable investments — all connected by transit, powered by clean energy, wired for digital technology, and fueled by caffeine." Yet, all innovation districts contain economic, physical, and networking assets. When these three assets combine with a supportive, risk-taking culture they create an innovation ecosystem — a synergistic relationship between people, firms, and place (the physical geography of the district) that facilitates idea generation and accelerates commercialization."
The core fundamentals of innovation districts work toward the following goals:
1. Attracting Talent
What began almost 20 years ago, and continues today, is a war of regions and their cities to draw talent. Now, more than ever, there is a focus on public space and amenities that bring people together. Cities can leverage the region's assets by combining key partnerships, people, and places that help foster greater collaboration. With events and entertainment comes opportunity, drawing in the best and brightest to make it even better.
2. Improving Diversity, Equity, and Inclusion
While the need for biotechnology, education, and technology anchors are still key drivers for an innovation district, there are changes in how they function. This is especially true in fostering diversity, equity, and inclusion with more community-oriented events, the integration of affordable housing, and promotion of those local businesses. When a variety of people are actively engaged with the district, it will start to reflect a multitude of experiences.
3. Providing Convenient Job Opportunities
Untethered to their downtown office, urban residents are becoming more mobile. Gensler's City Pulse Survey shows they are seeking new work opportunities with better affordability, convenience, and safety that allow them to work closer to home or at home with access to key amenities.
4. Turning CBDs into CLDs
Residents of city centers are looking for a shift away from an office-dominant land use model (Central Business Districts, or CBDs), to one that promotes urban living (Central Lifestyle Districts, or CLDs), including amenities and services within close walking or biking distance.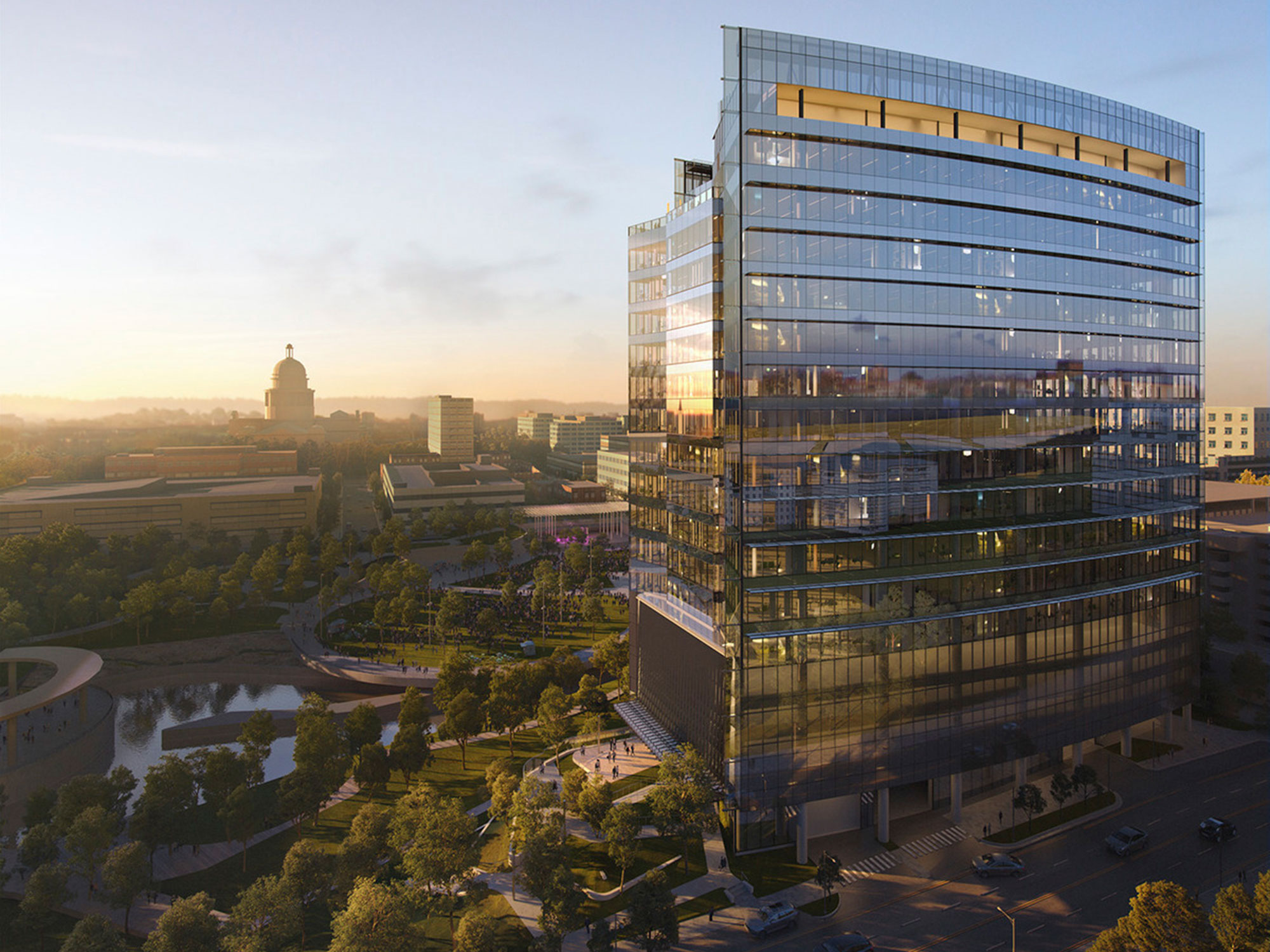 Experience as the Focal Point
The blurred boundaries of UT, Dell Medical School, and the Innovation District are anchored by the new Moody Center, a state-of-the-art, 15,000-seat basketball and events arena. With an interactive game day plaza that ties all of the athletic facilities together and acts as a gathering space for fans, the public, and athletes, the arena is core to the master plan. It creates an immersive experience from the moment fans arrive until they get to their seats.
Engagement drives the design, blending the indoor and outdoor spaces together into an authentic, cohesive experience. The arena dares to be different, without stealing the focus from the surrounding athletic buildings. It respects campus materiality and introduces a modern approach to details and systems.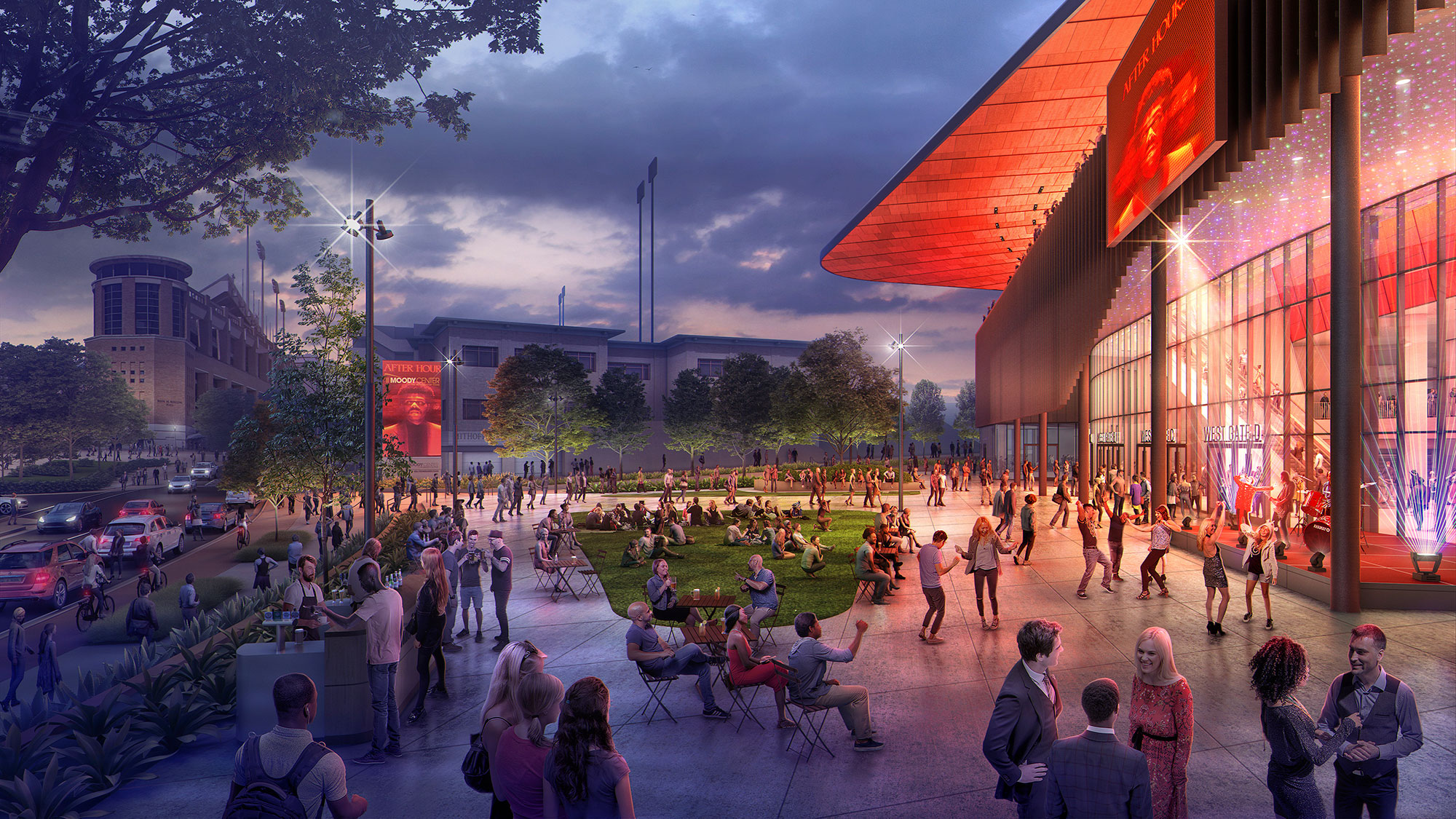 Designed to create stimulating urban spaces, Moody Center ties sports facilities to current and future UT development, including a new basketball and rowing training facility and a future football practice facility. Doing so embeds the arena within UT's culture and creates memorable experiences that are unique to the city for Austinites and visiting fans.
"Our hard work has made Moody Center one of the greatest dual use arenas there is. A world class concert venue one night, and the next, a massive home court advantage for the Longhorns," says Matthew McConaughey, Minister of Culture. "Our goal was to create an optimal relationship between the fans and the live act — whether that be the band on stage or the basketball team on the court."
Drivers of Success: Business and Community Support
The adjacent University Brackenridge Medical Campus (UMCB) includes Block 164, a Class A building, which will become the hub for 'innovation partners' and part of the medical school master plan. In addition, the Frank Erwin Center and Denton Cooley Pavilion will be demolished to make way for future medical facilities to further expand Dell Medical School's healthcare footprint and services to the community.
Finally, transit and the infrastructure to support public transportation are critical components for successful innovation districts. Similarly, the master plan for UT Athletics, Dell Medical School, and UCMB provides for the realignment of Red River Street, creating a new connecting thoroughfare between downtown Austin and the campus. It further establishes a walkable district for the city and the university that is poised to attract further development for years to come. The reconnected street also meets the City of Austin's transit goals to create more bike lanes and bus routes.
The growth of innovation districts supports the disruption of our time and represents a clear vision forward for cities like Austin. Local decision makers, including business leaders, chambers of commerce, community colleges, community partners, elected officials, universities, neighborhood associations, and philanthropies should embrace this opportunity. The success of the Austin's Innovation District is a result of invaluable partnerships with the Oak View Group, C3 Live Nation, 2033 Fund for Higher Education, CAA ICON, Stafford Sports, and the vision of the University of Texas at Austin and Dell Medical School.
The Innovation District brings together education, entertainment, leisure, and sports facilities to create an urban intersectionality that takes Austin from the great city it is today to the spectacular city of tomorrow.
For media inquiries, email .