Houston's First Innovation District Is Established With an Adaptive Reuse Approach
June 22, 2022 | By Vince Flickinger
Nestled in the heart of Midtown Houston, a once iconic Sears department store was left vacant after an 80-year history within the community. Its original art deco design, historic corners, and decorative tilework were boarded up and forgotten about. Following the closure of Sears in January 2018, the store and three nearby acres were reacquired by Rice Management Company (RMC), who has been invested in the property for almost 100 years. At the time, the building's fate remained unknown.
One year after closing its doors for the final time, RMC and the City of Houston announced renovations would begin to transform the once historic retail building into the Ion, the catalyst for what city and civic leaders hoped would become a thriving innovation district. Reimagined to include Class A office space, shared workspace, classrooms, a 300-seat forum, a prototyping lab, and maker space, developers of the Ion took an outdated, defunct property and restored it to its former glory — launching a new, community-centered nucleus of innovation.
As part of the adaptive reuse approach, the City of Houston and RMC formed an agreement to fund several community programs, including affordable housing and advancing minorities in tech. The agreement caused the client to reconsider how the interiors would be perceived. Wanting to design a more neighborhood-inclusive environment, Gensler was brought on to reimagine the interior spaces of the Ion. The result is a layered but accessible space that prioritizes openness, reduces obstacles, and capitalizes on transparent materials.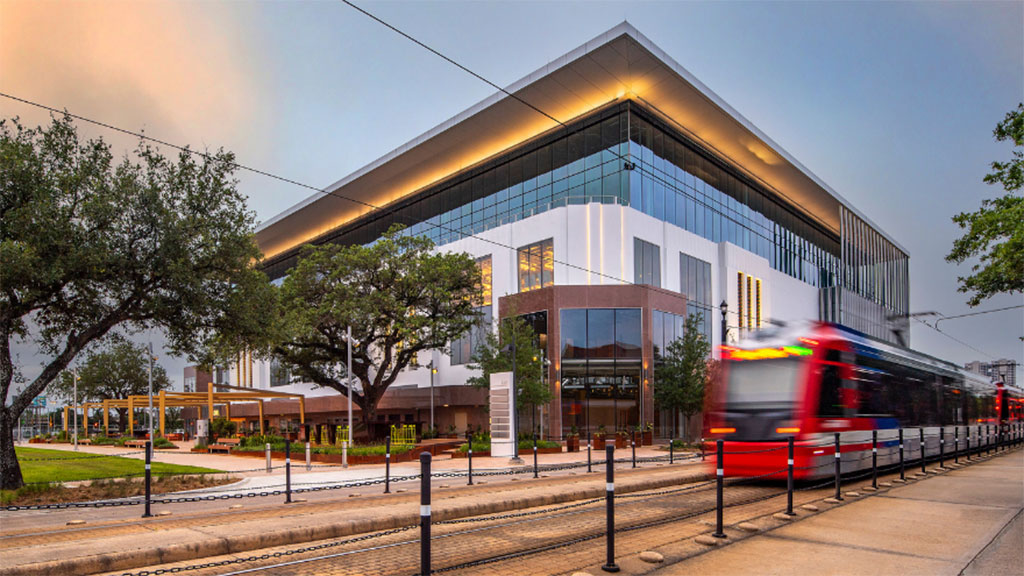 Open to the public and built for a wide variety of gathering needs, the main level is programmed to accommodate networking, TED talks, and galleries for prototypes and design projects. A central hall features the forum stair that looks upon five levels of open circulation and offices. Designed as a tech-driven hospitality experience, the building funnels and circulates patrons and visitors throughout the diverse spaces.
To maintain the integrity of the original structure, the team established a raw and industrial vibe within the building, evoking a sense of opportunity and potential within the environment. While preserving the existing terrazzo flooring and structure, Gensler wove in new materials, furniture, and lighting to link the diverse tenants and programs together. The building appears exposed and excavated so the internal creativity and innovation takes center stage.
The Ion Prototyping Lab (IPL) was integrated into the ground level to act as an open experimentation area for anyone with a great idea. Designed to include laser cutters, CNC mills and lathes, 3D printers, devices for electronics assembly, and other small-batch manufacturing tools, The IPL gives entrepreneurs, startups, and makers access to equipment, training, and technical support.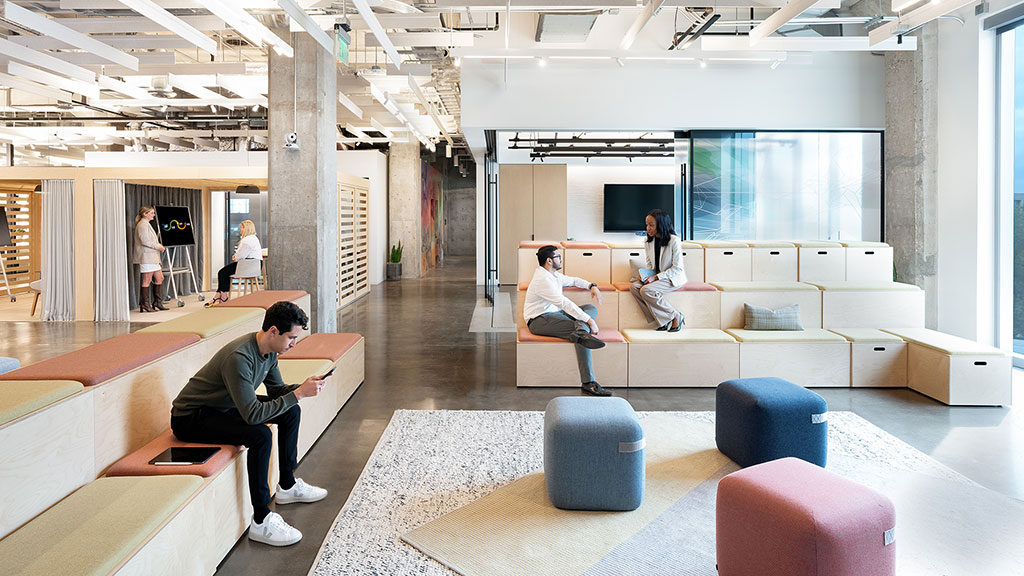 The Ion's themes of transparency and collaboration expand to its diverse mix of tenants including The Chevron Technology Ventures (CTV), a division of the oil-and-gas company that scouts and funds energy-related tech startups. Desiring a space that was distinct from its main campus and where outside collaborators could engage more freely, the Ion proved to be the perfect space for CTV.
Upon entry, guests are greeted by a Chevron-branded biophilia wall, accented by various artifacts showcasing Chevron's rich history in the energy industry — a welcoming introduction to the company. Multiple meeting rooms offer functional spaces for internal teams to collaborate on projects; for vendors to conduct demos and test emerging technologies; or to host case competitions, recruiting events, and more. To encourage additional opportunities for building community and hosting chance meetings, the design also features a coffee bar and social area. As a result, CTV's new "third place" office is a model for a new way of working within Chevron's workplace of the future strategy.
As it stands today, it is difficult to imagine the Ion was once a mega retail center. However, those who previously shopped inside the 80-year-old department store will identify historic remnants, including an antique clock and the terrazzo flooring. The iconic Sears sign was carefully preserved, and developers continue to look for ways to give it new life. Intended to serve as the heart of a greater innovation district, the Ion is poised to further establish Houston as a destination for start-up companies, ideally resulting in investments in new technologies.
For media inquiries, email .