Designing a Climate-Ready Headquarters for FIS in Jacksonville
July 12, 2021 | By Josie Hyde and Stephanie Benkert
In Florida, over 15 million people — 77% of the population — live in coastal areas that require a refined design approach around global climate change and local environmental shifts. As we design adaptable sites and buildings along our coastlines, we must address these unique challenges in our project collaborations with building owners and developers. Adaptable, resilient buildings will need to be able to specifically withstand sea level rise and storm surges long-term.
A great example is the FIS Global Headquarters, which is situated directly on Jacksonville's winding St. John's River and is just 20 miles from the Atlantic Ocean. Jacksonville is especially challenged with frequent hurricanes and tropical storms. In 2017, Tropical Storm Irma created a storm surge which caused the worst flooding in the city's history. In fact, over the past 250 years Jacksonville has had 1.8 feet of sea level rise, meaning this microclimate is changing more rapidly than even neighboring areas a few miles down the river.
We partnered with FIS to design a headquarters that consolidates multiple Jacksonville locations, accommodates the company's rapid growth, and adds more than 500 local jobs. In our early vision discussions with FIS' leadership it was clear that they wanted to embrace their strength of adapting to change and elevate the importance of resilience and adaptability — with the project targeting LEED Platinum and WELL Silver.
FIS chose to stay in the Brooklyn District of Jacksonville — a neighborhood along the St. John's River which has experienced a rebirth and revitalization over the last 8 years — as the location for their new headquarters. To keep the large campus integrated with the community, we took this opportunity to blur the boundaries between its public and private outdoor space. It includes a public walkway with swings, benches, public art, and a 21-foot-high green wall. We implemented shade structures throughout the campus and planted trees that created 70% shading along the adjacent portion of the 2-mile Riverwalk — which ties Brooklyn to Downtown Jacksonville — for employees and local residents to enjoy.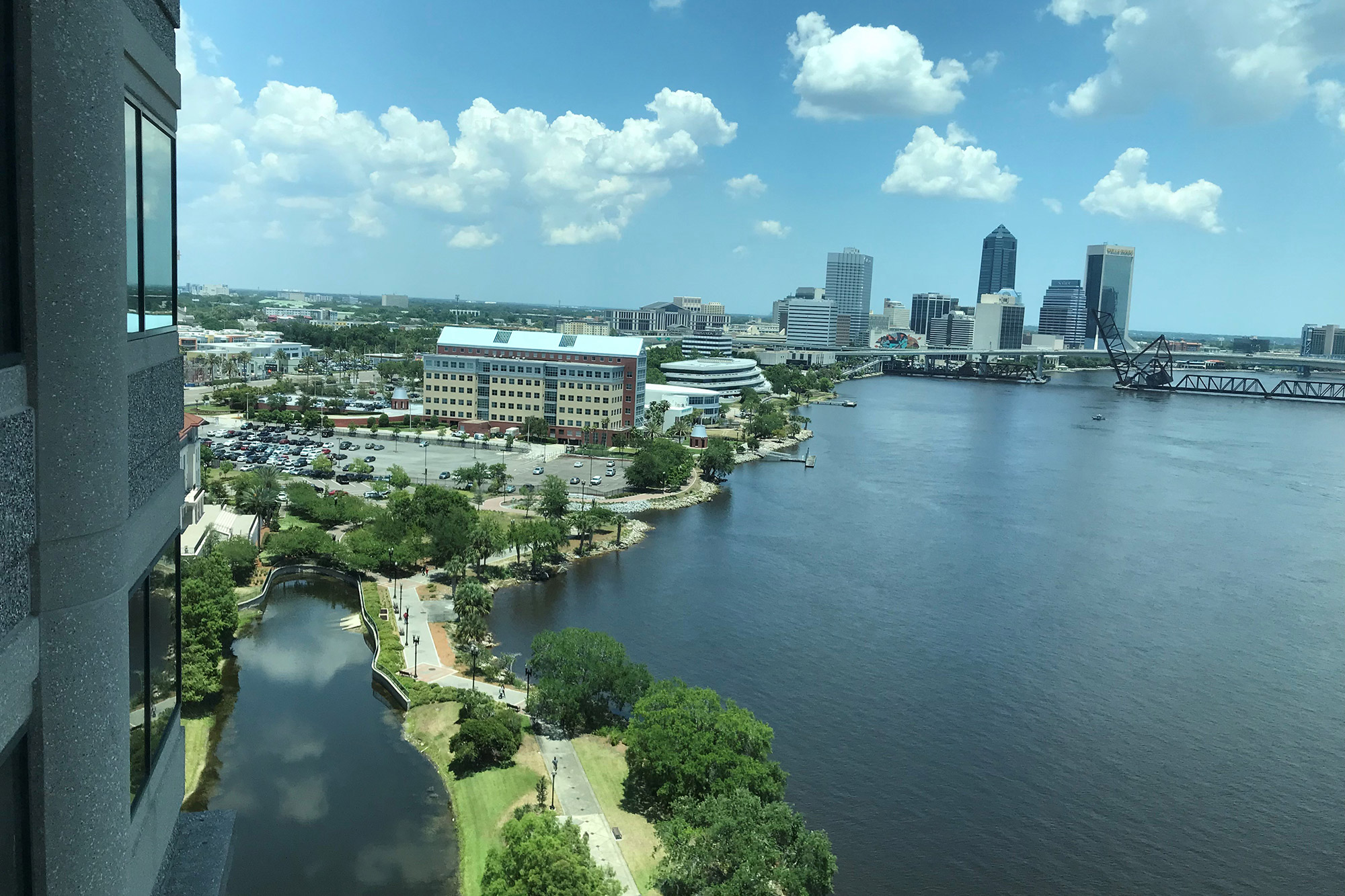 Many measures were implemented within the campus to target the highest LEED certification of Platinum. The headquarters is planning to reduce its indoor water use by 48% and is energy efficient — with 100% green power and carbon offsets. The building is also redundant with 3 smaller generators that will supply 100% emergency power up to 72 hours during and following a storm event.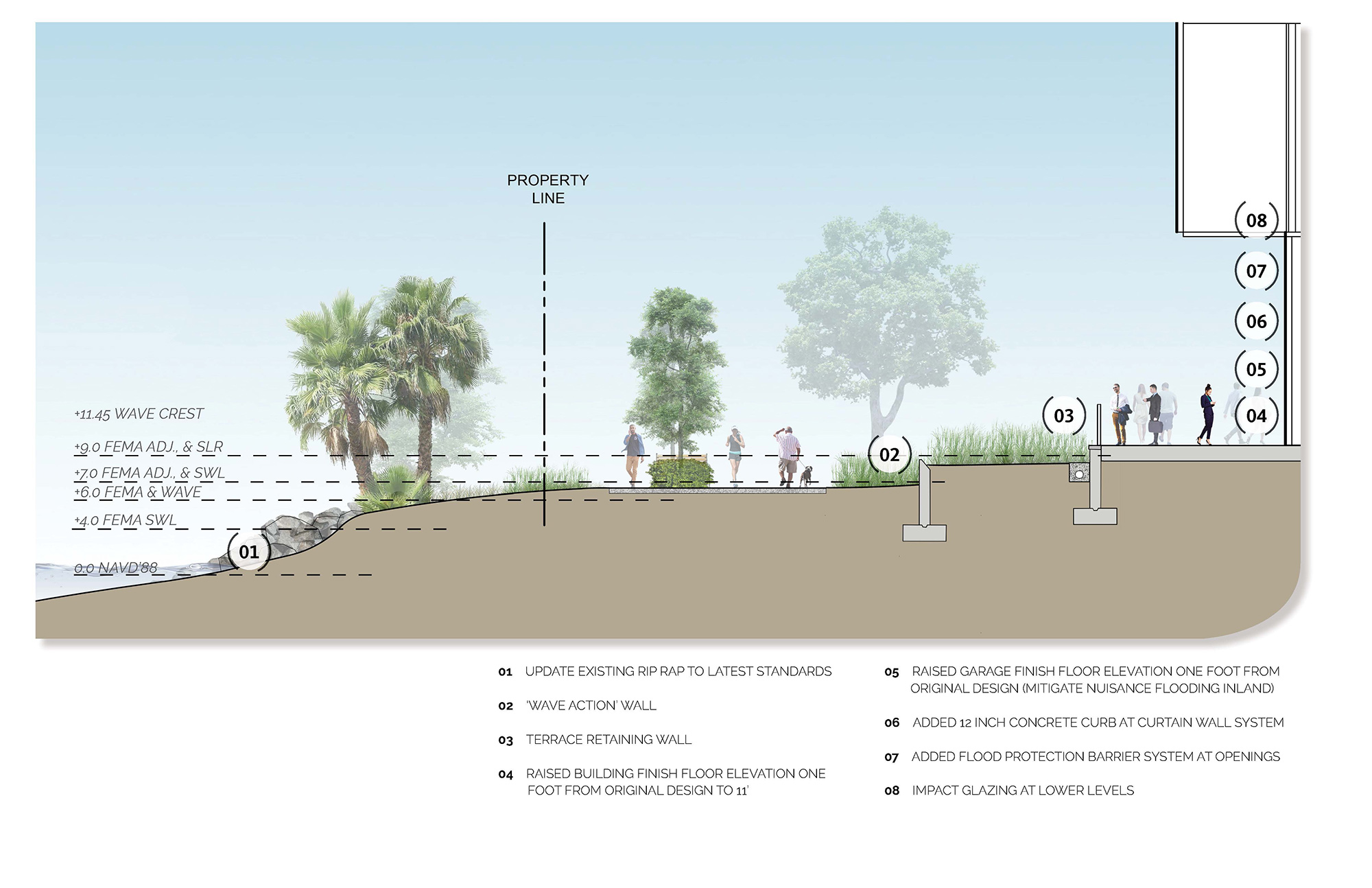 With knowledge of the site's vulnerability directly on the river, we engaged a local Coastal Engineer to support and confirm the design approach including additional recommendations to protect the client's headquarters against sea level rise for the next 50-100 years. The in-depth microclimate analysis showed that if we designed only to FEMA requirements, which does not acknowledge sea level rise, the building's lowest finish floor elevation would be approximately 5 feet too low.
This analysis led us to strengthen our walls at the edge of the Riverwalk — acting as a 'wave action' wall to address heightened water levels. Additionally, we added a concrete curb at the perimeter of the building below the storm rated impact glass and raised the finish floor an additional foot. Collectively, these measures protect against up to 3 feet of projected sea level rise and a combined 11.45 feet possible wave crest in storm events such as hurricanes. The coastal resilience strategies, planned and implemented, accounted for less than 0.05% of the project budget but allowed us to help protect FIS' investment in their headquarters for the next century.
For media inquiries, email .