Extreme Weather Demands an Immediate Design Response
October 02, 2023 | By Rives Taylor, Jacob Plotkin, Anita Grabowska
Editor's Note: This article is part of a series from the Gensler Research Institute reporting on the Global Climate Action Survey 2023 Report. Click here to access the report.
Once rare, climate events are becoming an increasingly regular part of our lives. This was a landmark year in climate as severe weather events disrupted lives and dominated the news cycle. In July 2023, we felt the hottest month ever. In August 2023, we witnessed the highest average global sea surface temperatures. After a year of floods, droughts, and major storms, we are left with one question: how should design respond to the immediate needs of the global community while working towards the challenges of tomorrow?
Gensler's Global Climate Action Survey 2023 seeks to answer this question via a comprehensive survey of over 9,700 adults in eight countries across four continents. Their responses offer a snapshot of the public's perception of climate change and extreme weather. This new data provides unique insights into global opinion in a year marked by increasingly destructive severe weather.
1. Climate's Triple Crisis
The climate crisis is rapidly accelerating, with no signs of slowing. Severe weather events such as extreme heat, heavy precipitation, and droughts recently impacted 90% of survey respondents. This is having incredible consequences on peoples' livelihoods and well-being. Among those affected by severe weather, 70% were impacted financially, 61% experienced mental health impacts, and 60% of respondents felt impacts to their physical health, tied directly to their recent experiences. This triple crisis of financial, mental, and physical well-being is a critical issue to tackle if we are to address the complete scope of the climate crisis.
As severe weather events rapidly increase in scale and frequency, even greater impacts loom on the horizon. Particularly, this year's rash of extreme weather events is increasing fears of future housing disruptions and climate migrations. Our global respondents feel this pressure too — 25% believe that environmental issues will force them to move in the next five years. If we are to avoid this worst-case scenario, we will need to build more resiliently today and safeguard peoples' homes and livelihoods from a changing climate.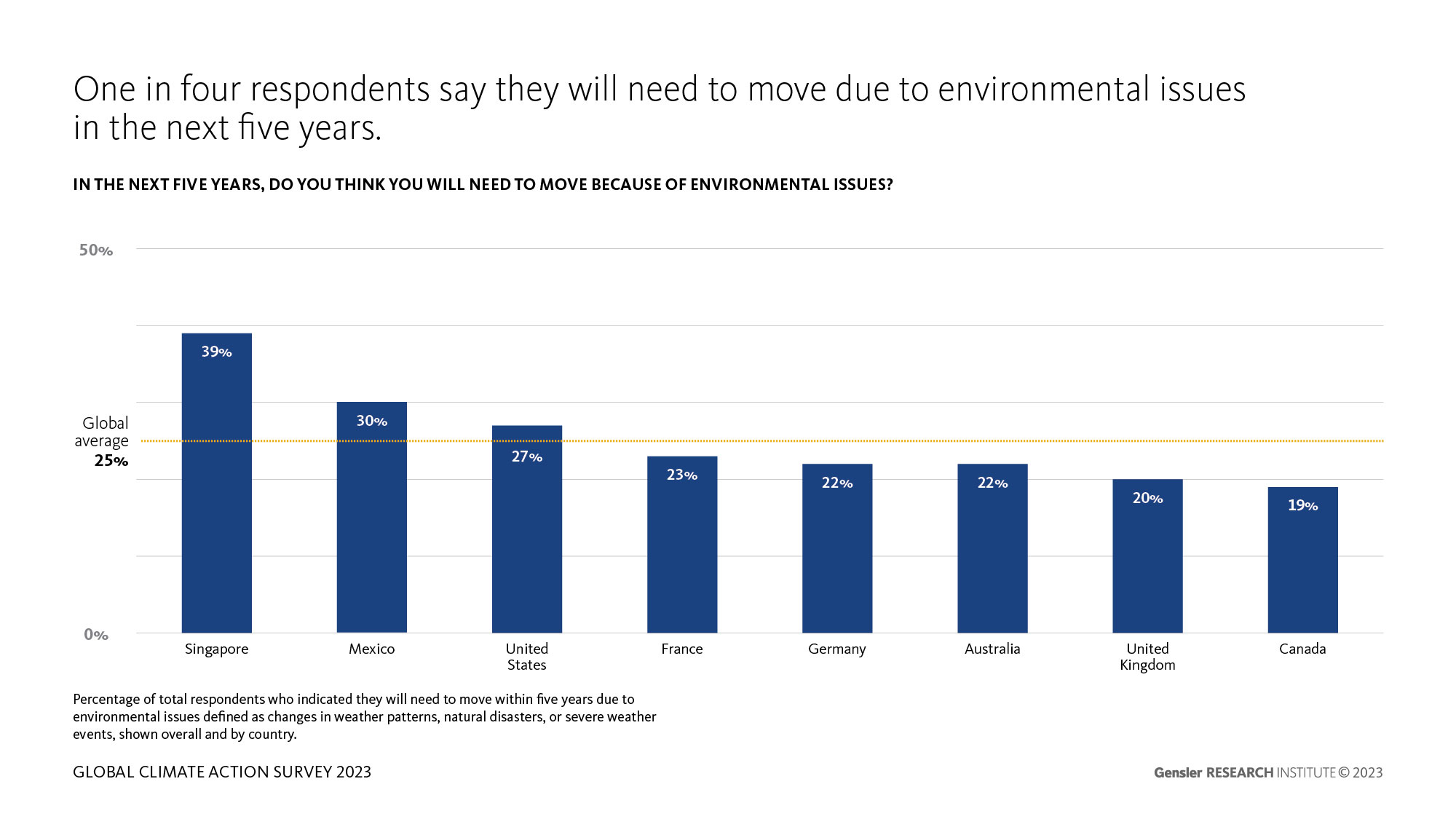 2. Living With Severe Weather
Our survey results confirm that severe weather is a global crisis. Every nation we surveyed was impacted by extreme weather events. However, the scale of each disaster varied between countries. This disparity, coupled with regional differences in the quality and composition of the built environment, creates significant variation in impacts to critical services and infrastructure.
Looking globally, the most common community impacts of severe weather are loss of electricity and loss of connectivity. There is no place where severe weather is not impacting infrastructure. Each nation has its own unique challenges, like access to clean water in Mexico, access to roads/highways in the U.K., and access to healthcare in Singapore. By studying the unique impacts of severe weather in each country, organizations and governments can better target weak points in community climate preparedness.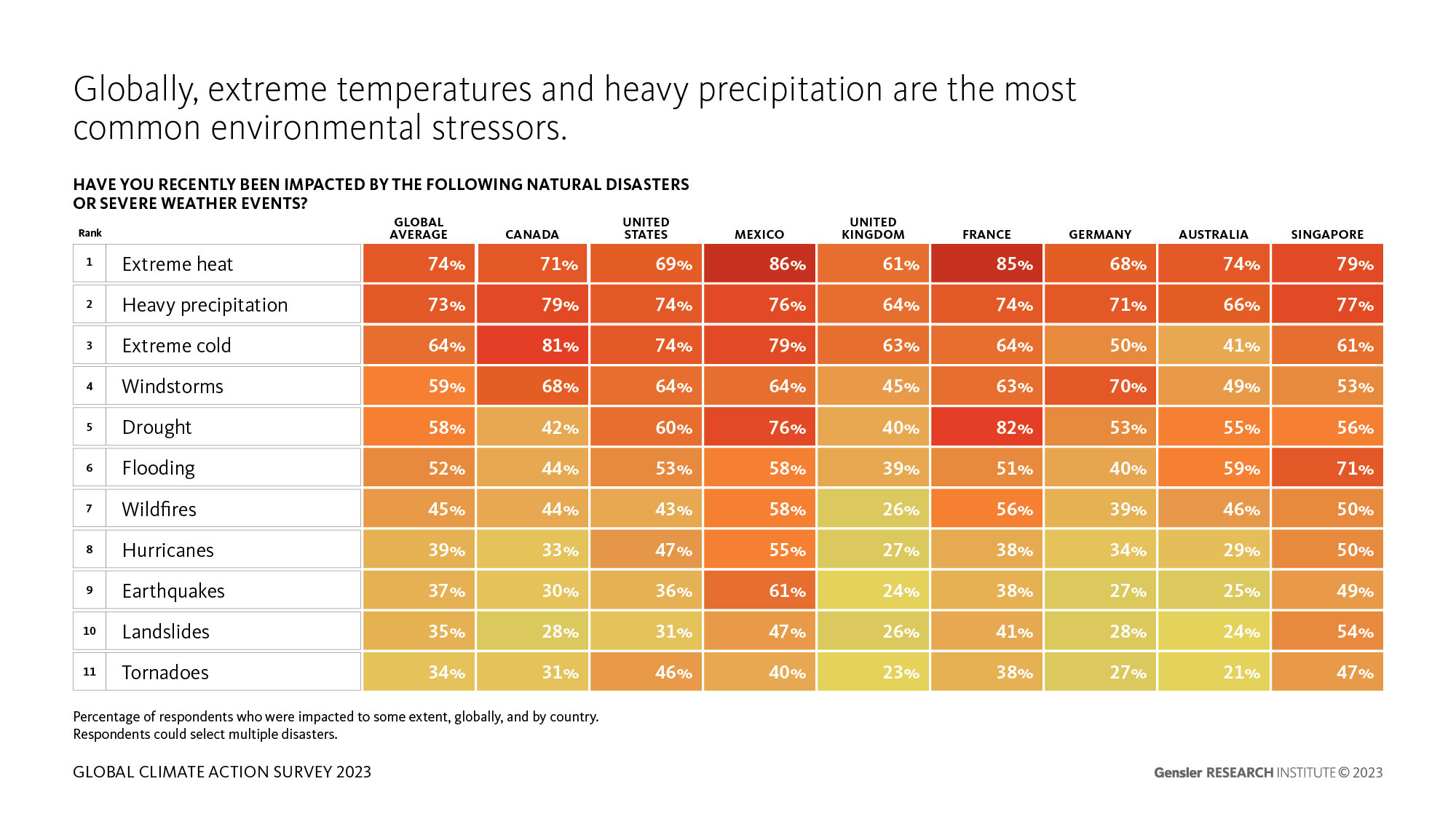 3. Shifting Into Action
Climate change is a complex challenge with dire consequences. Staring into an uncertain future, 93% of survey respondents report that they are concerned about climate change. However, in the face of adversity, the global community is not paralyzed by fear.
Nearly four out of five of respondents are taking action to reduce their carbon footprint. Additionally, we found that over half of respondents are reducing their energy use, consumption, and waste to protect the environment. Public opinion today is squarely climate-minded — the days of climate agnosticism and climate denial are largely over. As we assemble the future of positive design, we can be confident that resilience decisions will be popular today and effective tomorrow.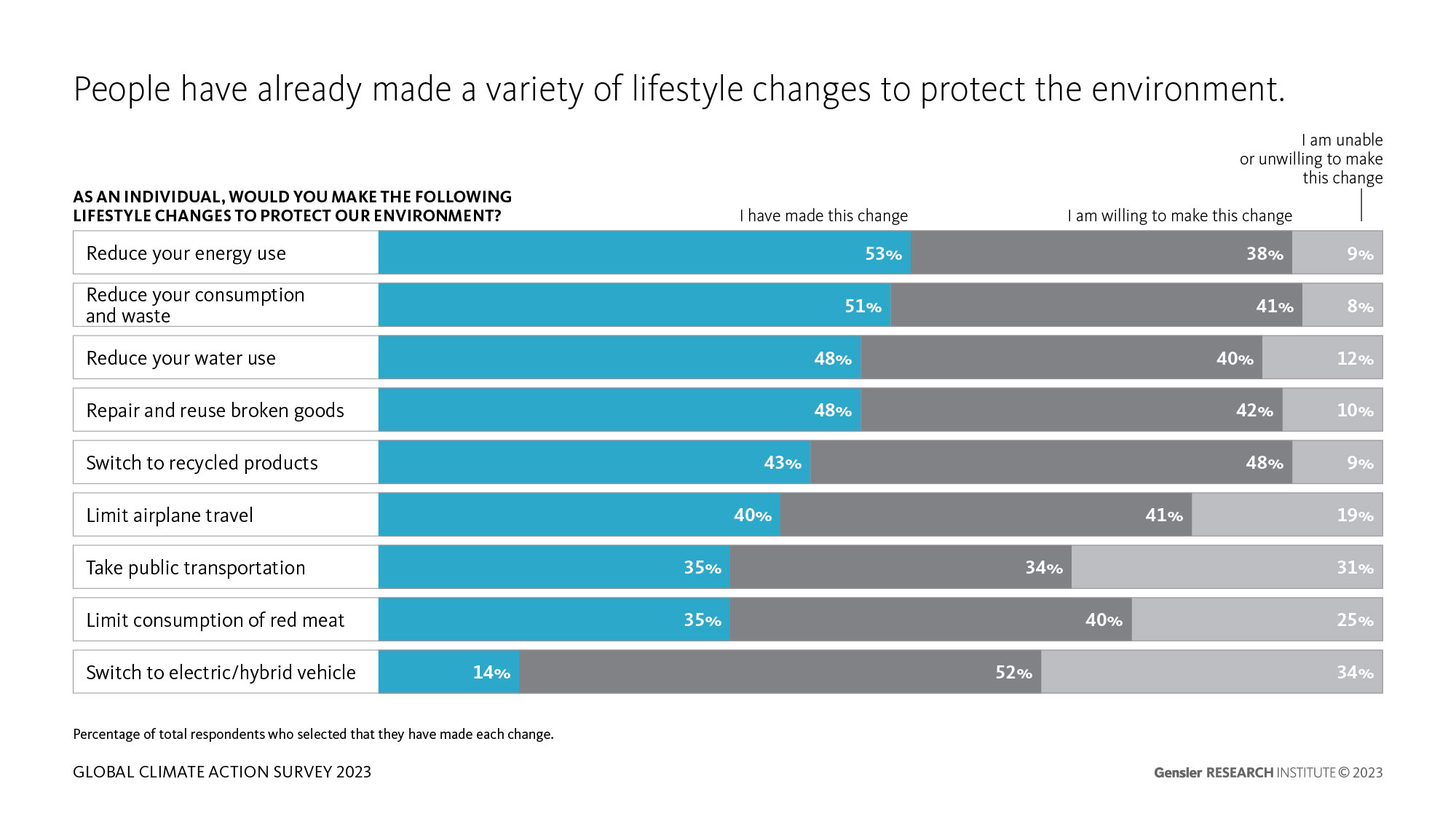 For more findings from our research and ways that design can address the rapidly accelerating climate crisis, download the full Global Climate Action Survey 2023 Report.
Methodology: We deployed an online survey to an anonymous panel of 9,702 respondents from February 3, 2023, to March 13, 2023. Survey respondents were required to currently live in Canada, the U.S., Mexico, the U.K., France, Germany, Singapore, and Australia, Respondents were recruited by Qualtrics, with whom we worked to ensure balanced distributions across personal characteristics, such as age (18+), gender identity, race/ethnicity, household income, and home region/province. The survey could be taken in English (U.S./UK), French (Canada, France), Spanish (Mexico), and German (Germany).
For media inquiries, email .