Climate Change Is Here. It's Time to Invest in Our Collective Future.
April 20, 2023 | By Rives Taylor, Jacob Plotkin, Anita Grabowska
As the threats from climate change become increasingly urgent and evident, we are presented with a unique opportunity to consider the role we each play in protecting our world. Last year, we published our first U.S. Climate Action Survey, highlighting the American public's strong desire for climate action and concerns around community preparedness. To expand our explorations outside the U.S., the Gensler Research Institute is currently in the process of analyzing new data representing eight countries across four continents, dramatically expanding this study's breadth.
Full findings from the study will be published in the coming months, but the first messages emerging from the data are too important not to share. Across a diverse set of nearly 10,000 respondents, we found surprising similarities in experience and attitudes. Climate change is here, and it is dramatically affecting the international community.
Severe Weather and Climate Disasters Are Universally Felt
The respondents to our climate survey are already feeling one of the most salient aspects of climate change: extreme weather. An astounding 90% of our respondents report being recently impacted by at least one natural disaster or severe weather event.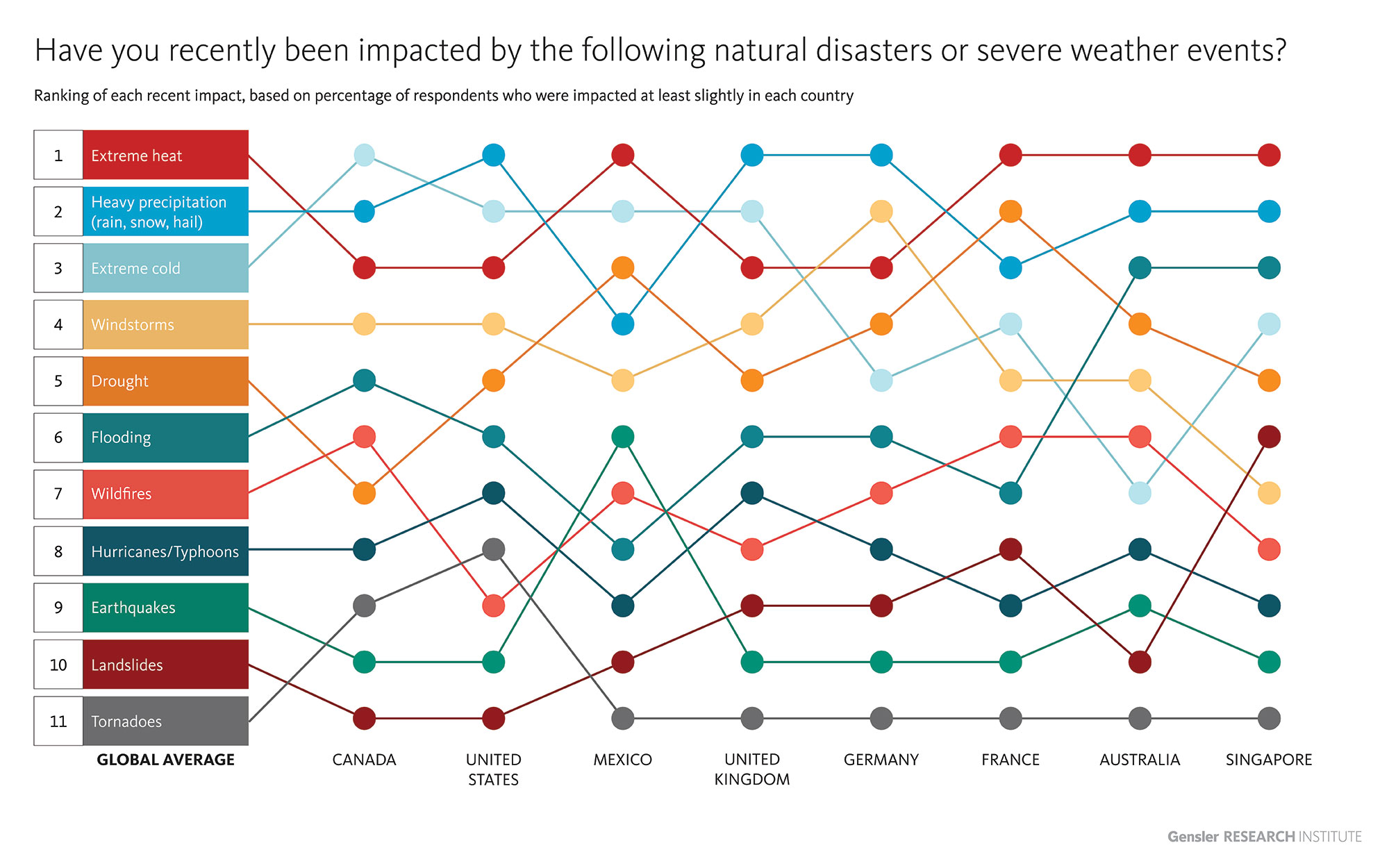 Extreme temperatures and heavy precipitation, both exacerbated by a changing climate, are the most common extreme weather experiences reported. Events like these can damage infrastructure, affect access to healthcare, and put a dramatic strain on utilities, negatively impacting quality of life. We found that no matter where you live, from the deserts of Mexico to the tropics of Singapore, anomalous and extreme weather events are being reported ubiquitously.
Internationally, People Are Ready for a Change Today
Reflecting the number of respondents affected by severe weather events, 93% of respondents also reported that they are concerned about climate change. Across all countries surveyed, the general public is nearly universally concerned about climate change. And when people get concerned, they become ready to take action.
The ability to make a change is here, in the present, today. It is also a time to reflect on our current shared progress in making that necessary change. Most respondents (68%) agree that the world is not taking enough action to address climate change. When asked when climate change needs to be addressed, over two-thirds of respondents have a concise and decisive answer: immediately.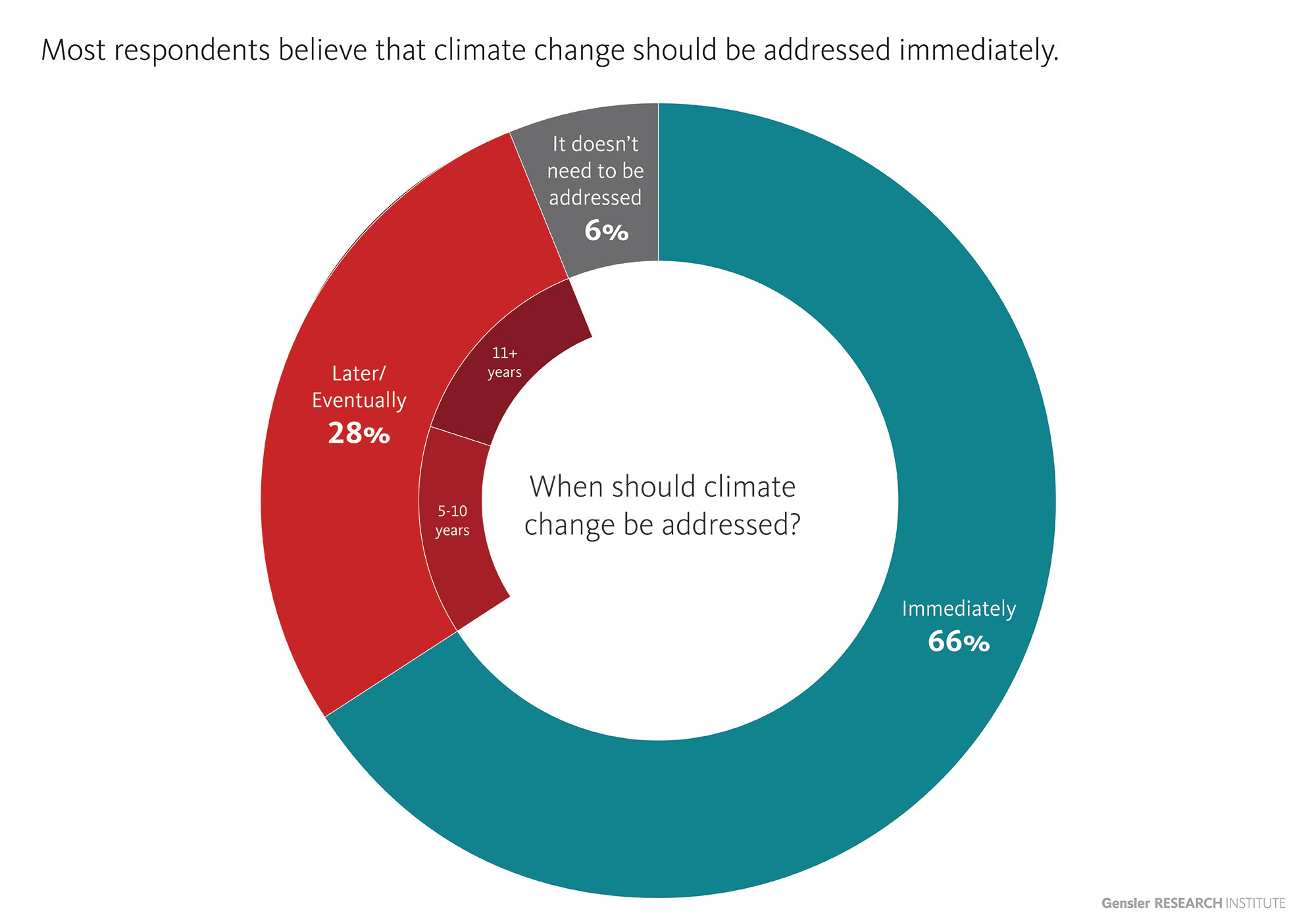 It's Time to Invest in Our Collective Future
The Earth Day 2023 theme is "Invest in Our Planet," a call to action that reminds us of the incredible opportunity we have today to invest in change, building a united front where businesses, governments, and the public can all come together to form a partnership for a more sustainable future.
Investing in our planet is investing in our collective future. It means shifting towards renewable energy, reducing carbon emissions, fostering well-being, and advancing preparedness in the built environment. It means prioritizing sustainability in every aspect of our lives, from the products we buy to the way we travel and consume energy. But our ability to inspire change starts with raising awareness, safeguarding our well-being, and balancing adapting to the short-term impacts with long-term mitigation. With collective actions across communities, industries, and governments, we can build a better world through the power of design.
For additional climate action strategies, please refer to the related content below:
Toward Net Zero Energy
We can create net zero energy buildings delivered through design solutions that combine cost-effective energy efficiency paired with renewable technologies.
Real Estate Must Adapt
The climate is already changing — real estate must adapt accordingly. Despite the urgent threat of rising seas and extreme heat, there are ways real estate investors and communities can mitigate their risk.
The Adaptive Reuse Revolution
Reuse strategies at every scale are cost-effective with reduced carbon impact.
The Right Materials
When you do build new, focus on low-impact and low-carbon resources.
For media inquiries, email .