U.S. residents agree: addressing climate change is urgent. How do we prepare our buildings and communities?
Climate change — and its increasingly visible threat to people's lives and our cities — continues to elicit a sense of urgency everywhere. According to a February 2022 report by the United Nations Intergovernmental Panel on Climate Change, the world faces unprecedented threats to urban centers, coastlines, and farmlands in the coming decades if we do not take drastic action to reduce greenhouse gas emissions. An increase in extreme weather events, such as floods, severe storms, wildfires, and droughts, is poised to trigger global displacement, widespread property loss, irreversible damage to ecosystems, and high levels of food and water insecurity. The bottom line: climate change is an existential threat to people and the planet.
The good news: public sentiment around taking action to prepare for the effects of climate change, and avoid the most dire predictions, is strong and positive. Our Climate Action Survey found that U.S. adults overwhelmingly agree that addressing climate change is urgent, and action should be taken now. The questions many are asking — and what our clients want to know — are how can we take action to avoid the worst-case scenarios, and how do we prepare our buildings and cities to weather the climate storm?
With that in mind, the Gensler Research Institute surveyed over 1,800 adults to understand the ways in which individuals in the U.S. have been and expect to be affected by climate change, natural disasters, and severe weather events — as well as what actions they are taking or are willing to take in order to make our cities and communities more prepared for future climate events.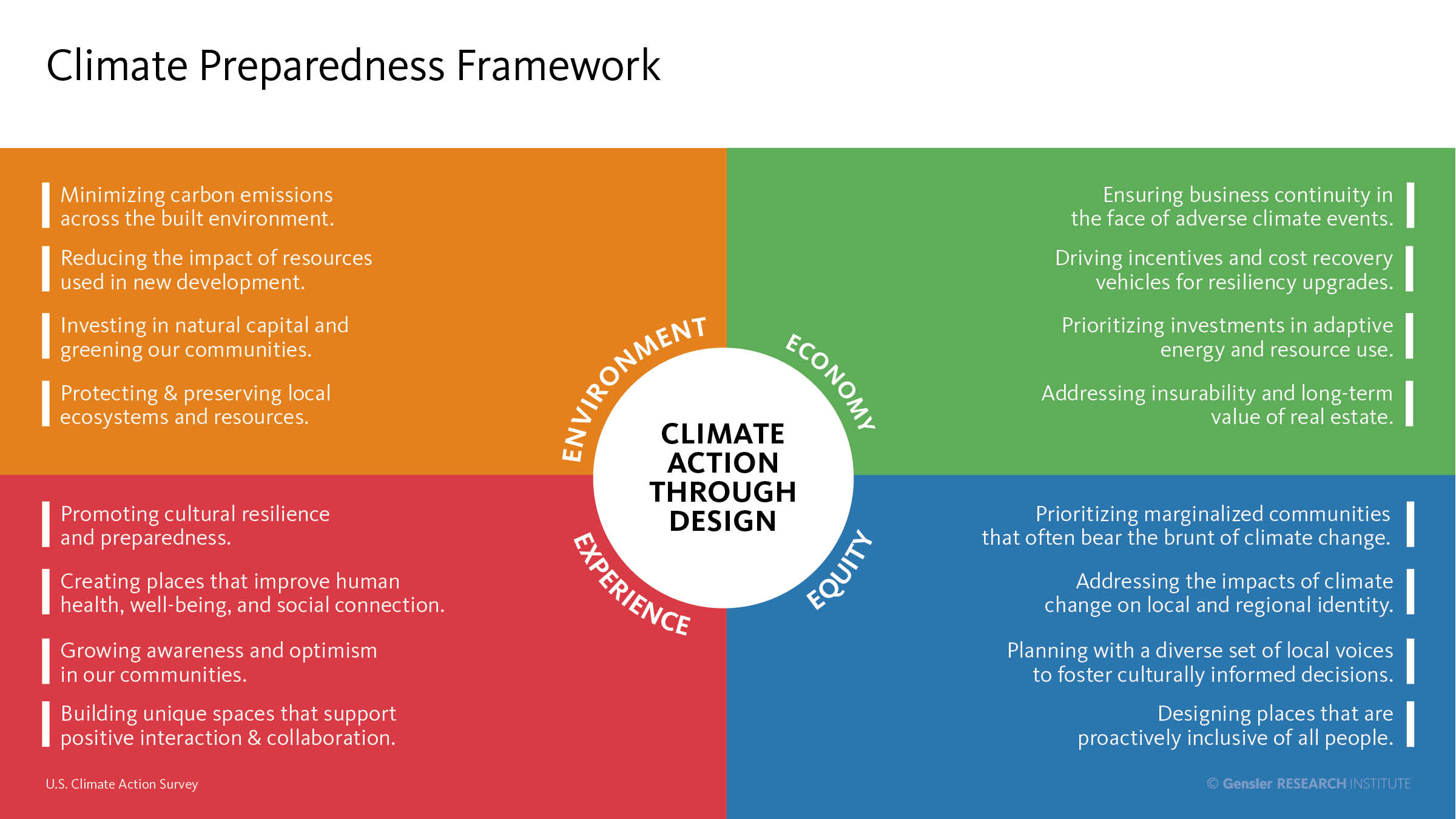 Our opportunity is to help communities prepare for the impacts of climate change with design resilience strategies.
Our respondents represent people across generations, living in different community types and regions around the country. While specific experiences vary by region, generation, and population density, certain themes remain the same: large majorities of people are concerned about climate change, and they are not optimistic that plans are in place to protect their communities.
At Gensler, we know that to lower risks, there are steps we can take now and steps we must take in the long term — specifically to minimize carbon-based climate impacts. This means that what we do to prepare today should have minimal life-cycle impacts on the climate for the future.
To address this, we conclude this report with a framework of strategies that examine climate preparedness through the lenses of economics, experience, environment, and equity — with the ultimate goal of inciting positive action around climate change and the built environment now and in the future.
U.S. Climate Action Survey 2022 Methodology
This report is based on data from U.S. adults totaling 2,756 respondents, collected from October 30 to November 1, 2021 in two separate surveys, with 1,820 and 936 respondents respectively. The studies were conducted online via an anonymous, panel-based survey. Respondents were required to be U.S. adults and were distributed across demographic characteristics, to represent a wide range of ages, and geographies across the country. The sample of 936 U.S. adults was selected based on homeownership and experience of disaster-related hardship.
Download the full U.S. Climate Action Survey 2022 to understand the key components of climate preparedness. Our data provides important insights into how U.S. residents are navigating the climate crisis.