Guangzhou Substation
Concept Proposal
Guangzhou, China
Turning City Infrastructure into Human Infrastructure
A non-typical approach to urban infrastructure creates community and supports local ecologies in the development of a new substation.
In 2020, the government of Guangdong, China, launched an international competition to develop a design for a collection of electrical substations — the type of urban infrastructure that's necessary but not particularly beautiful or functional for any other reason than to route energy to parts of the city. Substations are typically hidden away from day-to-day city life, but the Guangdong government wanted to make them a more integral part of urban living.
Gensler's proposal took the opportunity to rethink electrical substations as places to generate clean energy while supporting urban farming and creating community around an otherwise typical piece of urban infrastructure. Evolving substations into multiuse community structures introduces a new kind of city amenity.
PROJECTED OUTCOMES
LEED v4 Gold for Commercial Interiors
On track for LEED Zero Carbon Certification
24% more energy efficient than a baseline building
Wind farm to produce 6570 kWh electricity/per unit
62,900 tons of filtered wastewater released into the wetland system/per year
17,958,000 kWh waste heat converted for farming/per year
27,000 square meters of land for urban farming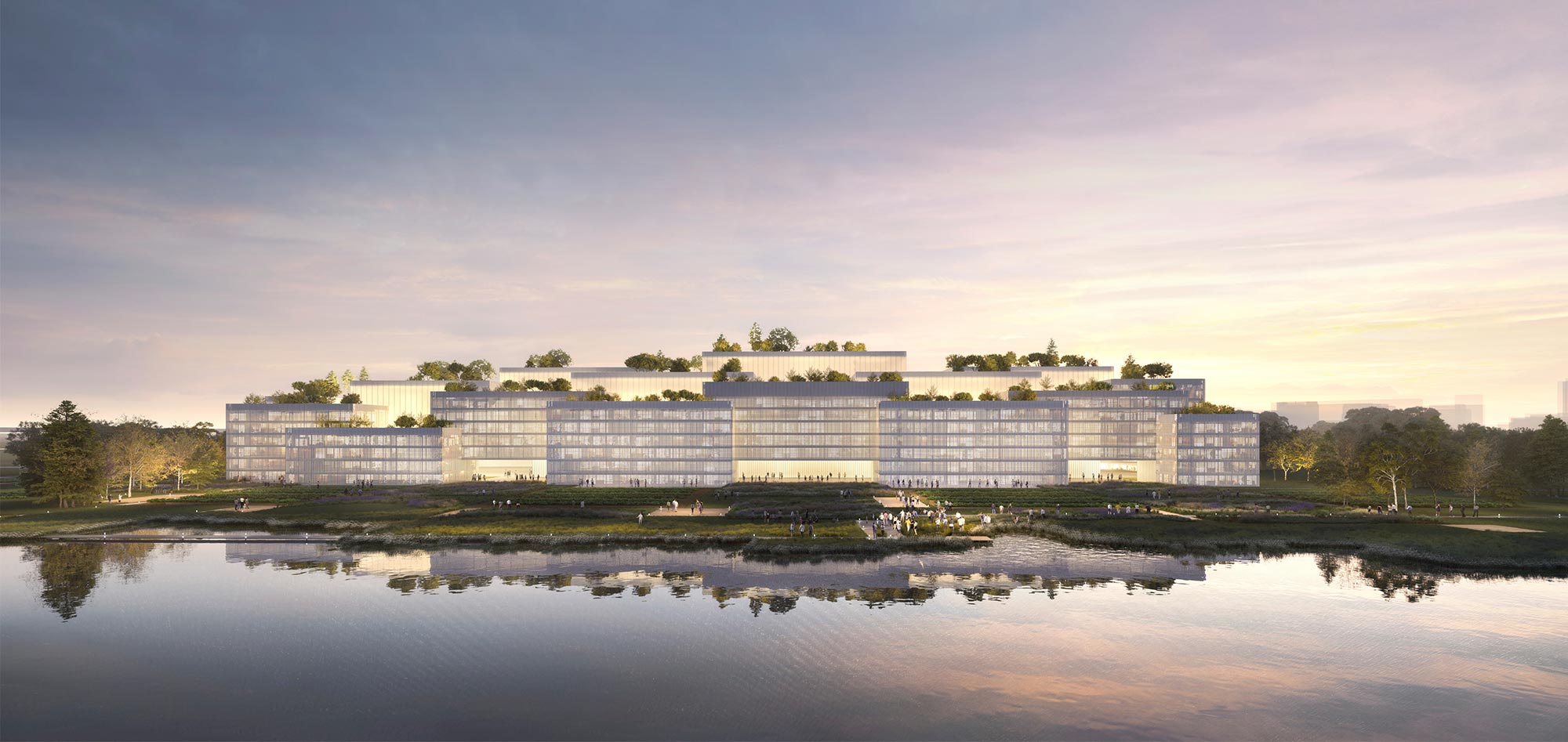 CHALLENGE
The site we were asked to consider was in the Haizhu National Wetland Park, a key part of the ecological framework of central Guangzhou. Known as the "southern lung" of the city, the wetland park provides an urban eco-oasis in the high-density city center. After researching the area, we knew that we needed to develop an architectural design for the substation that would seamlessly merge with its natural surroundings. We also looked to create a new type of city infrastructure, one that could fulfill its core function while also serving as a restorative public space for the city's residents.
SOLUTION
While substations don't typically double as workspaces and housing, our design concept, developed in partnership with Glumac engineers and ASPECT Studios landscape design, transforms a 500 Kilovolt (KV) substation into a modern workplace, residential units, and an urban farm. The office facilities and residential dormitories are an important community resource and so are the rooftop terraces that can grow fresh produce to showcase China's rich agricultural heritage. The building form references Guangzhou's vernacular urban villages. These tightly organized local forms self-shade while providing a range of spaces for community activities.
SUSTAINABLE DESIGN STRATEGIES
WIND ENERGY
We incorporated a wind farm into the roof system that produces additional energy for greenhouse lighting, while a thermal electric generator converts waste heat from the operations of the substation to electricity. The resulting electric energy is used to power LED lights and water pumps on the roof. This filtered water descends naturally down the terrace platforms, while water from the natural system is pumped back up for irrigation use. Additionally, wastewater from farming is filtered and released back to the surrounding wetland system, forming a clean, repeatable cycle of water treatment.
NATURAL VENTILATION
We lifted the building's dormitories up one level to ensure cross-ventilation throughout the structure. This allows cool air to flow underneath the roof structure while warm air rises through openings in the roof geometry. Elevating the dormitories also created an internal courtyard between the dormitory and the substation that provides for interior circulation and easy access for service and maintenance. We then installed a real-time environmental quality monitoring system that displays data relating to electric field strength, magnetic induction, and particulates.
ROOFTOP FARMING
Green roof systems have a number of sustainable benefits for many types of buildings, including water capture and the ability to lower operational energy. Our design for the Guangzhou substation rooftop farm features various species of local produce, including fruit trees, small- to medium-sized crops, fields of colored rice, and lotus flowers. Also, the green roof system absorbs rainwater to reduce runoff into the surrounding area, while also reducing heat gain on the floors below. The design is a truly innovative system of on-site energy generation and water filtration that would allow for carbon-neutral farming.
COMMUNITY INTEGRATION
Pathways that guide visitors around the substation and up to the roof weave the structure into the fabric of the community, providing opportunities for engagement and education. While the terraces are primarily used for farming, the rooftop also includes spaces for fitness classes, recreational sports, and lounging, all without disrupting the operations on the lower levels of the building. By utilizing the farm as a fifth façade, our design turns a transformer into a sustainable green icon and riverside attraction.