Urban Residents Around the World Support Efforts to Address Climate Change
April 21, 2021 | By Sofia Song and Stella Donovan
Fewer than half of city dwellers feel optimistic about their city's ability to combat the climate crisis — it's time for cities to meet the moment.
This year, our annual Climate Action Through Design publication comes on the heels of one of the most challenging years in recent history. In 2020, the COVID-19 pandemic revealed how deeply our human destinies are intertwined — particularly in densely populated urban areas. We witnessed the incredible things that can be accomplished when we make widespread commitments to fight back against threats to our collective health and safety. And there's no greater threat to our global communities than the climate crisis.
A recent survey of urban residents from 10 cities around the world conducted by the Gensler Research Institute uncovered broad public support for initiatives focused on addressing climate change — but also yielded sobering insights about how city dwellers feel about climate change preparedness: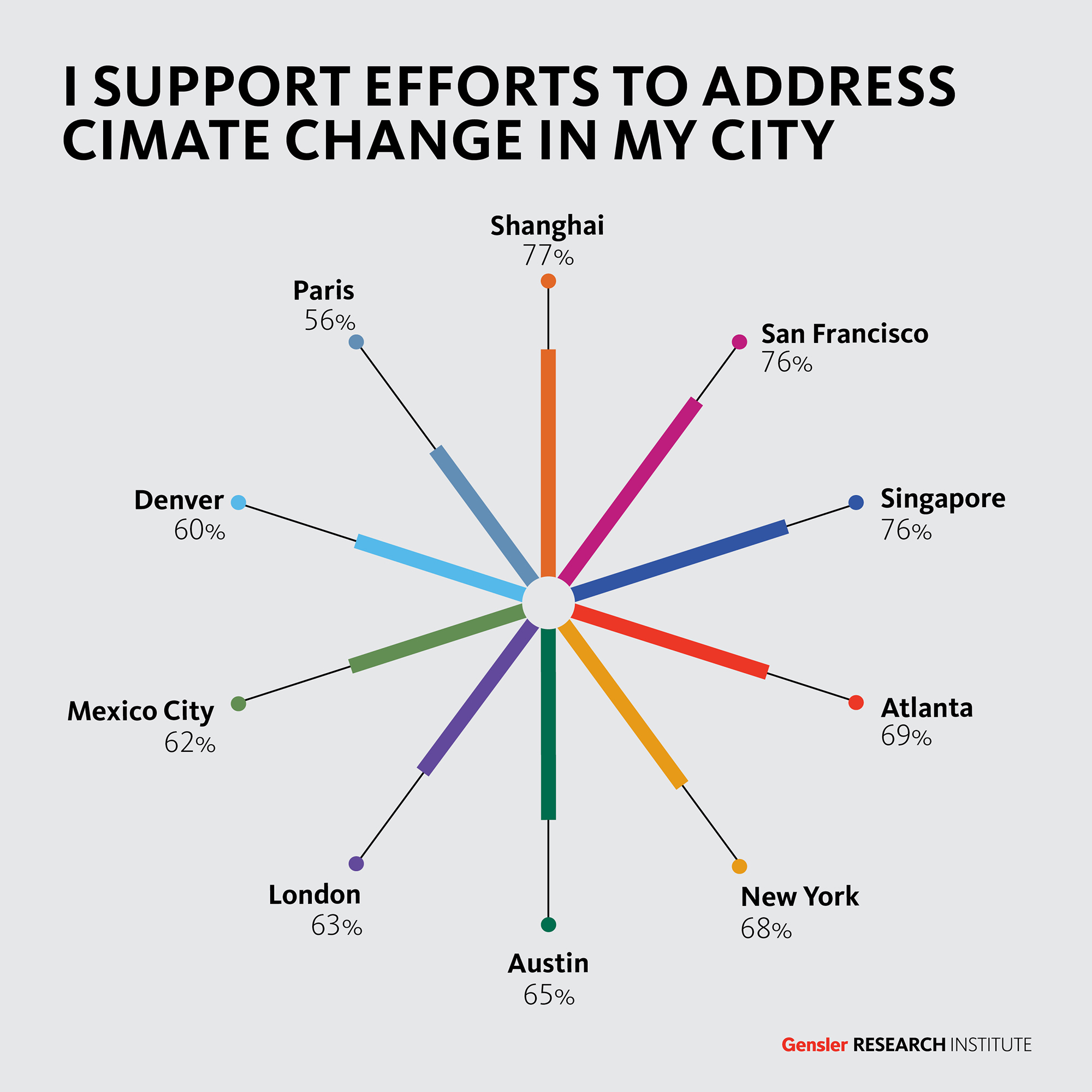 Urban residents want to see climate-positive changes — cities must keep pace.
Urban residents around the world want their cities to meet the challenges of the moment. Shanghai shows the highest level of confidence and support in their city's efforts to address climate change, but the remaining global cities that we surveyed aren't far behind. Even Paris, whose residents show the lowest level of support, reports that over half of residents want their city to take proactive measures to address the climate crisis.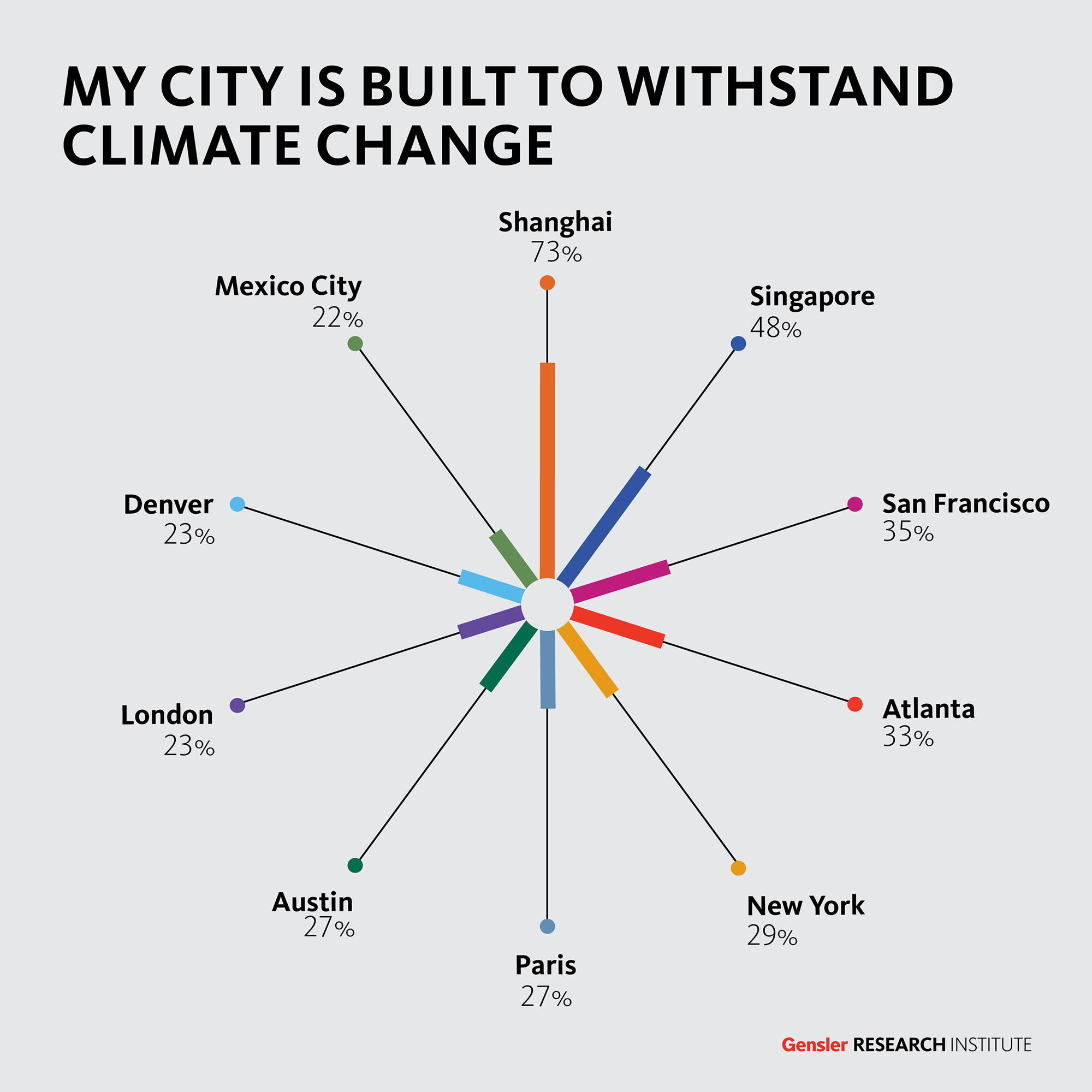 However, urban residents don't feel that their environments can successfully navigate the climate crisis — cities must do more.
With the single exception of Shanghai, fewer than half of urban residents feel that their city is built to withstand climate change. There is little variation among American and European cities, despite facing different geographical challenges. For example, fewer than 1 out of 4 residents in flood-prone London feel that their city is equipped. This number is even lower in Mexico City, where residents face severe effects of climate change due to increased air pollution.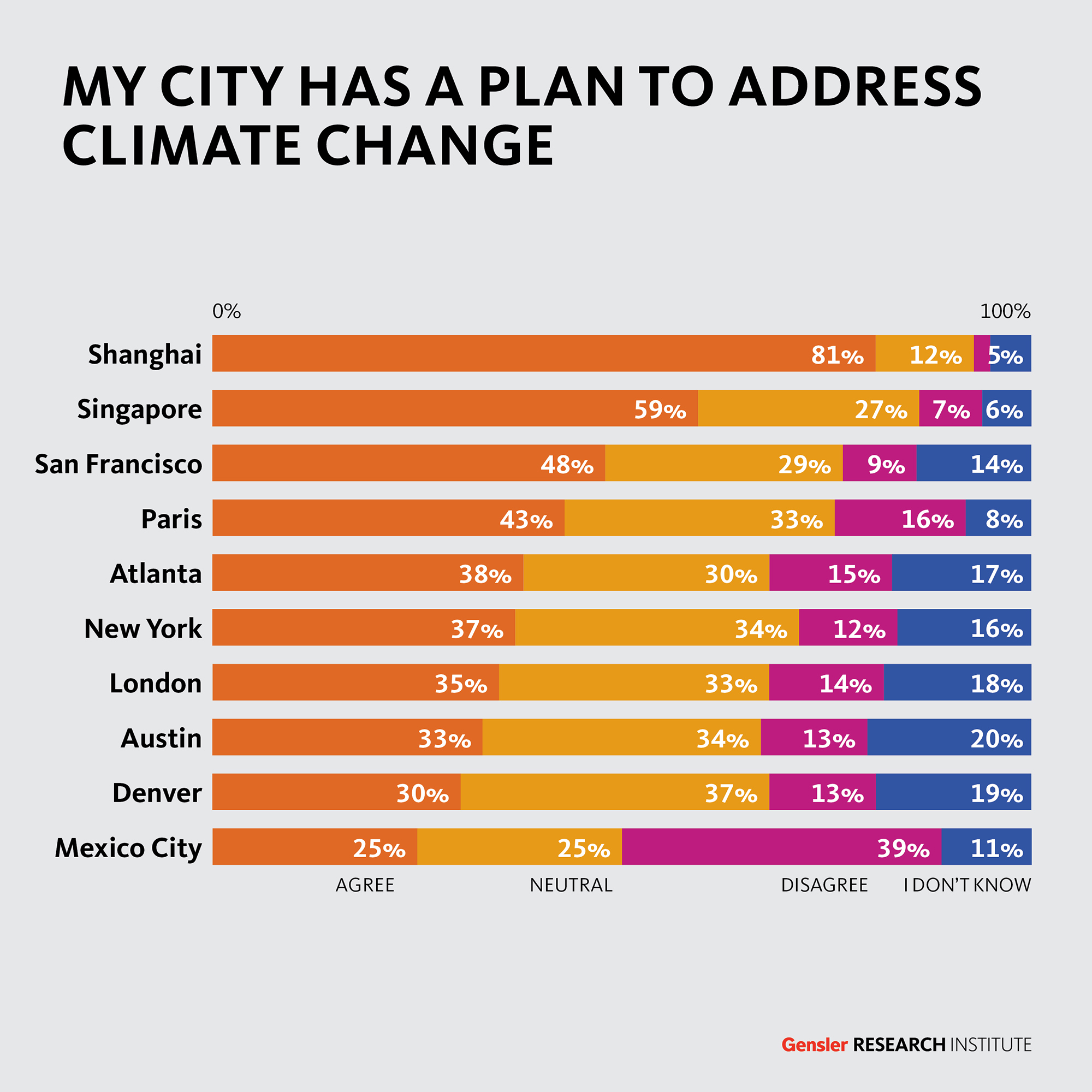 With decreased confidence among city dwellers, cities need to be vocal and transparent about their plans to combat the effects of climate change and extreme weather events.
Our data shows a key link between residents' awareness and confidence. The residents of cities who show the highest levels of agreement that their cities have plans to address climate change—Shanghai, Singapore, and San Francisco—also report the most confidence in their city's ability to navigate the climate crisis. Conversely, nearly 40% of Mexico City's residents disagree that their city has a plan, which likely contributes to their low levels of confidence in their environment.
Taken together, this data shows that as the arrival of vaccines brings hope that we may soon work, travel, and socialize together once again, we cannot forget the many lessons of the pandemic. While many people around the world were under lockdown or working remotely, there was a marked decline greenhouse gas emissions and water pollution, and a significant improvement in air quality. Now that we've seen how rapidly the world can change, we must ensure that it changes for the better.
For more information on Gensler's resilient design efforts, download Climate Action Through Design: Transforming the Built Environment for a Net Zero Future.
Methods: Data is from 5000+ respondents in 10 cities (New York, San Francisco, Atlanta, Austin, Denver, London, Paris, Singapore, Shanghai, and Mexico City) for the February 2021 Gensler City Pulse Survey. Full results to be published in May, 2021.
For media inquiries, email .