CLIMATE ACTION
THROUGH DESIGN
TRANSFORMING THE BUILT ENVIRONMENT FOR A NET ZERO FUTURE
ADDRESSING CLIMATE CHANGE IS THE MORAL AND BUSINESS IMPERATIVE OF OUR TIME.
Our portfolio is already designed to save over 17 million metric tons of CO2 from being emitted on a yearly basis. But there's still so much more work to do — and it can't be done without the help of our clients, colleagues, and industry. Our mission is to transform the built environment for a net zero future with every project, in every location, and for every person.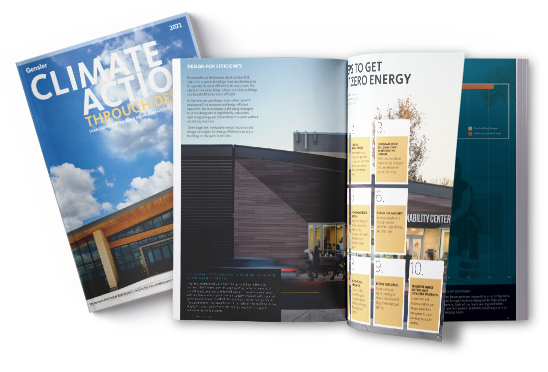 Download Climate Action Through Design
WE ARE TAKING ACTION TO REIMAGINE CITIES FOR A RESILIENT FUTURE.

Want more of Gensler's design insights? Sign up for our dialogue Now newsletters to get regular updates sent directly to your inbox.