Ericsson USA 5G
Smart Factory
Lewisville, Texas
A Factory That Prioritizes Operational Efficiency
Ericsson's USA 5G Smart Factory moves manufacturing closer to its consumers.
Global production sectors are responsible for nearly 20% of the planet's carbon emissions, a clear call for manufacturing companies to address the environmental impact of their operations. When Ericsson, a global information and communication technology provider, announced plans to build its first highly automated factory in the U.S., it resolved to do exactly that. The state-of-the-art factory produces Advanced Antenna System radios to boost network capacity and coverage (including in rural areas) along with 5G radios for urban areas. The 5G Smart Factory will help accelerate 5G deployment, create new jobs, and usher in a new era of technological advancement — all while showcasing how sustainable design and engineering can reduce the world's manufacturing footprint.
PROJECTED OUTCOMES
LEEDv4 Gold for Commercial Interiors
On track for first LEED Zero Carbon Certification, 24% more energy efficient than a baseline building
80% reused furniture
75% less indoor water usage than baseline buildings
98% of construction debris diverted from landfills
20% of the construction materials with recycled content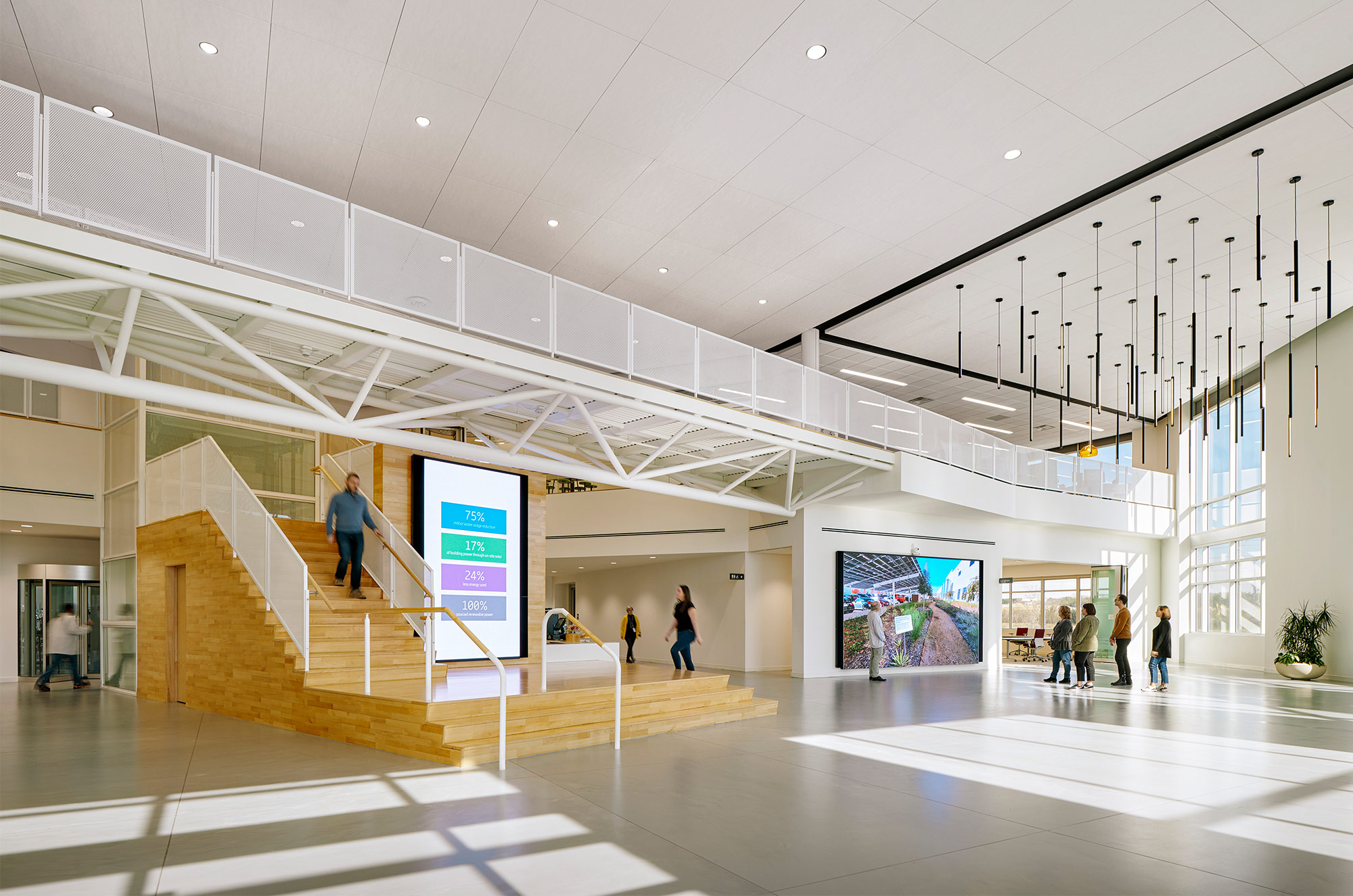 CHALLENGE
Ericsson has a vast global presence, with factories in, Estonia, China, and Brazil. However, as an early adopter of the United Nations' Sustainable Development Goals, the organization recognized the environmental impact of shipping its products internationally. For its first factory in the U.S., Ericsson wanted to select a site that provided better access to its North American customers and reduce the overall carbon footprint. Additionally, the Smart Factory design needed to fully integrate with Ericsson's commitment to achieving carbon neutrality by 2030.
SOLUTION
Resilient design is central to Ericsson's company purpose. With a 10-year building and site lease, and a $100 million investment, Ericsson set a goal to launch the next generation of smart, sustainable manufacturing. This ethos drove the entire smart factory design process, from a sustainable site selection process to decisions about furniture reuse, efficient mechanical systems, and resource savings. The campus also features a Green Education program through a self-guided tour equipped with educational signage and animations at each tour stop. Visitors can learn more about each resilient design strategy while enjoying the outdoor space filled with plants native to the area.
SUSTAINABLE DESIGN STRATEGIES
RISK-BASED SITE SELECTION
After narrowing site selections to three options in the Dallas, Texas area, we helped Ericsson assess a decision matrix to evaluate the general risk associated with each building. After weighing variables such as landlord flexibility, flood plains, and connectivity to other Ericsson hubs, the team determined which site provided the most compatibility with the sustainable features they envisioned for the design. Instead of building new, Ericsson leased a building that was under construction as a fulfillment center. This choice increased speed-to-market delivery and reduced embodied carbon.
SOLAR PANELS AS SUN SHADES
While we'd originally planned to install a 600kw solar array on the roof of the factory to further offset operational energy, we discovered that the weight of the solar panels would be too heavy for the steel already in use. We adapted to this circumstance by installing the solar array over the parking lot instead. The installation reduces the heat island impact of the parking lot pavement while sheltering parkers from seasonal weather. In total, the solar panels offset roughly 17% of the building's energy consumption.
REPURPOSED FURNITURE
Ericsson wanted its U.S. factory to keep a similar look and feel to its other locations while also cutting down on the costs and embodied carbon associated with new furniture. To achieve this, we stayed close to home when selecting furniture, browsing through an inventory from decommissioned Ericsson sites. In total, 80% of the furniture in the Smart Factory is reused, defraying over 90% of furniture cost. This amounted to more than $1 million in savings over the life of the project.
STORMWATER CAPTURE
Ericsson wanted to reduce on-site potable water consumption by capturing, treating, and reusing stormwater on-site. The factory features a pair of water tanks that each capture up to 18,000 gallons of water. The water is reused in the building and for on-site landscape irrigation, resulting in a 75% reduction in indoor water usage as compared to baseline buildings. Ericsson wanted the water tanks to feature prominently in the design, a statement to visitors about its passion for sustainability.
ENERGY-EFFICIENT SYSTEMS
To reduce their overall energy consumption, Ericsson invested in a magnetic levitation (maglev) chiller. Water-cooled and oil-free, the maglev chiller reduces friction-related energy losses and increases the efficiency of heat transfer. The HVAC system also features an ice plant, which utilizes the factory's waste heat to create and store ice in thermal ice storage banks. When temperatures rise during hotter days and peak heat events, the melted ice is used to cool the air in the factory.