Mass General Brigham
Integrated Care Facility
Salem, New Hampshire
A High-Performance Prototype for Healthcare
Mass General Brigham's new ambulatory care facility is poised to become a vital community resource.
Mass General Brigham (MGB) Integrated Care (iCare) is an innovative ambulatory care program designed to serve as a new model for delivering accessible, high-quality, experience-infused care. In addition to ambulatory surgery and comprehensive imaging, the facility will provide a range of services, including primary care, behavioral health, and specialty care — all closer to where patients live.
The iCare facility in Salem, New Hampshire, is the first location in a series of networked ambulatory care facilities. Once completed, the iCare system will encompass program types from small clinics to multi-story diagnostic and surgical centers, all aimed at providing services that are tailored to the specific needs of local markets around Southern New England.
PROJECTED OUTCOMES
LEED v4 NC
37-51% EUI reduction over baseline
80% of electricity comes from emissions-free sources
Carbon-neutral material strategy: carpet, vinyl, and rubber flooring
LEED Silver certification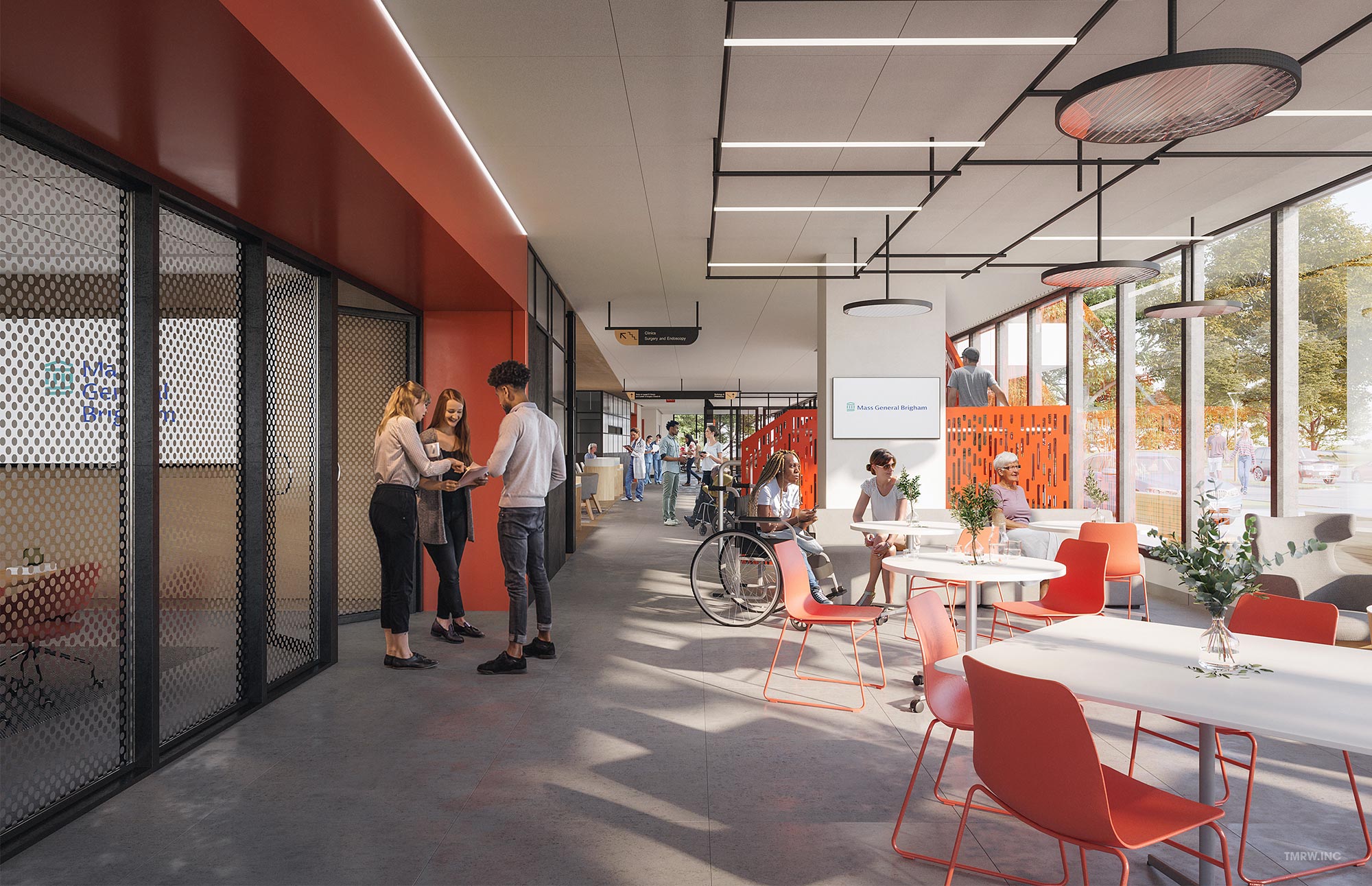 CHALLENGE
A founding member of the U.S. Healthier Hospitals Initiative in 2012 and a current member of the U.S. Health Care Climate Council, Mass General Brigham challenged Gensler to deliver a structure that performs for patients and staff, communities, and the planet as a whole. As the first of many facilities in the iCare system, delivering a modular, efficient design with materials that meet the high standards of functional performance for clinicians and patients was also a priority. Having just navigated the challenges of delivering healthcare during a global pandemic, it was also important to design spaces to be flexible enough to accommodate possible future treatment need surges and/or space restrictions.
SOLUTION
Central to MGB's iCare system is the concept of relationship-based care — a model of care that is defined by human-to-human connection. This approach goes beyond patient-centered care to encompass a multitude of relationships: between patients and care teams; between colleagues; and between families, communities, and the environment. To bring this concept to life, we developed a unique range of spaces and solutions that promote connectivity while honoring Mass General Brigham's commitment to environmental stewardship. In addition to a focus on sustainable performance at both the operational and materials level, the team delivered a solution that prioritized flexibility and modularity — from design solutions that are easily repeated and adapted, to pre-fabricated MEP solutions that improved quality, maintenance, and speed.
SUSTAINABLE DESIGN STRATEGIES
RESPONSIVE CARE ROOMS
The exam and consultation rooms provide the most essential functions of the facility: offering a space where the iCare providers deliver the care and attention patients need. We designed these rooms to have maximum flexibility for a multitude of services and interactions. The modular design and demountable wall product allow rooms to scale up or down as needed, for newly imagined services as care models and technologies evolve. These rooms also maximize occupant comfort, enabling the patient or provider to "tune" the room through light, sound, and audio/visual media.
READY FOR RENEWABLES
The design includes options for a future geothermal system to support future carbon reductions on-site. All the future buildings following this prototype will be net zero-ready.
MATERIALS SELECTION
Our work with Mass General Brigham was guided by three C's: carbon, chemicals, and circularity. We intentionally selected materials with a low carbon impact by specifying materials with recycled content, working with manufacturers that take back and recycle materials, and avoiding materials that contain harmful chemicals. Except when medically necessary, the entire design is free of polyvinyl chloride (PVC) plastic. Fabrics used throughout the clinic are Healthier Hospitals compliant and in line with Clean Air Gold, Greenguard Gold, and/or LEED v4 certification, all while remaining bleach-cleanable. All our interior wood or wood-containing materials are FSG certified.
COMMUNITY CONNECTIVITY
We designed iCare to have inside-out connectivity to the community it serves. A public healing garden on the property creates a place of respite that can be programmed for community or wellness events. Artwork from local artists were selected in partnership with Mass General Brigham's Arts Committee. We installed a blank exterior wall so that films can be projected at the facility during community movie nights. Additionally, there is space for local food trucks to park and sell meals and snacks. By incorporating additional spaces inside the building for group meetings, therapy sessions, yoga, meditation, and community wellness-based offerings, the site acts as a resource for the healthy as well as the sick.
UNIFYING STAIRCASE
The building features a central staircase connecting all three floors of the building — a physical representation of an integrated care concept. The staircase promotes wellness through increased physical activity, access to daylight, and by creating an uninterrupted vertical journey through the space. It also slows the pace of circulation to allow users increased opportunities for social connections and serendipitous interactions.
HIGH-PERFORMANCE BUILDING ENVELOPE
The building design incorporates cantilevers that create overhangs to passively shade the building. We maximized glass on the north side of the building to allow diffused natural light into the space. The south side of the building integrates horizontal bands to shade the glass. On the east and west sides, we minimized the windows to block solar heat gain. Triple-glazing allowed the team to remove all perimeter heat and reduce the entire building energy loads. The high-performance envelope reduces HVAC system sizing as well as energy usage and carbon emissions.
CARBON-NEUTRAL FLOORING
PVC, now a known reproductive toxin, is frequently utilized in healthcare settings to create affordable, easy-to-clean ceilings, flooring, and wall coverings. We researched and eventually selected various types of carbon-neutral carpet, vinyl, and rubber flooring that were made with up to 82% recycled content. Flooring is also free of commonly added heavy metals, ortho phthalates, formaldehyde, fluorinated chemicals, and halogenated flame retardants.
AN ACCESSIBLE COLOR STORY
We selected paints that met LEED v4 standards while serving the visual accessibility needs of the patient population. As eyes naturally start to yellow with age, we selected high-contrast colors as part of our design and wayfinding strategies to help ensure that users of all ages could safely and effectively navigate the building. The space welcomes patients with warm, vibrant colors. And as they progress to the semi-private areas of the clinic, the vibrant tonalities merge with cooler hues to create an atmosphere that both warms and soothes. The color palette becomes primarily cool in the private spaces, reflecting the need for intimacy and quiet.