TK Elevator North America
Regional Business Support Center
Atlanta, Georgia
Putting Sustainable Engineering on Display
The tallest elevator test tower in the United States connects sustainable design, engineering acumen, and storytelling.
For more than a decade, TK Elevator (TKE) — formerly Thyssenkrupp Elevator — has performed Life Cycle Assessments to rigorously evaluate the environmental impact of its products. In 2017, it became the first elevator company to publish an Environmental Product Declaration, prioritizing transparency in its journey to sustainability leadership. That same year, TKE set out to establish an Innovation and Qualification Center (IQC) as part of a three-building complex in The Battery Atlanta. The IQC would play a significant role in the company's target of achieving zero carbon emissions before 2050.
Taking advantage of its highly visible location, the TK Elevator North America Regional Business Support Center merges high performance with experiential, interactive design to achieve heightened awareness of its sustainability mission.
PROJECTED OUTCOMES
First test tower in the Western Hemisphere to achieve LEED Gold certification
100% renewable energy via a green tariff
Reduced 42.25% potable water use compared to baseline, saving 60,000 gallons of water annually
Saved 2.36 million pounds of carbon dioxide emissions
Regenerative elevators reduce electrical demand by 38%
Immersive sustainability showroom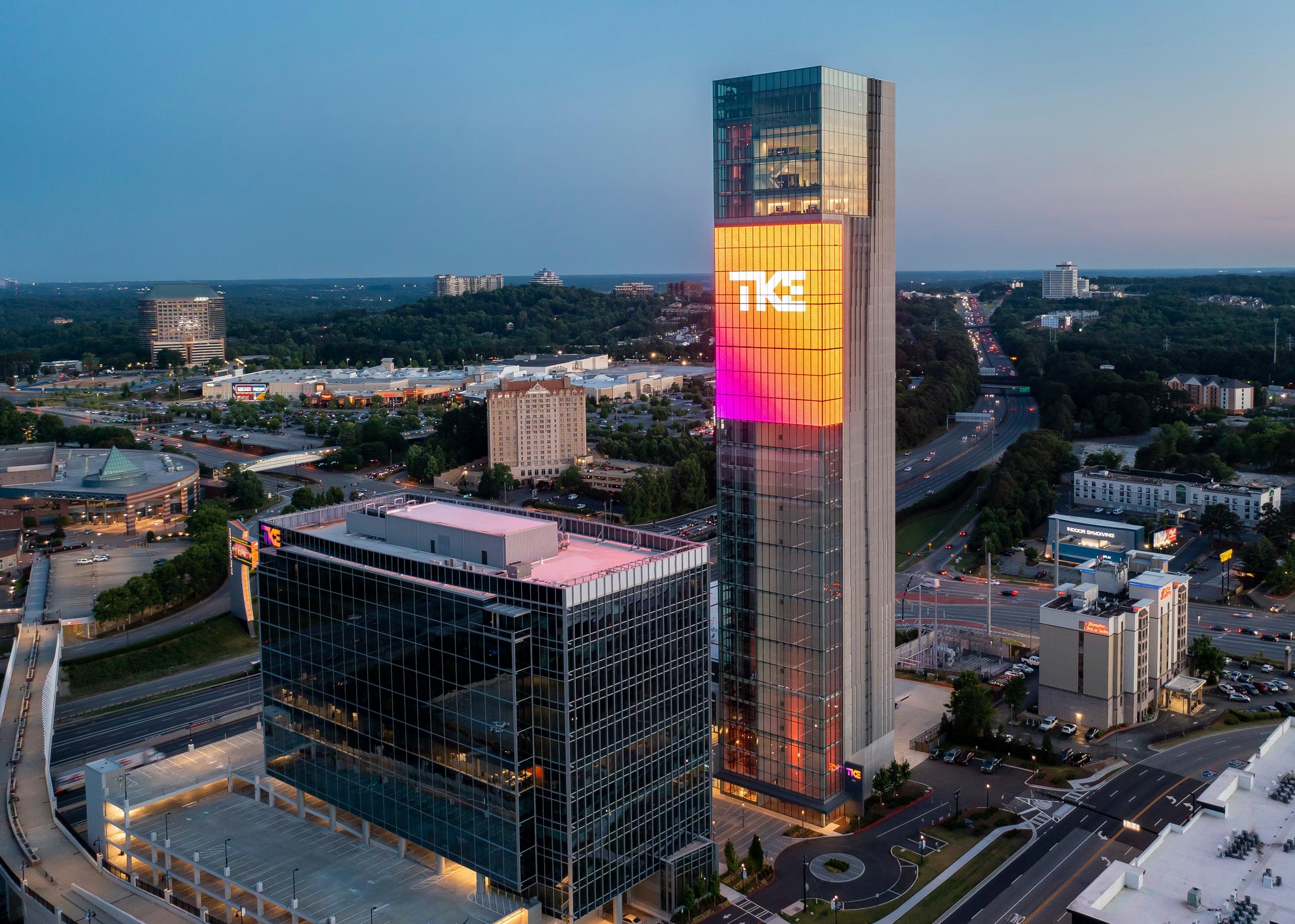 CHALLENGE
When someone walks into an elevator and pushes a button, hundreds of interconnected processes are triggered, of which the user typically remains blissfully unaware. But TKE and Gensler sought to challenge the status quo and capture the ethos of transparency that TKE promotes through its corporate responsibility commitments. Together, we showed how an elevator-focused building could achieve LEED Gold certification. TKE knew its efficient products could pave the building's path to certification, and our team was confident we could communicate its sustainability mission in an unprecedented manner.
SOLUTION
To achieve LEED Gold in such an unusual context, we turned the facility's largest potential energy consumer — the elevator system itself — into an energy producer by implementing a regenerative braking system. The second half of the equation involved reducing the project's embodied carbon footprint and making smart use of the energy the building had on hand via smart metering.
LAUNCH SLIDESHOW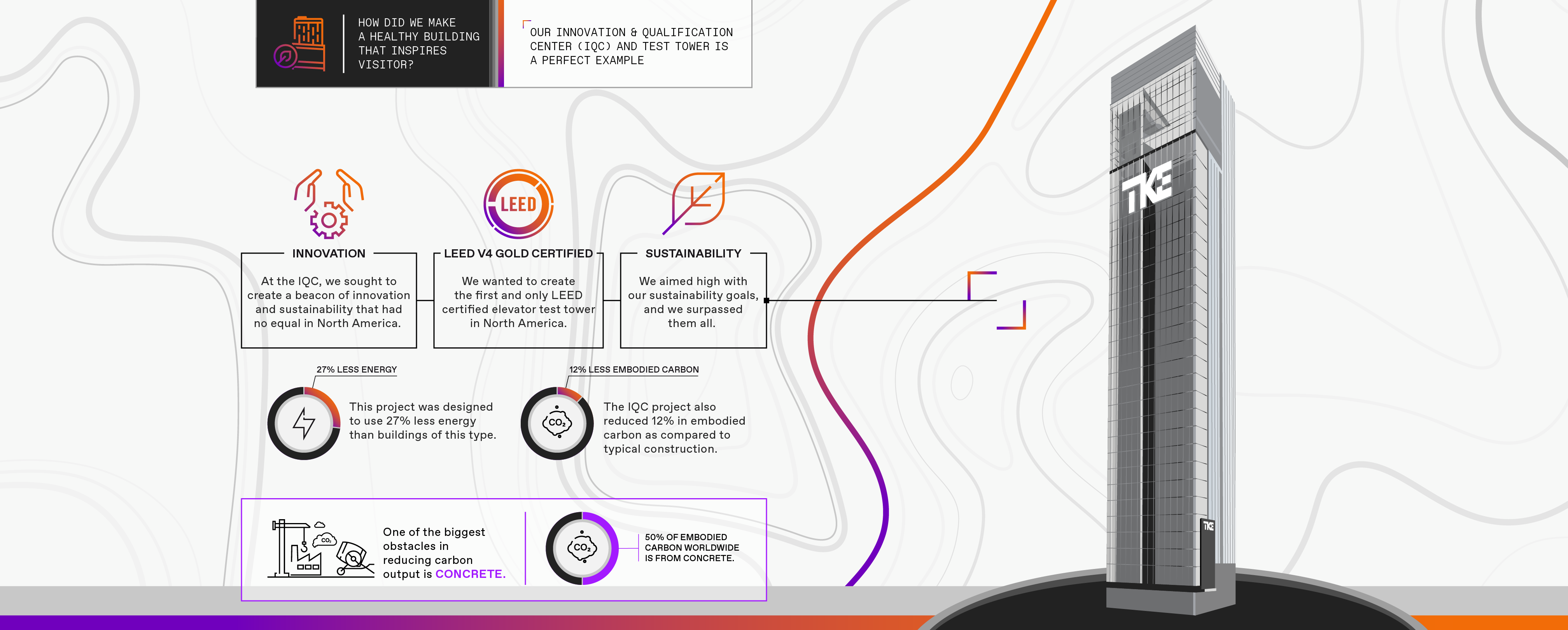 SUSTAINABLE DESIGN STRATEGIES
ENERGY METERING
The IQC uses a smart building metering system to integrate systems that would remain disparate in other facilities, such as HVAC and lighting. In most buildings, fault detection times are slow: a malfunctioning motion sensor, for example, may cause a faucet to run or a light to remain on for a long time before the fault is noted, leading to staggering waste. TKE's metering system allows for real-time monitoring and immediate correction. The U.S. Department of Energy estimates this system can attain up to 45% energy savings due to improved performance awareness and ongoing identification of maintenance improvements.
REGENERATIVE BRAKING SYSTEMS
Because elevators are in nearly constant motion, they contain endless opportunities for regenerative energy capture. We worked with TKE's engineering team to implement a regenerative system and document the environmental impact of the strategy. In total, 16 of the building's 20 elevators use regenerative braking technology. When a loaded car is descending or an empty car is ascending, the system kicks in and feeds power back into the building grid, yielding an approximate energy savings of 50% per elevator. The regenerative elevators reduce the overall electrical demand of the system by 38%.
LOW-CARBON CONCRETE
Our team conducted a whole-building life cycle assessment to model the embodied carbon impacts. This revealed that concrete was the single largest contributor to the building's footprint — but the IQC's intense structural requirements made concrete usage unavoidable. Instead of using traditional concrete, the team incorporated a mix of ground-granulated blast-furnace slag (GGBFS) and fly ash that has a lower carbon concentration. This approach achieved two LEED building life cycle impact reduction points, saved 2.36 million pounds of carbon dioxide emissions, and resulted in a 2% reduction in the project's global warming potential as compared to a traditional concrete strategy.
LOW EMITTING FINISHES
The design team implemented finish materials with low volatile organic compounds (VOC) emissions, such as Sherwin Williams Zero VOC wall paint. The selected products were tested and confirmed to meet stringent VOC emission rates ensuring limited off-gassing, contributing to improved indoor air quality within the facility, a LEED requirement. In a similar vein, the team used recycled paper for all signage, wayfinding, and exhibits in the IQC.
WATER AS A RESOURCE
To further support the project's journey to LEED Gold, the design team prioritized efficient water systems with a resource conservation mindset, selecting faucets and flush valves with efficient flow rates. In doing so, the project achieves a 42.25% reduction in potable water use compared to a baseline building, saving 60,000 gallons of water annually. With that water savings, one could shower every day for 9.5 years.
SUSTAINABILITY SHOWROOM
While its high-rise building serves as a showroom, TKE also dedicated a ground floor space as an educational center to share its sustainable mission. Our brand team created a showroom focused on the company's history and its future direction. The showroom puts TKE's sustainable practices front and center and celebrates its commitment to climate action. The showroom features branded graphic and video messaging that communicates the strategies of the building. Showcasing how TKE can test and measure energy and water savings as well as regenerative braking captures in real-time tells a compelling story about the important role they play in the future of elevatoring.