CSULB Parkside
North Residence Hall
Long Beach, California
Student Housing That Promotes Sustainable Lifestyles
For California State University, Long Beach, the goal is to achieve carbon-zero status by 2030 and achieve LEED Platinum and Living Building Challenge Certifications.
California State University, Long Beach (CSULB) created its first new on-campus housing building in nearly 40 years that aims to achieve full Living Building Challenge Petal Certification — a distinction achieved by only two other buildings in California. Dubbed Parkside North, the project is a visible social hub, while also becoming a key example of the university's commitment to sustainability. Each year, the student housing project produces more energy than it consumes, going beyond net zero to become net positive. Parkside North's most lasting impact may be how it has educated students on how to develop sustainable lifestyles, instilling lessons that will define the next generation's relationship with the built environment.
PROJECTED OUTCOMES
LEED BD+C v4 Platinum (pending)
Net Positive Energy* (producing 62,550kWh of energy per year)
>29% savings in embodied carbon
3,542 gallons of potable water saved daily
Living Building Challenge Petal Certification (pending)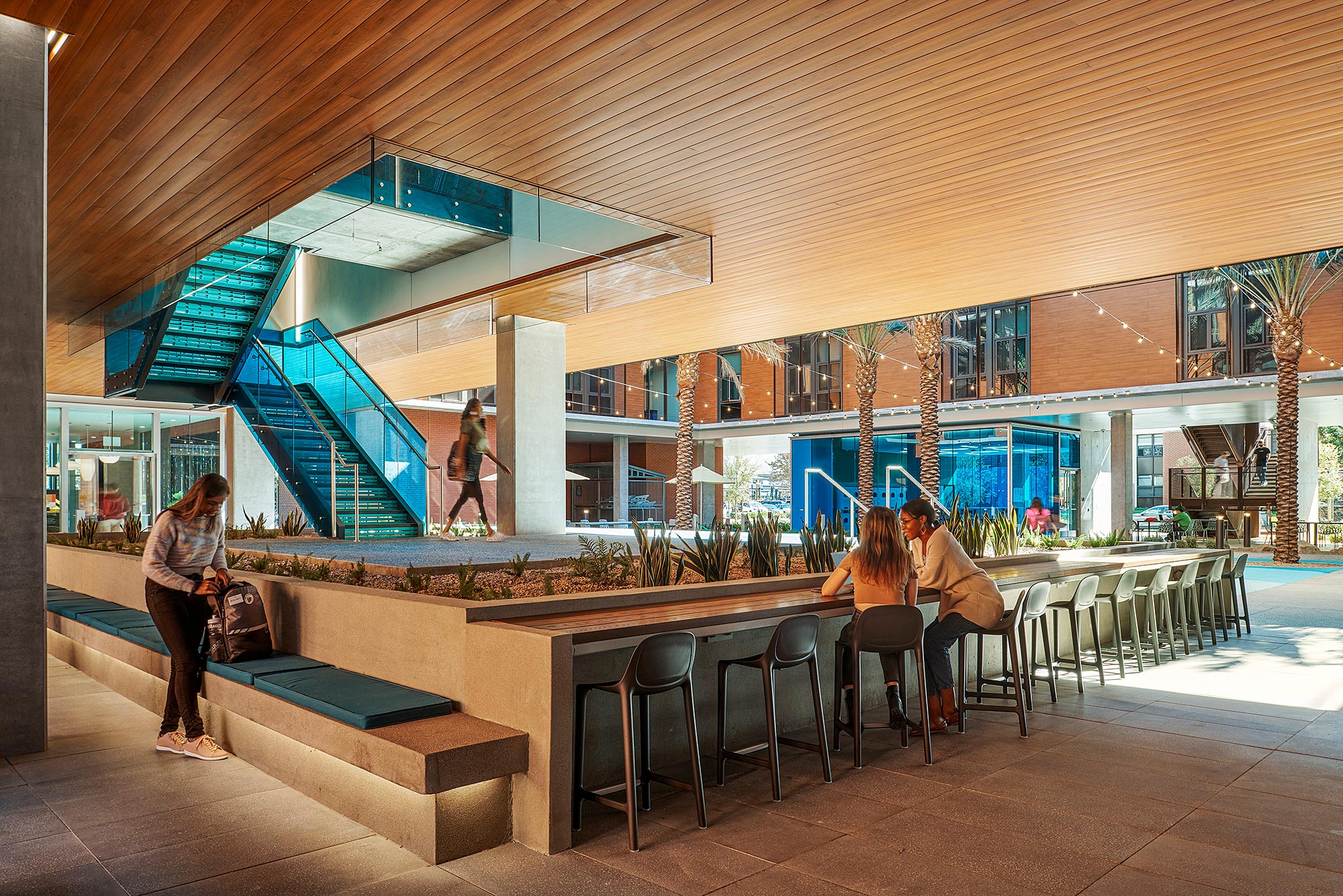 CHALLENGE
The design challenge aligned with CSU's systemwide 2040 goal of cutting its carbon emissions to 80% below 1990 levels, requiring this project to have a robust sustainability focus. Moreover, California Senate Bill 100, enacted in 2018, requires that all state agency electricity must come from renewable and zero carbon sources by 2045, a clear incentive for the university to invest in its own renewable energy generation. Additionally, the project represented an opportunity for the university to increase student discourse around the subject of sustainability. Of the 1,200 on-campus resident students surveyed, 80% said that living in a sustainable building is important to them.
SOLUTION
A series of workshops with the university's housing department set the tone for collaboration and co-creation. The workshops directly informed key project strategies, including the maximization of natural daylight, access, and views, connection to the surrounding campus, and use of biophilic materials. Today's college students expect more from their university experience, particularly when it comes to on-campus housing. Our team of designers, architects, and sustainability experts took a holistic approach to sustainability, focusing on design solutions that would also positively affect students' mental well-being and make them proud of their residence hall's environmental impact.
SUSTAINABLE DESIGN STRATEGIES
FRESH AIR
Direct access to fresh air through operable windows provides both a connection to nature and an alternative to AC usage. All windows are connected to the rooms' AC units. The AC turns off when a window is opened. Unit doors have magnetic holders to prop open for cross-ventilation while maintaining the fire rating. The residence hall empowers students to reduce their own energy use. The project is designed with a 50% reduction in energy consumption as compared to baseline, resulting in a savings of 277,191 lbs/CO2/Yr related to operational carbon.
SOLAR PANELS
Parkside North is served by a bifacial photovoltaic panel array that draws light in as it shades, along with a series of carport shading structures across the street. The rooftop array is a celebrated design feature that is seen from most outdoor spaces, including the accessible rooftop where it acts as an important shading canopy. Through on-site energy generation, the project anticipates producing 105% of the total energy demand, resulting in a net positive energy building. Similarly, at the adjacent Hillside Gateway, a large photovoltaic canopy spans the two buildings and frames the main courtyard entry.
RAINSCREENS
An envelope of rainscreens around the building keeps energy usage down on hot, sunny days while sheltering the units' exterior windows from extreme weather. The envelope works while still allowing healthy levels of daylight to brighten the units. The rainscreens also provide an additional level of privacy for all the dorm room windows that face toward each other or into the courtyard.
RECLAIMED WATER
The design team was able to tap into the City of Long Beach's reclaimed water line in order to serve the project's low-flow toilets, urinals, and irrigation. The total potable water savings capacity is projected to be over 1 million gallons of drinking water saved annually, or the equivalent of two Olympic-sized pools.
BIODIVERSITY
Parkside North connects to nature by extending a pollen path that runs across the entire north/south axis of the campus. A landscaped area occurs every 500 feet, purposefully curated to attract monarch butterflies and hummingbirds indigenous to Long Beach. Within the three distinct courtyards, we enhanced a drought-resistant planting palette with aromatic native plants to engage the senses. Lush bioswales encircle the courtyard's planted areas to support water retention, while also defining intimate seating zones that provide quiet areas for the students.
BUILDING ORIENTATION
The design team studied several potential building configurations for Parkside North to optimize its north/south orientation and minimize solar heat gains. In rooms designated for sleeping, 89% face north or south, an intentional sustainable design strategy that dramatically reduces the need for air conditioning in the evenings and at night.