4 Strategies for Amplifying Health and Well-being in Residence Halls
July 13, 2022 | By Donna Barry, Heidi Hampton
Students emerging from a year of virtual classes and living at home are looking for opportunities to engage and reconnect in person. Moreover, today's college students expect more from their university experience, particularly when it comes to on-campus housing. Having surveyed over 1,200 students living on campus at California State University Long Beach (CSULB), we found that more than 80% said that living in a sustainable building is important to them.
When it came time to design an on-campus housing project for CSULB, the first in four decades, we took a holistic approach to sustainability, focusing on student health, well-being, and equity. We sought to design a residence hall that would positively affect students' mental well-being, support their academic success, and help them make long-term human connections.
For many young adults attending college, living on campus is their first foray into independence and self-care. It is a time known as "emerging adulthood," when students develop habits that often shape the trajectory of their futures. Although the diversity of CSULB's student population is such that no "one size fits all," we found that having a place to call home is vital to a student's sense of belonging and community. Safety, comfort, and shared experiences can form the basis of a stable and fulfilling stay at a university.
Here are four strategies we found essential for amplifying health and well-being in residence halls:
1. Social Connection
Starting college is a major period of transition that requires students to adapt to new environments and social situations. Research shows that the number one reason students don't return to college is that they don't make friends and lack meaningful connections with their peers on campus (Source: National Center for Education Statistics, 2016). It is crucial to design places on campus that facilitate community and a sense of wellness and belonging. Residence halls are vessels for cultivating friendships and communities. Because they are occupied 24/7, they are uniquely situated to help students create deep, enduring relationships.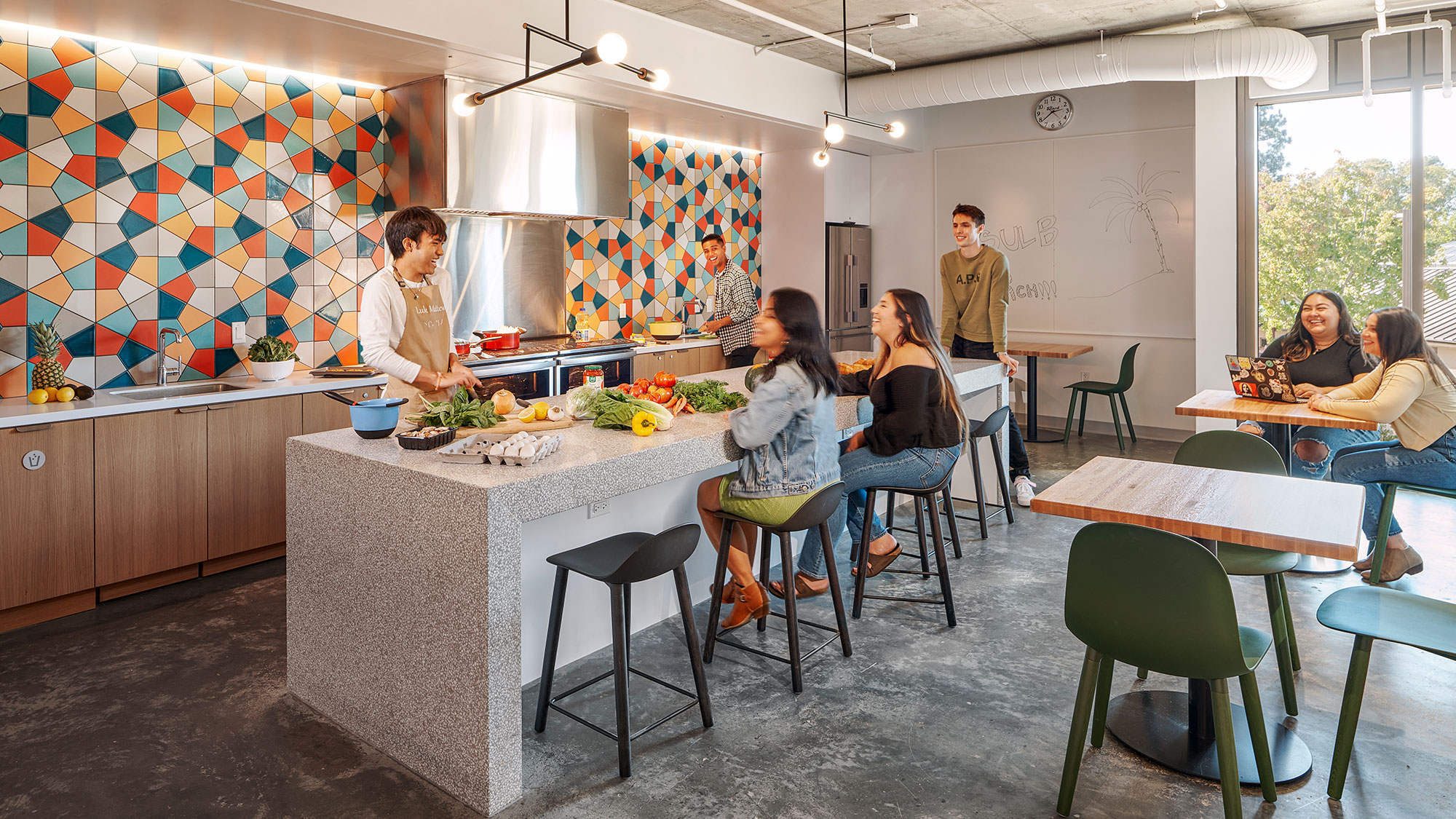 Having several types of spaces outside the confines of a student's sleeping room helps to promote engagement based on an individual's needs and wants. Small nooks in the corridor are a great place to wait for a friend or take a phone call. Students can use quiet zones for studying alone or in a group. A large display kitchen visible from the hallway allows colleagues living in the residence hall to see a group cooking or enjoying a meal and feel invited to participate. All of these places create social connections and strengthen a sense of belonging.
Creating a sense of home and familiarity is possible only if residents are encouraged to meet and get to know others outside of their cliques. Our team designed Parkside North to allow for the serendipitous encounters that open students up to this possibility. Key spaces for chance meetings include the outdoor courtyards, the all-glass laundry room (a destination in and of itself), the open and visible kitchens, and the shared gender-inclusive bathrooms as students are getting ready for a night out.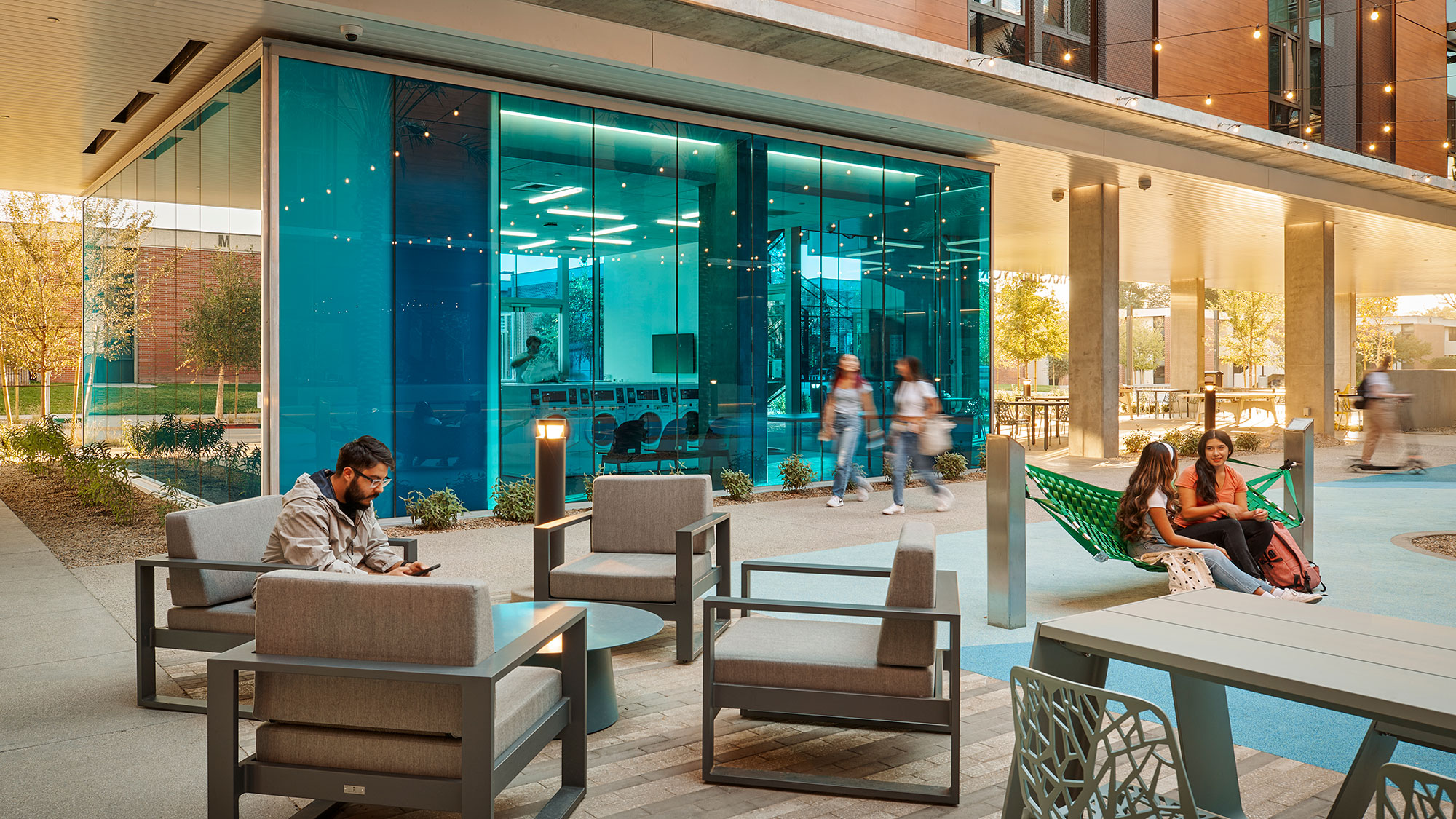 2. Sleep Fidelity
Highly activated, social spaces must include the possibility of privacy and quiet, where students can rest, reflect, sleep, and recharge for the adventure that the broader campus offers. Physical health is essential for overall well-being and contributes to positive mental health. According to research, long-term anxiety related to independent adult life is a major source of stress for college students (Laidlaw, McLellan, & Ozakinci, 2016). Mental health and sleep deficiency have a complementary relationship where poor sleep increases the risk of certain mental health conditions and vice versa (Pandi-Perumal & Kramer, 2010). Providing sleeping rooms that are acoustically separate from each other, avoid problematic program adjacencies (no loud vending machines or vibrating equipment), are furnished with comfortable beds, and have dedicated place to store electronics are all essential for creating an atmosphere of peace and restfulness.
3. Adaptable Spaces
Having a sense of control within a space is vital to mental health. Students are often vulnerable when they transition from home to campus. As students connect to new people and a new place, risks of loneliness and social isolation are amplified. Allowing students to control their comfort levels and have autonomy within a space can positively impact their experience and mood. We can do this in many ways: by allowing students to open windows to bring in fresh air, open or close a blind to control light levels, or open doors on holds to connect adjacent spaces.
Enabling control over furniture choice and arrangement is critical to students' well-being. Students need spaces to support them in a variety of ways that shift throughout the academic year — from fun social events at the beginning of the semester to intense studying before a big exam. Empowerment over furniture allows students to use the same room for these different uses. We designed large "family rooms" on each floor that anchor a neighborhood and provide a space large enough for all students within that neighborhood to gather. On weekends at the beginning of a semester, a family room is used to connect with others as students play video games, watch movies, or jam in a band. However, during exam week, students can transform a family room into a shared study lounge that they can use for individual or group study.
4. Connection to Nature
Visual and physical connection to nature is a critical, well-documented component of health and well-being. At Parkside North, we established a connection to nature at the campus scale by continuing a pollen path that runs across the entire north/south axis of the campus. A landscaped area occurs every 500 feet, attracting monarch butterflies and hummingbirds indigenous to Long Beach and creating a connection to the surrounding area. Within the three distinct courtyards of the building, this planting palette is continued and enhanced with aromatic native plants to engage the senses.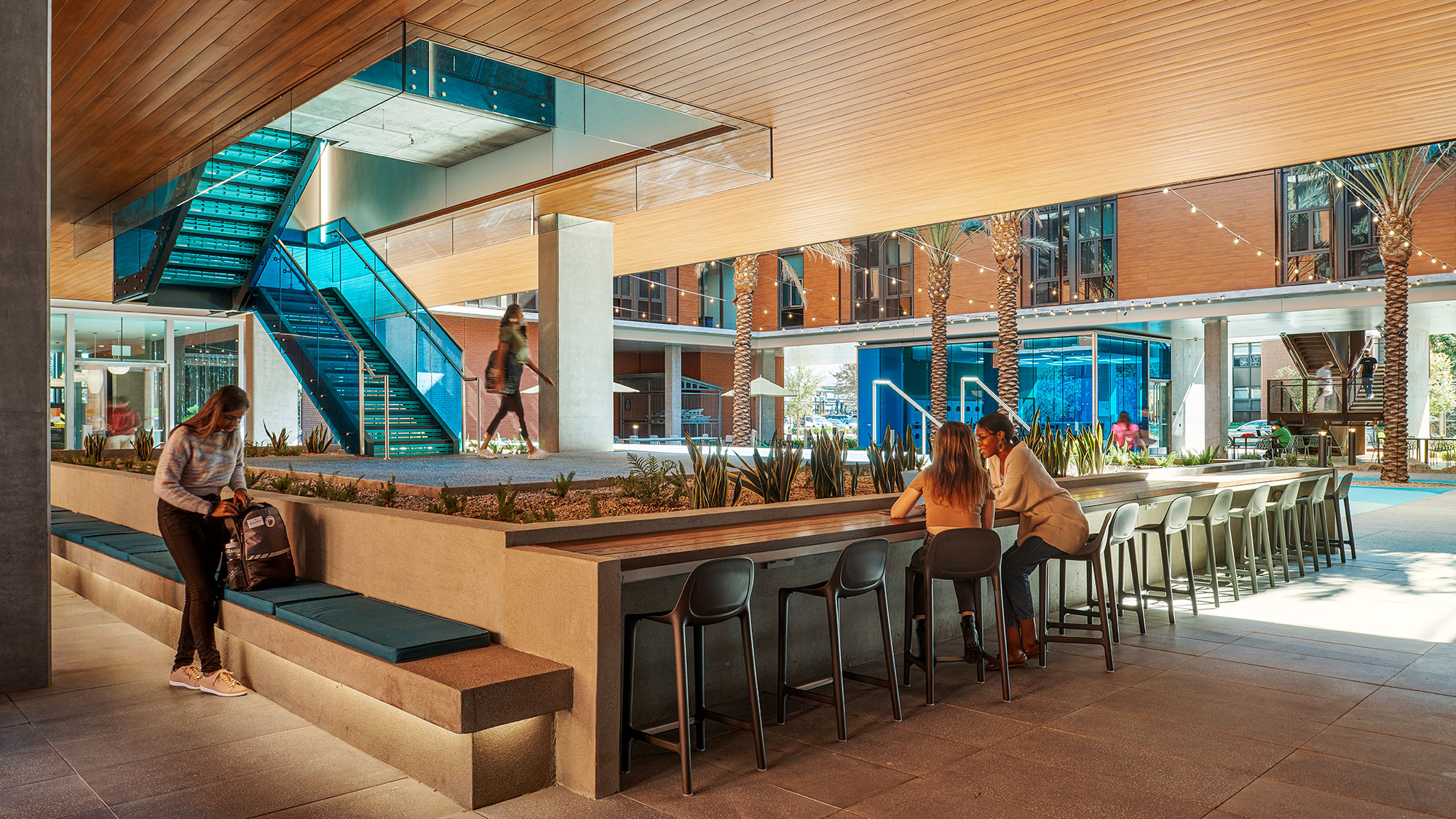 Welcoming pathways and open views connect Parkside North to the adjacent Parkside Residence Halls. Students first approach an outdoor courtyard identified by a graphic play surface and palm trees signature to Long Beach. The courtyard is an active zone for large gatherings. Next is an outdoor "living room," shaded by the above building and designed for students to study, hang out, and relax. The furthest courtyard is called the "secret garden," for its intimate seating zones that create a quieter area. Lush bioswales encircle the area, and the wood bridge has a distinctive sound as students walk across it.
The project is itself connected to nature through its robust resilience strategies. The large photovoltaic array at the rooftop not only gets the project to net positive energy, but it is a celebrated design feature. It can be seen from most outdoor spaces, including the accessible rooftop where it acts as a shading canopy.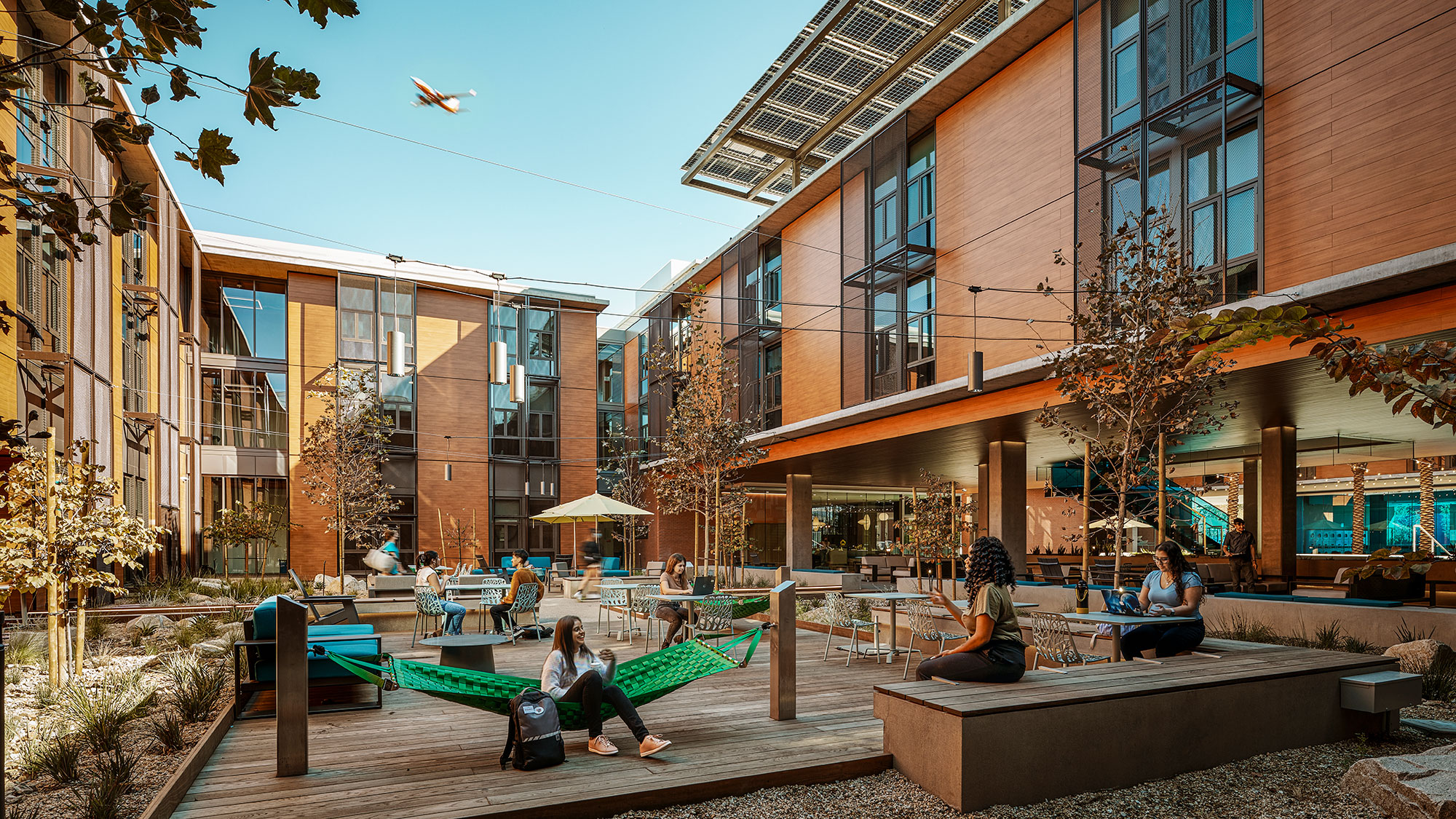 The pandemic has amplified the importance of mental and physical health and well-being. Although the CSULB Parkside Housing North project was designed pre-pandemic, we employed several strategies to create an environment that enables students to thrive in their "home away from home." Every aspect of student residence halls and the student experience must be designed to create necessary networks to ensure students can thrive, support others, and look after their health and well-being.
For media inquiries, email .