Fifth + Tillery
Austin, Texas
Warehouse Turned Multi-Tenant Office With a Focus on Performance
A new entrance into Austin's multi-tenant office market creates a draw for creative tenants via a high-performance space that produces its own energy, captures water runoff, and nurtures a rain garden.
Austin, Texas, is experiencing exponential job growth. To meet growing demand, developers are increasingly focused on repurposing nontraditional office spaces to fit the needs of office tenants.
Like everywhere, Austin is contending with climate change, with one of the greatest concerns being extreme heat. These dual goals of tenant attraction, sustainable building development, and heat mitigation defined our approach to this project. These goals aligned with our initial clients' (3423 Holdings) ESG goals from the start — goals that continue with the current owner and operator CIM Group, which acquired the property post-construction, recognizing the value and alignment of Fifth + Tillery to its own ESG goals.
PROJECTED OUTCOMES
PV panels provide 478 kVA of energy
$1.5 million in energy savings
Rain gardens filter stormwater runoff
Rainwater collection irrigates landscaping
Condensate capture supplements irrigation
Added daylighting offsets energy usage
Mass timber serves structural and aesthetic functions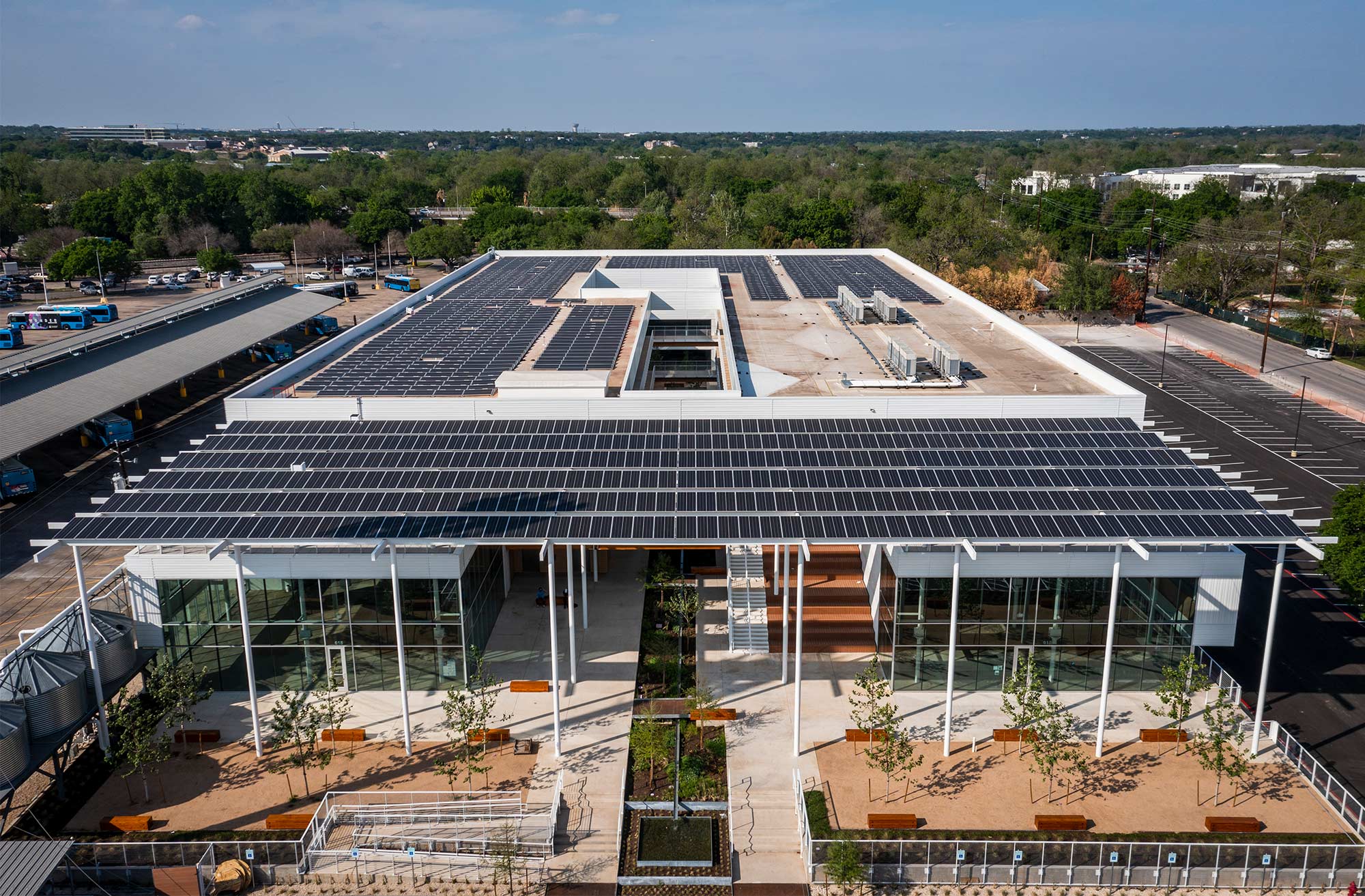 CHALLENGE
The old Fifth + Tillery structure was typical of its East Austin location: a large and dark warehouse surrounded by a sprawling parking lot in a neighborhood largely made up of industrial businesses and residences. Mature elm and oak trees on adjoining residential lots border the site, making its lack of green space even more stark.
The repositioning of this building was an opportunity to create a multi-tenant office space in an area of town that is currently attracting the attention of creative businesses and talent — and part of that value proposition for today's workers is a high-performance building that embraces sustainable practices.
One key restriction was informed by the building codes in East Austin. We had to maintain the existing building foundation and build no higher than three stories, which meant we had to work solely within the existing building footprint. Another hurdle was to find a way to create more green space on the site, while incorporating daylight and plant life into the design in line with wellness goals.
SOLUTION
3423 Holdings came into the process with the goal of creating an exceptional space for creative small businesses, which allowed us to rethink how the building would be used and design accordingly. Knowing that Austin has a long history of valuing green spaces, access to nature, and active mobility, we knew that incorporating these elements into the building would make it more appealing to tenants, while providing health and resilience benefits.
As the design team, we were faced with the challenge of bringing light into a dark industrial building and creating a variety of design resilience strategies that would transform the site into a sustainable destination. We transformed the building from a solid monolithic structure to create more outdoor spaces for circulation, meeting space, and active design strategies that connect office workers to each other and to nature.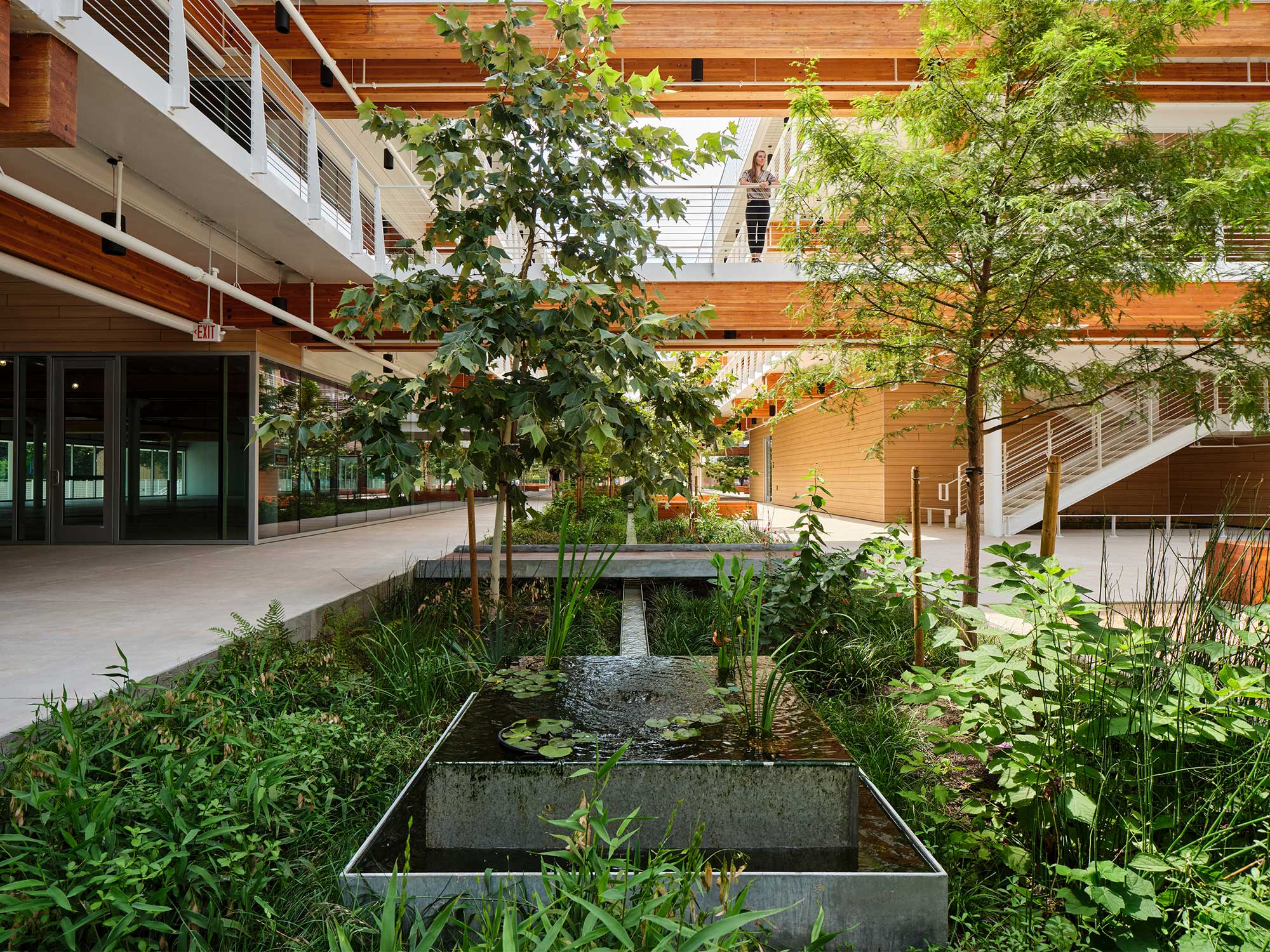 SUSTAINABLE DESIGN STRATEGIES
DAYLIGHT
The existing footprint of the building was quite large. Creating a space that allowed in light posed a challenge due to its long, rectangular shape and natural orientation. Up to 20% of a typical office building's floor plate is taken up by a dark, central core that blocks access to daylight and natural views. We carved out the core of the building, creating a courtyard that runs lengthwise through the building's primary entrance. This yielded 80-foot-deep floor plates, opening up the tenant spaces to natural light and outdoor areas while saving energy by reducing the use of artificial lighting.
HYBRID STEEL AND TIMBER STRUCTURE
We utilized a hybrid steel and timber structural system to reduce the project's embodied carbon, while also bringing the natural beauty of wood into the space. The exterior Douglas fir laminated wood beams emphasize the connectivity from inside to out. The beams support the outdoor walkways of the building's courtyard and each floor. Leftover cuts of the beams are used for outdoor benches, tables, and chairs to activate these spaces for outdoor meetings and socializing.
DESIGN FOR HEALTH AND WELL-BEING
We inverted the assumption that interactions between tenants would occur inside by creating a series of exterior stairs and walkways — replacing a typical office building center core — that turned the building lobby and circulation inside out. This transformed the courtyard into a dynamic social space that encourages interaction with the landscape and other building occupants. We also designed a unique shared outdoor space on every level of the building. To encourage movement, the entry stairwell is a prominent design feature that guests see when they enter the building. Underneath the entryway is a large bike parking area to promote guest mobility.
GREEN SPACE
Limited to only a warehouse footprint to design within — and a site surrounded by surface parking without greenery — we set a goal to provide views of nature from all spaces within the building. Working with a local landscape architect, we brought in natural elements throughout the space. A grove of trees shades the front arrival plaza and extends into the central courtyard — creating a forest-like structure within the space — with a water runnel connecting two fountains at each end. To capture views of the city and provide open-air spaces, we created a series of roof terraces. This investment in green spaces creates not only a more resilient building but also a welcoming and healthy environment for tenants and visitors.
SOLAR PANELS
During the design process, our client had a goal to cover the entire building in photovoltaic (PV) panels, which inspired us to design a space that celebrated its sustainable features. In addition to covering most of the roof with PV panels, we created a large, three-story trellis of photovoltaics that extends over the front plaza and primary entrance — announcing the building's sustainable solution to its guests. Functionally, these PV panels provide over 478 kVA of energy production, which is stored to offset peak demand when energy costs are highest. We estimate this will save nearly $1.5 million in energy over the building's lifetime.
WATER COLLECTION AND RETENTION
We implemented a central rain garden that collects stormwater and condensate water from our HVAC system, with overflow water directed to additional rain gardens. This system provides water for our landscape elements where the building would normally shield them from rain. A separate water harvesting system collects condensate water to provide landscape irrigation and replenish water for the water fountains.