An 8-Step Model for ESG and Wellness in the Workplace
June 01, 2021 | By Cindy Coleman, Stacey Olson
As developers and organizations start to face the proverbial fork-in-the-road for what might be the post-pandemic role of the return to office "normal," they are faced with new existential concerns around the safety and wellness of their workforce and those who inhabit the buildings they provide.
How we emerge from the pandemic is driving many return and wellness strategies, but that's not the only priority on everyone's minds. Over the past year, there has been enormous focus given to climate action and issues of social equity. For many, wellness in the workplace now includes sustainable and healthy buildings, as well as environments that promote diversity, equity, and inclusion (DEI).
One way landlords and employers are taking action on these priorities is by investing in ESG goals. ESG, short for Environmental, Social, and Corporate Governance, is a way an organization can focus and measure the sustainability and societal impact of their investments. Instead of measuring an investment based on cost or financial impact alone, with ESG, overall health is measured by the balance of these three categories: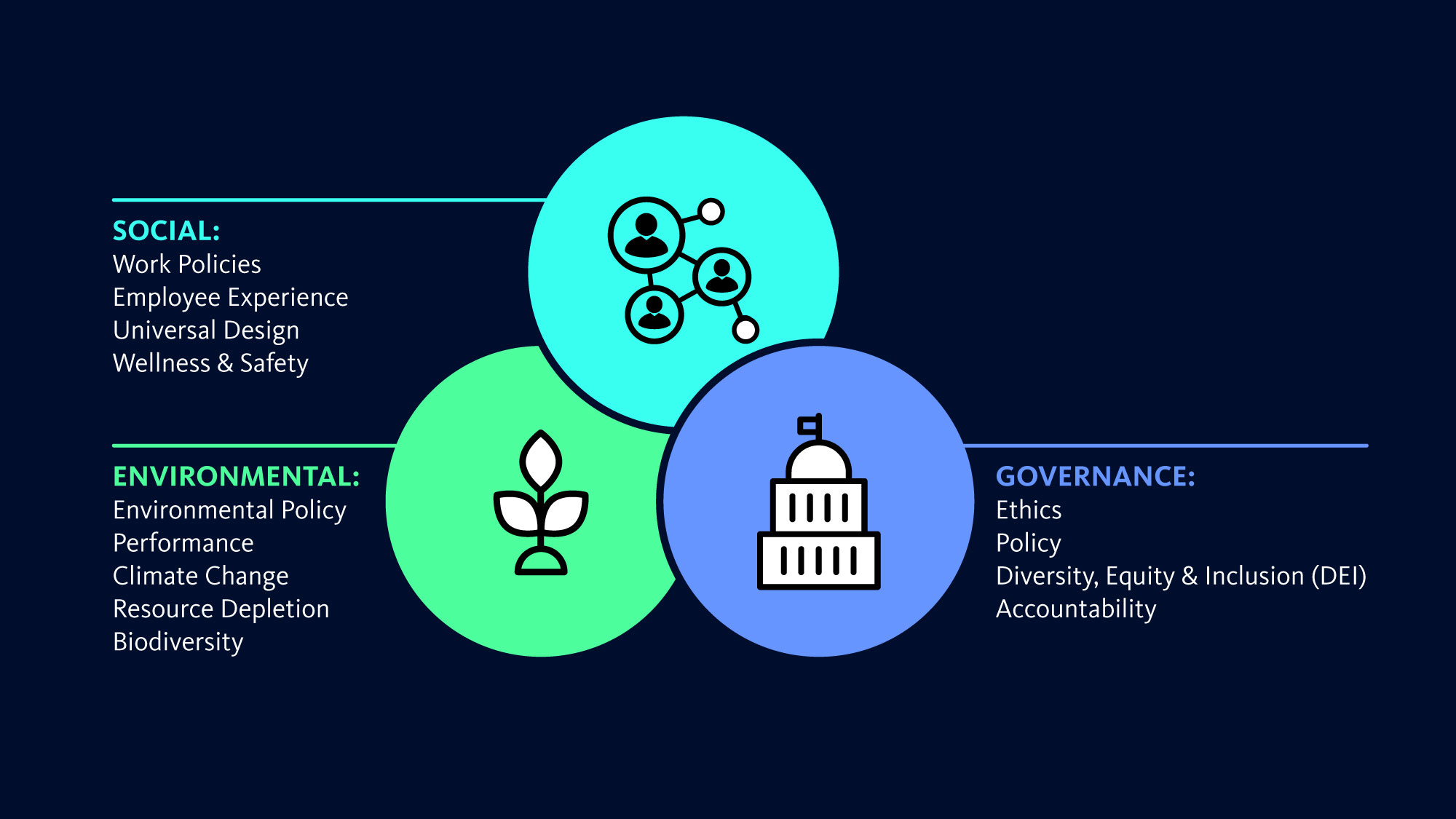 When a landlord or business owner takes an ESG approach, the project's design brief changes. The conversation shifts from one of first-time cost alone, to overall impact, and wellness plays a more expansive role: Does the project response lower absenteeism and healthcare costs? Will the project reduce carbon emissions and improve air quality? Are our environments and work cultures inclusive? Have we enhanced our operational goals? Have we reduced operational expenses? Are our workspaces effective, healthy, well-maintained, and ready for what comes next? Will workers feel safe when returning to the office? Will this building or office be a place to thrive? What is our impact on the greater community?
Researchers define thriving as a psychological state where people experience a combined sense of vitality and learning. When you thrive, you are able to grow rather than feel stalled. People who are able to experience a state of thriving are healthier, more resilient, and just better at focusing on their work.
Helping people thrive at work is both achievable and fundamental to the notions of ESG and wellness.
Wellness is the inroad to thriving at work
Health and wellness are emerging as major components of ESG criteria, influencing responsible investors' real estate decisions and shaping companies' ESG strategies.
Here are the eight key elements of a spatial and work experience model that prioritizes wellness and resilience in the workplace. The model was modified from the Six Dimensions of Wellness developed by Bill Hettler, co-founder of the National Wellness Institute (NWI).
1. Emotional wellness relies on smart zoning of the work environment so that noisy activities don't overpower the quiet ones.
Emotional wellness requires the ability to have outlets and spaces in support of reducing stress, meeting personal demands, and building and maintaining meaningful relationships. Emotional wellness benefits from having choice in where, how, and sometimes when to work. This requires design diversity to support those who benefit from working with others and those who require solitude and privacy.
2. Physical wellness relies on user control since things like acoustics, lighting, and thermal comfort vary from person to person.
Physical wellness recognizes the need for being physically active throughout the day. These spaces bring awareness of and access to good hydration, nutrition, universal access to daylight and fresh air, and multiple places to unwind. They are designed with affordances that help team members avoid sedentary behaviors like activity-based planning, activated staircases, walking paths, and walking meetings. They acknowledge the diversity of users and the reality that everyone finds wellness in their own way.
3. Environmental wellness benefits from the design and client team's ability to future-cast and think about what's next, by delivering spaces and buildings that are sustainable, resilient, and ready for change.
Environmental wellness comes from creating welcoming and well-maintained environments that are well-used and resilient. These spaces will have high air quality, variable lighting, thermal comfort, reduced energy and water consumption, and best-in-class physical and cognitive ergonomics. Environmental wellness considers the products and materials within the building so as to avoid red-listed chemicals and materials and the embodied carbon of the entire cradle-to-cradle manufacturing process.
4. In the purpose dimension, the physical environment needs to both reflect and project the organization's vision by communicating why you are here to allow this collective why and spirit drive the work.
The purpose dimension recognizes that team members aspire for equitable experiences and to link their work to meaning. Corporate mission statements are often used to provide team members this vision. For this dimension to be more effective, these mission statements have to be experienced rather than read. Team members benefit from seeing how their own values sync with the organization's.
5. Professional wellness dimensions rely on job performance. The ability to continue to learn new soft and hard skills that are not only transferable, but take you to new opportunities, is core to feeling professionally well.
Professional wellness is synonymous with job satisfaction. It requires evidence of a career "lattice," and a way to see multiple pathways to both career growth and success. Feeling professionally well relies on an organization's learning culture.
6. Intellectual wellness is where new thinking and creative activities can freely happen. It's an important lever to pull as a way to expand team member knowledge and skills.
Intellectual wellness puts a spotlight on individual and team creative abilities. Learning new work processes or new problem-solving methods is stimulating and it's good for business. Intellectual wellness gives team members evidence that they are stretching themselves. Dedicating unique spaces like innovation labs or well-provisioned project spaces signal that this is a safe place to contribute.
7. Social wellness is often defined by the culture of an organization. When socially well, your team members see their unique value and how their contributions matter.
Social wellness relies on creating a culture that emphasizes a sense of belonging and trust that comes from being well-informed and in-the-know. Belonging comes from a feeling of interdependence to those you work with and the organization as a whole. Team members benefit from having awareness of how they and others contribute to the whole.
8. For leaders, organizational wellness is an assessment of the core values based on your business goals and linking values with the type of talent you look to attract and retain.
Organizational wellness looks holistically at the health of the organization. It turns the lens away from team members and looks at internal processes, and considers what the organization can do to support wellness more broadly. Being organizationally well requires looking at management practices, work processes, meeting structures, and cadence. Seeing patterns in how and who gets promoted is valuable, as well as defining what work-life balance and more hybrid work styles might mean for your organization.
As we move forward from this past year of remote work and concerns about health security, climate change, and social equity, we enter an era of heightened awareness of the impact the built environment has on the environment and the organizational and social structures they represent.
What you build and how you invest your resources is a representation of your values. Workplaces are no longer just a place to find a desk. The office is the place that team members come to define a career. It's a platform for learning. It's were we can create and invent. It provides a sense of belonging. And it gives those who inhabit and occupy these spaces an ability to feel connected to a purpose — it's a place to thrive.
For media inquiries, email .