TOWARD NET ZERO ENERGY
We can create net zero energy buildings delivered through design solutions that combine cost-effective energy efficiency paired with renewable technologies.
Optimizing energy use is crucial to reducing the carbon impact of the built environment. Equally important is sourcing zero and ultra-low carbon energy supplies. The energy used to operate buildings accounts for 72% of the building sector's greenhouse gas (GHG) emissions. Clearly, the building industry has an opportunity to make a huge impact on the climate crisis.
With the right energy-efficient design strategies, combined with the right energy sources, we can address issues of operational carbon and transform buildings into carbon-zero operating spaces.
Renewables by themselves don't achieve NZE status for a space; buildings must also be designed to operate far more efficiently. In many cases, this starts in the early design phase, but older buildings can be retrofit to be more efficient.
We employ data-driven design and analytic tools to measure and design efficient spaces at every scale. We also employ right-sizing strategies to allow designers to significantly reduce the operating energy per square foot of a space without sacrificing function.
These strategies, when combined with renewable energy resources, can put a building on the path to net zero.
"We need energy to thrive. We need it to power our phones, to cook our food, to keep us healthy and comfortable, to let us travel and visit others. Being smart about how we use energy and how we source energy are the keys to delivering cost-effective carbon-free building operations."
—Kirsten Ritchie, Global Design Resilience Practice Area Leader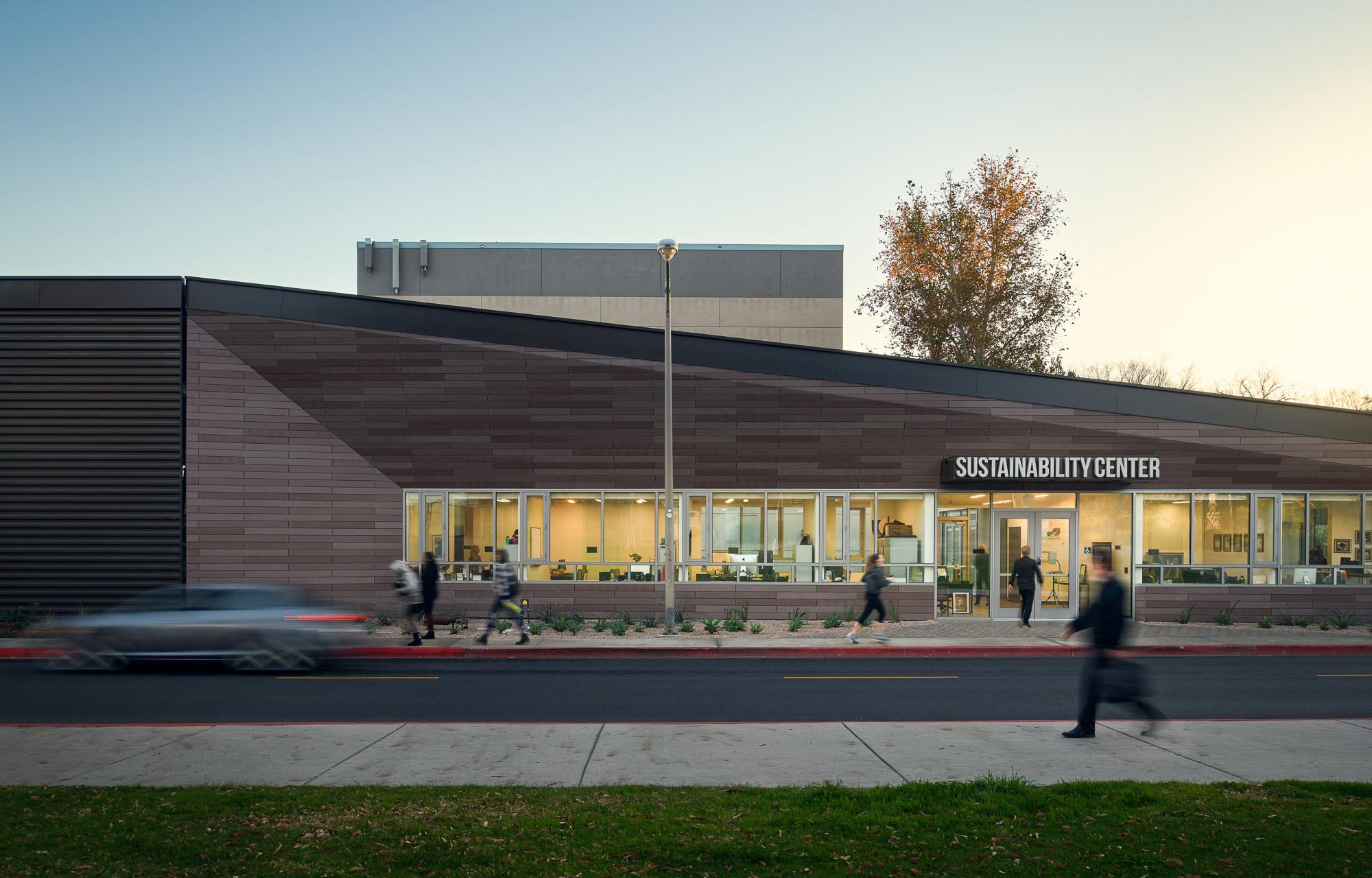 10 STEPS TO GET TO NET ZERO ENERGY
Creating a net zero energy building, whether building new or adapting an existing structure, requires a holistic view of energy systems and technologies. Here are the 10 steps you can take to move a building toward net zero.
UNDERSTAND YOUR BUILDING'S ENERGY PROFILE.
Create an all-electric facilities program to determine energy demands and plan for either on-site or grid renewables to cover them.
CREATE AN ENERGY BUDGET.
Determine the energy use goal of a space and then calculate how many kilowatt-hours the space is able to generate each week.
ORIENTATE YOUR BUILDING TO ITS SURROUNDING CLIMATE.
Seek out massing and orientations that minimize heat gain, passively reduce energy demand, and maximize renewable energy generation.
USE BUILDING ENERGY MODELING TO SELECT YOUR ENVELOPE.
Collaborate with engineers and energy modelers to optimize envelope, integrate progressive mechanical systems, and assess renewable generation opportunities early in design.
INTRODUCE EXTERIOR SHADING.
Design self-shading with building form, overhead projections, fins, louvers, and other shade elements to reduce reliance on cooling systems and bounce light deeper into the space.
DESIGN FOR DAYLIGHT.
Increase daylight with strategic window placement, light shelves, and solar tubes.
CONSIDER OUTDOOR PROGRAMMING.
Exterior atriums, staircases, and other outdoor spaces can reduce the cooling energy necessary for the entire building.
BOOST NATURAL VENTILATION.
When you design for natural ventilation, you can use fresh air to offset costs of heating and cooling for four to six months out of the year, depending on local climates.
REDUCE PLUG LOADS.
Smart sensors and digital controls give tenants control over AC, plug loads, thermostats, and lighting, and can help reduce usage when spaces are not occupied.
PRIORITIZE WHOLE SYSTEMS OVER LOCALIZED SOLUTIONS.
Closed-loop and recovery systems can harvest waste from one system to use as an energy source for another.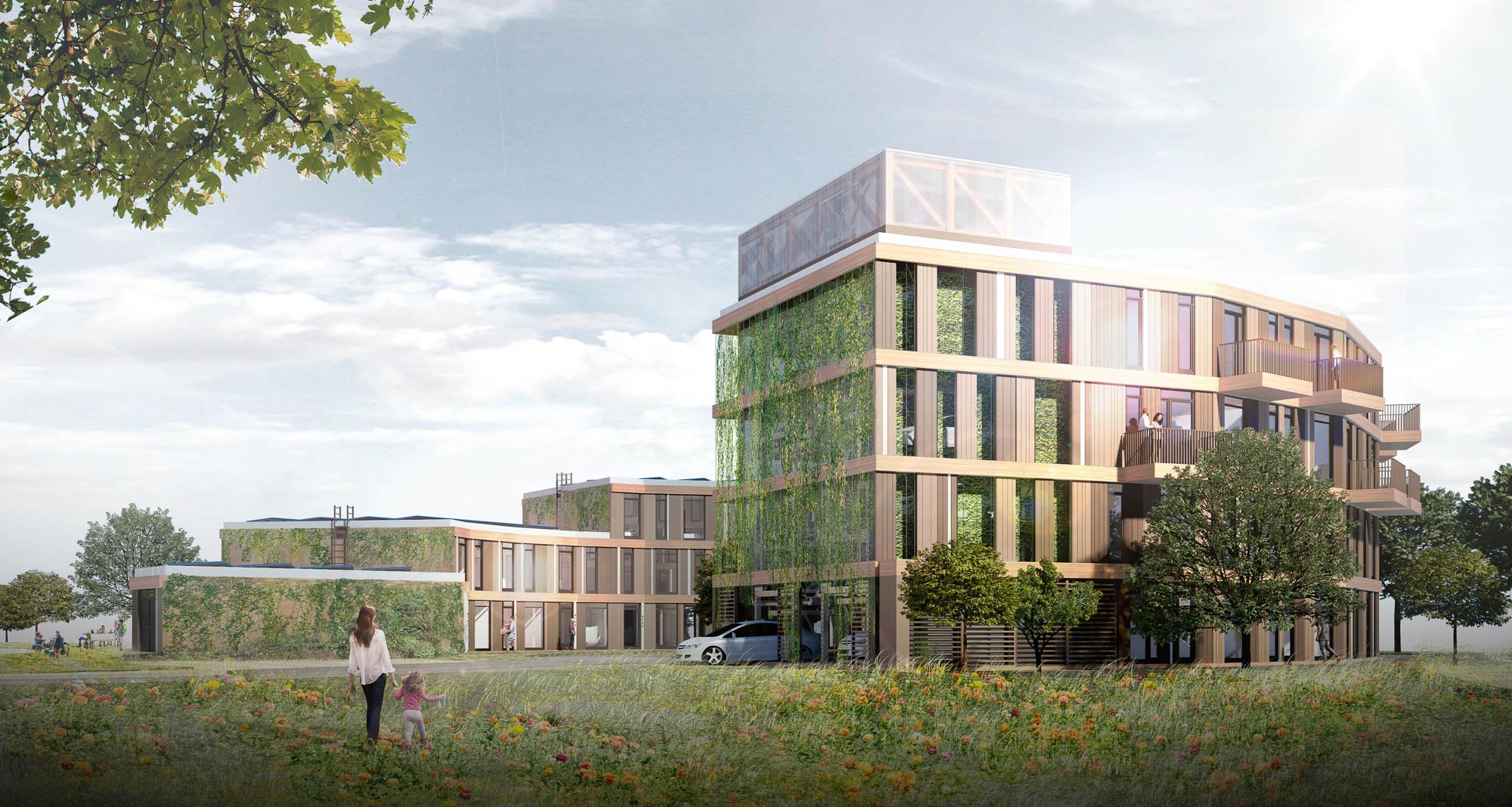 RENEWABLE ENERGY SOURCES ARE PLAYING A LARGER ROLE.
When pursuing net zero energy solutions, the ultimate goal is to reduce the building's operational carbon impacts to zero — and that's only achievable via renewable energy solutions. Operational carbon refers to the greenhouse gas emissions produced from operating a building's energy systems such as heating, cooling, lighting, and other end uses.
For a building to be net zero on-site, it must be fossil fuel-free and produce enough clean energy to compensate for its annual energy consumption. Renewable energy technologies play a big role in minimizing operational carbon, and they have come a long way in recent years.
Over the past decade, the costs for photovoltaics have dropped two-thirds for both commercial and residential structures. Because of this and other clean technology innovations, the number of net zero buildings has grown tenfold in the past seven years.
"As the public interest in efforts to mitigate climate change continues to grow, the conversation about net zero has quickly expanded beyond commercial and public buildings — the residential market must also adopt design resilience and net zero strategies to stay ahead."
—Roger Sherman, Global Residential Practice Area Design Resilience Leader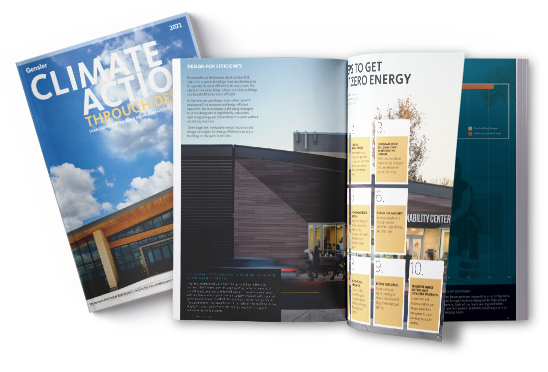 Download Climate Action Through Design