INTRODUCTION
Addressing climate change is the moral and business imperative of our time.
THE ECONOMIC RISKS POSED BY CLIMATE CHANGE ARE ENORMOUS — BUT NO RISK IS GREATER THAN INACTION.
If the past year has taught us anything, it's how our society and world economy are interconnected. We sharpened our focus with the convergence of the pandemic and our social, governance, and environmental challenges.
Today, building owners, developers, and investors are recognizing the potential consequences and risks from climate change, as they mobilize to address the negative impacts of the built environment on climate change. Yet these risks can also present an economic opportunity as the marketplace begins to seek out investment in long-term climate action strategies. Because of the rising costs associated with the destructive impact of hotter temperatures, rising seas, and increasingly severe weather, expectations for how buildings perform are shifting.
"We know that climate risk is investment risk. But we also believe the climate transition presents a historic investment opportunity."
—Larry Fink, CEO, BlackRock
Occupants and building owners are beginning to value the benefits of spaces and structures that are both sustainable and resilient — that use less energy, are built with healthier materials, and can adapt to severe weather events.
They are driving market demand for sustainable and resilient buildings so much that we are reaching a point at which places and products that don't achieve design resilience are at risk of becoming obsolete or devalued — and the bar will keep getting higher. In the coming years, these buildings will be considered uninsurable, unfinanceable, and unoccupiable.
The real estate community is paying close attention. Already, government agencies at every level are instituting new codes and rules to address energy efficiency, carbon emissions, and other climate-positive regulations.
REAL ESTATE LOSSES IN THE U.S. ALONE WILL TOTAL $360 BILLION PER YEAR BY 2100 IF WE DO NOTHING.
—National Resources Defense Council
ENVIRONMENTAL, SOCIAL, AND GOVERNANCE GOALS ARE ESSENTIAL AS WE TACKLE CLIMATE CHANGE.
The market is demanding a change in what and how we build, and that demand is now. We must leverage that demand to not only achieve economic and environmental objectives — but also address persistent social issues of inequity and inequality related to climate change.
Too often, poor communities, people of color, and marginalized groups are those living in areas in our cities that lack parks to balance the heat and lack the infrastructure to handle floods and storms. These groups are also far more likely to suffer health conditions such as asthma or cancer related to poor air and water quality due to proximity to industrial locations and disinvestment.
"If we fail to include fairness and equity in how we adapt to a warming planet, we risk pushing millions more people into poverty."
—Global Center for Adaptation
Because of these health risks and the destruction caused by extreme weather, people are beginning to leave less-habitable places. According to the Global Center for Adaptation, 1.2 billion people worldwide will face displacement or forced migration by 2050 because of ecological threats, which would exacerbate the climate-related problems we already face.
Our goal is to be proactive with our project work by encouraging the adoption of ESG principles that help our clients achieve design resilience, creating places that have not only market value, but also environmental and social value. The decisions we make today will positively impact the most vulnerable groups and generations after us.
OUR GOAL IS TO DESIGN PLACES THAT HAVE MARKET VALUE AS WELL AS SOCIAL AND ENVIRONMENTAL VALUE.
HOLISTIC DESIGN STRATEGIES PUT PEOPLE FIRST AND CREATE POSITIVE CLIMATE AND ECONOMIC OUTCOMES.
Investors are looking to put their money where they wish to have the most impact — and they are expanding their definitions of what positive impact means. They are looking to track their environmental, social, and governance progress and understand how they stack up to their competitors.
Holistic design strategies achieve sustainability and resilience within this broader framework of impact. This starts with a focus on well-being and inclusivity in our designs, combined with an aggressive path to eliminate all carbon emissions in our work by 2030. We're also challenging our industry colleagues to join our commitment through the Gensler Cities Climate Challenge (GC3).
"Everything I've learned about climate and technology makes me optimistic that we can... avoid a climate catastrophe."
—Bill Gates, How to Avoid a Climate Disaster
Our 2020 portfolio is already designed to save over 17 million metric tons of CO2 from being emitted on a yearly basis. But there's still so much more work to do — and it can't be done without the help of our clients, colleagues, and industry. This is our mission with every project, in every location, and for every person.
What distinguishes Gensler is the power of our scale and global reach to shape a positive future. When we embrace impact investing, resource efficiency, and mission-driven goals to decarbonize, we lead by example and guide the way for others to deliver on their promises.
THERE IS AN INCREASED APPETITE FOR MISSION-DRIVEN AND RESPONSIBLE INVESTMENT AROUND ENVIRONMENTAL, SOCIAL, AND GOVERNANCE (ESG) INITIATIVES.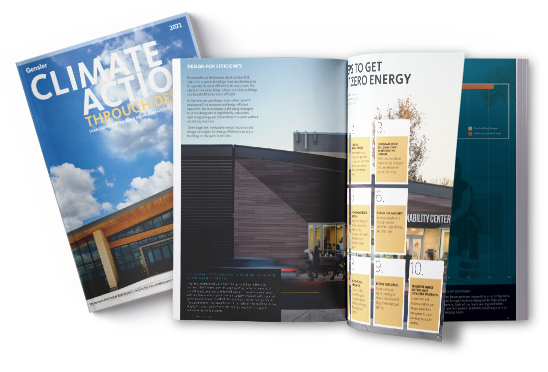 Download Climate Action Through Design