Is Mass Timber the American South's Best Kept Secret? Not for Long.
July 29, 2022 | By Katie Mesia, Vaki Mawema, Casey Farren
For countless reasons, mass timber in the United States is typically associated with the Pacific Northwest. Oregon, for example, made news in 2018 by becoming the country's first state to change its building codes to allow for mass timber structures exceeding six stories (the upper limit is now 18). And while it is true that most mass timber produced in North America comes from Canada and the Pacific Northwest, the southeast United States is emerging as a serious contender in the market, now contributing a significant proportion of the North American tree biomass used for mass timber.
To explain why, it is important to note that mass timber cannot be derived from just any tree. Most North American mass timber is constructed using fir, spruce, and pine in the Pacific Northwest, and each species differs in its appearance and performance characteristics. The southeast region offers its own variation — southern yellow pine — that has enjoyed a significant spike in popularity over the past decade due in part to its durability, fast growth, and highly renewable nature.
Indeed, some manufacturers that were founded in the Pacific Northwest and Canada are expanding production and materials sources to the southeast to include southern yellow pine. Three of the five current largest producers of southern lumber are actually headquartered in Vancouver, British Columbia, and the widespread demand for the material is only expected to grow. Much of that demand is coming from the southeast region itself, where several large-scale campus projects are poised to redefine sustainable architecture as we know it.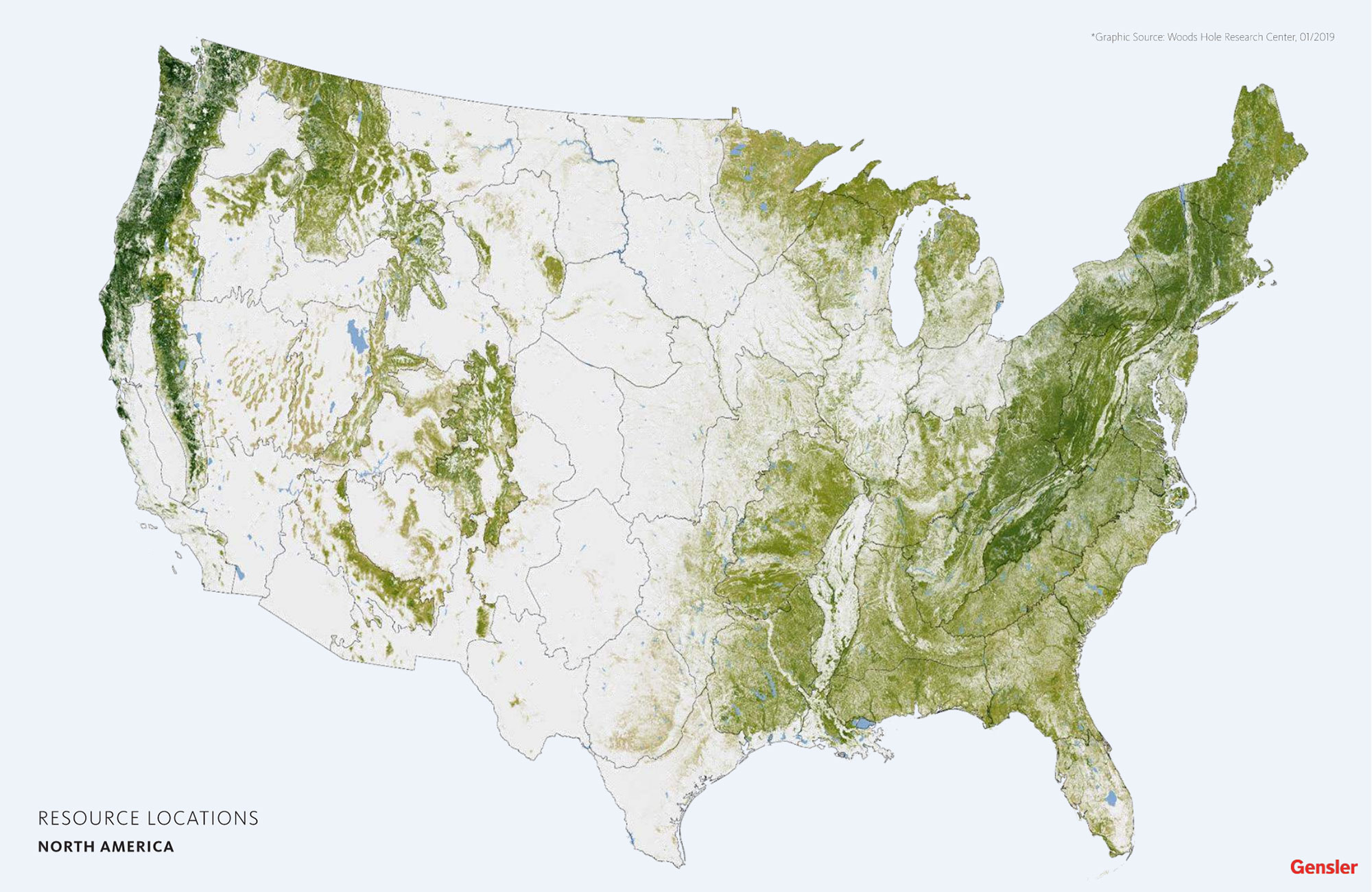 Using mass timber at scale multiplies its benefits.
While the sourcing of mass timber from the southeast is important by itself, it matters just as much for major organizations to adopt mass timber construction within the region and across the country. Construction is underway on the Walmart Home Office Campus in Bentonville, Arkansas, for which Gensler serves as Design Architect for the office buildings and Executive Architect for the overall campus design. Mass timber will comprise the primary structural material for the campus, marking an evolution in how the strategy is implemented. With more than 2.4 million square feet of office space, the company's new campus is the largest mass timber corporate campus currently under construction in the United States.
For a major confidential corporate campus in the southeast region, our team is implementing mass timber with an eye toward its material-saving qualities. Whereas traditional designs call for concrete columns that are subsequently covered in drywall and then painted, mass timber designs are much more likely to expose all of the structure. Drop ceilings are thus rendered unnecessary, because the wood structure of the floorplate above has real beauty to offer.
When considered at scale, mass timber's construction benefits are particularly noteworthy. Bernhard Gafner of ASPECT Structural Engineers notes a 90% reduction in construction traffic for mass timber projects in urban infill locations, as well as the ability to operate on a 25% faster schedule. Take such benefits and multiply them across several buildings on a campus, and a marked impact emerges.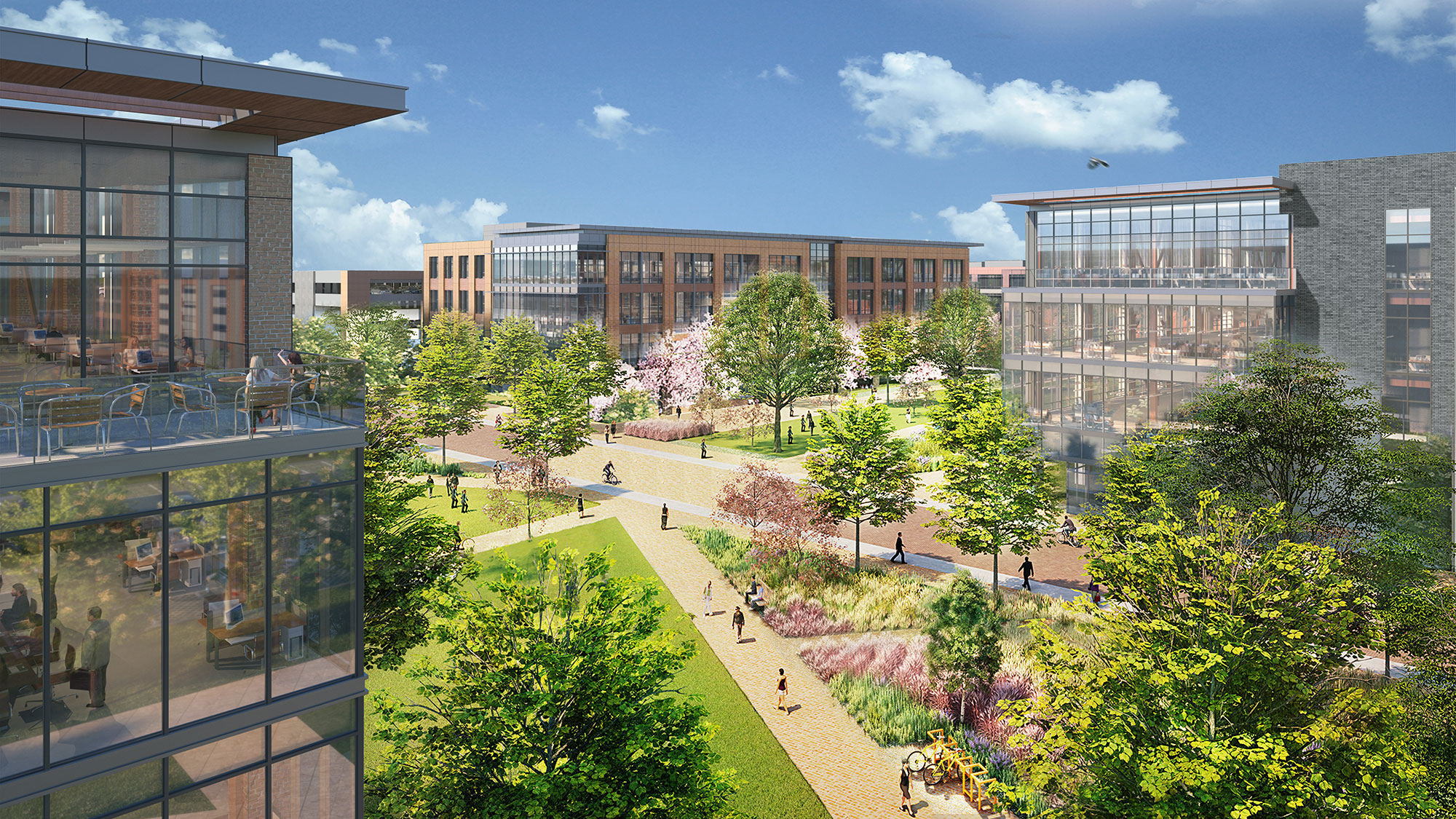 Mass timber performs like no other material.
Under Armour is another early adopter of mass timber, which is being used to develop a new global headquarters building in Baltimore, Maryland. The project has ambitious environmental sustainability goals combined with careful considerations for the building's aesthetic and experience for employees and visitors to the campus.
The challenge for our architects revolved around a key metaphor. Under Armour is an athletic apparel and footwear company dedicated to performance. The clothing, shoes, and accessories made by Under Armour are designed to elevate the performance of athletes, and to make them better. In the same vein, the new headquarters is an opportunity to elevate the health and wellness of Under Armour teammates (as employees are called) and to maximize the company's performance. Gear is to the athlete what architecture is to the organization.
Under Armour's proposed building, constructed almost entirely of mass timber (with small exceptions for certain structural components), is pursuing LEED v4 Platinum Certification, net zero energy operations, and even the WELL Building Standard. The chosen structural material thus served as a baseline that would elevate the impact of many of the building's other sustainable design features, including geothermal heating and cooling, rainwater harvesting, a landscaped roof, solar panels, sunshades, and a premium HVAC system with energy recovery.
As Gensler crafted a strategy to achieve Under Armour's embodied carbon goals, it became clear that mass timber was the best option. Accounting for around 11% of all global carbon emissions, embodied carbon pertains to the emissions "released during the extraction, manufacturing, transportation, and end-of-life phases of buildings." Mass timber bears the distinction of being carbon positive because wood is made entirely of carbon taken from the atmosphere and converted into a tree's mass. Steel, by contrast, scores poorly on embodied carbon measurements because its production process, especially outside of North America, often entails direct pollution. It is also heavy to transport, as is another embodied carbon offender, concrete. Practically speaking, when taking a project's footprint into account — both embodied and operational carbon — one cannot construct a net zero building without using mass timber.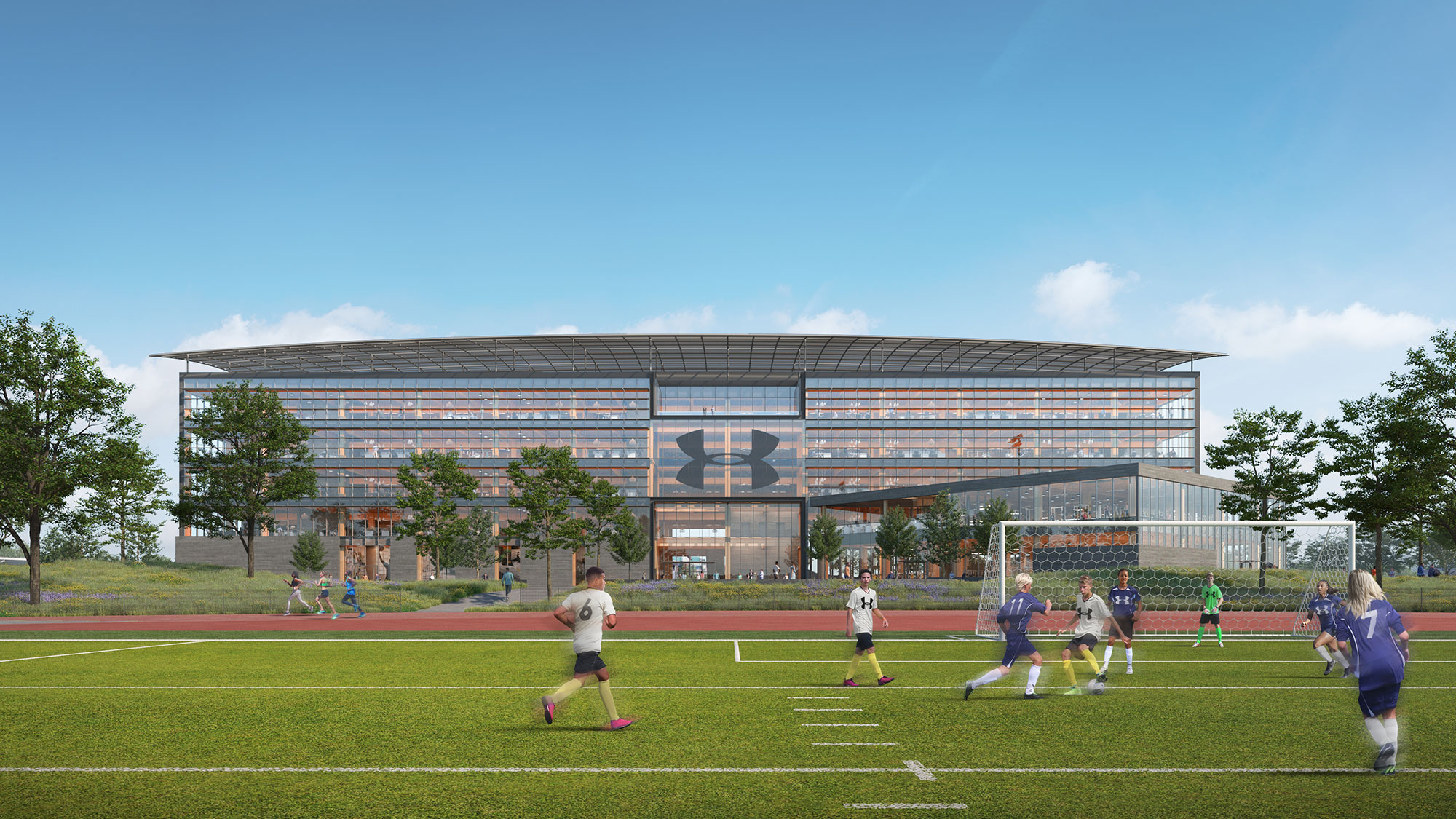 Mass timber can help forge and express a distinctive brand identity.
Undergirding Under Armour's decision to pursue a mass timber building was how well the material aligned with the company's brand, which revolves around authenticity. With its rawness and simplicity, mass timber evokes the grit of Under Armour. The new building will serve as an example of how Under Armour walks the walk on its sustainability commitments and lives up to its value of 'Act Sustainably.'
It is worth pausing on what it feels like to be in a space replete with natural wood. Mass timber has a grounding and welcoming quality that is difficult to overstate. Under Armour's campus extends that feeling even farther, creating a walkable environment with pedestrian connections set within bioretention plantings, rain gardens, and bioswales. In the coming years, as employee well-being becomes a more universal consideration that companies seek to enhance via design, mass timber's utility will only increase.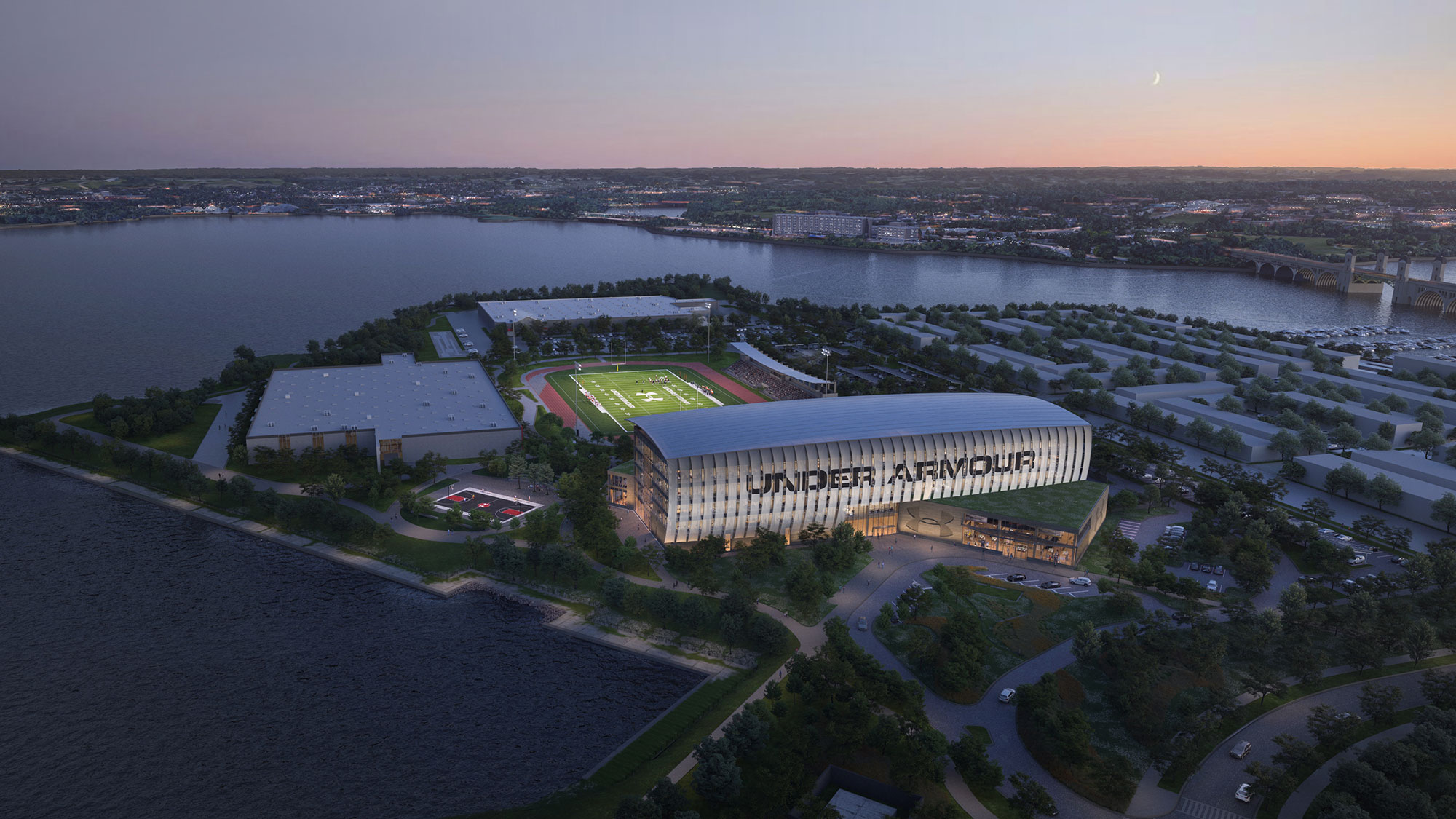 Lingering challenges: Upending a stubborn status quo.
With Under Armour, the conversation regarding whether to pursue a mass timber strategy began two to three months into the process, and we brought a manufacturer on board early. This was an ideal approach, and it behooves us as well as our clients to start such conversations as early as possible. Mass timber is still something that most clients have never been involved with, so a manufacturer's early presence can make the entire process far more comfortable.
Although information regarding mass timber's safety is widely available, there are still misconceptions, including that it lacks durability and fire resistance. More work needs to be done to replace outdated codes and speed up testing so that building owners, insurers, and occupants do not write the material off without understanding it. This is of particular importance in the United States.
The benefits of mass timber can often seem too good to be true. We understand the skepticism, but have experienced comparable schedule improvements firsthand, and we believe the strategy holds just as many benefits for developers as it does for end users. It turns out that mass timber can prove beneficial for both short-term and long-term timeframes. And while mass timber materials present users with a higher upfront cost than steel and concrete, offsite assembly, safer construction, reduced labor costs, and lower interior finishing costs are only a few examples among many of how it can offset that cost.
On the eve of the COVID-19 pandemic, Vox reported that while mass timber "is continuing to explode in Europe and is accelerating in Canada, it remains hampered in the U.S. by anachronistic and overly prescriptive building codes, limited domestic supply, and the small-c conservative thinking of the building trades." But the past few years of advocacy — as well as the current inflationary market — are beginning to change that. With traditional structural materials becoming more expensive each day, mass timber is being priced far more competitively than it used to be. Cost, build time, and availability are all factors causing more project teams to consider mass timber their optimal choice. Work remains to be done, but today the door is open wide enough for us to see through to the other side — to a region and a country where mass timber's full economic, environmental, and experiential benefits are finally unlocked.
For media inquiries, email .