Back to Basics: 5 Strategies to Approach Net Zero Energy
April 19, 2023 | By Jim Stanislaski
Editor's Note: This blog is part of our Design Forecast blog series, looking at what's next in 2023 and beyond.
Accelerating our progress toward more net zero or net positive energy projects is more important than ever. In the current office and mixed-use developer market, the "flight to quality" is real. In addition to unique experiences that make coming to the office enjoyable, tenants are demanding healthy and energy-efficient buildings with measurable data to support ESG and talent retention goals. We see this as a major priority with our clients designing ground up buildings that are built to represent their brands long term. You'll see several of these in our examples of how we need to design with resilience as a priority.
Small nods to energy efficiency will not be enough to distinguish average assets from distinctive places with visible and transformative sustainability investments. The buildings that will stand out in today's competitive market and have better long-term value will be the high-performance, healthy buildings that lease, survive, and bring life back to our communities.
The global problem of climate change and its associated environmental, economic, and societal effects is certainly one of the most complex challenges the world has ever confronted. As designers and problem solvers, in the face of increasingly complex building systems, it might help to take a breath and say to ourselves, "We know how to do this." There are time-tested, basic strategies that can serve as guideposts in a systems-based approach to designing better buildings.
Here are five basic strategies that help make net zero energy more possible:
1. Start With Climate.
A value-driven approach starts with a basic understanding of the unique climate and ecological conditions of the site. Work with the local climate, don't fight it! Relying on modern mechanical systems to overcome local climate conditions by brute force is an expensive and energy-intensive mistake. Start every project well-informed with an understanding of basic climate information like temperature, humidity, precipitation, wind, cloud cover, solar energy, soils, hydrogeology, ecology, and biodiversity. Look for sources and sinks on site: sources of free heating, cooling, water, and energy, and sinks that might create excessive resource demands.
Example: Gensler led the design for Torre Judicial a new 14-story government workplace building in San José, Costa Rica. Our design solution democratizes daylight, allowing staff and users to benefit from its natural health benefits. We conducted an extensive solar analysis to maximize natural light and create efficient lighting patterns within the building. Louvers and high-performance glass optimize the facade's performance and energy use efficiency. The varying density of the louvers allow the lower levels of the building (where the courtrooms are housed) to have more privacy and security. Louvers on higher floors where employees work are less dense, providing more daylight and a view of the mountain range.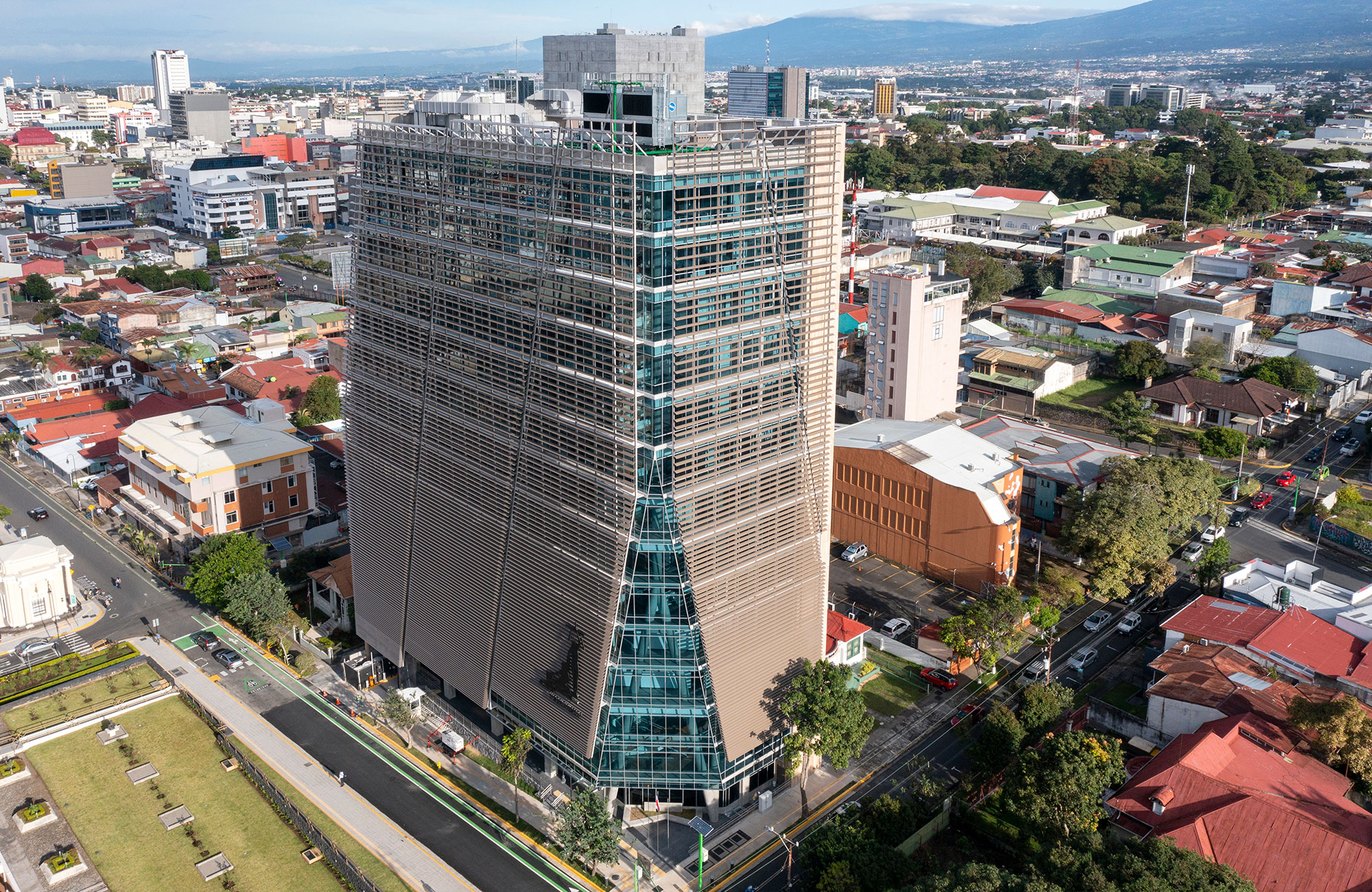 2. Reduce Load First.
A value-driven approach that starts with load reduction is the most cost-effective strategy to achieve carbon neutrality. Every kilowatt or BTU (British Thermal Unit) of energy saved by reducing loads early in the design process means less money spent on expensive heating, cooling, and renewable energy systems later. One load reduction opportunity that is sometimes missed is minimizing square footage and not overbuilding. Every reduction in square footage is a reduction of heating and cooling load. A high-performance building envelope is also a foundational passive strategy to reduce load by reducing energy loss through the building's exterior. Heating and cooling equipment may be upgraded every 20-30 years, but a quality building envelope is a long-term investment that may pay off for over 50 years.
Example: Gensler led the design for the City of Hope, in Irwindale, California, a new office building that consolidates staff from several dispersed locations on campus. Most office buildings generate a lot of internal heat from people and equipment, which puts a great demand on cooling loads. In the hot and dry southern California climate, Gensler carefully tuned each façade to provide shading, while maximizing daylighting and views. This resulted in a 19% decrease in solar insolation, which significantly downsized cooling equipment.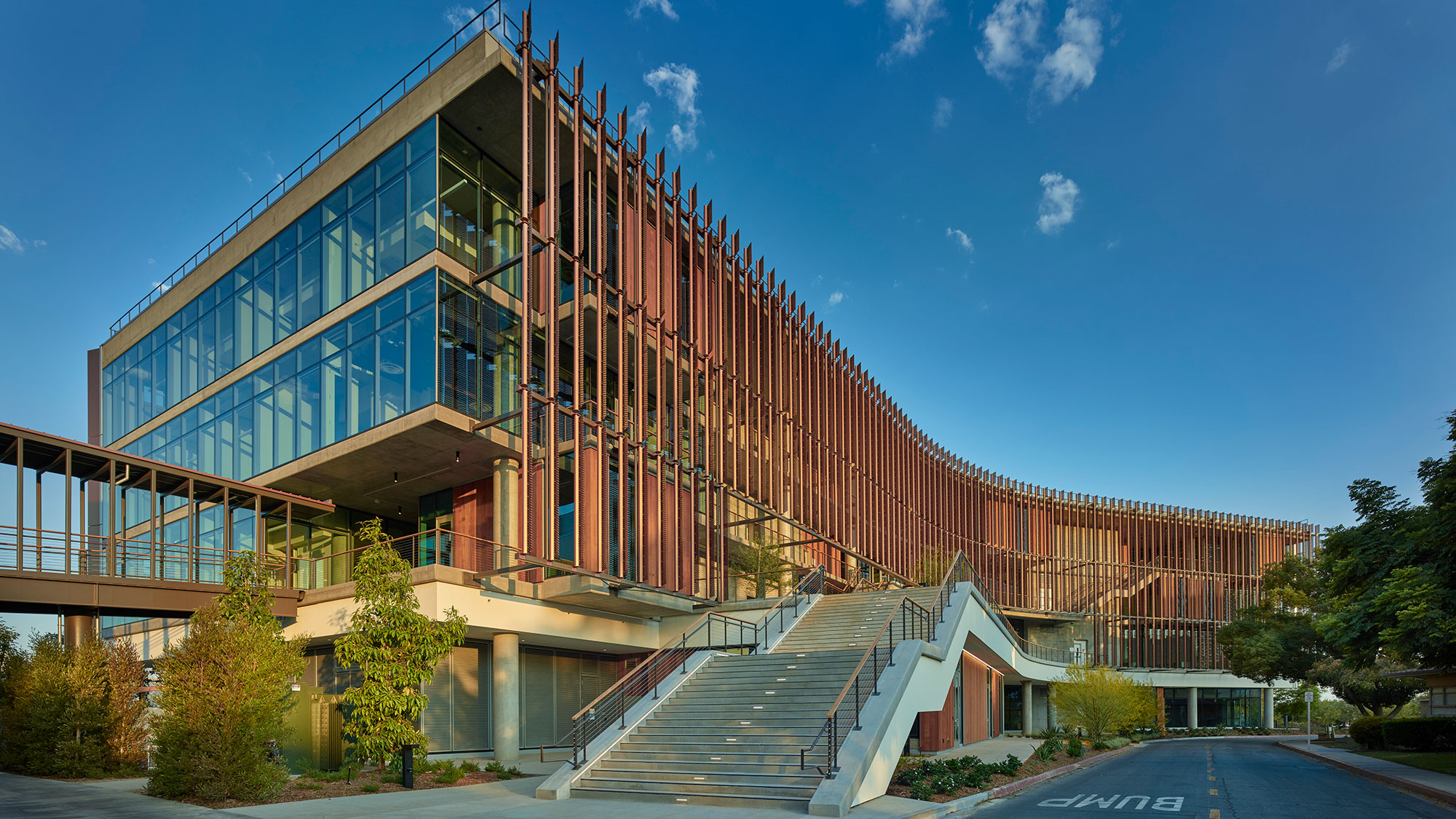 3. Decarbonize Building Systems.
The future is all electric. Our buildings will plug into regional and district power grids that are becoming cleaner providers of renewable energy. Investments in utility-scale infrastructure and legislation are pushing some governments toward mandatory renewable energy targets. "No burning" of any fuel on-site means our buildings create no site emissions, resulting in cleaner air for local communities. Advanced heat pump and energy recovery systems, paired with photovoltaics and high-performance building envelopes, are making all-electric buildings more possible, even in colder climates.
Example: Gensler partnered with Buro Happold and KPFF to develop NEXT, a concept for the lab building of the future. The NEXT: Lab Building of the Future concept uses an all-electric heat pump chiller (EL1) system that is more efficient than a natural gas system in all locations and sectors. All-electric systems result in lower building Energy Use Intensity (EUI) in all markets and achieve zero carbon emissions on a clean grid. In total, NEXT produces 50% less greenhouse gas emissions and uses 30% less energy annually than a conventional lab building.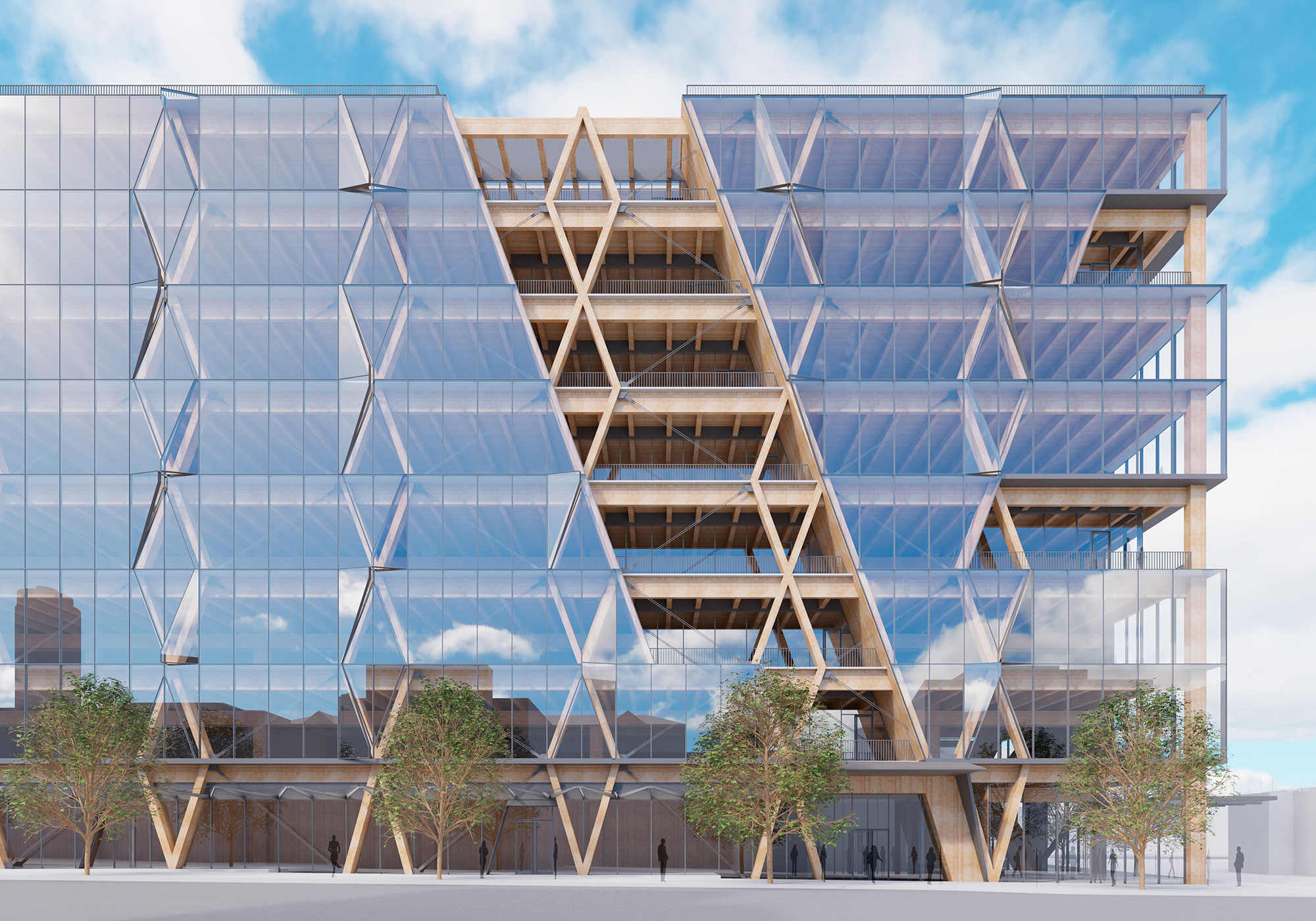 4. Minimize Embodied Carbon.
The terms embedded, embodied, and up-front carbon all refer to the energy that goes into extracting, manufacturing, transporting, and installing building materials. Approximately 80% of a building's embodied carbon is in its structure. Getting to net zero or net positive embodied carbon is tricky and may not be possible for most buildings, since carbon is spent in every stage of the building process. However, there are ways to significantly reduce the overall carbon budget for a project by renovating an existing building, reducing or eliminating the volume of materials, designing with mass timber and biogenic materials, specifying low-carbon concrete, and creating adaptable and flexible buildings with greater longevity.
Example: Gensler is leading the design for Under Armour Global Headquarters in Baltimore, Maryland. The proposed building — constructed almost entirely of mass timber — is pursuing net zero energy operations (EUI of 0 vs. a standard building EUI of 65). The roof contains over 2,000 photovoltaic panels, and the structure is designed to be a net zero operational energy building.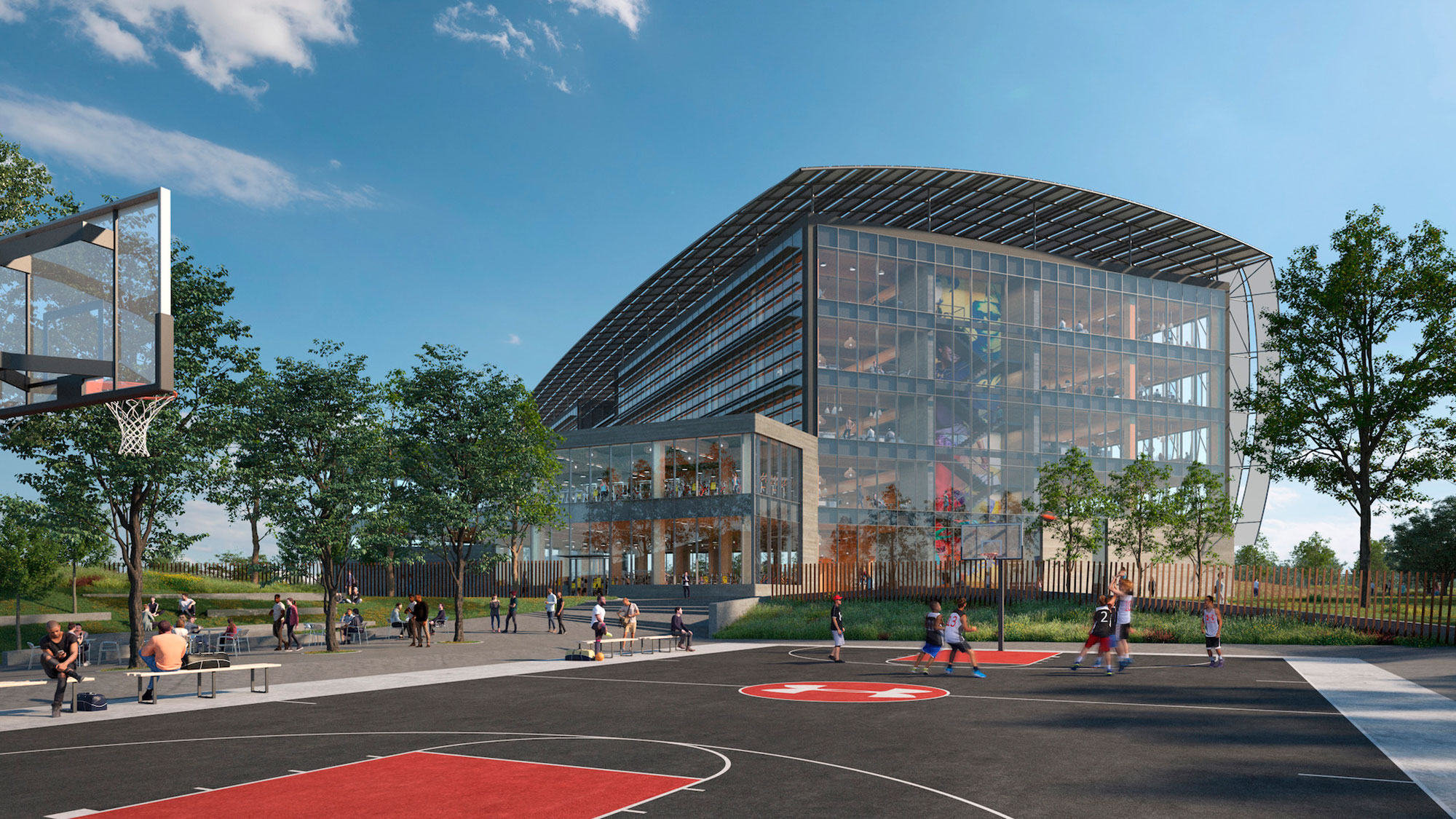 5. Bring the Biophilia.
Plants may seem like an unusual recommendation for an energy strategy, but they are a powerful value-add when part of a holistic system, and not merely an aesthetic add-on. The careful application of landscape can reduce the cost of expensive active cooling and stormwater management systems. Plants provide dozens of benefits like shading, heat island reduction, sound attenuation, pollution mitigation, soil creation and retention, stormwater management, animal habitats, human stress reduction, beauty, and joy!
Example: Gensler led the design for Fifth + Tillery in Austin for 3423 Holdings, LLC. The central spine of landscaping and water features provides beneficial evaporative cooling and mitigates wind. The extensive use of wood and other biophilic elements makes the property stand out in the market. Rooftop photovoltaics are integrated as shading elements and serve as a visible commitment to renewable energy goals.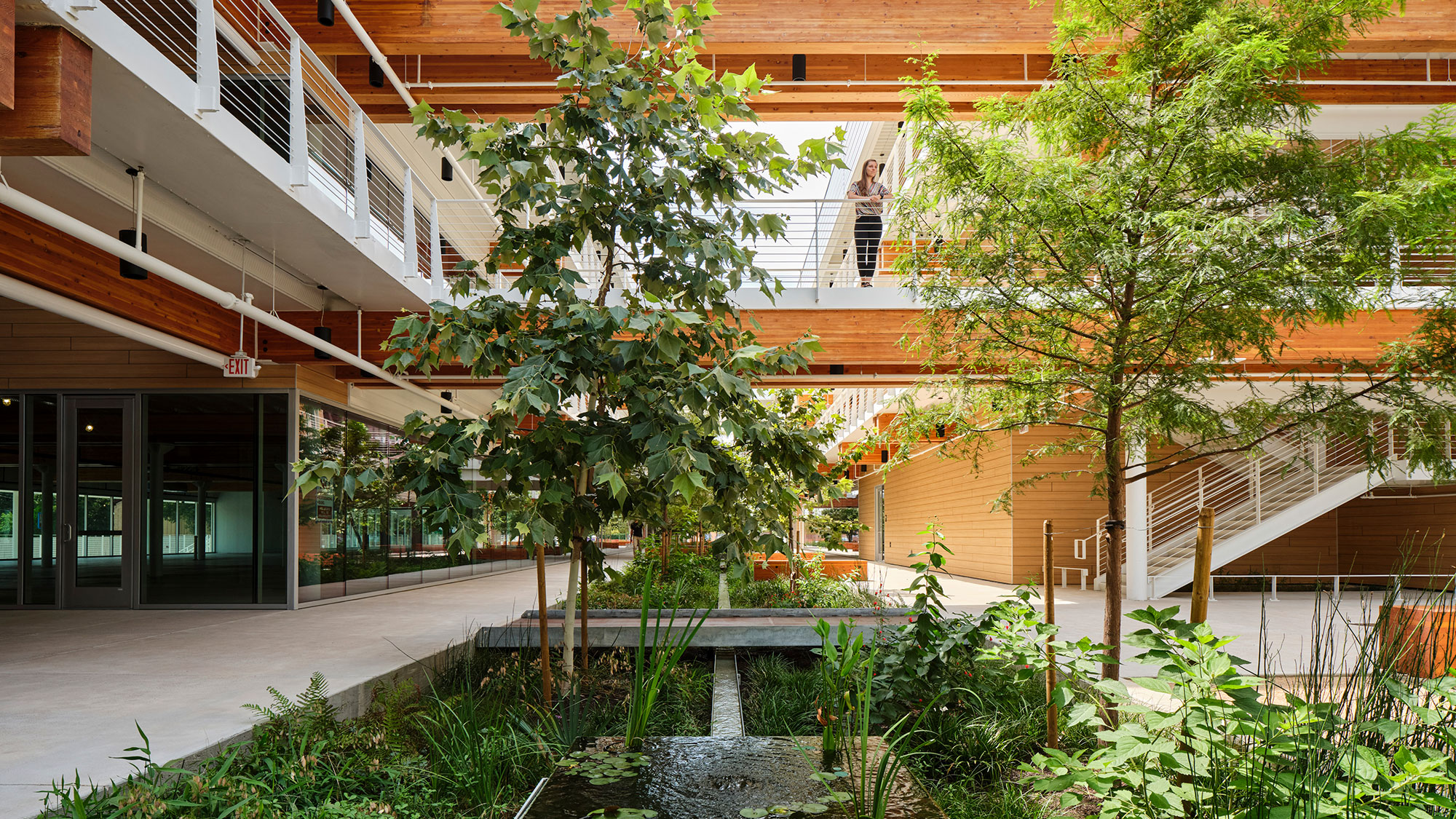 For media inquiries, email .