What It Means to Be a "Healthy Building"
April 11, 2023 | By Stacey Olson
As the World Health Organization (WHO) defines it, health is something that transcends the absence of disease or sickness. It is a positive outcome established by the alignment of multiple contextual drivers, resulting in comprehensive physical, mental, and social well-being. Health is a term for living beings. It wasn't until the 1990s when we saw the term "healthy buildings" evolve in response to the term "sick building syndrome" coined by WHO in the 1980s.
We've come a long way since then.
The key thing we've learned about is the staggering link between human lifespan and healthy buildings, stemming from urban policy, city infrastructure, building construction strategies, programming, and corporate policy. Healthy buildings have a direct impact on our ability to thrive as individuals and communities. They influence what are known as the social determinants of health. Some communities are predisposed to have fewer access to resources (like transportation, healthy foods, green spaces, social networks, and economic opportunity), and greater exposure to harm (such as environmental toxins, poorly maintained cityscapes, theft, and violence).
Behavioral patterns, social circumstances, and environmental exposures are responsible for 60% of mortality in the United States. Accordingly, our ability to design healthy buildings and communities has the potential to address the majority of healthcare crisis drivers, which today represent a $3.6 trillion expense, on track to reach $12 trillion by 2040.
It's important to recognize that every building type can make an impact. Every facet of the built environment is relevant. Hospitals should be healthy buildings — that goes without saying — but so too should our residences and places of work. In contexts where the operative question is how to draw people back to the office, we are actively exploring how to do this in the healthiest way possible that is both cost-effective and tailored to the specific needs of the community.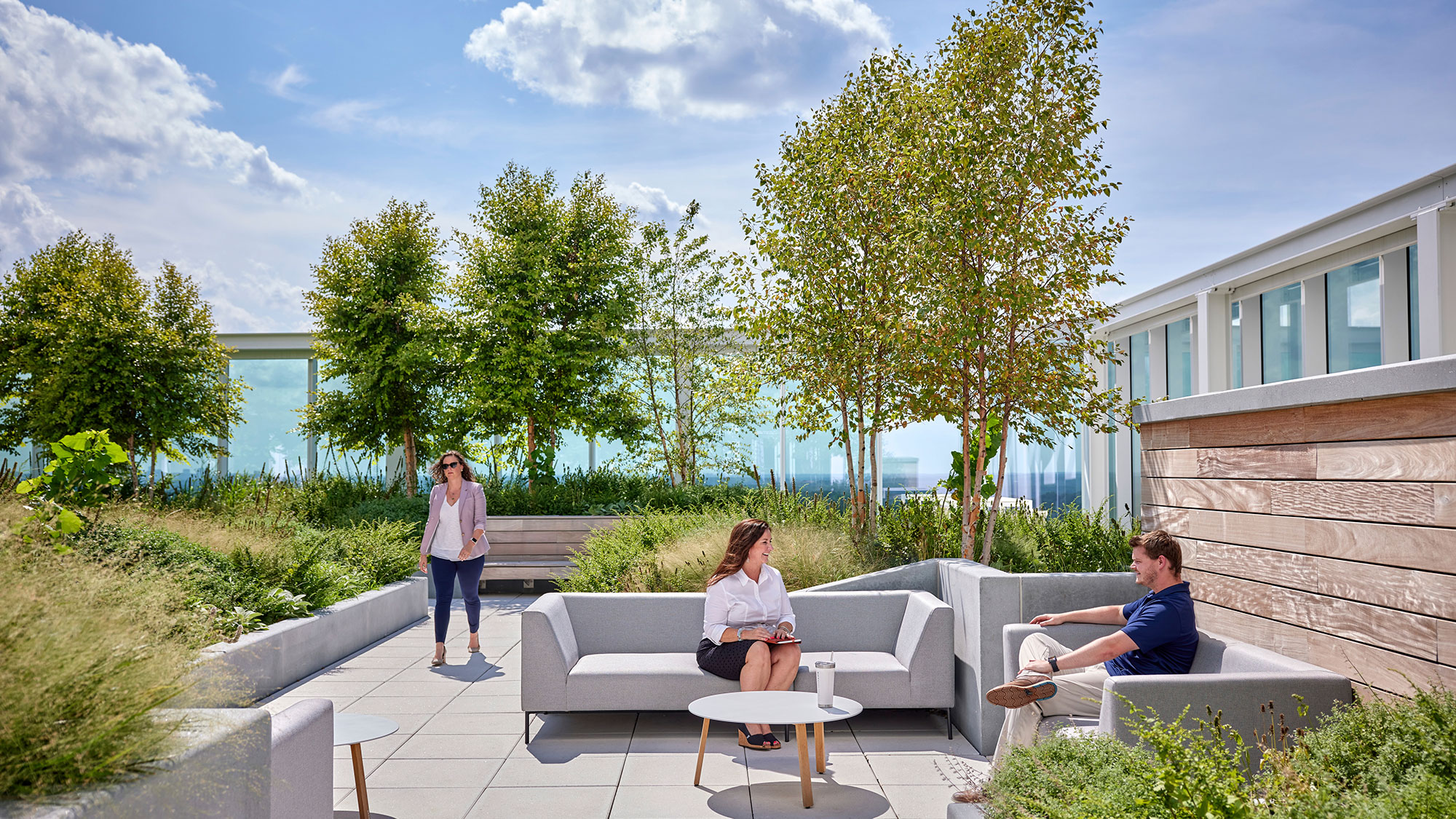 Our teams thrive on delivering holistically integrated, healthy buildings. We embrace science-based strategies, as outlined by the Fitwel program, that span programmatic, policy, and brick-and-mortar solutions. The goal is to move toward equity to deliver a quantifiable impact, and to that end, we're proud to announce that the Center for Active Design has recognized Gensler as a leading organization with the greatest number of Fitwel Accredited staff of all time in their Best in Building Health 2023 awards.
The Center for Active Design also recognized Gensler, in partnership with Marriott, BxP, and Bernstein, for designing the most impactful base building and commercial interior fit out for Marriott's global headquarters in Bethesda, Maryland. (Click here to read the headquarters' full story). Here, we break down some of the strategies that led to this amazing honor and may inform future projects seeking to emphasize health and well-being.
Data's role in shaping Marriott's new global headquarters design
With nearly 1 million square feet of corporate workplace in their prior headquarters, it was important for Marriott to understand how its space is utilized. Gensler and Marriott approached this question holistically, assessing how the group currently uses the space through qualitative and quantitative measurement. The findings identified usage patterns and opportunities to realign the types of spaces that support Marriott's business.
In-depth user research and direct engagement of associates helped executives understand associates' work processes, workplace effectiveness, and the impact the overall environment has on the culture. Associates were given a voice in the process, helping to build a shared sense of ownership. Gensler also conducted 21 focus groups and three visioning sessions to build buy-in and consensus among different stakeholder groups.
Based on the input gathered, Gensler developed potential real estate scenarios. Each scenario carefully considered different real estate alternatives, including stay versus go analysis. In conjunction with the scenario planning, Gensler also developed implementation guidelines to enable the successful delivery of the workplace strategy. Ultimately, Marriott decided to relocate and join the vibrant, walkable community of downtown Bethesda.
Drawing from its work on the base building, the Gensler team crafted an interior design aimed to capture the optimistic energy of Bethesda's downtown core. Translated across the 22-floor, 750,000-square-foot office building, this connective strategy makes a notable impact on the company's operational culture.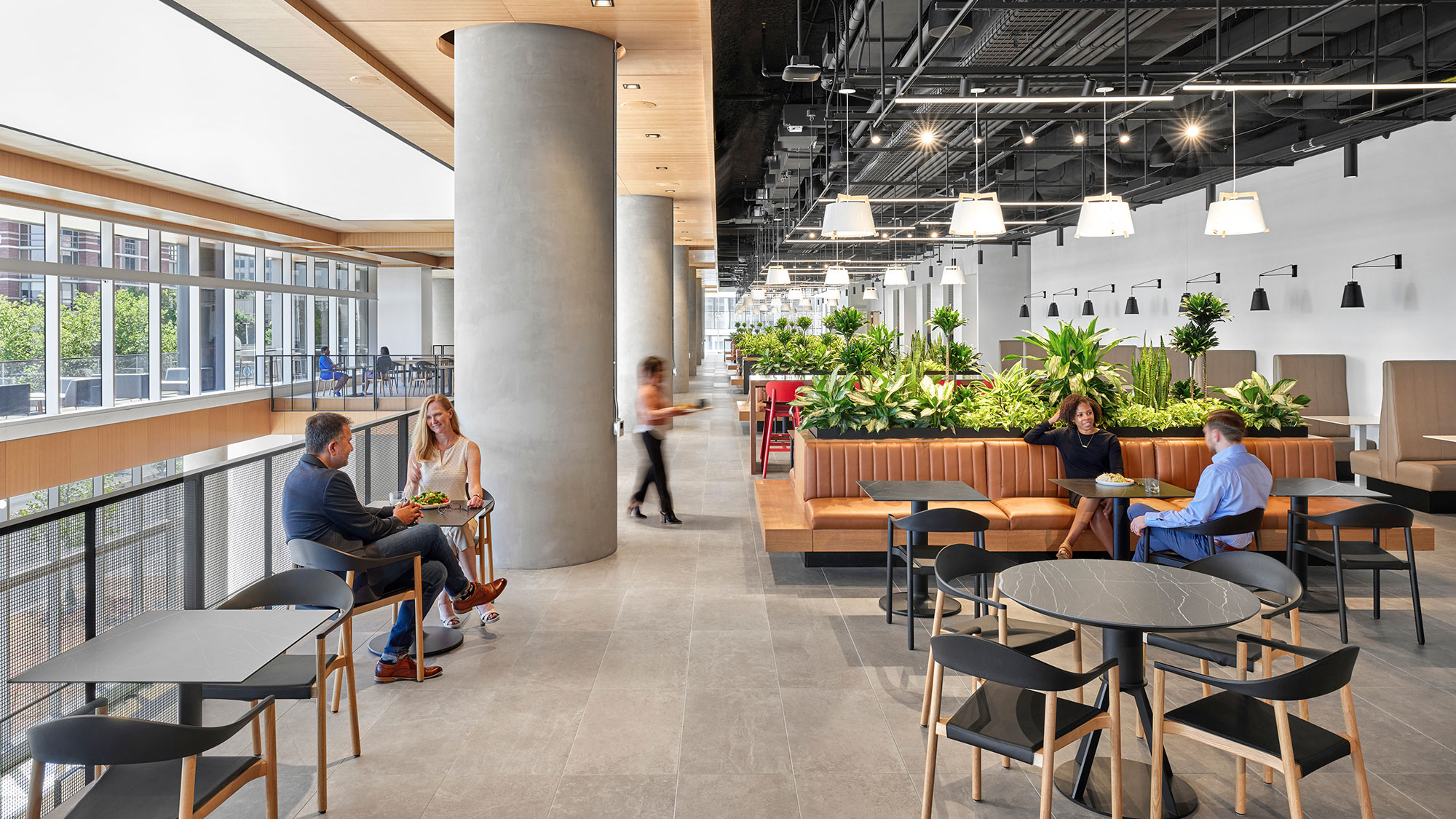 Amenities, layouts, and resources for a healthy workforce
Beginning from the outdoor space adjacent to the HQ's entrance, a communal plaza leads into the lobby, where associates and the public can relax and recharge at a public café or shared reception area. The podium, consisting of the bottom four floors, is packed with amenities. Floor three forms a dedicated amenity zone, featuring a state-of-the-art fitness facility, a health and wellness clinic with physical and mental health services, and a child development center for associates' children with an outdoor playground. Floor four is dedicated to Marriott's ethos of innovation, with a test kitchen, design lab, resource library, and a large interactive meeting area for testing new ideas. A large atrium spans several floors with banquets and conference rooms adjoining, allowing the multi-level crown jewel to act as a flex space for meetings.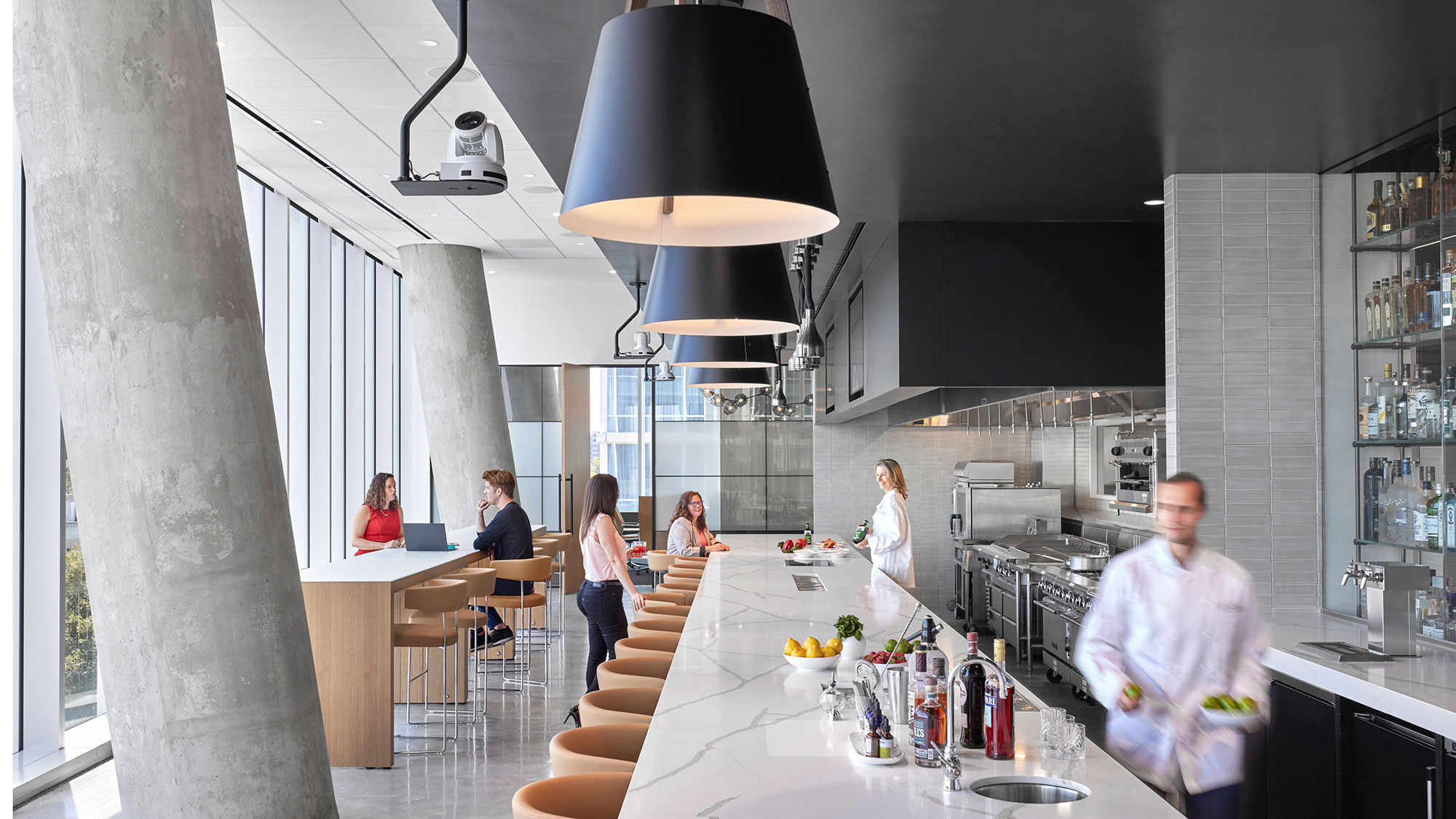 Marriott and Gensler agreed on a democratic approach to the office space, with nearly all workspaces being one-size-fits-all. Coveted window line space — key to providing associates with healthy natural light — is reserved for communal areas for everyone to enjoy. Even before the pandemic, design plans for Marriott's office space embraced a flexible and equitable work future. The new meeting areas are ideal for nimble, in-the-moment collaboration. Benching stations are interspersed throughout the work floors, further emphasizing mobility.
On the south side of the building, a vertically integrated stair creates a hub of activity where people can connect spontaneously while moving around. Another connection point lives on the 15th floor, where associates can grab a snack, have their computer fixed, or take a training course.
Marriott's new headquarters is a physical manifestation of a world-class hospitality company that knows its people are the driving force behind its historic track record of innovation. The company's symbiotic relationship with the blossoming urban core it now calls home is an example of how bright the future of work — and the future of cities — could be.
For media inquiries, email .