Designing a Workplace That Optimizes for Movement and Mobility
By Abram Goodrich, Christian Amolsch, and Shelly Mrstik
For workers who commute to the office via alternate means of transportation — by bike, on foot, via mass transit, or other methods not in a door-to-door passenger vehicle — the act of getting to the office provides a means of natural exercise. The kind of exercise to get the heart pumping, to wake up and clear the mind, provide a mood booster, and simply be ready to work. Likewise, while working in an office building and circulating from desk to meeting to amenity spaces, employees are likely to register more steps than on a typical day while working from home. Studies have also found that walking helps us think. Moreover, movement is essential to our physical fitness and mental wellbeing.
What would an office building that puts MOVEMENT front and center be like? A new headquarters building designed for the American Physical Therapy Association (APTA) explores that idea. And in doing so, the Association also delivered a building that achieved a coveted three-star ranking under the Fitwel standard.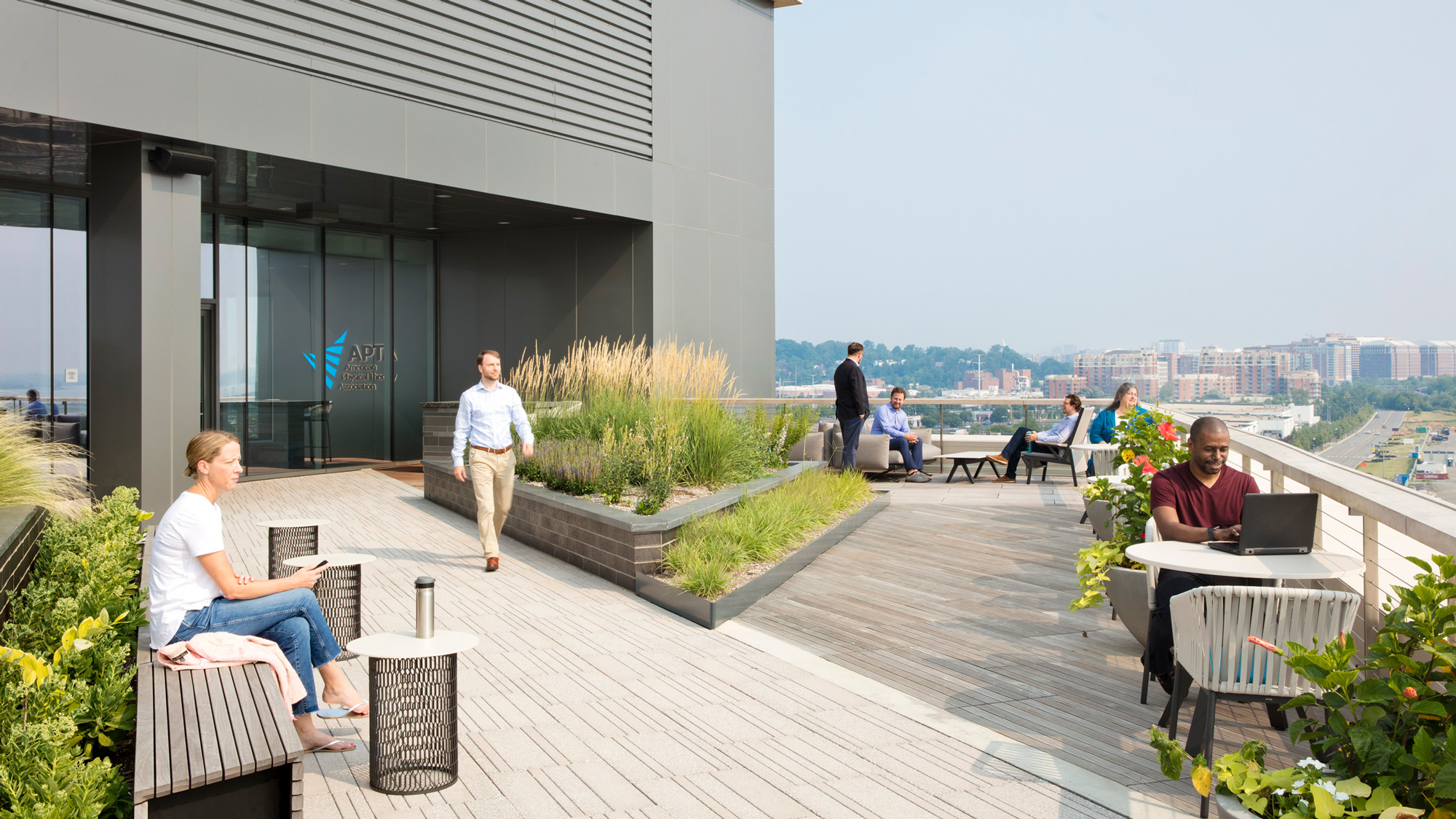 The APTA Vision
"APTA believes movement differentiates and defines a high performing workplace and teams," says CEO Justin Moore. "Movement drives engagement, participation, and collaboration to support an organization's greatest asset — its people and their pursuit of health and purpose in work."
The association represents physical therapists at a time when the profession is ascendant in the public consciousness as a game-changer for physical wellbeing. But, four years ago, the low-rise collection of buildings they called home felt pointed in the wrong direction: inefficient and not conducive to organizational excellence. More importantly, the campus failed to express the ambitious promise of the APTA's vision to "transform society by optimizing movement to improve the human experience."
Renovating the buildings penciled out as exorbitant. So, poised to celebrate 100 years of existence, APTA set out on bold path: it would sell the buildings and create a new headquarters in a nearby neighborhood, Potomac Yard, rising up from nothing on a huge tract of former railroad land across the Potomac from monumental Washington, D.C. A new building would provide the opportunity to get it right and "optimize movement" from the get-go.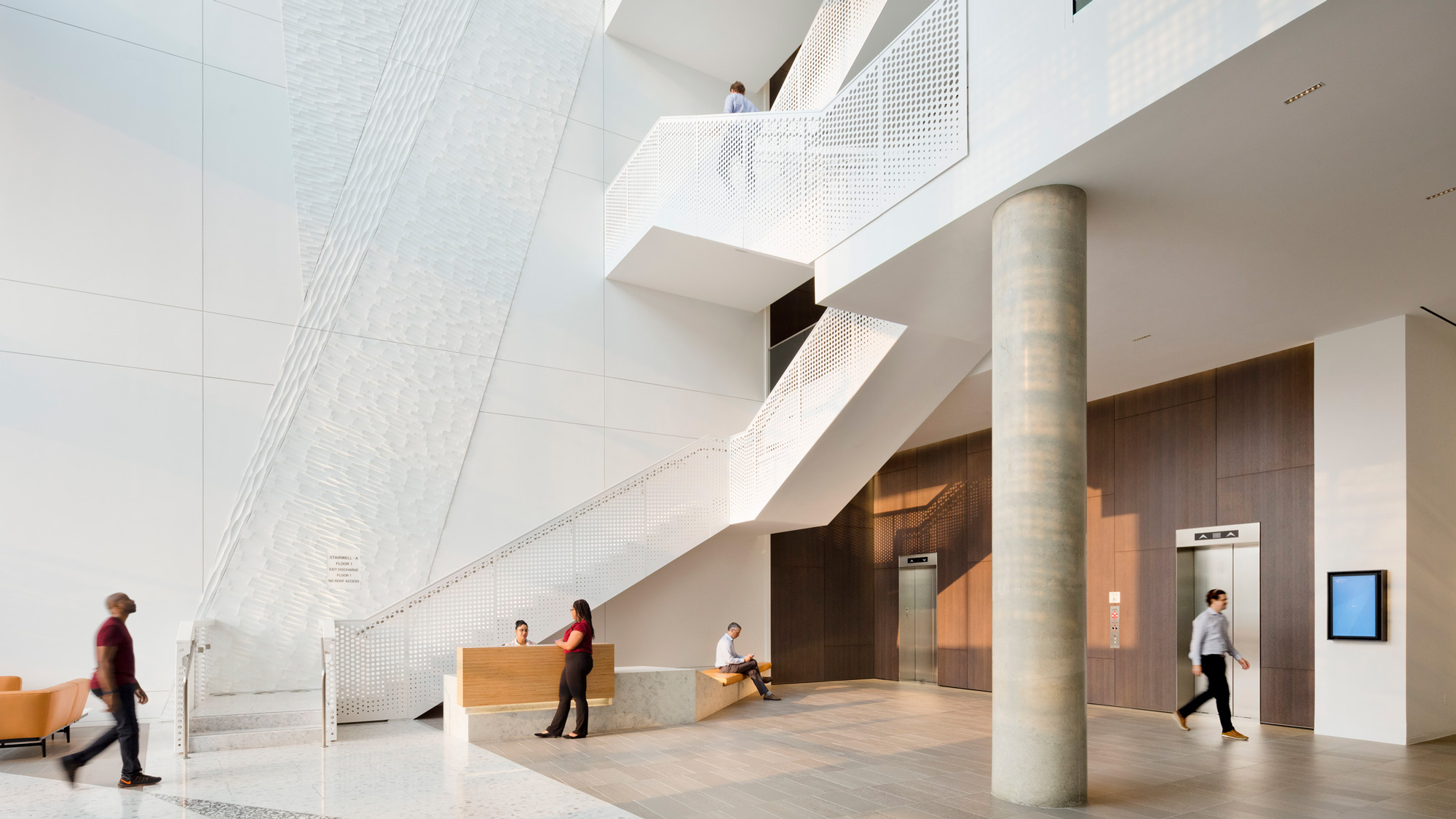 Take the stairs
The de facto mode of travel in spec office buildings is via elevator — a passive physical engagement. In order to fulfill the APTA's vision and optimize for movement, the design team took the exit and fire stairs — which are required by code and would typically be buried away in the building core — and transformed them into features people would naturally want to use.
One stair, located on the building exterior, becomes a beacon from the streetscape while rewarding those who take the stairs with views down Potomac Avenue. The other stair, creatively situated inside the building's seven-story atrium so that it meets code requirements, forms a unique setting from which to take in the full experience of this sunny, open atmosphere. This stair is purposefully co-located right beside the elevators making it easy to choose movement. The building's reception lobby sits at the base of the atrium, putting APTA's wellness ethos front and center in a dramatic introduction.
Ride a bike
APTA's original buildings really were best reached by car. The location of the new headquarters offers more possibilities for mobility: a new Metrorail station is currently under construction across the street. Situated alongside the Potomac Yard Trail, the site is connected to a larger regional trail network, including the nearby multiuse Mount Vernon Trail, which extends to the edge of D.C. To encourage staff (and other tenants) to leave the car at home and explore active modes of transportation, the team imagined how things might be different when the car is not king.
In a typical building, bike riders might find themselves braving steep ramps in a garage where they are clearly an afterthought, locking up in cages, and wending their way through back corridors to get to the gym to change. Not a great experience.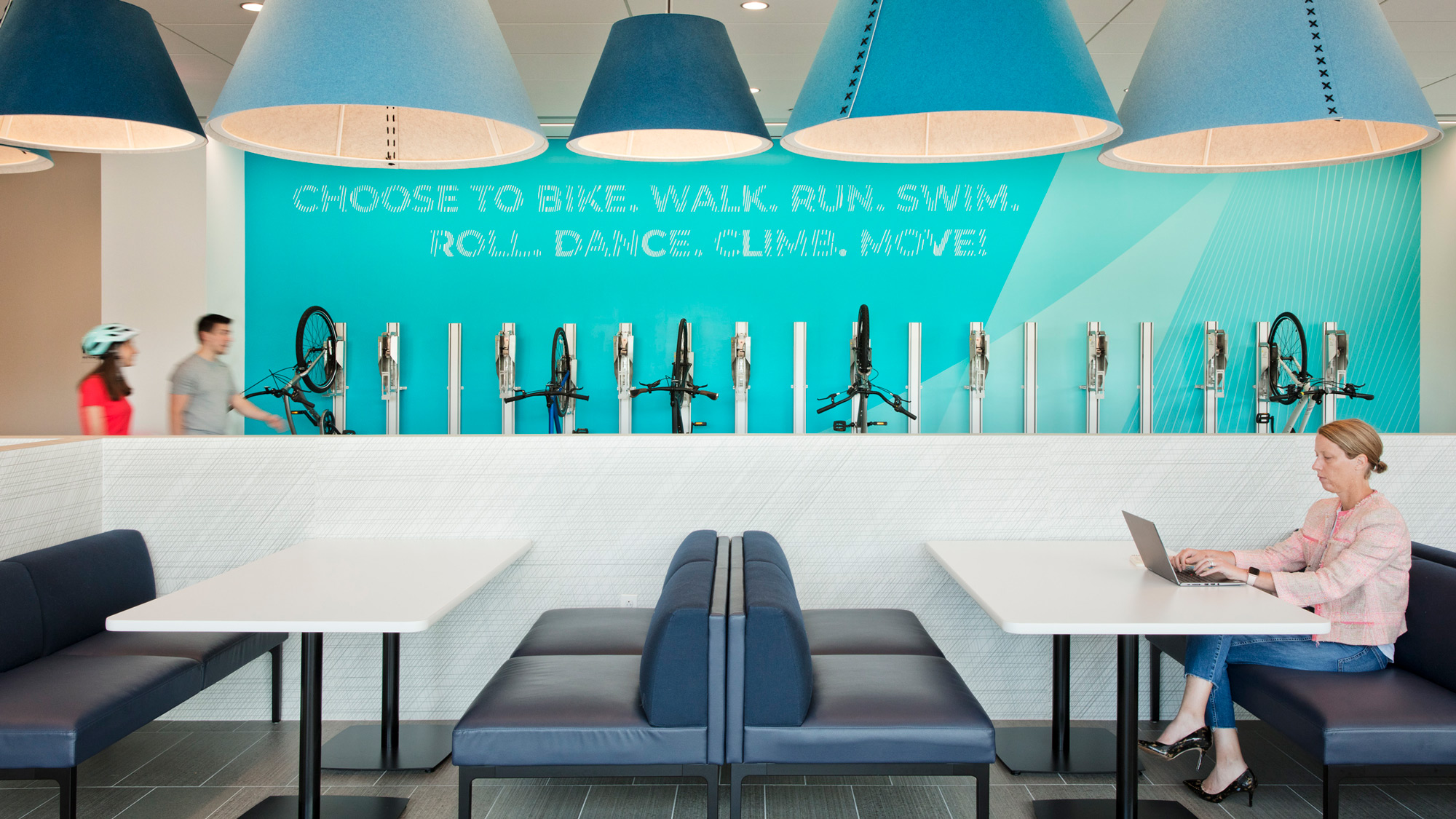 At APTA, bikers are celebrated. An entry sequence allows cyclists to roll in off a public plaza space and park their bikes inside a "Bike Café" that acts as the building's social hub and lunchroom. The café connects to lockers, showers, and changing rooms, as well as the building's gym.
APTA's advocacy is even evident in the design of the plaza itself. The organization acquired the land — an otherwise unused patch of the urban streetscape — in order to maintain it as a public amenity for employees and neighbors alike. The landscape's striking geometry, with intersecting diagonal sidewalks and bursts of greenery, subtly evokes the musculature of the human body — a motif that weaves through the entire project. A bike service station set at the edge of the plaza facing the Potomac Yard Trail takes the encouragement to ride public.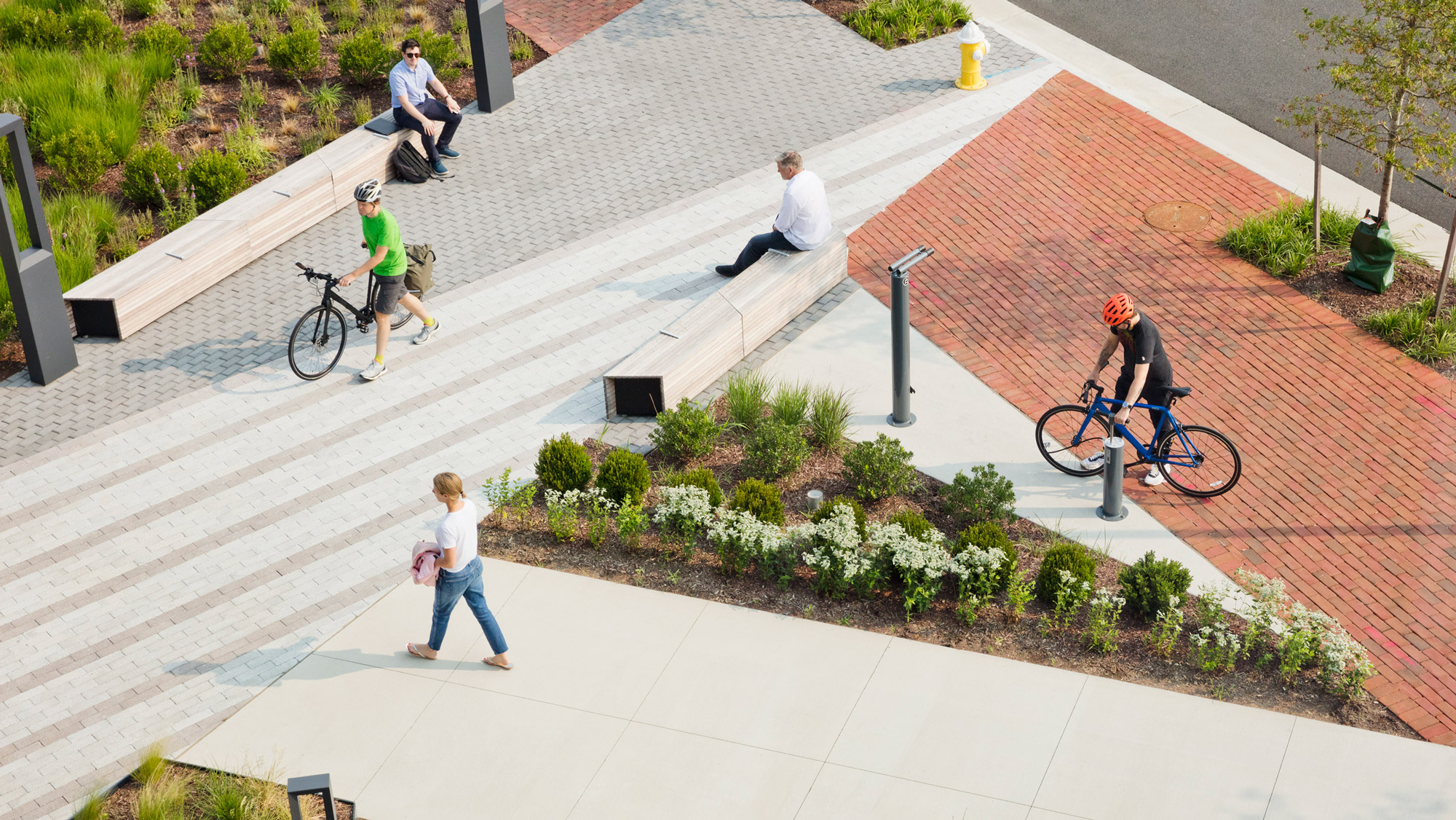 Movement and mobility principles for the future
"Promoting health and wellness in the workplace is essential for today and tomorrow," Moore says. "This has been magnified by the pandemic where the need for safe and healthy space to interact and collaborate provides a competitive advantage over remote workspaces that limit movement and human connection."
The movement- and mobility-minded design of APTA's headquarters point to how other organizations might think differently about their workplaces in the future:
A Return-to-Office can encourage daily movement. Some of us will want to go into the office (rather than work from home) in part because the trip connects us to positive, health-sustaining experiences like a bike commute that we might otherwise miss out on.
Alternative mobility can change our cities for the better. Creating great experiences for users of alternative forms of transportation – bikes, scooters, and who-knows-what's-next – can drive innovation and create new engagement with our neighborhoods.
Movement inspires and delights. The future of work involves people being more nomadic as they seek out diverse environments in which to work – quiet corners, meeting rooms, social hubs, restorative outdoor experiences, etc. Top buildings will make sure that movement between environments is a source of delight and inspiration.
For media inquiries, email .