4 Ways Electric Mobility Will Reshape Our Cities
August 24, 2021 | By Dylan Jones
In the past few years, we've hit a tipping point for electric mobility. Announcements like Tesla's Cybertruck, GMC's Super Bowl reveal of an electric Hummer, or Ford's teaser of an electric version of its iconic F-150 alongside the launch of the Mach-E Mustang have made headlines. While sensible hybrids and sleek Tesla sedans have always had a steady following among eco-friendly and early adopter tech-enabled consumers, the migration to the mainstream American truck and muscle car community marks a serious cultural shift in how we view electric vehicles. But the real game-changing story is largely being overlooked: electric vehicles have the potential to dramatically reshape our cities.
The move to electric is happening and it's happening fast. From e-scooters flooding city streets, to e-bikes, and news of flying electric taxis, the electric vehicle (EV) powered by an electric motor and battery is transforming mobility as significantly as the internal combustion engine (ICE) disrupted steam and horsepower. A year ago, 2% of automobiles sold into the U.S. market were electric. This year, that number jumped to 3%, a significant relative jump. In the next eight years U.S. automakers are aiming to boost that number to 50%. By 2035, GMC has stated they will only be selling EVs.
Given that transportation accounts for nearly 30% of our greenhouse gas emissions, this is great news for our planet and the air we breathe. The sea change comes with concerns relating to the sourcing of battery components, recycling of old batteries, user anxieties relating to charging infrastructure, and labor disruptions that will accompany a shift to cars that require one-third fewer parts. Beyond the benefits for tackling climate change, the shift to electrification has even broader implications for how we might reimagine our urban environments and city streets.
If you're a designer, a public planner, in the real estate business, or simply curious about the city of tomorrow, here are four ways that electric mobility will redefine our cities:
1. Electrification introduces new place typologies for gas stations and parking garages
Parking garages in every city will have the opportunity to be programmed with new uses without having to abandon their core mobility function. Over 100,000 corner gas stations in every community across America can pivot to address local needs. Charging infrastructure can inhabit just about anywhere an EV can travel, and new place-typologies will arise that marry the time it takes to charge a vehicle, with the similarly timed experiences we consume in our mobile lives, whether that be taking a Zoom call, dropping into a spin class, or simply enjoying some local food and culture.
Gensler is working with our clients to plan and design for a world that blurs the boundaries between mobility and architecture. We're working collaboratively with BMW Designworks on a project that explores future adaptive reuses of gas stations and parking garages that breathe diversity into communities, while considering how the static live, work, play experiences of today can evolve to map to our mobile technology connected lives.
Typical Gas Station
Future Concept
Typical Gas Station
Future Concept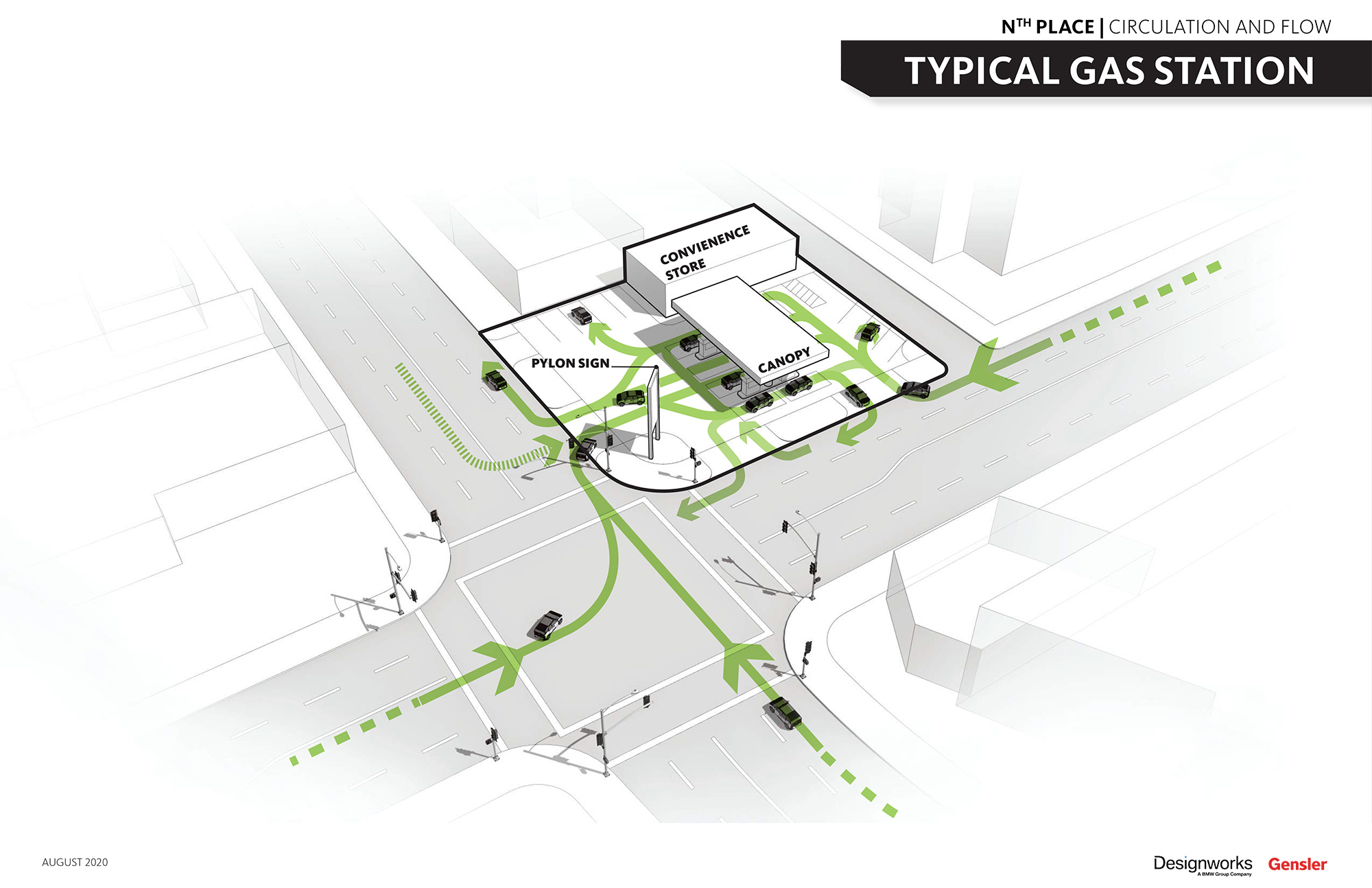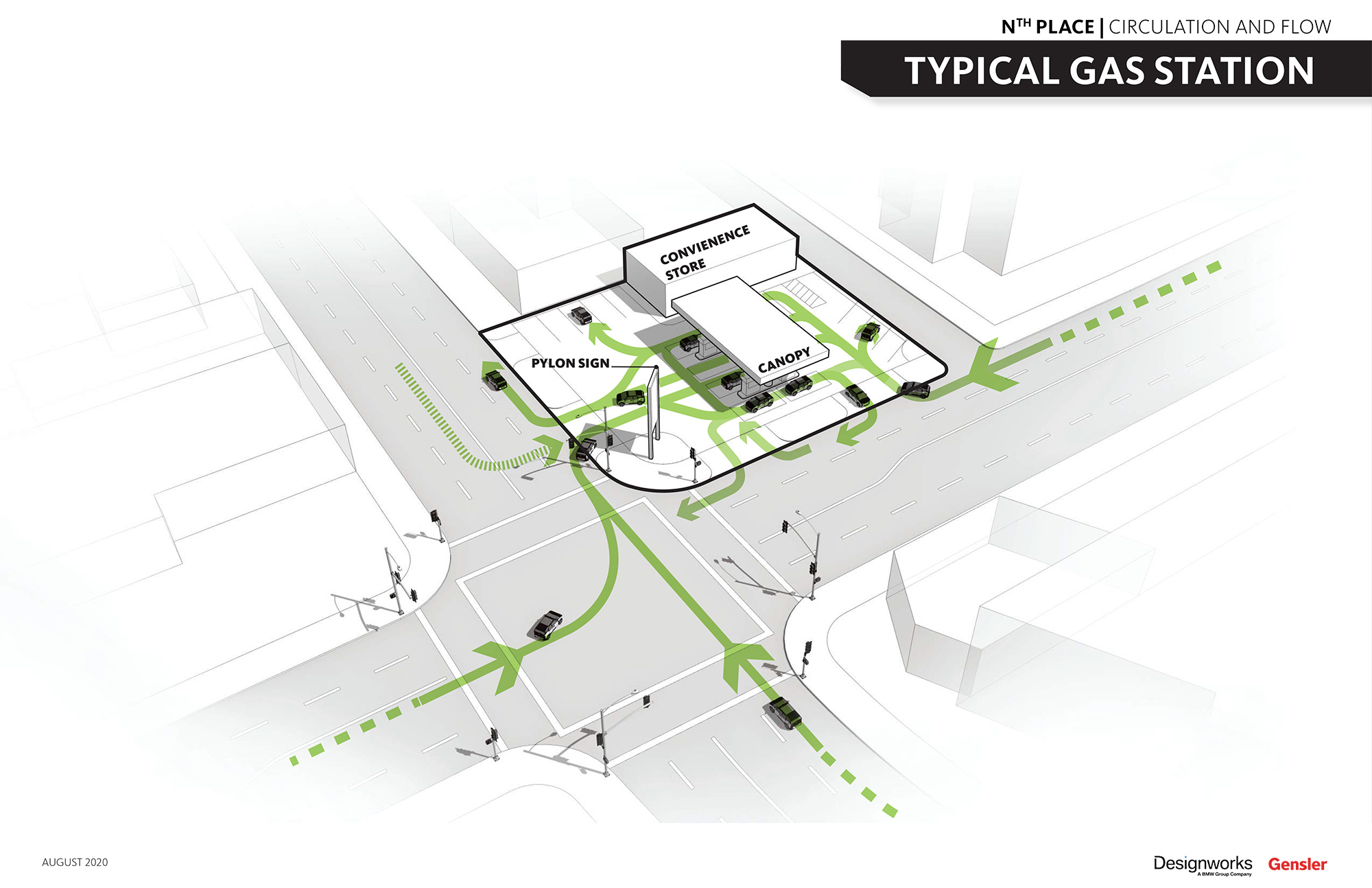 2. Mobility will become a personal consumer choice
Mobility built on the internal combustion engine (ICE) has its own ecosystem of outdoor roadways, parking lots, garages, gas cans, gas stations, fuel trucks, tankers, refineries, emissions and oil fields. EVs, of all kinds, belong to a radically different ecosystem of consumer electronics, computers, data, electric infrastructure, batteries, solar fields, and wind turbines.
It's true that much electricity is generated through the burning of carbon fuels, but in the future, individuals will be able to purchase their electricity based on its source, so we will have the freedom to opt into cleaner options. Many consumers will drive past coal fueled electricity and pay a premium for wind, as an example. Consumers will wear those decisions as part of their personal identity branding.
3. EVs will become technology platforms
EVs are technology platforms that will serve as the brains of our future buildings. They will act as our data and energy wallets, allowing us to trade either data or energy as we move about our communities. We will collect energy from the sun while resting at home, and in turn have the option to sell the excess energy in our EV batteries back to our office when we go to work, sustainably powering the places we visit. We may choose to also sell back information we collect while driving to support real-time data needed to support autonomous fleet operations. The smart computing power of our EVs will not only help us optimize our own personal energy and data, but will also serve to power the smart entertainment and data systems of our homes.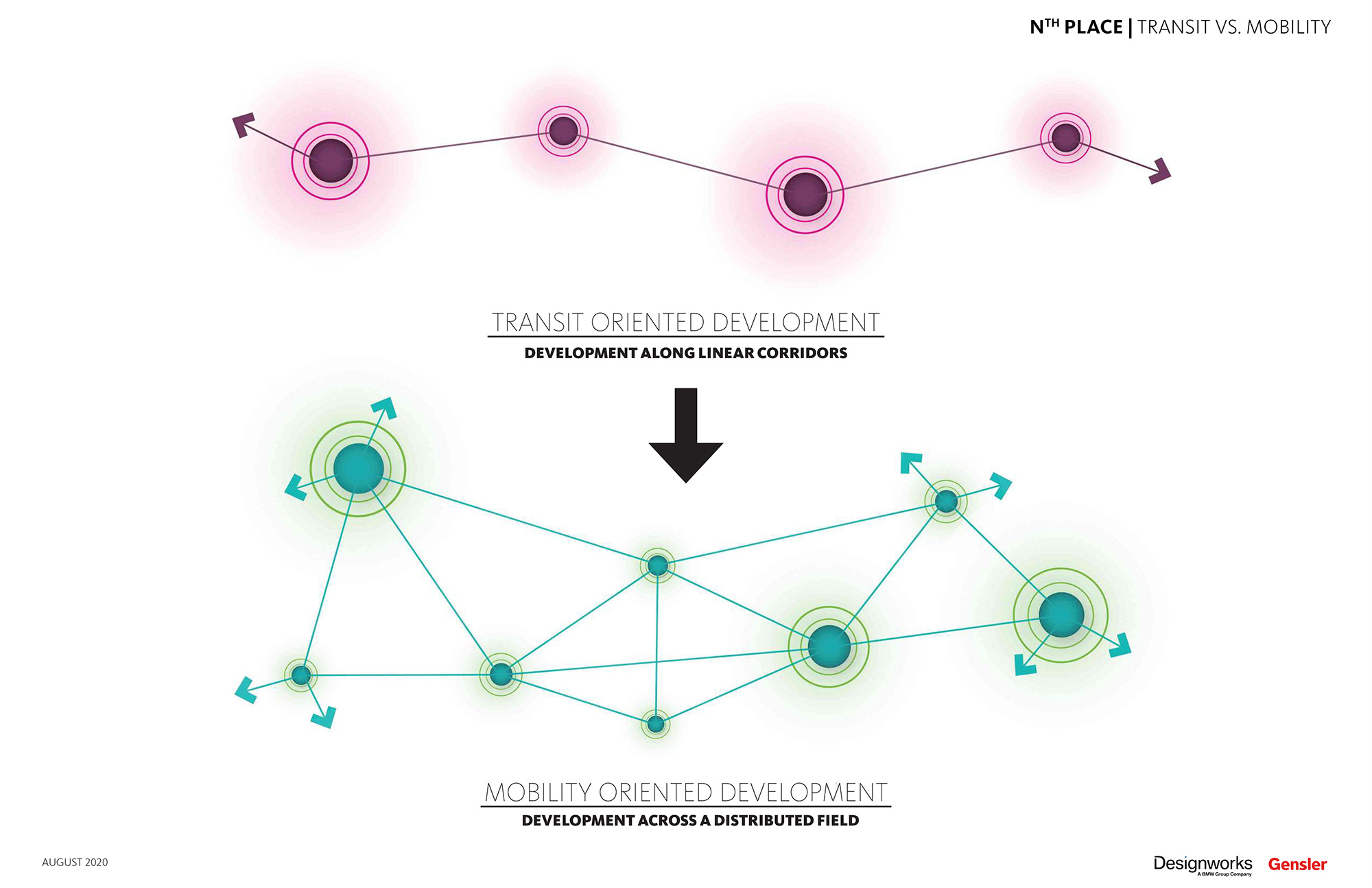 4. Electrification will present an opportunity to reimagine our streets, and our buildings
We instinctively understand that cars live outdoors, or in our garages with the lawn mower and gas cans. We know that if we run our cars inside, the fumes will kill us. Not so with EVs, which are more similar to our television sets and refrigerators. In the future, our buildings will not have to keep EVs out, and our streets will not have to be outdoors. This may prove to be the largest disruption to the experience of our cities since the dawn of the original automobile.
Maps of cities today have a clearly defined figure (buildings) and ground (streets and open space). In the future, our maps may resemble a much more complicated weave. The idea of being dropped off at a front door may be replaced by an experience of being dropped off inside, or in the case of flying EVs, on top of our destinations. Our EVs may very well live inside our homes with us and become the home office of the future.
We're looking to leverage design to uncover the hidden opportunities and possibilities just around the corner. Our aim is to plan and design for a future mobility experience that is easy on our planet, safe to breathe, equitable, and — most of all — fun.
For media inquiries, email .