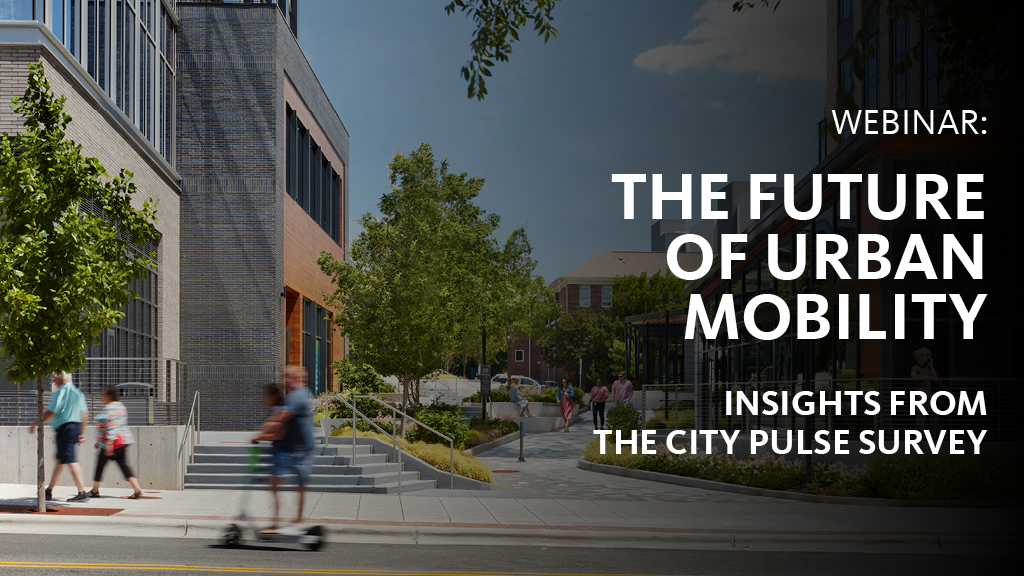 WEBINAR:
THE FUTURE OF URBAN MOBILITY:
INSIGHTS FROM THE CITY PULSE SURVEY
The nature of urban mobility is shifting. Cities need to keep pace.
Between increasing return to office rates and a resurgence of in-person experiences, the latest City Pulse 2022 Urban Mobility Report from the Gensler Research Institute found that cities are already more active than they were pre-pandemic. But while cities are rebounding, ways in which residents connect and move throughout them are rapidly changing.
As our clients consider the future of urban life and mobility, our survey data lends timely insight into how people choose to travel, and how cities and their transportation systems can evolve to support new behaviors.
Gensler research, planning, and transportation experts discuss how residents' mobility experiences, opinions, and preferences are shaping how metropolitan areas are planned and built. Find out:
What residents want from cities where they live, work, and play
How design interventions help remove barriers to public transit ridership
Why public transit and "micromobility" are both important in helping cities become more resilient
Methodology: Data for Gensler's City Pulse Urban Mobility Study was gathered via an anonymous, panel-based survey of 15,136 total urban residents in 30 cities across the world. The survey was conducted online from July 18 to August 15, 2022.
Watch the webinar and download Gensler's Gensler City Pulse 2022 Urban Mobility Report.
Download the full Gensler City Pulse 2022 Urban Mobility Report to learn how today's "new normal" can influence and inform tomorrow's urban design decisions.

For press and media inquiries, please contact . To reach our Mobility practice area, contact . To learn more about Gensler's Cities research, please reach out to .