Fixed Base Operators: A Gateway to eVTOL Takeoff
September 07, 2023 | By Nick Acevedo
The promise of flying cars and taxis has been around for as long as I can remember. From the Jetsons, to Back to the Future, to Henry Ford himself, who once said, "Mark my words. A combination of airplane and motorcar is coming. You may smile, but it will come."
It may not look exactly as the Jetsons or Henry Ford pictured it, but the Advanced Air Mobility (AAM) and electric Vertical Takeoff and Landing (eVTOL) revolution is already here. Aerospace startups like Archer and Joby have unveiled production-ready eVTOL designs as they secure partnerships with large airline clients and pave the way to certification with the Federal Aviation Administration. For their part, the FAA is working with multiple groups to develop blueprints for operations in the future airspace, and in September 2022 the agency released a set of vertiport design standards that lays the groundwork for building the infrastructure needed for a new era of urban air mobility.
It's clear that eVTOL aircraft can add a faster, more efficient, sustainable, low-noise, and cost-competitive alternative to ground transportation for mobility applications. Events like the Uber Elevate design competition have shown us the potential impact that AAM could have on the day-to-day lives of urban residents. However, the combined challenges of zoning, regulation, land use, and necessary partnerships put a great deal of pressure on the technology to succeed. So, with all the development activity on the urban air mobility and advanced aviation front, the question becomes: How do we integrate this new, untested form of mobility into a developed community landscape? What if there was a bridge between the current state and a future state where vertiports are commonplace in urban environments?
As a natural first step, multiple companies are focused on making eVTOLs and vertiports as a transition node from traditional air travel to last-mile transit, or vice-versa. This creates an opportunity for Fixed Base Operators (FBOs) — general operating facilities that currently offer services to both private aviation and smaller commercial operations — to become key players in the development of advanced air infrastructure. Compared to a ground-up vertiport in a dense environment, FBOs are already integrated into their community landscape and offer access to existing airspace — as well as ready-to-develop land and the flexibility to adapt their layout for multiple operators. They have existing operating licenses, access to city streets for last-mile destinations, and facilities that already serve a highly engaged market of business travelers and frequent fliers.
In our aviation practice, we're already starting to see design concepts, transitional test cases, and client projects that are leading the way. In 2019, Gensler was named a finalist in the Uber Elevate ideas competition for our CityScape vertiport concept designed to adapt existing parking structures into next-generation urban mobility hubs. And in Southern California today, Gensler is actively working with Clay Lacy Aviation to develop an FBO that will integrate electric aircraft into their facility and provide renewable power to the charging sources through photovoltaic panels.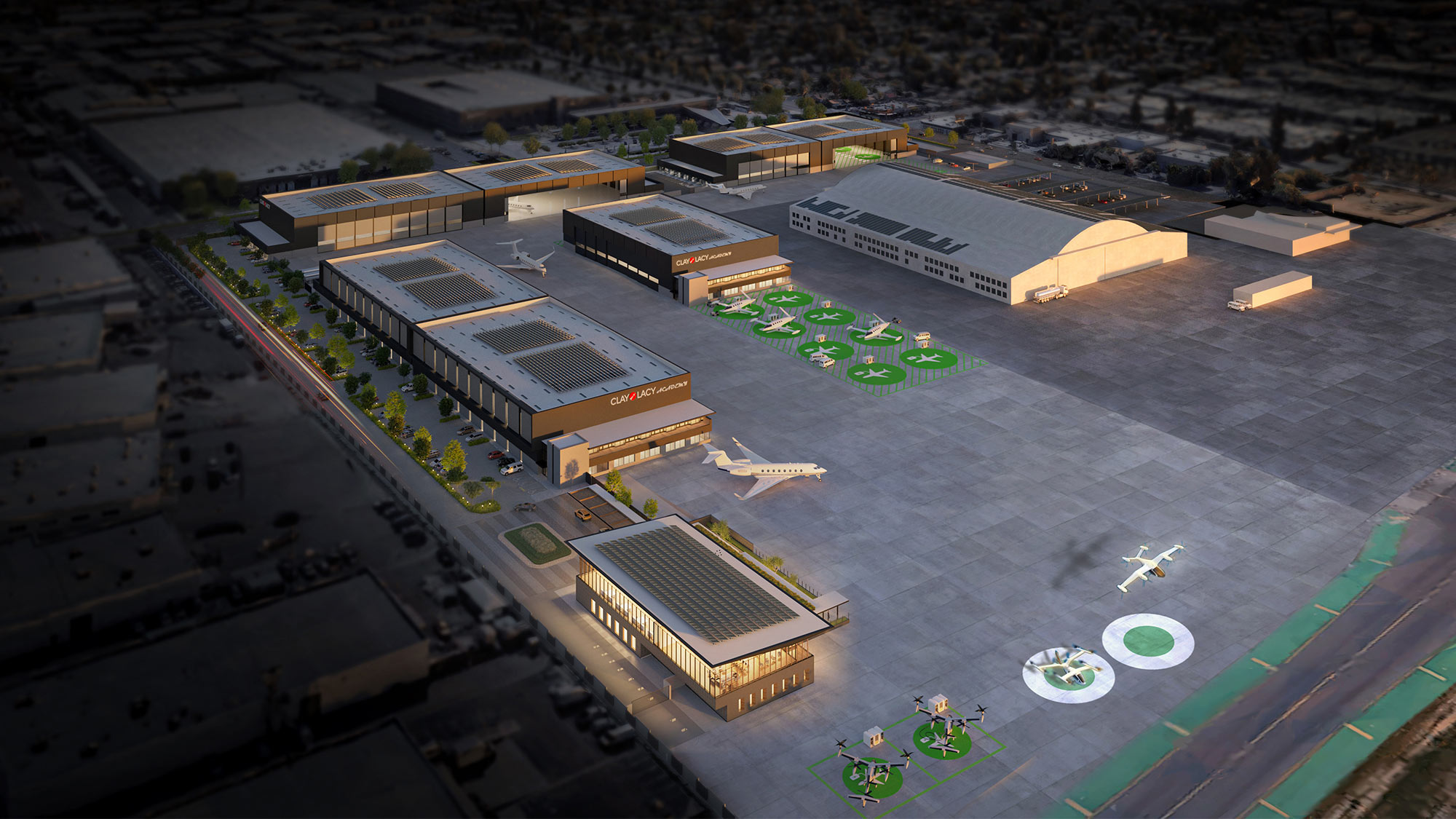 Outside of the United States, test studies are also occurring internationally, with countries like South Korea and Australia at the forefront. Supernal, the AAM branch of Hyundai, is looking to grow its research facilities in Washington, D.C., as well as Fremont and Irvine, California. Most recently, Hyundai revealed UAM vertiports designed by Gensler in South Korea, which are aiming to come online by 2025.
Gensler is planning and collaborating with other partners to develop and lead efforts in support of mobility applications for eVTOL in both urban centers and suburban areas. Over the course of the coming years, we may not all be flying around in eVTOL aircraft, but the success of adding this mobility aspect to our infrastructure will take multiple avenues of pursuit including renovated developments in our cities and utilizing general aviation sites which currently exist in our communities. We support the growth of mobility alternatives and understand the multi-faceted approach that will lead us into the future.
For media inquiries, email .