Reinventing the Airport as an All-in-One Facility
July 05, 2023 | By Ty Osbaugh
According to the U.S. Travel Association, "this summer, air travel demand is expected to be the strongest since pre-pandemic — and potentially the strongest ever." July 4th saw the largest day in TSA screening history. And over a quarter of Americans plan to increase the amount they are spending on leisure travel in the next three months (26%) up from 19% in Q1. A similar story could be told for most markets around the world. Summer travel is heating up, meaning consumers will spend a lot of time going through security and waiting for planes in their favorite — or most hated — airport.
We know all airports are not created equally, as different facilities have different functions. There are strikingly different needs for international gateways, Origin and Destination (O&D) facilities, and transfer/connecting airports. Typically, an airport does one function exceptionally, or maybe two if they are lucky, but rarely all three. The design demands on each typology are different and require different tempos and amenities to meet customer needs.
International gateway airports are found around major and population-dense cities serving as the gateway to a country or particular region.
Origin and Destination (O&D) facilities are airports where a passenger gets point-to-point service to a specific city and returns to the same place. These tend to be more modest in scale airports, such as Pittsburgh International Airport (PIT), Fukuoka Airport (FUK), and a variety of other airports without a dominant airline carrier.
Transfer/connecting airports are found near major cities and metropolitan areas. Airports like Dallas-Fort Worth International Airport (DFW), Chicago O'Hare International Airport (ORD), and Dubai International Airport (DXB) process many transfers every day carrying and connecting passengers to many different points across the globe, usually driven by a dominant carrier.
We are increasingly starting to see airports built for one specific purpose aspire to reinvent themselves to be a multipurpose all-in-one and one-in-all facility — an attempt to appeal to all air travelers and changing passenger profiles. The increased efficiency of aircraft has allowed for more international access to U.S. airports of all sizes and capacities. And as cities like Austin, Raleigh, and Columbus see population explosions, the need for more frequent transfers through hub airports continues to expand.
Seeing such transformations makes me ponder if it is possible for a single airport facility to be everything to everyone. Can an airport simultaneously be a great international gateway, a thriving O&D community asset, and an efficient transfer portal? I think it is possible, as anything is achievable with innovative design, but it isn't easy.
A perfect case study for an airport wrestling with all three sectors is Washington Dulles International Airport (IAD), which Architect Eero Saarinen envisioned as a modern airport "for the Jet Age" when he designed it in the 1960s. Population growth in the Washington, D.C. suburbs and the introduction of Metro service have cast Dulles as an airport of choice for that local community. Even though it is an international gateway, Dulles is almost equal in the number of international and domestic destinations. Dulles is changing and trying to pull off the triad.
In looking at the Dulles numbers, the growth post-COVID is through the increase in the transfer market, undoubtedly due to United Airlines. Tysons, Virginia, and the entire Dulles Corridor are two growing areas that are attracting O&D business travelers who need the airport to connect to global corporations seamlessly. For this reason, we are seeing an influx of international travelers coming into the area for business travel, as well as those visitors seeking a leisure experience in the D.C. area for the first time. The challenge is creating a passenger environment at Dulles that can do it all.
Here are a few thoughts on common elements between all three typologies and how Dulles and other airports can adapt:
International Gateways: Focus on the Arrival Sequence
International gateway airports are typically big and cumbersome, feeling overwhelming to frequent travelers and downright daunting to international arrival passengers. The arrival sequence at an international gateway airport is the most impactful passenger journey. The first impression for first-time travelers arriving at the airport must be memorable and unexpected. Our design efforts must be guided toward ensuring we create an irreplaceable experience. In doing so, we should focus our design on a few key elements:
1. Creating an authentic, local sterile corridor environment on the way to passport control. After a long flight, where the passenger has just spent hours in a confined space, they need a release. The introduction of soft materials, ceiling height, and natural light will provide the mood for passengers to relax and unwind. In parallel, giving passengers information on what to expect yields a more confident passenger upon arrival at Immigration.
2. Creating a unique, local feel within the Immigration Hall, while maximizing the efficiency of the processing operation. The Immigration Hall is the root of most international passenger anxiety, yet the default at most airports is to put these facilities in the basement of the building. Elevating this space and giving it a similar feel to the departures sequence will make it a signature element to be enjoyed instead of its current state as a necessary processing point.
3. Investing in digital wayfinding signage versed in multiple languages gives the passenger comfort. Analog signage strategies are often too static, whereas a digital strategy can allow transit hubs to change messaging on a dime. Dynamic and personalized digital wayfinding can help guide users to the most efficient pathways.
4. Focusing on activity outside the terminal. Most international airports are pretty logical, versed in native languages, and choreographed signage. But the moment that a passenger hits the door to the world outside of the terminal, confusion and chaos of new environments ensue. Airports can take advantage of passengers' downtime in baggage claim to outline options for ground transportation and wait times. A roaming ground transportation concierge or an immersive VR station within the claim hall could show the path to taxis, buses, and subways outside, giving the passenger comfort and allowing them to pre-plan the next stage of the journey.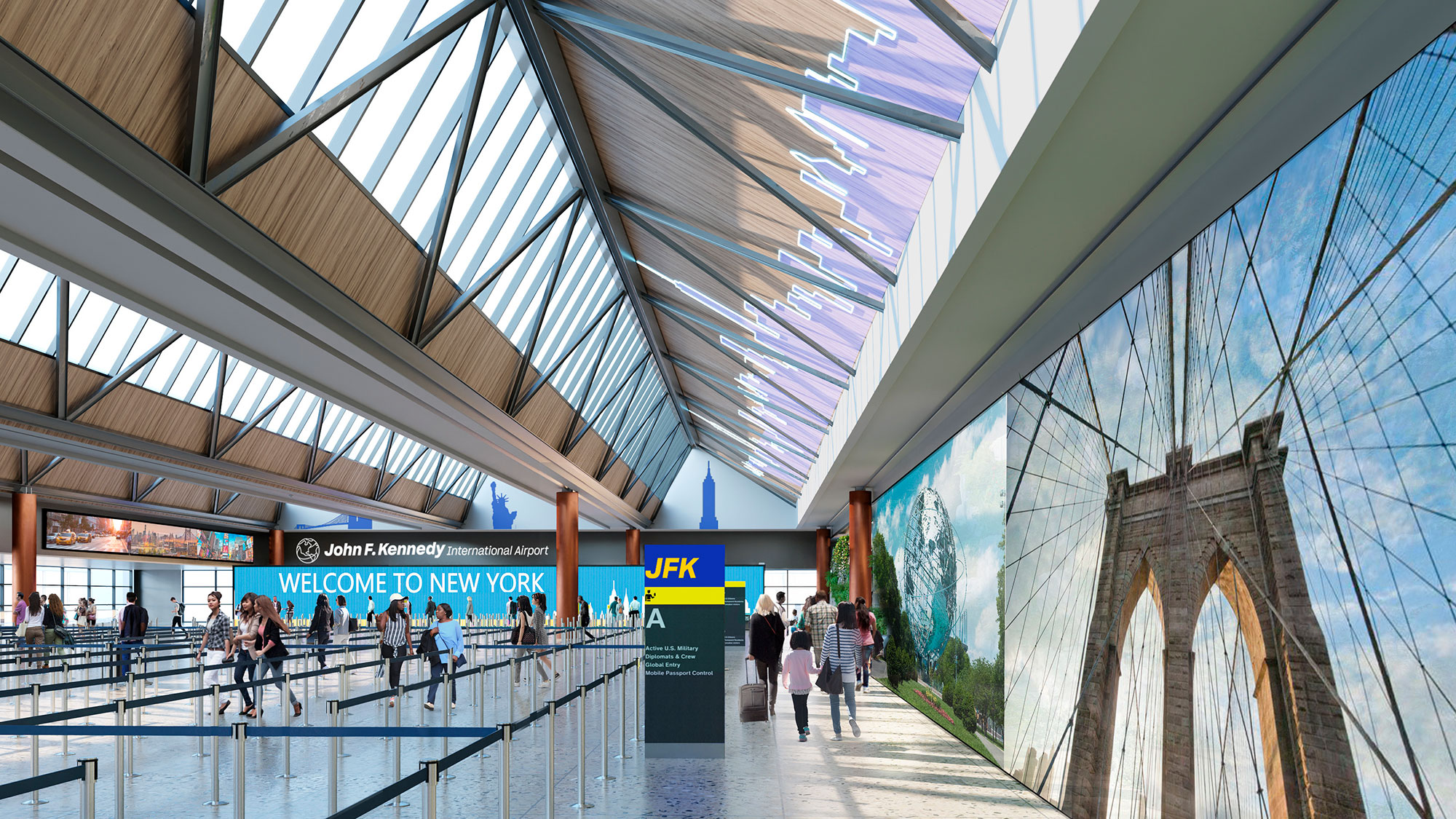 Thriving O&D Hub: Blend Different Paces
O&D airports need to be built for speed and the ability to quickly process passengers. Smarter planning and sharing of spaces enable better passenger distribution and comfort. Through technology and standardization of TSA processing, the ability to get to the secure side of terminals is more predictable and expedient. The design challenge is creating an airside space for passengers requiring different speeds of travel.
1. The concourse width is critical. The previous industry standard of a 25'-0" to 30'-0" deep holdroom with a central circulation spine offers little flexibility. Modern concourses for O&D travelers look for ways to add depth to both the holdroom and the circulation.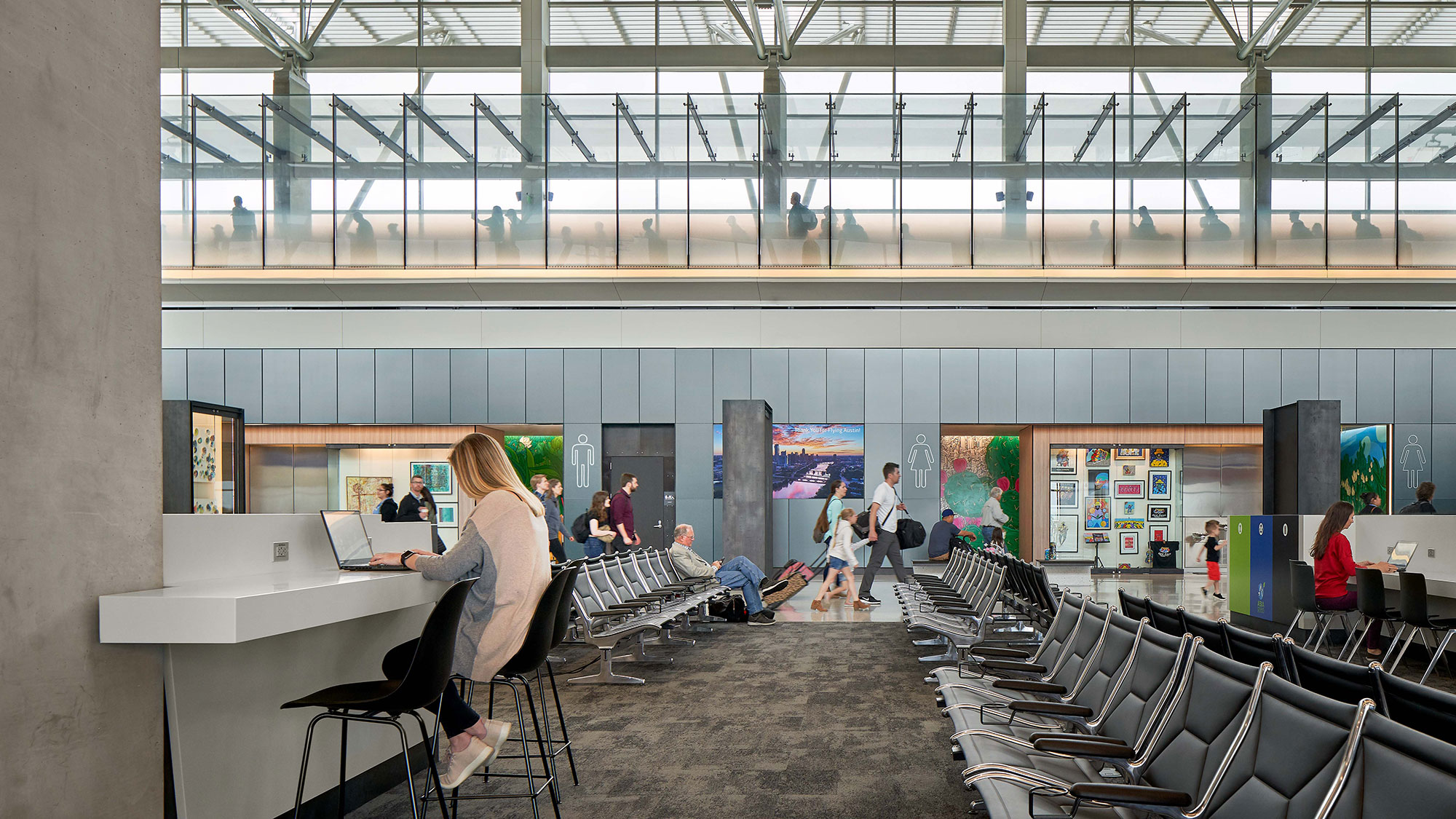 2. Gate areas are more than seating — they are a hybrid of relaxation space, work environment, retail zone, dining space, and people-watching platform. Successful spaces in terminals blend these functions and blur the lines between all of the uses.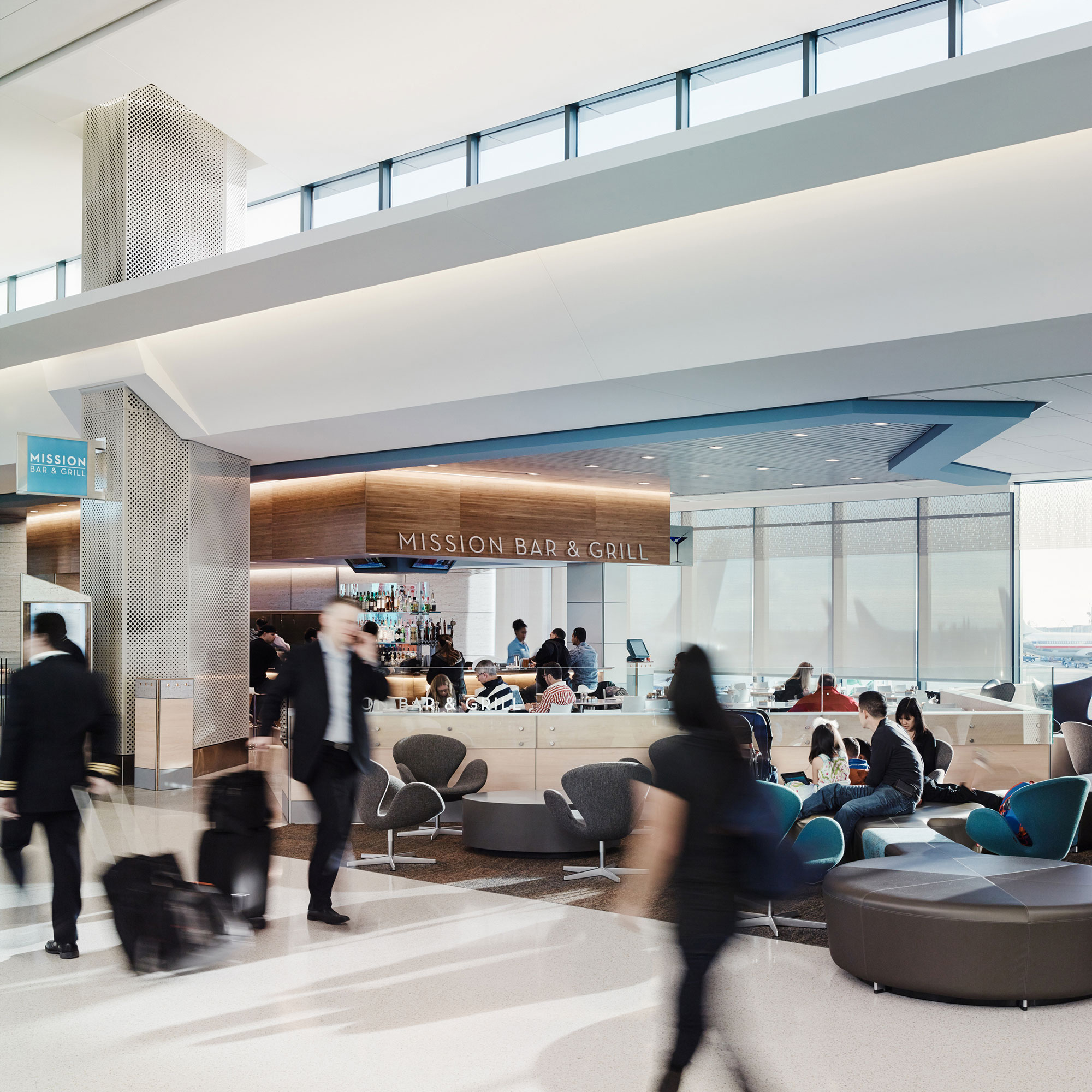 3. Implementing an outdoor space is no longer an amenity, it is a passenger expectation. You'd be surprised how appreciative and receptive travelers would be to having an outdoor space where they can take a breath of fresh air or feel sunlight on their skin while they wait for their flight. To take this another step further, integrate the outdoor space into the main path of travel instead of at an edge of the airport.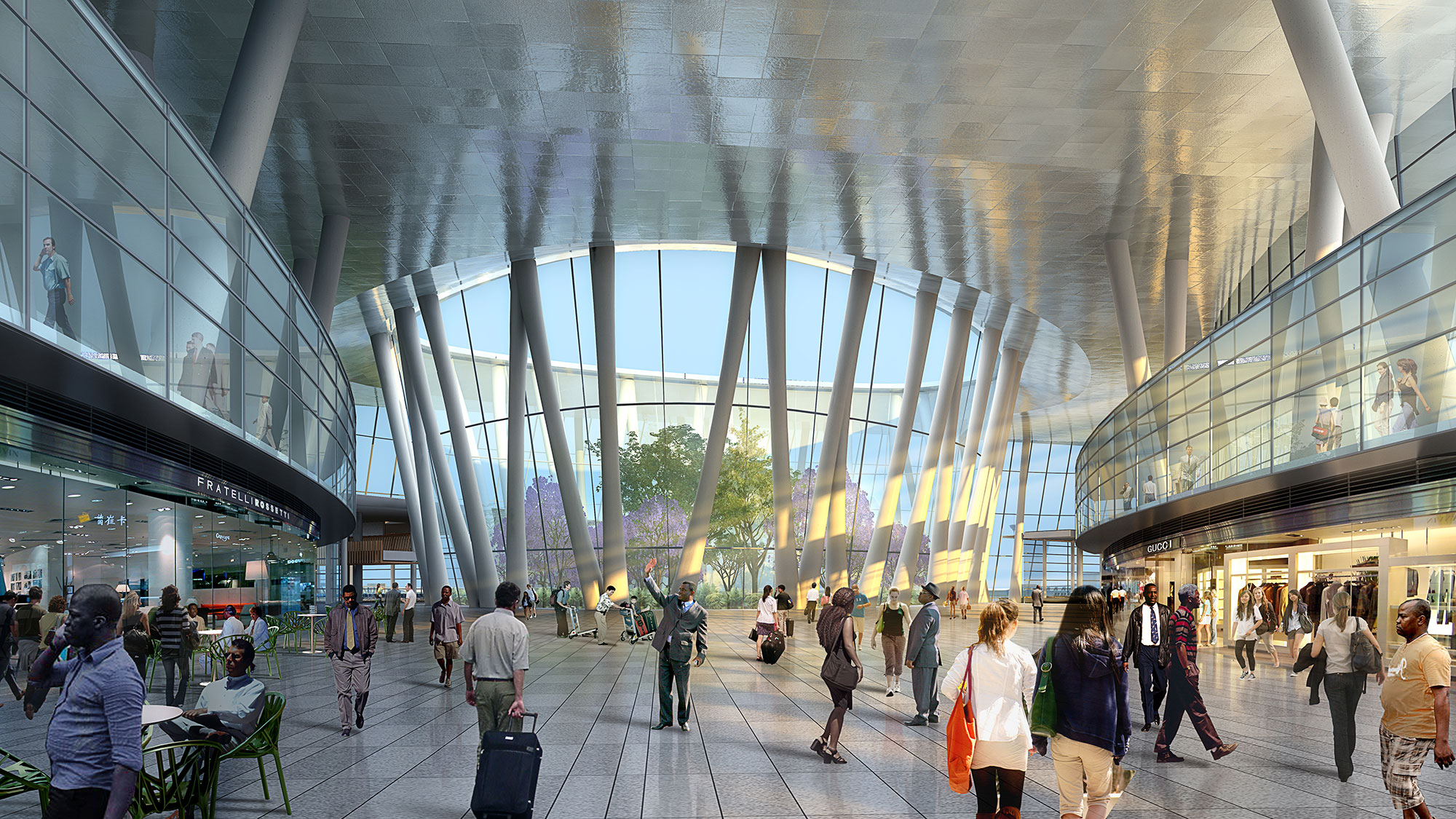 Transfer Efficiency: Think Upward
Transfers and connections represent high stress situations for passengers. The key challenge to transfers is walking distance, timing to clear arrival processing, updated information on next flights, and navigation to your final gate.
1. Walking distance in a modern way: With an aging passenger demographic, the need for assisted travel is necessary. Historically, the use of carts, moving walks, and other services slow the process because the space competes with other pedestrians. Most terminals are constrained in floor space to create channels for different speeds of travel. The logical relief valve is to look at expanding upward to create transfer "expressways" above the outbound passengers. Designed with express moving walks and cart access, this level is akin to an international sterile corridor but with everyone moving at pace to make their connections. Creating a dedicated transfer level benefits the passenger and gives new flexibility to the airport.
2. Personalized digital wayfinding signage at the deplaning corridor can direct passengers efficiently and effectively to their next gate. Beyond simply giving walking times, using beacon technology to create personalized messages on signage can convey that connections will be made.
3. For international to domestic U.S. flights, providing remote U.S. Customs and Border Protection (US CBP) processing stations for transfer passengers instead of a massive facility away from the ultimate gate can keep the passenger where they need to eventually get to, which is vital for seamless travel.
Airports like Dulles are key nodes in the global aviation network. Through a few, simple design solutions, airports can reinvent themselves to become multipurpose facilities that enhance the passenger experience and make the journey more efficient and enjoyable — exactly how Eero Saarinen envisioned Dulles in the 1960s.
For media inquiries, email .