What Can Cities Do to Bring People Back to Public Transit?
January 11, 2023 | By Sofia Song, Stella Donovan
Public transportation is the backbone of city life and urban function. As an industry, public transit suffered huge losses during the pandemic — both in revenue and ridership. And a full recovery is projected to take years. In the U.S. alone, public transit agencies face a shortfall of $39.3 billion through the end of 2023. And while ridership levels have improved since the early days of lockdown, experts estimate that public transit will regain only 75% of its pre-pandemic numbers by the year 2025.
However, despite decreased usage, data from City Pulse refutes the assumption that urban residents want to leave public transit behind. In fact, most respondents are in favor of expanding public transit, and nearly half are willing to pay more to have a better experience. But while most city dwellers feel positively about the reliability of their city's public transit system, and that it takes them where they need to go, fewer feel that it provides a great experience. This indicates that transit systems that fulfill basic functions are not doing enough — passengers need more.
Safety challenges in our cities are a barrier to public transit ridership.
With rates of crime on public transit increasing in many of the largest urban centers in the world, people in cities are now foregoing public buses and trains for reasons of personal security, not due to concerns about COVID-19. And it isn't just safety within the public transit itself that's a concern — in the United States alone, more than 88% of people feel that violent crime is increasing in their communities.
Safety in cities has always been a concern, but our data shows that it's now a vital part of people's public transit experiences. We found that a feeling of safety in one's city is the strongest driver of a great public transit experience. People who feel safe in their city are three times more likely to feel that they're having a great experience. They also feel significantly safer while riding and experience less hesitation about taking public transit at night.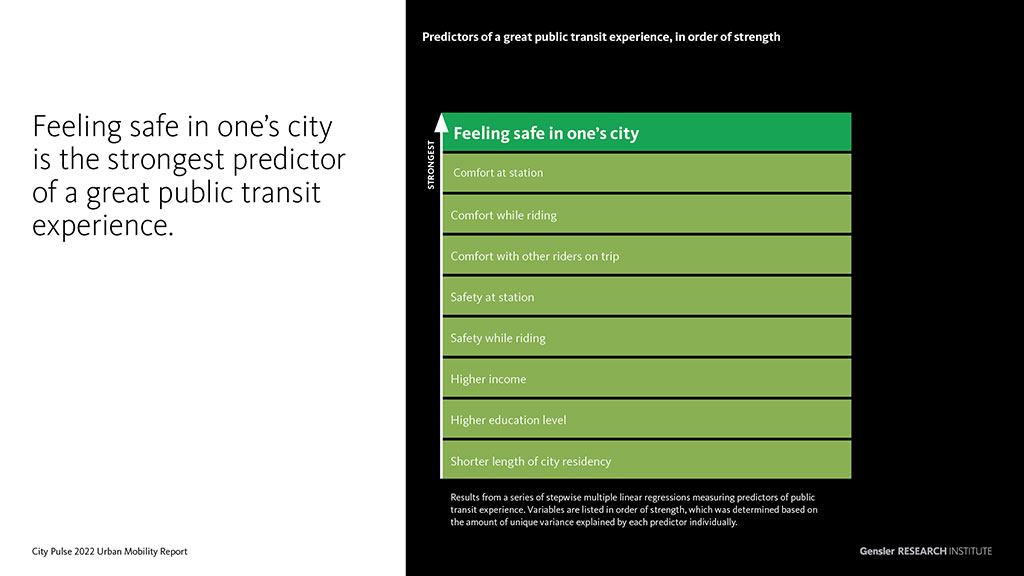 Public transit systems are failing to provide riders with the comfort and safety that provide riders with a great experience.
Globally, most urban residents are satisfied with the wayfinding, in-ride safety, and accessibility of their transit systems. However, comfort at the station/stop, comfort with other riders, and comfort while riding — three of the top drivers of a great public transit experience — are among the lowest-rated aspects of public transit systems. Ignoring these areas of concern could pose significant barriers to ridership as public transit systems attempt to recover from the pandemic.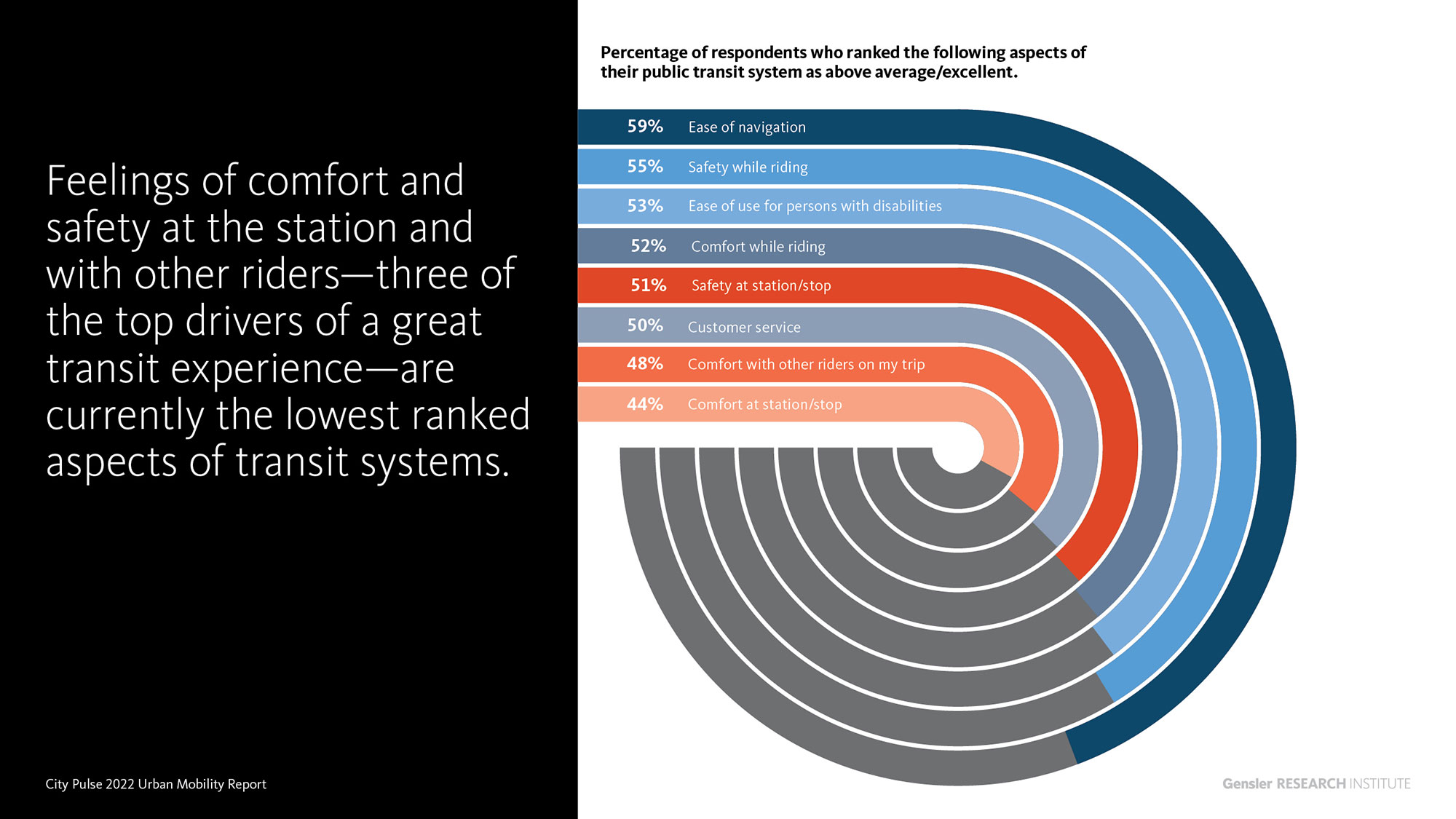 All transit personas agree that the comfort at the station/stops in their cities need improvement.
When evaluating the data by transit persona, we found that most riders feel safe and comfortable once the ride begins, but feelings of safety and comfort at the station/stop are lacking. People who use public transit to get to work (all-around riders, commuters, and senior riders/riders with a disability) are less likely to feel safe at the station/stop than respondents who utilize public transit for social/leisure activities. They are also less likely to feel comfortable with the other riders on their trip. Non-transit users rank safety at the station/stop lower than any transit persona, which may dissuade them from utilizing their city's public transit system in the first place.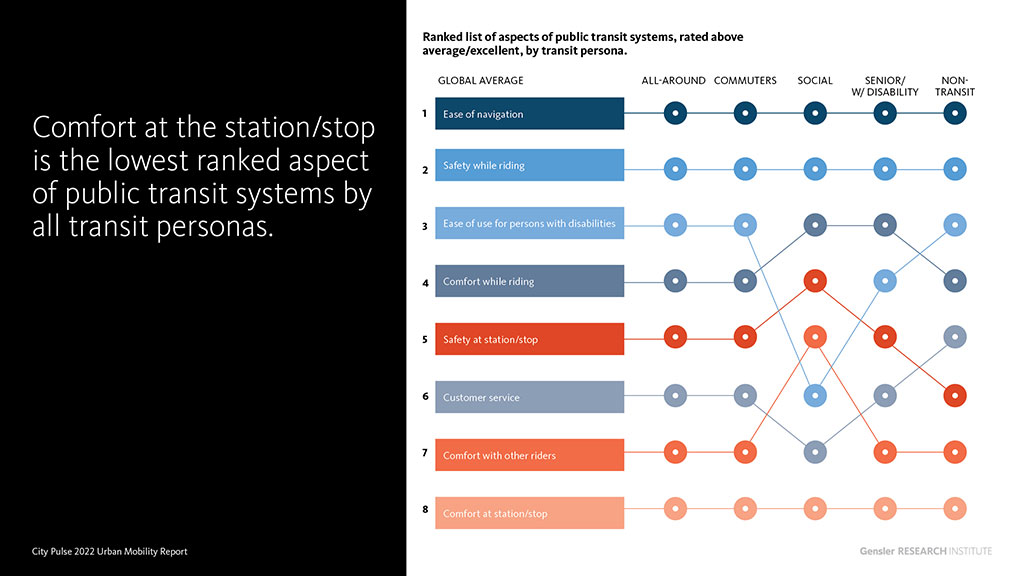 Urban residents still value public transit, but cities need to do more to remove barriers to ridership.
Most of our respondents agree that public transit is a reliable, sustainable way to connect with their cities. But a lack and safety and comfort — both within the transit system and the city itself — are discouraging riders from returning to public rails, trains, and buses. People want a better transit experience, and many are willing to pay more for it. Cities that prioritize measures that make passengers feel safe and comfortable can close the ridership gap, ultimately allowing them to recover more quickly from the challenges of the pandemic.
For media inquiries, email .