What Gensler's Latest City Pulse Says About Sustainable Transportation
December 07, 2022 | By Sofia Song, Stella Donovan
The transportation sector is responsible for 28% of the world's carbon emissions, with gasoline accounting for over half of the industry's energy use. Many of the 15,000 respondents surveyed in Gensler's City Pulse live in countries that have signed the Paris Agreement, a global effort to reduce world carbon emissions by 50% by 2030. Reaching these decarbonization goals will require coordinated efforts that span public policy, the private sector, and personal decision-making — particularly around how people navigate their cities. Yet we found that urban residents are at least twice as likely to use cars than other forms of transportation to commute to work or school, run errands, socialize, or shop, and nearly 60% agree that owning a car is part of their vision of success.
So, what can cities do to promote more sustainable transportation options? Our data reveals that it may come down to convenience and cost.
Environmental impact is one of the lowest-ranked considerations when deciding how to travel around cities.
Our data shows that less than a quarter of respondents say that the environmental impact of their transportation decisions is one of their primary considerations when deciding how to travel in and around their urban centers. But that does not necessarily mean they are apathetic about the realities of climate change. Flexibility, finances, and personal security all influence the extent to which people feel able to prioritize sustainable transportation. We found that people who feel financially stable and safe in their city are more likely than their counterparts to consider the environment when deciding on their transportation method. And of all commuter types/frequencies, people who commute daily are the least likely to consider environmental costs and the most likely to weigh affordability, distance, and convenience.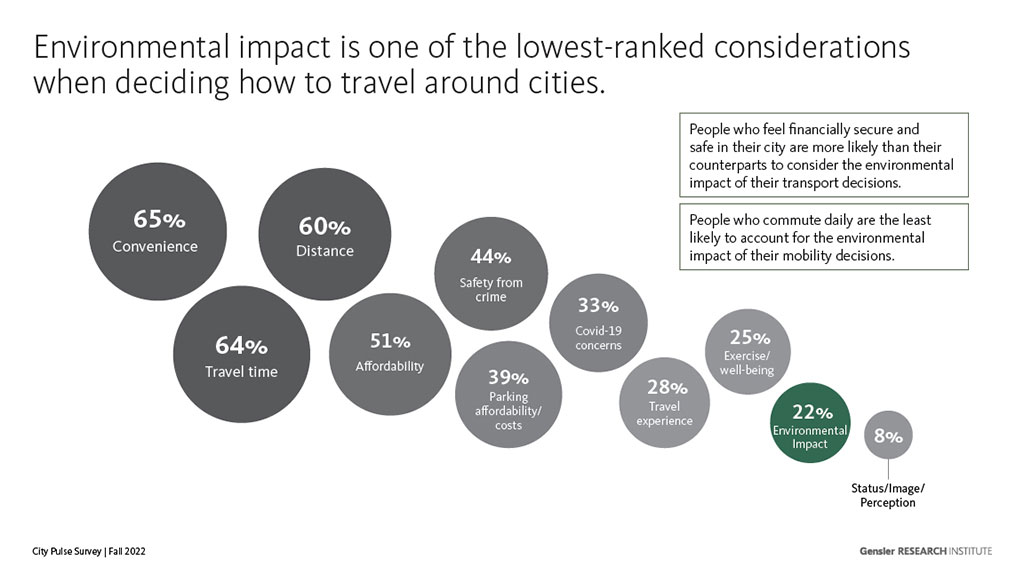 While respondents are willing to walk/bike more instead of using cars, fewer have switched to public transit and electric vehicles.
When asked about the transportation changes they've made to protect the environment, over one-third of respondents said that they are walking or biking more instead of driving. While micromobility options have become more appealing to urban residents since the start of the pandemic, there's less enthusiasm for public transportation. Even though nearly 70% of respondents feel that public transit is good for the environment, over one-quarter of city dwellers are unwilling to use their city's rails and buses over their own private cars. This may be due to two concerns: experience and safety. Only half of respondents feel that their city's public transit system provides a great experience, and just 53% feel safe while using it.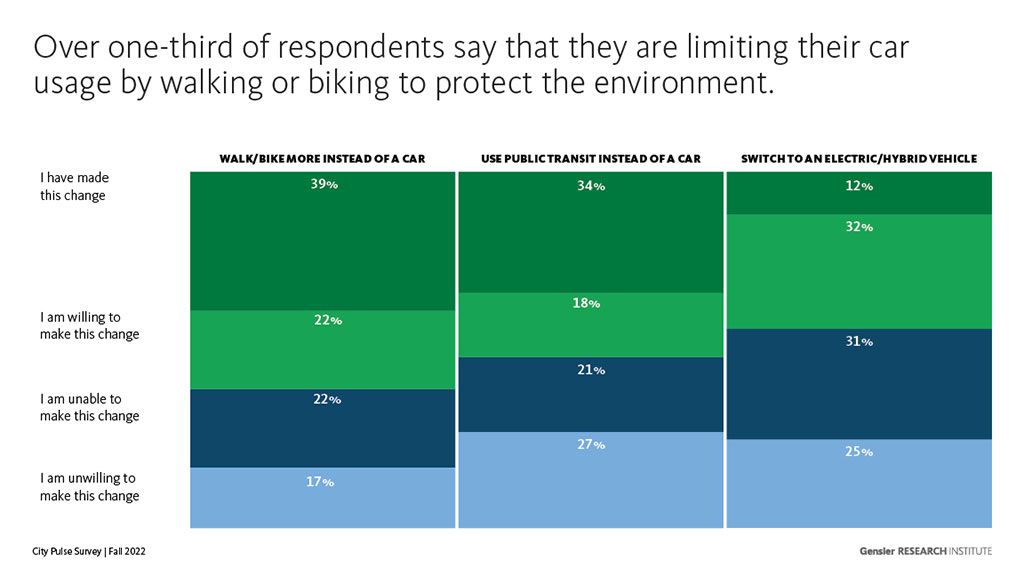 We also found that the smallest number of respondents have purchased electric vehicles to help protect the environment, despite feeling the most willing and able to make the change. This is likely due to the lack of infrastructure and increased costs. Our data shows that 65% of our respondents feel that their cities need more electric vehicle charging stations. In North America alone, recent projections show that less than a tenth of the number of charging stations are being installed per day than are needed to meet the expected demand over the next decade. This, combined with the fact that the price of an electric vehicle is currently $18,000 more than the average car, may put electric vehicles out of reach for people who prioritize convenience and affordability in their transportation decisions.
Sustainable transportation options need to be convenient and affordable for city dwellers.
When it comes to mobility, our data shows that city dwellers prioritize convenience, affordability, travel time, and travel distance over concerns about the environment. Cities must provide the infrastructure (such as adequate electric vehicle charging stations) that allows sustainable transport to seamlessly integrate into the urban fabric.
Additionally, supporting the rise of micromobility with pedestrian-friendly streets, increased bike lanes, and walkable neighborhoods can help lower the number of cars on the road. When urban residents don't have to choose between the climate and convenience, cities can become more resilient and better prepared for the future.
To learn more, click here to download Gensler's City Pulse 2022 Urban Mobility Report.
For media inquiries, email .