Commuting by Bicycle in One of the Most Cycling-Unfriendly Cities
September 13, 2023 | By Erik Thorbeck
Is there opportunity for micromobility in Hong Kong? A look at cycling in Hong Kong's CBD.
In 2022, Gensler's City Pulse Survey focused on urban mobility, and data indicated that public transit use had decreased, while micromobility had increased. Micromobility refers to a range of small, lightweight vehicles operating at below 25km/hr (15mph), including cycling and e-bikes. In Asia Pacific, this form of mobility is on the rise in Shanghai, Singapore, Sydney, Tokyo, and Bangalore, which are all cities with decent cycling infrastructure. As Hong Kongers embrace similar forms of transit, how ready are its streets for micromobility?
It is widely known that Hong Kong is not a cycling friendly city. When I moved to Hong Kong from Shanghai in late 2021, I wanted to find out if, despite the odds being stacked against me with its hills, humid subtropical climate, and narrow and congested roads, it was still possible to cycle in its dense Central Business District (CBD). Given these odds, it's not surprising that Hong Kong ranked #84 in a list of 90 global cities in "bike friendliness," with only 0.5% of the population using cycling as a regular means of transportation.
Over the course of the past two years, I cycled to work in two different locations on Hong Kong Island. What I learned surprised me and proves that cycle commuting is entirely possible within its current state. The coming legalization of e-bikes for road-use will surely increase the number of cyclists on the road. If the infrastructure that currently exists is already functional, yet not formalized, minimal investments in the system might improve the lives and commutes of a significant segment of the working population.
Cycling on Hong Kong Island
My commute is about 5 kilometers, between two districts (Central & Western to Wan Chai) to my office in Causeway Bay. It takes about 20-25 minutes and is mostly flat, with a mellow downhill to get to Des Voeux Road Central, where the entire ride takes place on a flat road with a semi-dedicated lane for tramways. The perception of the tramways is that they are dangerous to ride on, but I have found the tramways to be a very safe way to get across Hong Kong Island. Furthermore, cycling is often the quickest way to get anywhere, especially given the amount of time spent walking in Hong Kong's crowded, multi-level Mass Transit Railway (MTR) stations. Data from a 2021 study indicates that a majority of workers live and work in the same district, so this route is actually quite representative of how a larger number of people might commute in the future.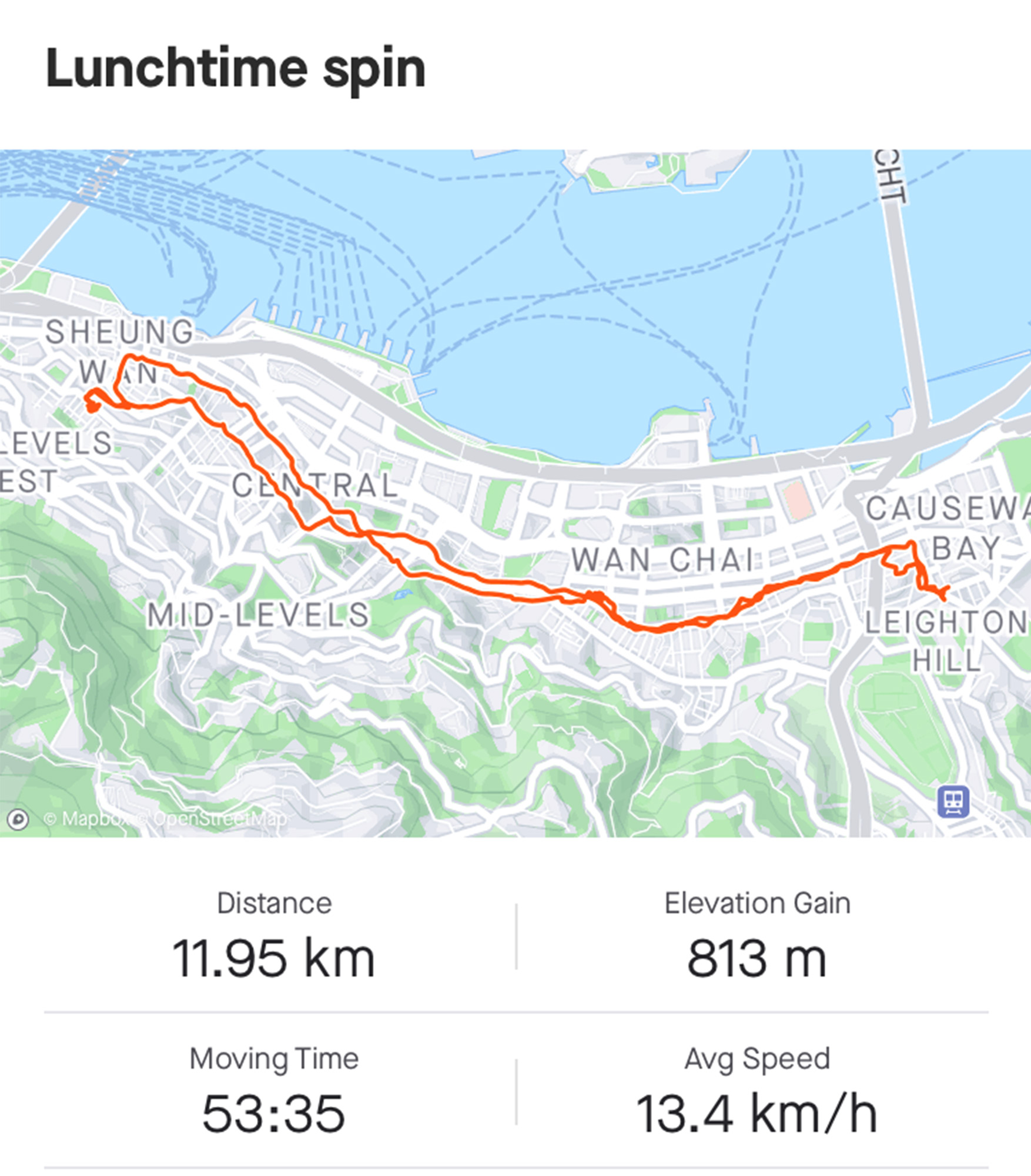 Tramways — Hong Kong's "Third Lane"
Much of Hong Kong's tramway lanes are protected on both sides, so extending the barrier and formalizing a dual-use lane for trams and cyclists would help increase the viability of commuting by bicycle. Given the slow speed of trams, you'll never be at risk of getting hit by one, but you'll have to ride around them at times. Riding on the shoulder of the road is not ideal, given the high density of bus stops, taxi stops, and roadside parking (mostly illegal) that happens on the shoulder. The centre of the street where the tram lanes are, by contrast, is highly visible and can feel like a private cycle track most of the time. For the unprotected areas, cyclists need to pay attention to buses and cars using these lanes to pass other cars or take turns. While this is currently a safety risk, for the experienced cyclist and given the current low volume of cycle commuters, the risk is minimal. In the future, there will certainly be a need for more segmentation of commuters, which the below graphic outlines several scenarios for.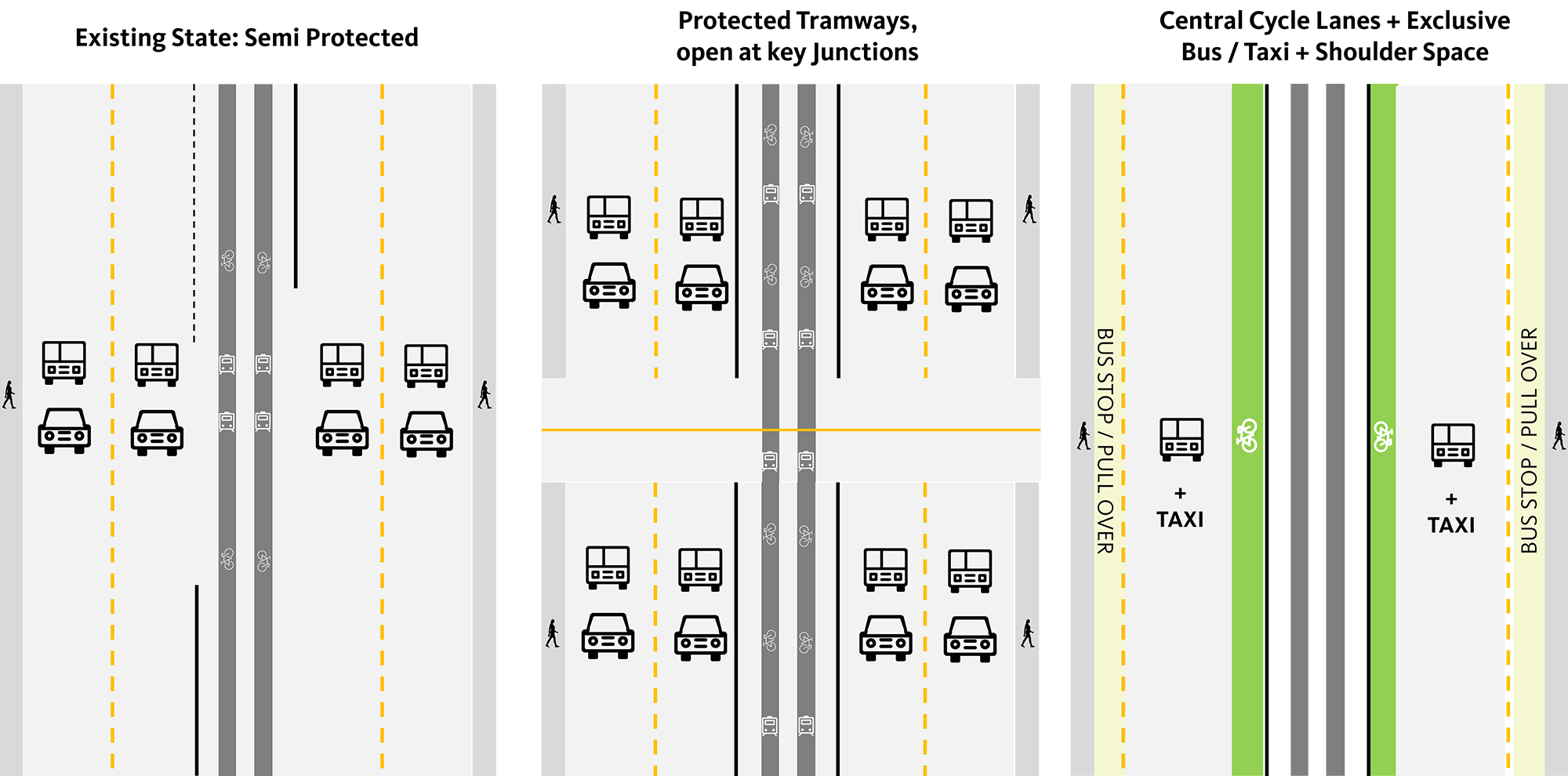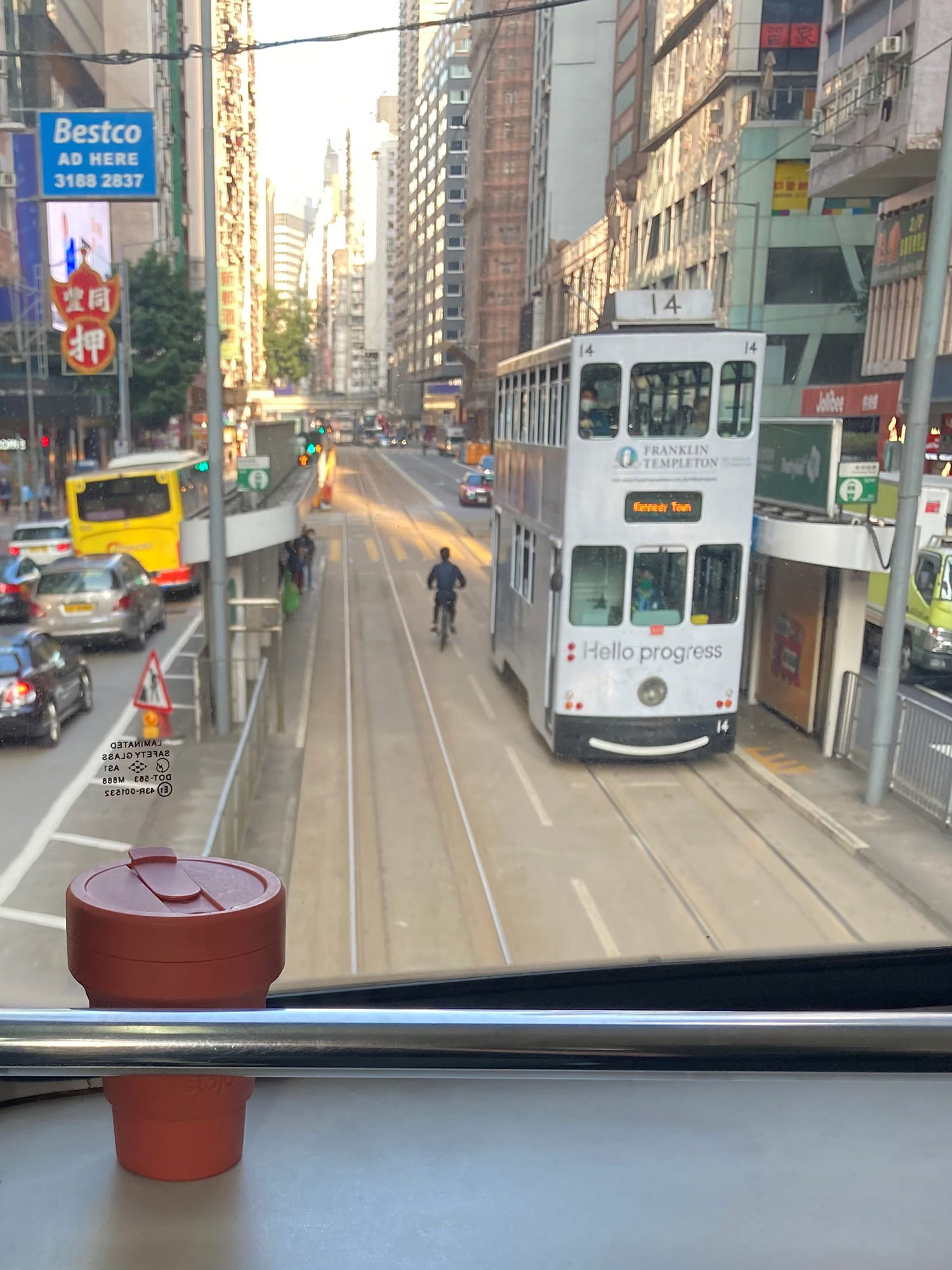 Point B — The Missing Infrastructure in Hong Kong's Offices
When you finally reach your destination, you will notice there is no obvious place to park a bicycle. Yet, you will also see bicycles parked anywhere and everywhere, usually chained to sidewalk guardrails, which is widely permitted by police and security. In general, you can park your bicycle anywhere there is a guardrail, street sign, or somewhere that does not obstruct people or cars' movements. In fact, most of the people who use cycling as a mode of transport in Hong Kong are food delivery workers. As for official bicycle parking, to this day I have only seen one building that has facilities for it, Swire Properties' Pacific Place in Admiralty, and I was only allowed to use it after contacting property management and ensuring them they were not liable, should anything happen to my bike while on their property.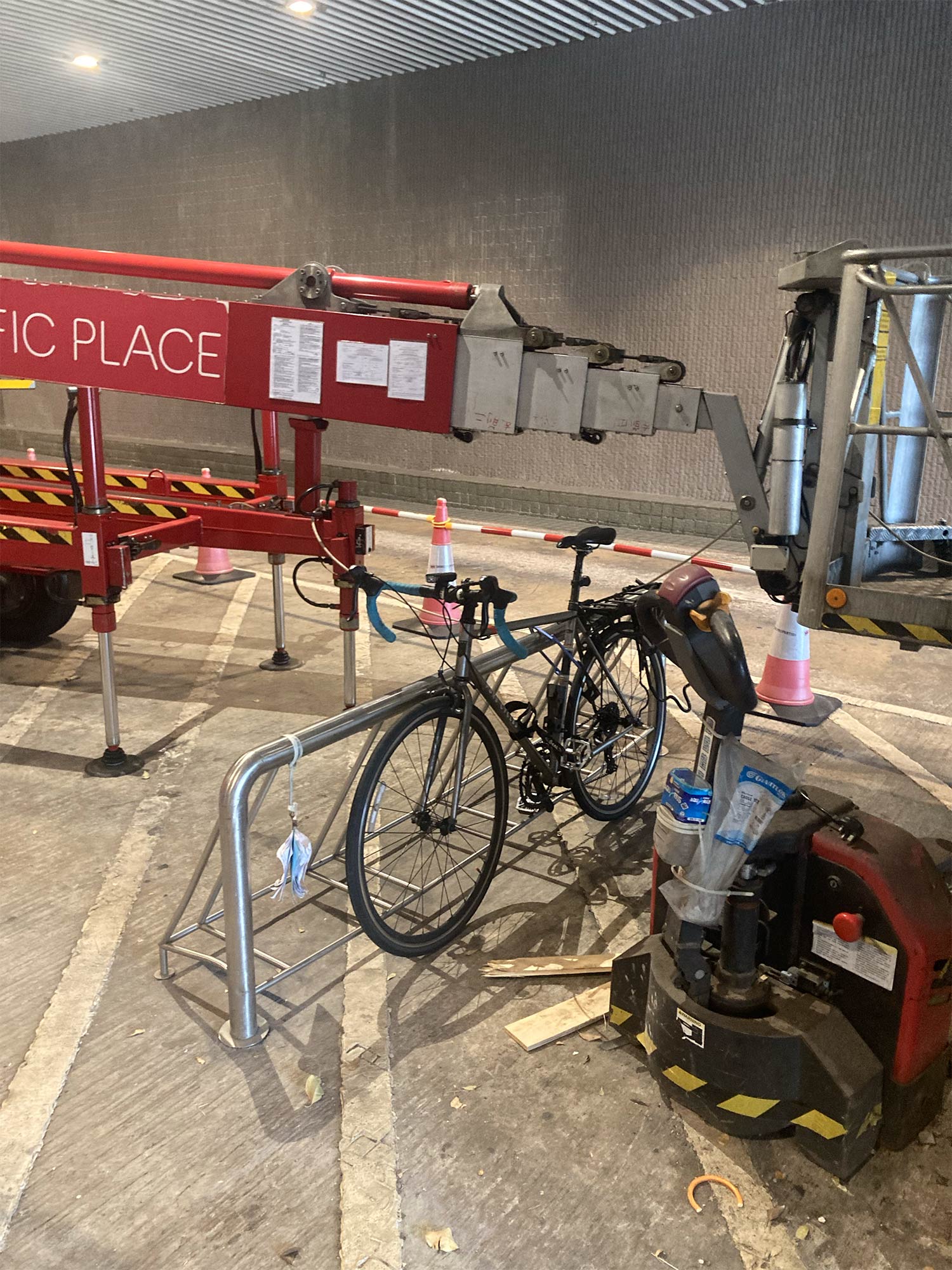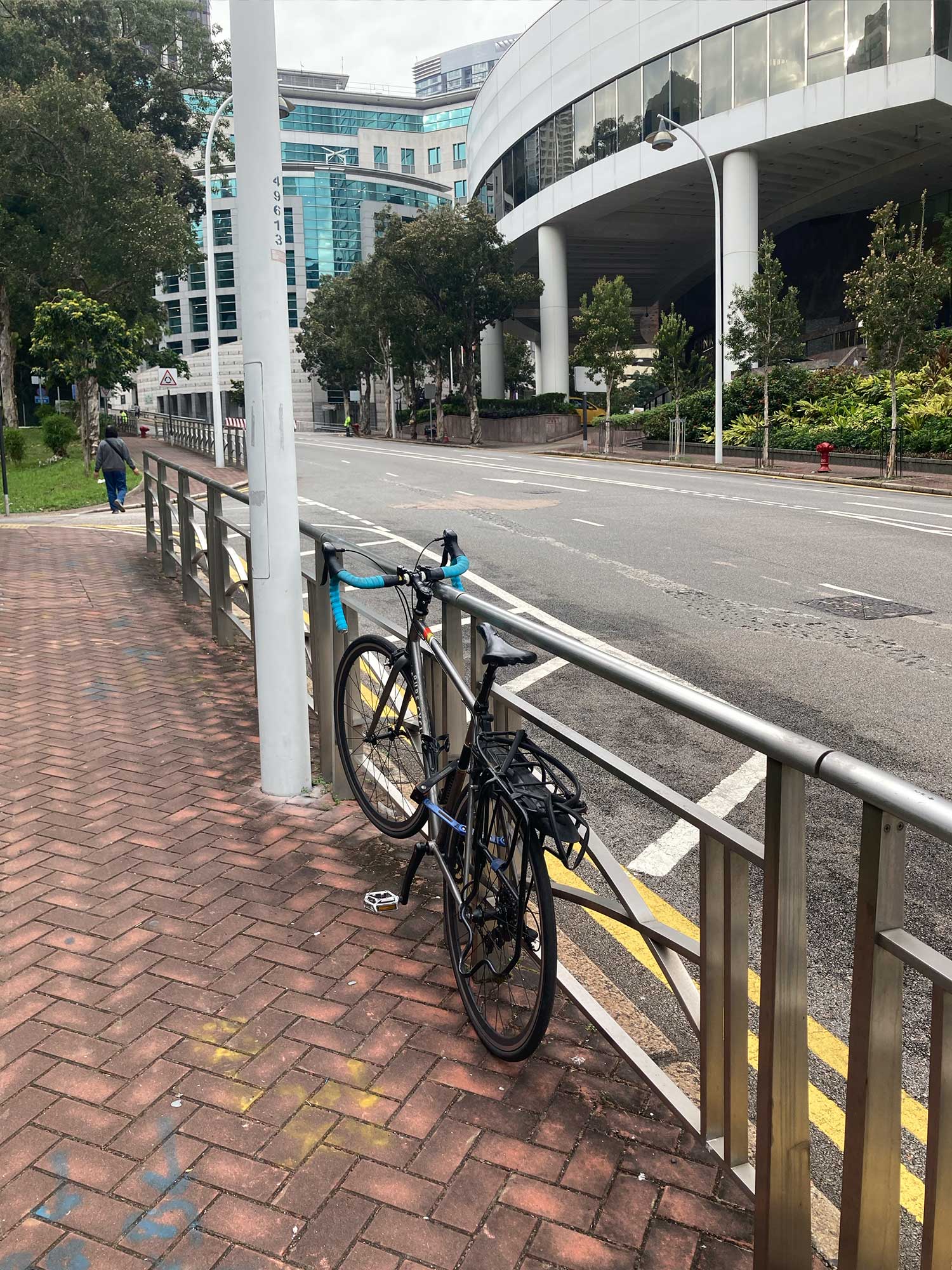 A Future for Urban Cycling on Hong Kong Island
While cycling on Hong Kong Island is not ideal, it is encouraging that cycling infrastructure in other places in Hong Kong, particularly the New Territories, is excellent, and the government has learned from residents' demands, as well as evidence from around the world of cycling's benefits. Earlier in 2022, the government added lane markers to a section of the Central Harbourfront, allowing use by cyclists, including a bike rental station.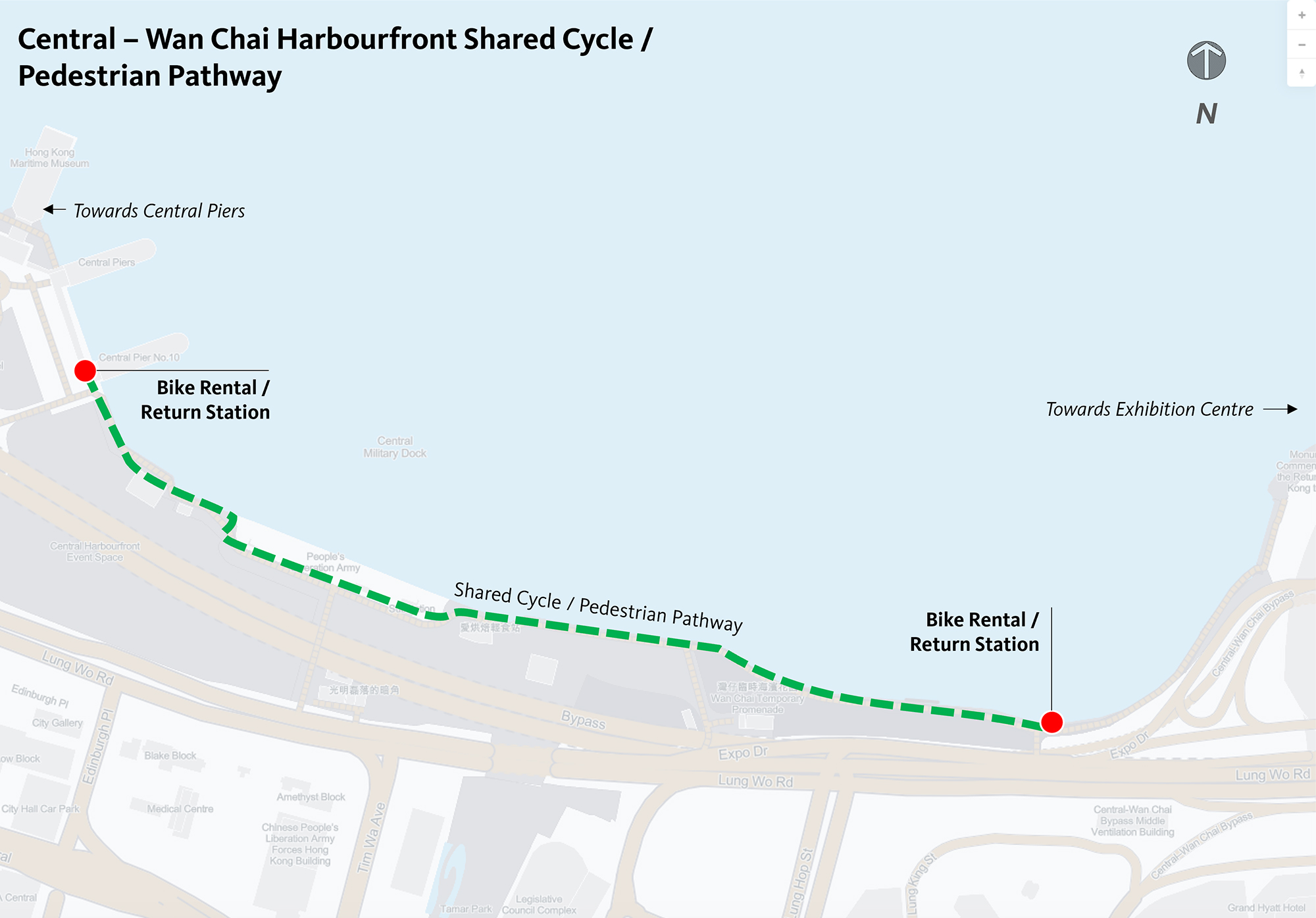 As micromobility grows, and if the government legalizes e-scooters and bikes later this year, the need to rethink our streets will become more apparent. While a continuous cycle track along the harbour connecting all of the Harbourfront is still a conceptual dream, the trial is an encouraging sign of government recognition of cycling's benefits. At present, the rezoning of core CBD streets for trams and buses represents an exciting opportunity for more sustainable commuting.
Despite the current barriers to cycling in Hong Kong, the good news is that, while it seems the government is moving in the right direction on cycling on Hong Kong Island (albeit slowly), my experience over the past two years shows that despite being one of the world's lowest-ranked cities for cycling, a commute by bike is entirely possible, and will only become more desirable.
For media inquiries, email .