What the Rise of Micromobility Means for the Future of Cities
December 15, 2022 | By Sofia Song, Stella Donovan
Between increasing return to the office rates in many cities and a resurgence of in-person shopping and dining, urban residents are interacting with their cities at rates that have not been seen since the start of the pandemic. But for cities to restore to vibrancy, more focus needs to be given to a critical component of urban life: mobility. The future of urban centers — from how metropolitan areas are planned and built to how sustainable our cities can become in the future — will be affected by how people choose to travel in and around their cities, and how cities evolve to support those new behaviors.
Our latest City Pulse of 15,000 residents in 30 cities around the world yielded key insights into people's mobility experiences, opinions, and preferences, and one trend emerged that may change how we navigate urban centers. Micromobility — or the use of user-powered lightweight vehicles such as bicycles, scooters, electric bikes, and electric scooters — is more popular than ever before.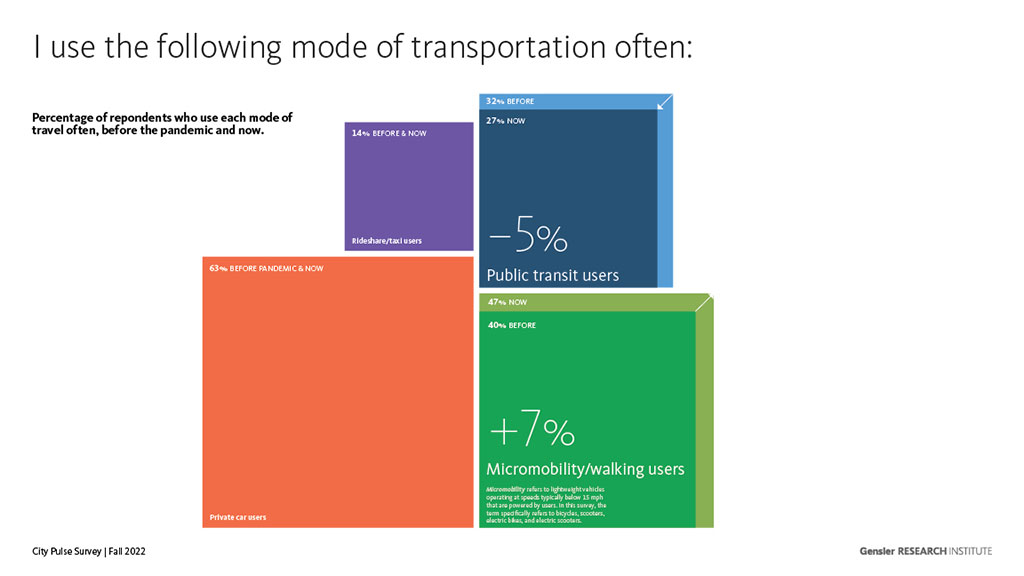 While public transit usage has decreased since the start of the pandemic, micromobility is on the rise.
Our data provides key insights into how mobility patterns changed during the public health crisis. While respondents report using cars and rideshares/taxis as much as they did before the pandemic, we found pronounced shifts in other forms of transportation. People are using public transit less than they did before the global shutdowns and now spend more time walking or using some form of micromobility. Regionally, the Middle East, Asia-Pacific, and Europe showed the highest increases in micromobility, while North America (the most car-dependent region) showed the least.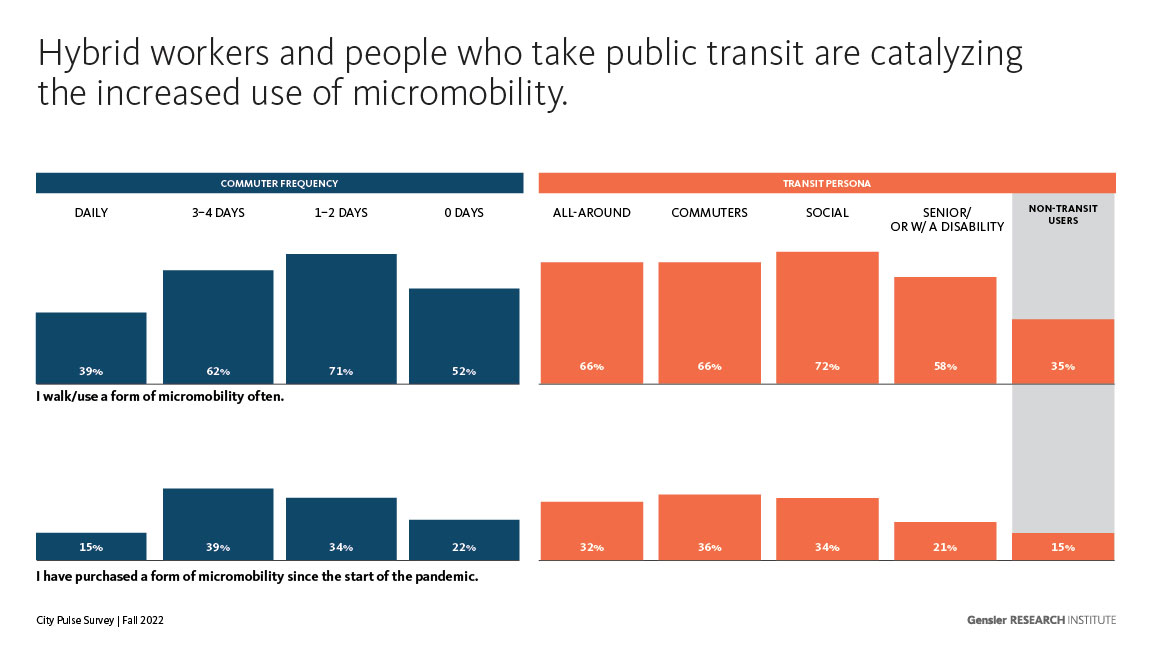 Micromobility, public transit ridership, and the rise of hybrid work are interconnected.
As public transit systems shut down in urban centers to stop the spread of disease, micromobility options provided safer and seemingly more hygienic forms of transport for people who needed to travel around their cities during the pandemic. People began to use micromobility options more frequently, and they also began to take longer journeys on electric and non-electric bikes and scooters. One U.S.-based e-scooter company reported that the length of the average trip on their product increased by 26% during the pandemic.
The increased usage of micromobility also led to higher rates of ownership. During the pandemic, e-bike sales grew by 190%, bicycle sales increased by 120%, and e-scooter sales jumped by 61.2%. Our data shows that people who commute to work between 1-4 days and people who use public transit are more likely than their counterparts to use and purchase forms of micromobility. This indicates that the combination of increased flexibility and decreased satisfaction with public transit may be driving urban residents to explore alternative transportation options.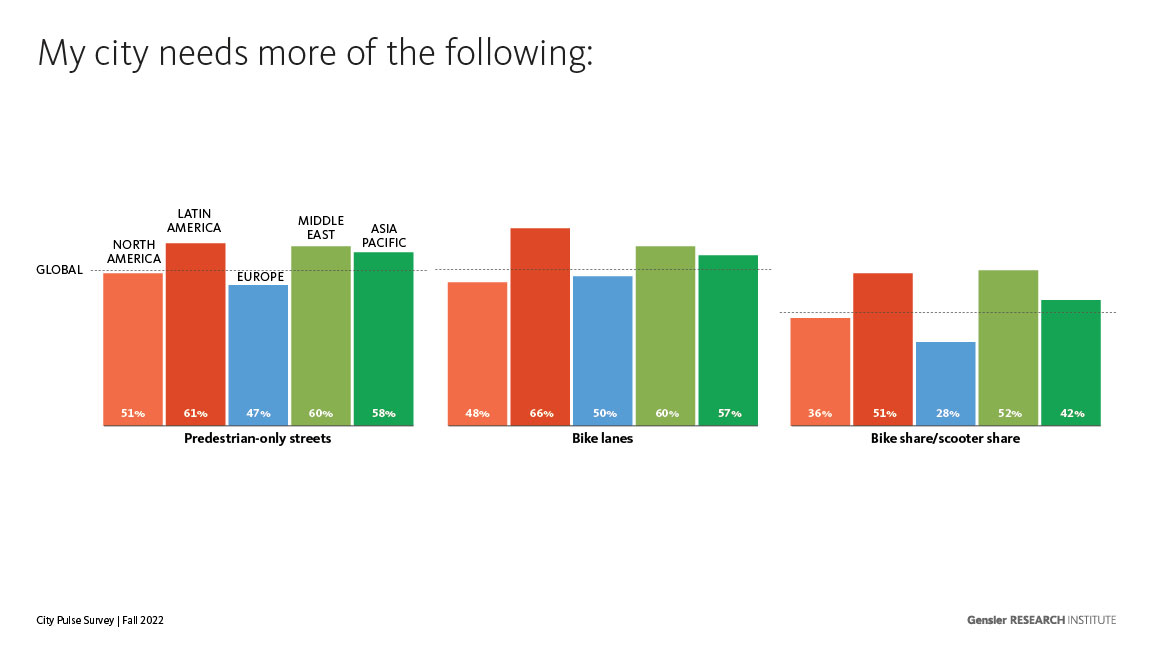 Urban residents want more micromobility options in their cities.
Some cities have already taken notice of the spike in micromobility usage in urban centers. Paris, for example, plans to convert over 50 kilometers of car lanes to bike paths, while Seattle has closed 30 kilometers to vehicular traffic to allow for more pedestrian/bicycle use. Our data shows that respondents around the world want similar interventions in their cities. Globally, over half of respondents feel that their cities need more pedestrian-only streets and bike lanes, while close to 40% want more bikeshare/scootershare options.
And the link between public transit usage/enthusiasm and the desire for increased micromobility options remains clear. Respondents in Latin America, who are least likely to feel that their public transit system provides a great experience, are the most likely to feel that their city needs more of nearly every micromobility option. European respondents, who are most likely to use public transit to navigate their cities and commute to work/school, are the least likely.
The nature of urban mobility is shifting, and cities need to keep pace.
The increased popularity of cycling, bikeshares, scootershares, and walking is unlikely to fade — especially since our data shows that people now want to live closer to workplaces, errands, and activities than they did before the global shutdowns. Cities that want to evolve with a post-pandemic world must do everything they can to support the rise of micromobility. If supported with the right infrastructure and design decisions, today's "new normal" can lead to cities that are more connected and sustainable than ever before.
To learn more, click here to download Gensler's City Pulse 2022 Urban Mobility Report.
For media inquiries, email .