Can the 20-Minute City Encourage Gender Parity?
August 04, 2022 | By Julie Jackson
Editor's Note: This article was originally published in May 2021. It has been updated throughout to reflect current conditions.
As office workers switched to working from home throughout the pandemic, we found ways to connect virtually, not only with our coworkers, but also with their home environments. We saw into our colleagues' living spaces, overheard the sounds of their daily lives, and in many ways gained greater insight into their responsibilities outside of work.
Those responsibilities have been under a spotlight lately. By now, the toll that the pandemic has taken on working families — particularly on women — has been well documented. According to the National Women's Law Center, female workforce participation during the pandemic dropped to 57%, by early 2021 — the lowest level since 1988. For parents and other caregivers, working from home has meant difficulty in finding balance between career life and providing care while schools and care facilities are closed.
We are living through extreme circumstances, but the effects of the pandemic are layered upon already unequal demands facing women and caregivers of all stripes in the workforce. We should not allow today's situation to blind us to this decades-long struggle. My hope is that greater awareness of the responsibilities all workers balance can usher in changes to better support working families during the recovery and beyond.
Let's take a hard look at the "old normal"
As a working mom with two school-age children, I have certainly found this year stressful. But thinking back to the days when my work life was intended to stay at work and my home life at home, it was never that simple.
I recall the nervous energy that would build up toward the end of the day if a meeting were running long, or if someone stopped me to ask a question on my way out of the office. In Charlotte, we have a central business district that swells to over 100,000 workers during the day, so the difference between leaving work 10 minutes later than planned could mean nearly doubling a rush hour commute. Both in leaving work before my colleagues and in reuniting with my children later than planned, I often felt pangs of guilt that I was falling short at work and at home.
Whether it is having to take a half day off work for a 15-minute parent-teacher conference, or having to ask for special accommodations to support an aging parent's medical care, the separation between our work and personal worlds can be a strain. For so many workers who have not had to deal with the physical separation from their responsibilities at home over the last year, transitioning back to the workplace will reintroduce old challenges.
What can the 20-minute city offer instead?
The idea of a 20-minute city is a focus on living locally, so that all needs can be met within a neighborhood that does not exceed a 20-minute walk, bike, or transit ride. Achieving the concept will not happen overnight, as most cities would require transit improvements, densification, and a diversification of uses to create such neighborhoods. That said, the 20-minute city framework can help us think about what steps we can take to make the zones that are set aside mostly for work more livable and the zones that are delegated to home more welcoming for work.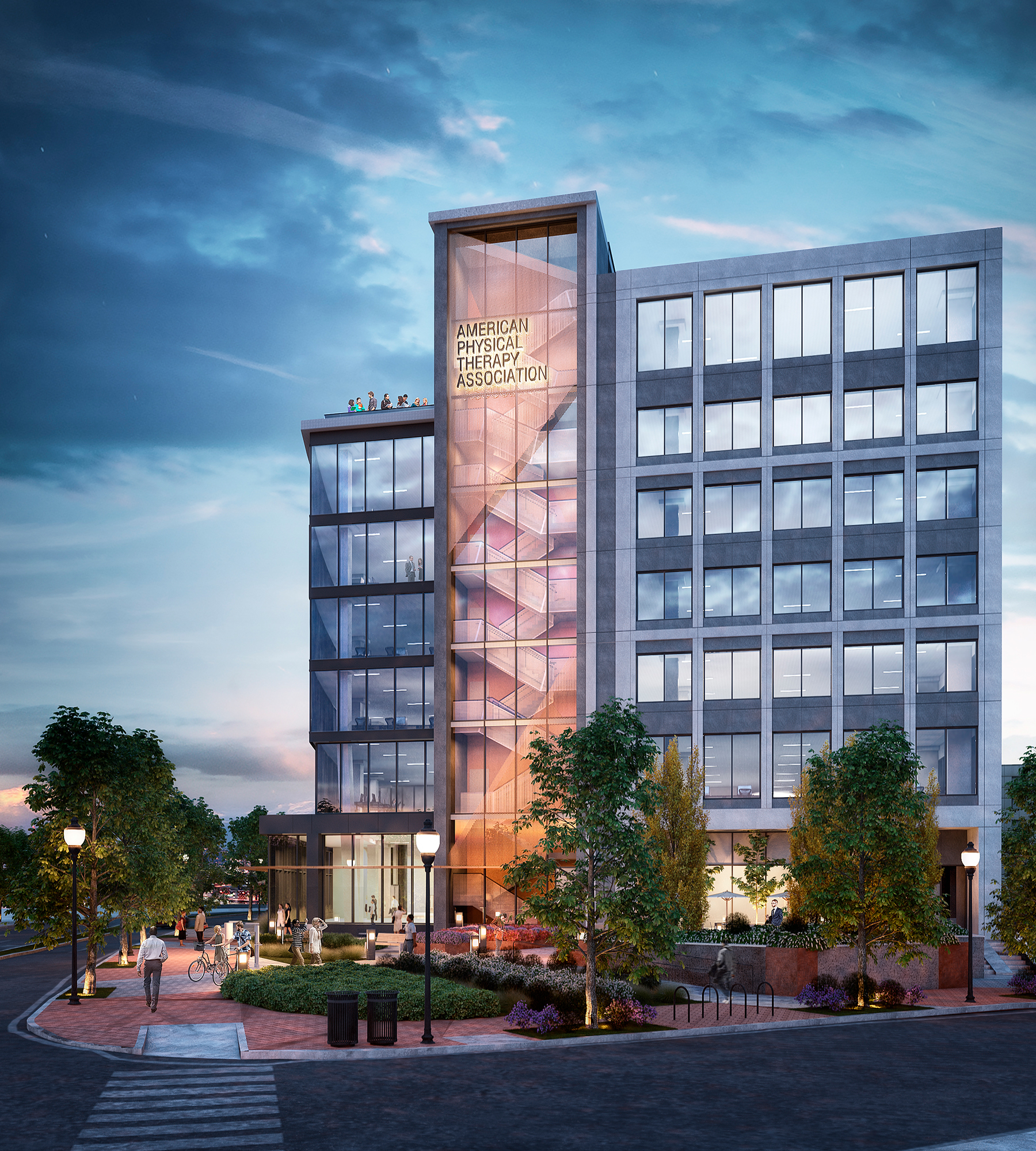 Designing for well-rounded amenities
Starting now, we should expand how we envision ideal tenants for office spaces. The default for ground floor spaces in office buildings is to target retail or food and beverage tenants. But in Gensler's U.S. Workplace Survey 2020, conducted in the fall and summer, more pragmatic amenities such as parking, preventative care services, fitness centers, and childcare all ranked in the top 10 for workers surveyed.
Thinking about a greater mix of services could help market underutilized spaces. While retail thrives on foot traffic and visibility, services such as after-school programs and medical offices can help drive traffic to spaces that may be less attractive to retailers.
Gensler's design for the American Physical Therapy Association's new headquarters in Alexandria, Virginia highlights the possibilities. The project, which opened its doors in January 2021, features a ground level space suitable for a pop-up clinic, as well as a front lawn designed to function as a public park and fitness station for runners and cyclists. It creates the opportunity for a flexible reimagining of how a commercial office building can actively support community health.
Childcare: the elephant in the room
Our workplace survey also found that Gen Z and Millennial respondents were four times more likely than Boomers to rank childcare as a top priority. Considering that an estimated 20 to 35% of women who give birth never return to their previous job, investing in childcare support for new mothers can have profound benefits in years to come by maintaining gender balance at higher experience levels.
NCR Midtown in Atlanta, the Mercedes-Benz Headquarters in Sandy Springs, Georgia, and Bristol-Myers Squibb's Princeton Pike campus in New Jersey are just a few examples of our recent projects in which daycare amenities have featured prominently. The Bandwidth campus in Raleigh goes a step further, currently envisioned to host a Montessori school on site.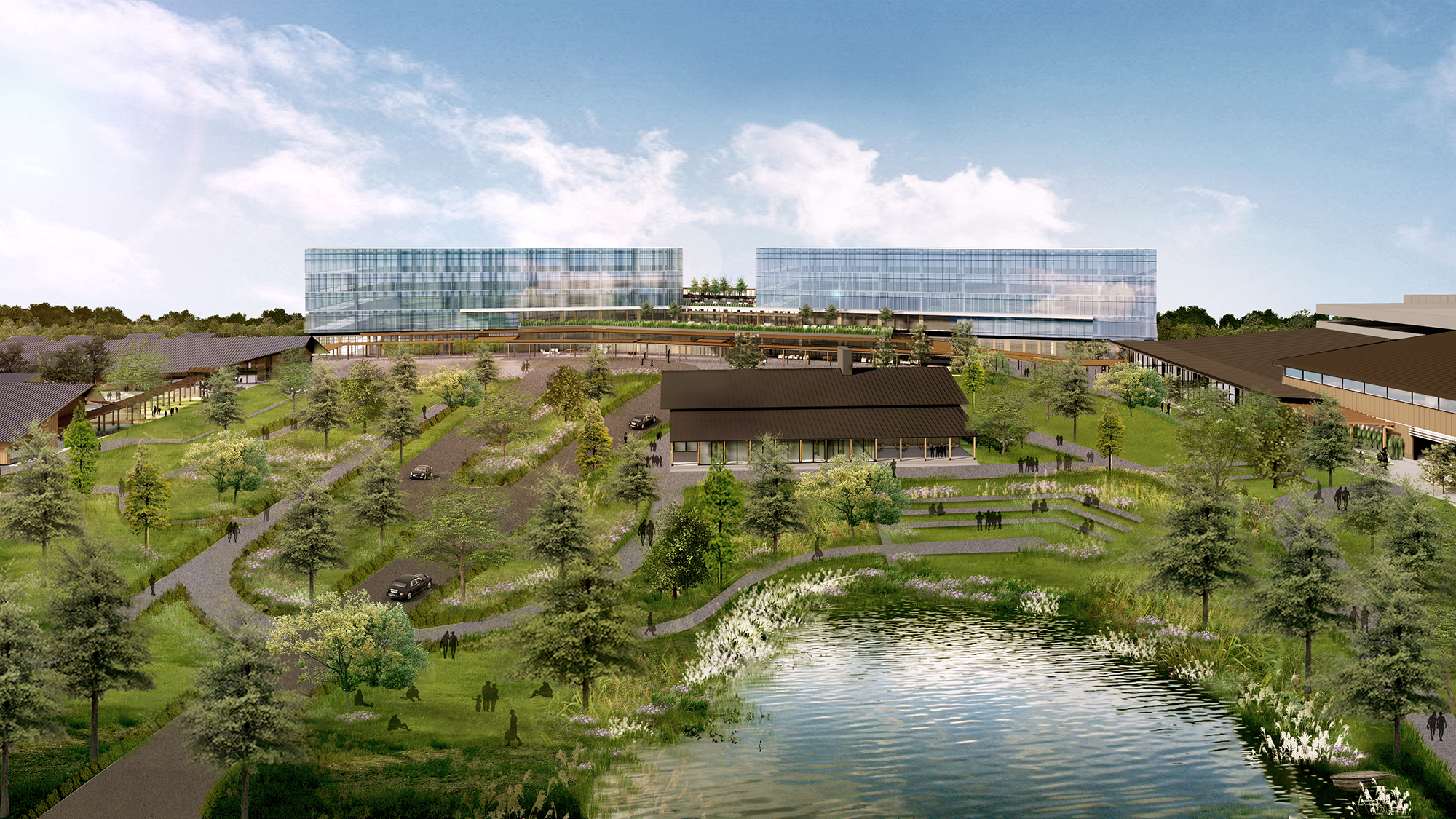 Including childcare as a workplace amenity requires more initial investment compared to other options, but employers who choose to include this offering see it as a differentiator in recruitment and retention of top talent. After combining tax incentives, employee retention costs, and employee engagement, some employers report that they are able to recoup their investment and make onsite childcare pay for itself. For both parents and non-parents, on-site childcare is a clear signal that the company for which they work supports the larger responsibilities that employees face as human beings.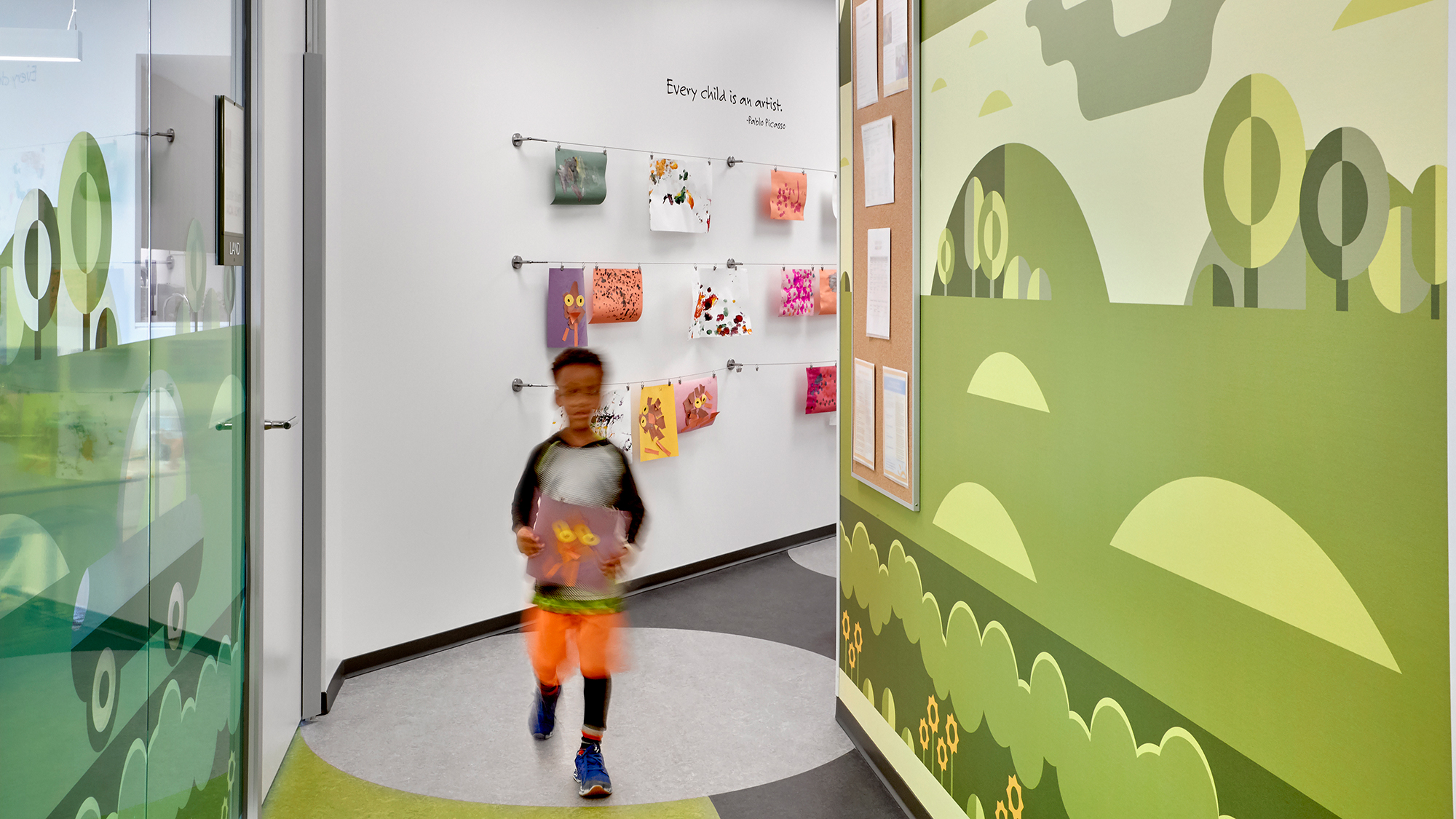 Meeting people where they are
As urban populations grow, medical, social, and educational services must expand rapidly to keep up with the increased demand. Those entities have the opportunity to think strategically about how they can best serve their communities and staff. Instead of putting all investment in an ever-growing central campus or core of services, organizations should channel the 20-minute city concept and explore how to be closer to the people they serve.
Gensler's design for a confidential community resource center in the southeast region — on which we partnered with a minority-owned design firm — enables county agencies to bring together a variety of public services under one roof. The county plans to eventually build more centers in a variety of locations so that people do not need to venture far from their immediate neighborhood for crucial support services including child support enforcement, pregnancy care management, Medicaid, and immunizations.
The 20-minute city, of course, does not get us all the way to gender parity by itself. But by laying the groundwork for a broader distribution of social services in both the public and private sectors, the approach could make a meaningful difference. There is only so much time in the day, and we all know the pain that comes with hard tradeoffs. It is incumbent upon us to minimize those tradeoffs when and where we can.
For media inquiries, email .