Nature + Nurture in the Inclusive Workplace
January 23, 2023 | By Brian Stromquist
In Year 1 of the pandemic, when office workers across the globe shifted to remote work en masse, we asked ourselves: What is a Zoom? In Year 2, when hybrid work gained a foothold, we pushed the question further: What does equitable videoconferencing look like? In Year 3, we implemented and observed the first generation of pilot projects, testing our hypotheses, course-correcting when needed, and codifying success into design guidelines.
Now we're in Year 4, still exploring, ready to embrace our latest challenge: How do we take insights from the past three years and infuse them into inclusive, experience-forward office environments?
Let's continue to promote immersive collaboration technologies and continue to investigate the inclusive possibilities of burgeoning metaverses, but let's also invest some of this design energy back into the built environment. Studies show that hybrid work is here to stay, and workers who have the option of working remotely will still be coming into the office multiple days a week. There's also the large swath of the workforce whose jobs preclude the possibility of remote work, who have been — and will continue to be — keeping the lights on in our offices, laboratories, and kitchens. They should enjoy all the affordances of virtual worlds in IRL environments.
And how better to plan for this than through the lens of inclusive design? Successful implementation of inclusive environments will hinge on three types of considerations, all of which explore reciprocal relationships between workers and the physical office environment:
How does one's lived experience influence design of space?
What effect does space have on one's workplace experience?
How might office environments impact the experience of individuals in the broader community?
By considering the three together, we can begin to craft environments that are not just primed to support hybrid work, but ones that set the stage for inclusive workplaces of the future.
Nature: The Impact of Lived Experience
Designing for a broad spectrum of abilities — both physical and neurodiverse — is now table stakes for most technology companies. Universal design principles, pioneered by Center for Inclusive Design and Environmental Access at the University of Buffalo, are starting to be codified into design guidelines, forefronted in project visioning sessions, and vetted through tailored QA/QC processes.
The experience and performance of the workplace is better for it, too. As we take steps to better align the office with a greater range of physical abilities, we're witnessing the evolution and reinvention of several tech office staples. Banquette seating, previously tucked away in nooks, is literally coming out of the woodwork to be more accessible to wheelchair users and a variety of body shapes and sizes. Conference room furniture, often rectangular tables oriented to a wall-mounted monitors, is morphing shape to provide better visibility and maneuvering ability. In our pursuit of more inclusive hybrid collaboration, universal design is helping point the way.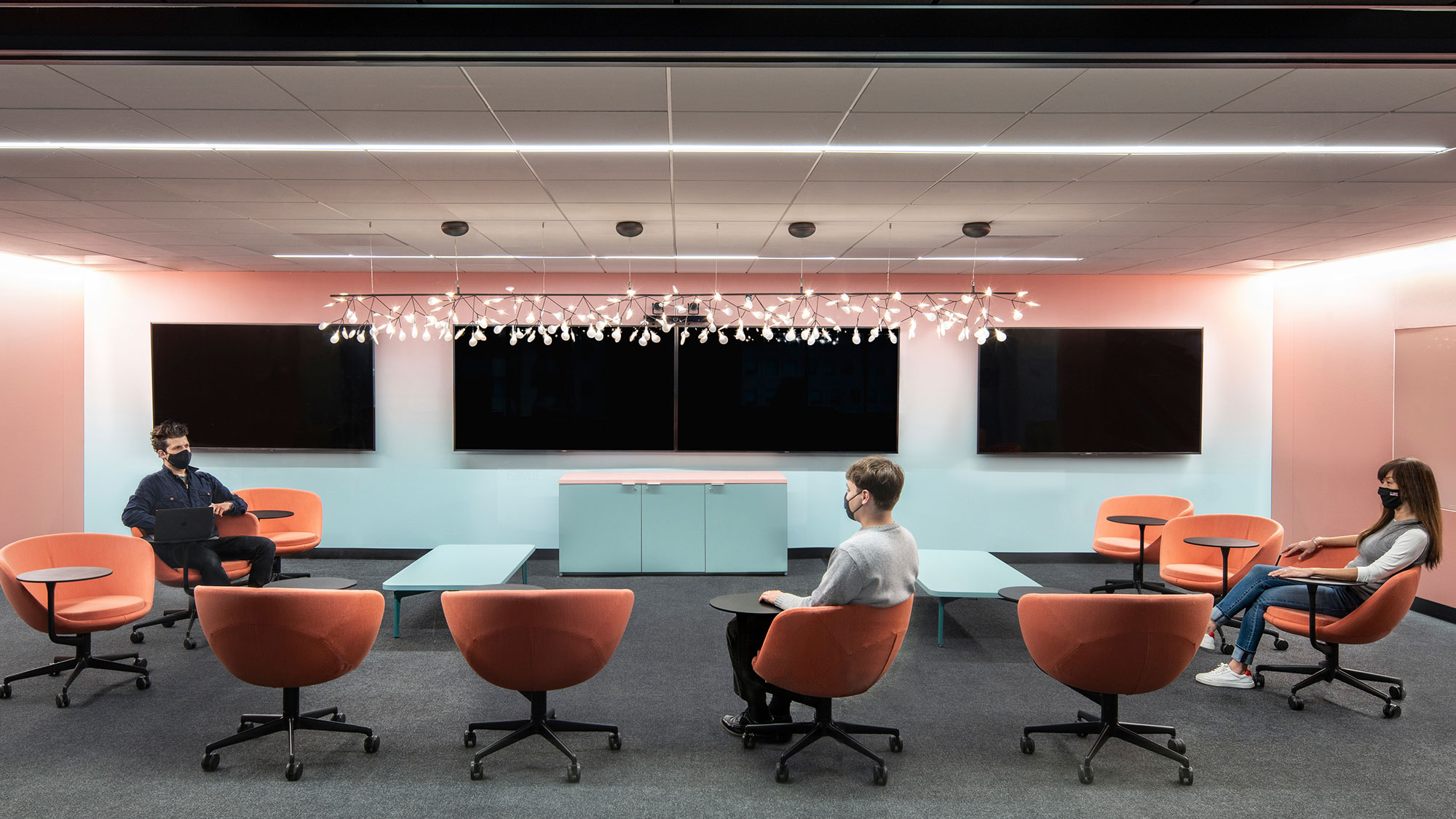 Spaces that are designed to accommodate neurodiversity are evolving in exciting ways as well. Libraries, once nice-to-have amenities in tech workplaces, take on heightened importance as tech-free, distraction-free zones. This is incredibly important to the productivity and happiness of neurodiverse employees for whom workplace distractions are a real impediment to their work experience. Wellness rooms, once loosely programmed areas for mental health and spirituality, find new life and new definition as sensory spaces for everyone, including neurodivergent workers. By creating experiences with sound, sight, and smell, these spaces provide exciting opportunities for escape and calm — often with the help of tunable lighting and manipulatable AV technologies.
Ultimately, this is designing for mental health, which benefits all of us — especially in this age of anxiety and future unknowns.
Nurture: The Impact of the Environment
If individual needs are able to transform the environment in innovative, inclusive new ways, then how can the environment return the favor? How might we evolve workplace systems to augment physical and psychological comfort — and enable employees to tailor environments to meet their individual needs?
For starters, we can look to the systems that comprise wellness/sensory spaces from the previous section: tunable lighting, manipulatable AV, adjustable HVAC. What if these were scaled up to entire workplace ecosystems — open office neighborhoods, collaboration areas, focus spaces? And what if individuals were able to use these (literal) levers to create microenvironments optimized for individual comfort.
Over the past couple years, many tech companies have looked to David Rock's SCARF model as a roadmap for managing teams in our new hybrid work reality. One of the main tenets of the model, which is designed to augment emotional intelligence and psychological safety, is an employee's sense of autonomy — their ability to retain independence in larger group settings by eliminating psychological distractions. Autonomy, in turn, encourages creativity and complex decision making, ultimately resulting in increased productivity and innovation. Physical environments can operate in much the same way, providing an employee the environmental controls required to focus on work and not physical comfort.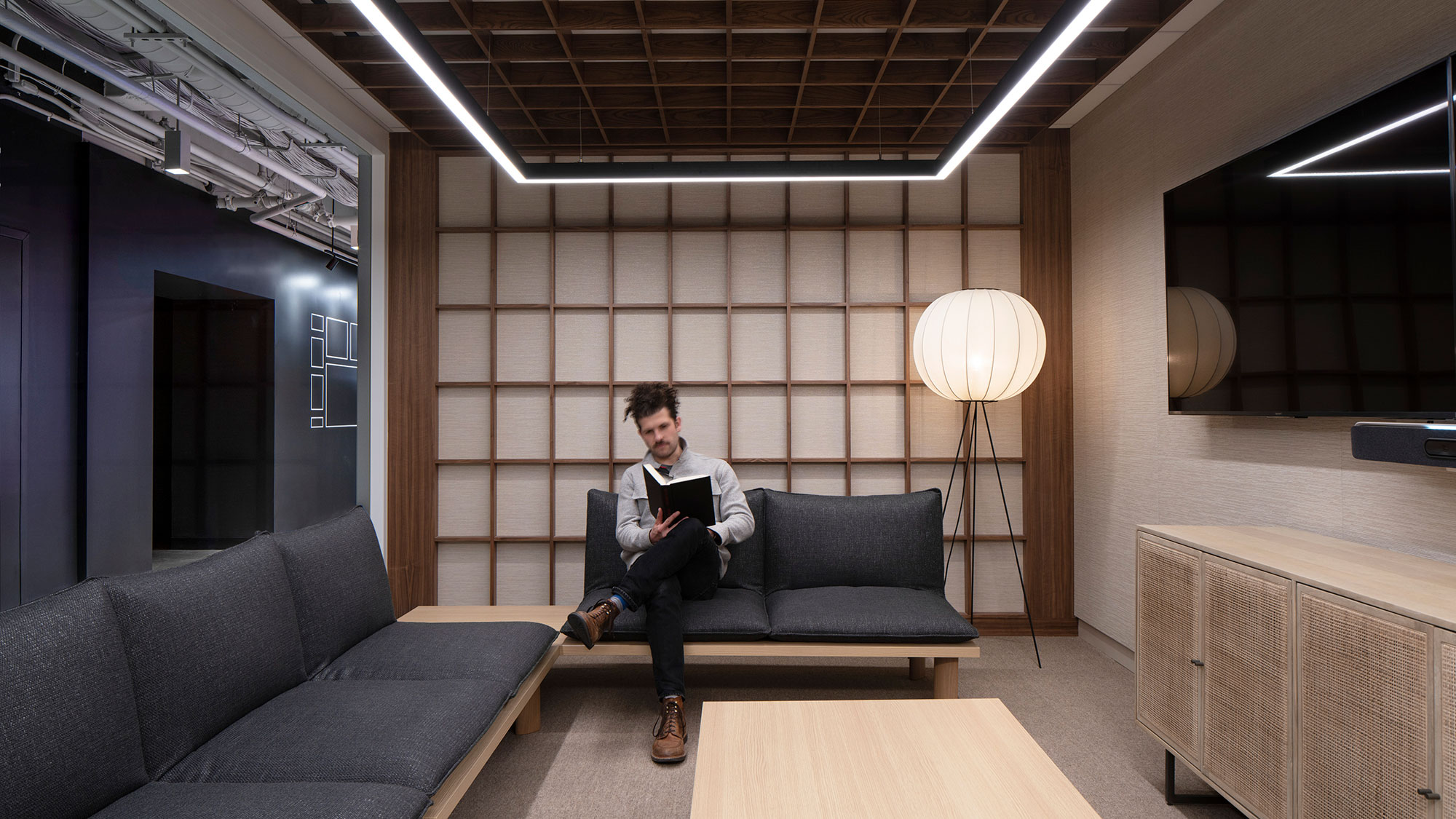 Achieving these individual comfort goals will require closer partnerships with the consultants with whom we typically partner on workplace design: MEP engineers, audio-visual specialists, and lighting designers.
"CommuNurture": Impact on the Community
Finally, we should challenge ourselves to explore ways in which interior environments — both shaped by and actively shaping employee identity and experience — can address radical inclusivity beyond the office walls. Tech workplaces have a long history of engaging local arts communities through multi-story murals and lobby installations, and are increasingly turning to local designers for furniture and custom fabrications. These are important ways of bolstering relationships between the workplace and the surrounding community.
In the spirit of equity and inclusion, we should explore ways of having opportunity and economic impact on the community as well — what one might call "CommuNurture." Gensler's recent Morphable Office project, a data-driven investigation of ESG strategies in the design of office buildings, explored the idea of ground-floor amenities as opportunities for wealth building in local communities.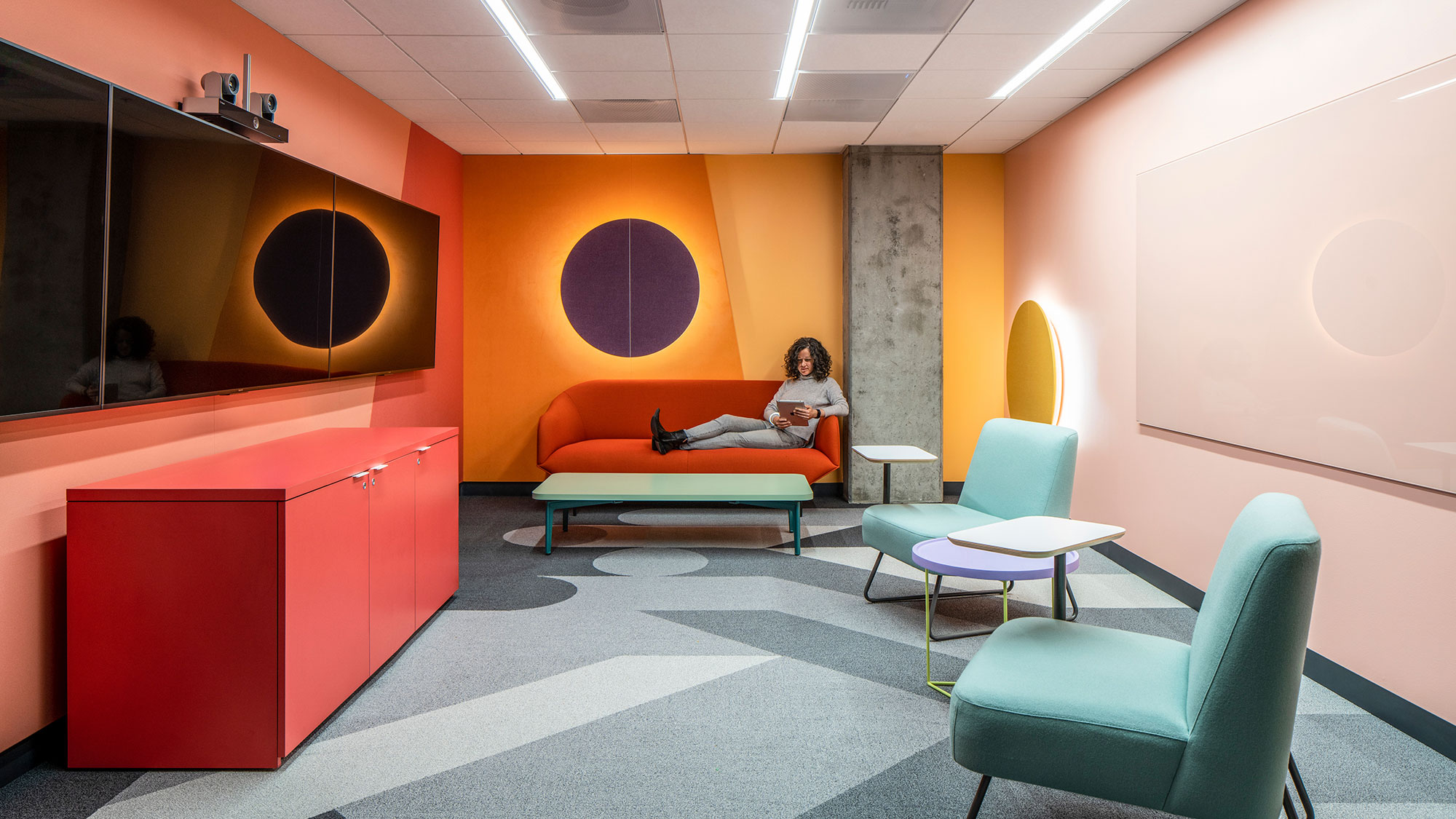 The tech workplace has an amazing opportunity to do something similar. The full-service cafeteria, long a staple of many tech offices, is a fertile testing ground for using in-house culinary amenities as wealth-building initiatives. The idea isn't entirely novel to tech: celebrity chefs and boutique eateries have regularly taken up residency inside the workplace. Next-wave culinary, however, should identify where they'll have the greatest impact in the community and provide a dedicated footprint for this programming.
So as we move into Year 4 of a pandemic-turned-endemic, and take positive steps towards workplace repatriation, let's zoom out a bit to rethink the relationship between the worker, the office, and the community. Our respective experiences and identities will evolve its design into some that feels fittingly inclusive, and in turn it will compel us to be a better, happier hybrid workforce.
For media inquiries, email .