Designing Intergenerational Communities
By Stella Donovan and Laura Latham
How can we make our existing communities livable for all ages?
The era of isolated assisted living centers and segregated retirement communities is ending. 80% of Americans that are 65 or older live in cities, and there's a growing demand for the multi-purpose community amenities traditionally marketed towards younger generations. By the year 2030, the global population of individuals over 60 years of age will exceed the number of people under 10. The desire for an authentic, productive, and interconnected lifestyle transcends older and younger generations. As designers and thought leaders, we need to understand how to navigate the shifting demographics of a society that expects to live longer and better in urban environments.
Designing Intergenerational Communities, a new white paper from the Gensler Research Institute, outlines the benefits and opportunities of disrupting traditional attitudes toward housing aging populations. In partnership with the Milken Institute's Center for the Future of Aging, Gensler design teams from Los Angeles and Washington, DC created speculative designs to show how multigenerational communities might be achieved in existing urban environments. Two communities — Macarthur Park, Los Angeles, and Ivy City, Washington, DC — were conceptualized to show developers, investors, policy leaders, local community members, and other potential stakeholders how to repurpose the built environment to encourage engagement between age groups.
The proposed design solutions for Macarthur Park celebrate the history, people, and culture of the existing neighborhood. Space is allocated to support local street vendors, community-conscious events and festivals, and fitness centers. Other amenities, such as playgrounds and outdoor classrooms for all ages, are integrated throughout the neighborhood. Leveraging the existing transportation infrastructure provides residents with increased access to surrounding residential, business, and healthcare networks. This proposal provides easily accessible opportunities for social connection for all residents.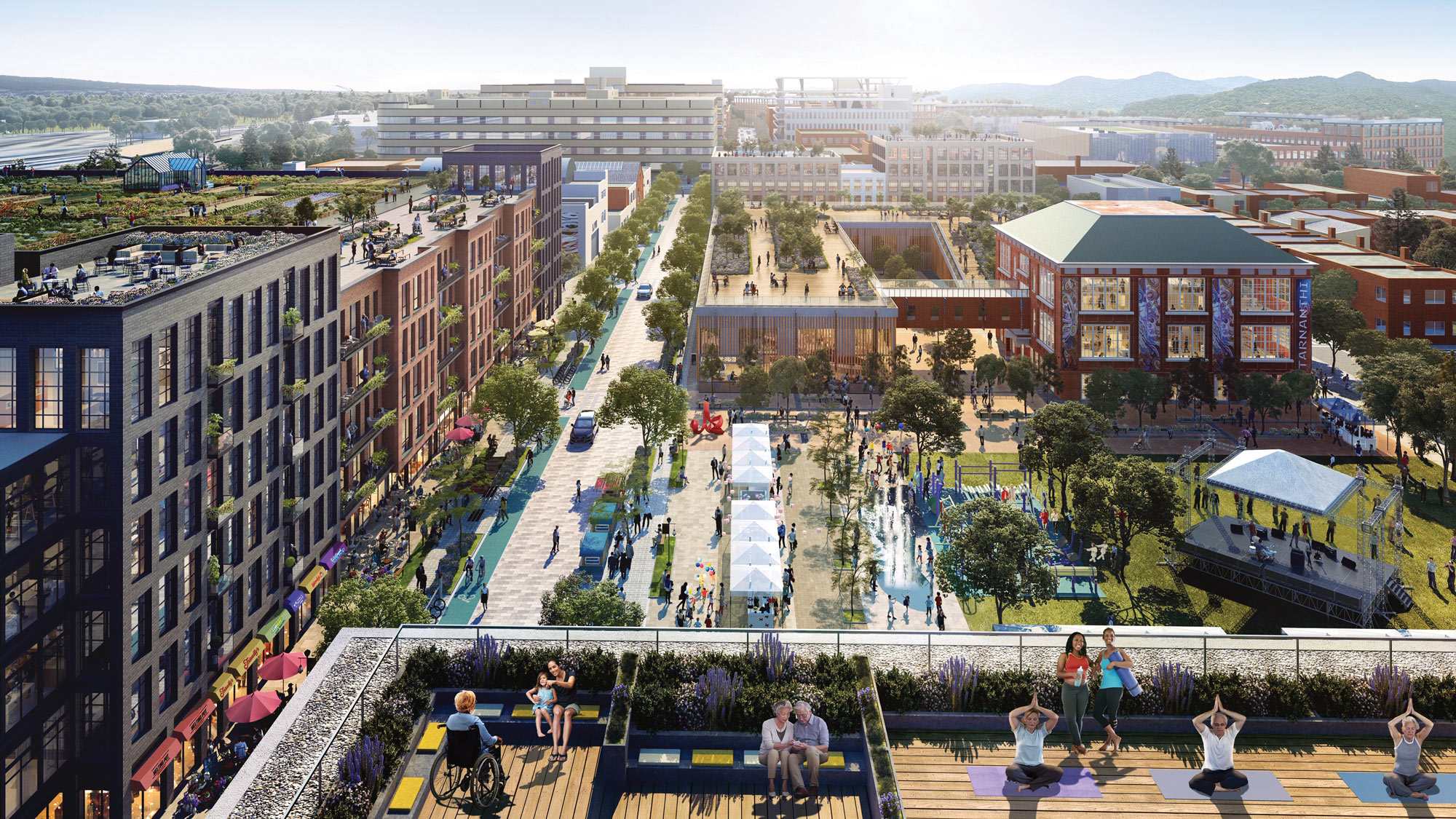 Ivy City's redesign re-appropriates and revitalizes local sites to increase benefits for its community members. The residential hub provides a variety of accommodation types, all with accessible design elements. These affordable, market rate housing options facilitate residents' integrated lifestyles. Existing buildings are converted into office space for new businesses and existing companies, boosting the city's economy and providing more job opportunities. The historic Crummell School is expanded to act as a hub for child care services, sports and recreation, community activities, and a farmer's market. Finally, enhanced local transportation systems provide access to a centralized health & wellness hub with clinical services and medical offices.
Both of these conceptual designs demonstrate how these communities provide inclusive experiences for people of all ages. By prioritizing multigenerational engagement, we ensure the wellbeing and longevity of our futures, families, and communities.
For more information about the framework for designing intergenerational communities and its potential application, download Designing Intergenerational Communities.