Embracing Senior Living in the Urban Mix
August 17, 2022 | By Michael Hendershot
Proposing a new alternative to the typical suburban model.
In the past 20 years, young people exchanged a suburban commuting model for the vibrance and convenience of urban living — making access to options for work and play the major drivers for new developments. More recently, empty nesters and seniors have also come to favor city life. Baby Boomers are leading the charge as walkability, convenience, and proximity to nightlife and dining venues have become more of a priority. In the next 20 years, the over-65 population will double — meaning seniors will make up an even bigger part of our urban communities. We need to reconsider the place that active aging and senior living developments can play in the urban mix.
A senior living development's primary obstacle is the desire of potential clients to age in place or age in their current homes to avoid moving to the negatively perceived "nursing home." Compared to the typical suburban model, an urban senior housing solution can take advantage of its place in the community to provide an environment that is accessible, resilient, and equitable so seniors can continue living active, engaging, and connected lives. For developers, senior housing projects offer several advantages when working in the urban core.
Lower Parking Requirements
A major constraint of a new urban development is the number of parking spaces required to serve the facility, as spaces are dictated by the number of units for senior apartments or urban residential buildings. Large apartment facilities require large parking components and parcels of land, which result in higher expenses, especially in an urban core. Unlike urban residential developments, senior living facilities can offer a beneficial return on investment on sites.
Senior living facilities require a smaller number of parking spaces than a standard multi-family project of comparable size. Although it may vary, parking requirements for a multi-family project are commonly based on the number of bedrooms contained within the project. For an independent or assisted living facility, the parking count is derived from a percentage of the total bed count, which allows for a smaller footprint.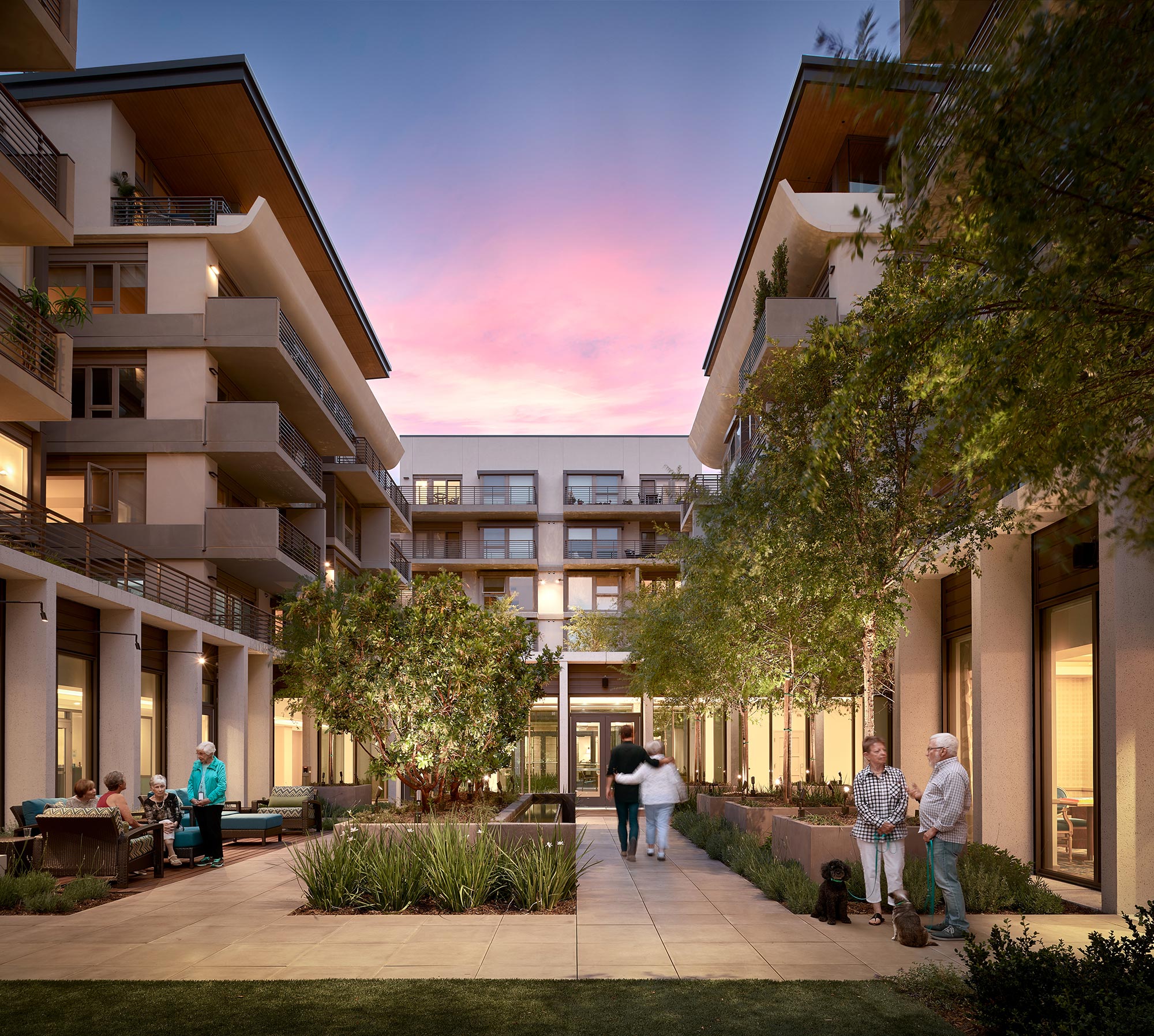 Leveraging Local Amenities to Offset Upfront Construction Costs
Senior living projects require access to specific amenities, such as dining facilities, commercial kitchens, gyms, wellness clinics, libraries, and more. To differentiate a facility in the market, these spaces should take design cues from hospitality and residential projects. Facilities that serve residents with cognitive impairments require dedicated dining rooms and dayrooms, which utilize durable and easy-to-clean finishes and furniture. It is important to mitigate the potentially healthcare-like feel while creating continuity in design across the project.
Although independent living projects do not require the same healthcare-related spaces as assisted living developments, it is prudent to provide an amenity package that compares with urban residential projects, including resort-style pool decks, outdoor event spaces, pubs, coffee bars, transportation to off-site venues, and more. Therefore, to satisfy the current aging population's desires and to attract future residents, new developments should serve the surging demand for high-class and diverse amenities.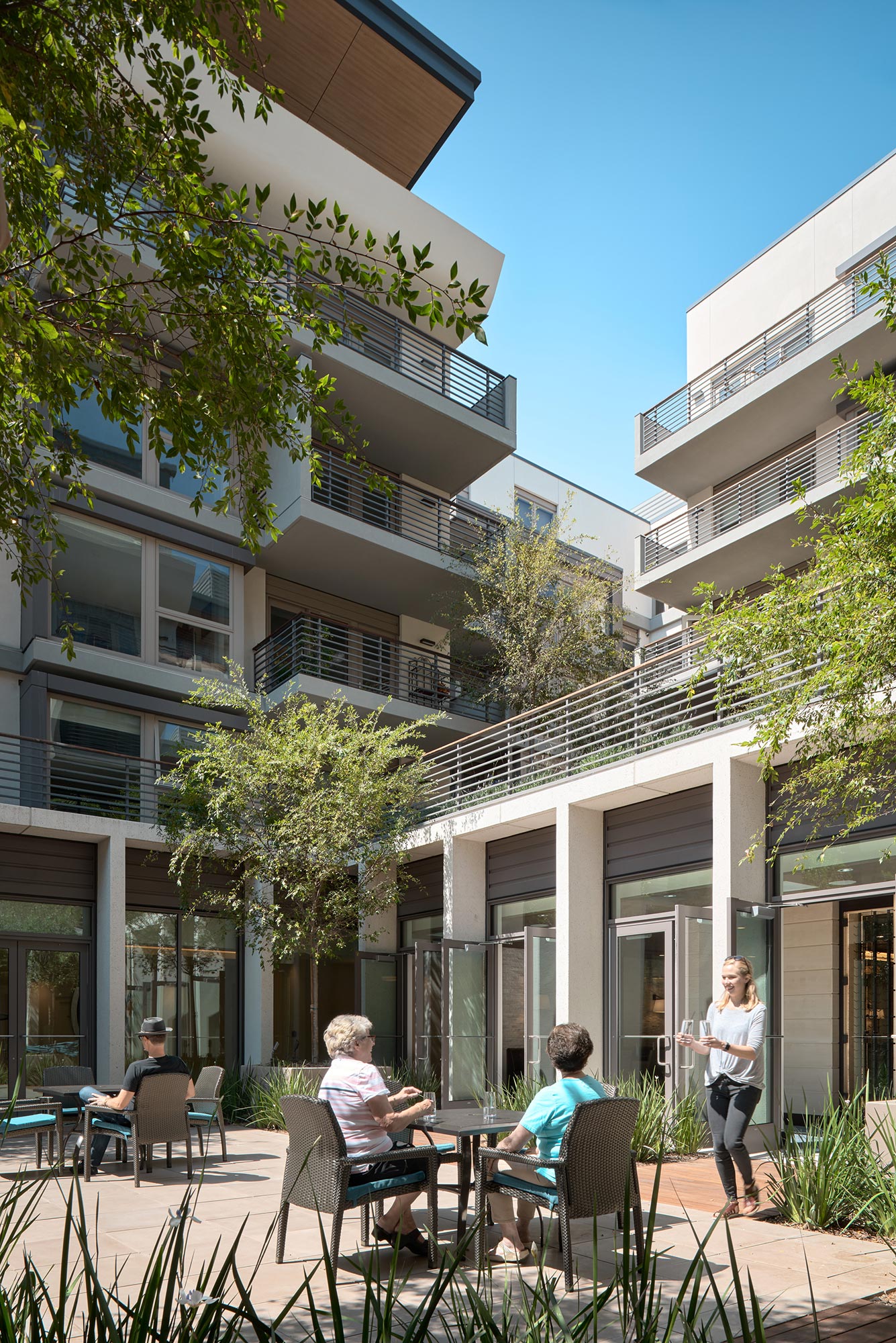 Urban infill sites afford new opportunities that have not been utilized by typical senior living developments. For example, creating opportunities for residents to venture to nearby commercial venues provides developers the ability to offset some up-front costs and long-term operational expenditures. By establishing partnerships with local businesses and civic organizations, developers can supplement their facilities amenities and programs, while reducing the building's size and staff. Utilizing this model helps establish senior living developments in underserved markets by offering residents the same level of service as a typical facility at lower initial costs, thus improving the return on investment.
Senior living is a rapidly growing market with high service expectations and evolving resident demands. Meeting these demands requires reevaluation of the prevailing model and methods. Repurposing urban infill sites serves the community's needs and offers exciting new possibilities for developers. Boldly recognizing these realities and seizing the opportunities they present will establish a provider as an innovator in the senior living and active aging space.
For media inquiries, email .