Modular by Design: The Promise of Prefab for Expressive Design
March 11, 2022 | By J.T. Theeuwes
While modular construction provides a way to build efficiently and safely while preserving time, cost, and material resources, it might often be thought of as lacking the level of expressiveness and connection to context and community that we expect from the places we inhabit. With this in mind, designers have been finding more innovative ways to push the perceived limitations of modular construction.
The promise of prefab modular construction
Prefab refers to any building element that has been manufactured at a place other than its final location, typically a factory. Once manufactured, the component is transported to the site for assembly into the greater whole. Window units, roof trusses, staircases, and precast concrete walls are common examples of prefabricated elements. Modular construction refers to a specific kind of prefabricated construction that results in components enclosing a volume of space. Modular construction has been shown to save construction time, lower costs, ease site disruption and access, reduce pollution and waste, and increase quality control.
With modular construction, a module can be a fully manufactured component with walls, floors, mechanical, electrical, cabinets, finishes, etc., integrated prior to being transported to a site, lifted, stacked, and structurally connected. Oftentimes waterproofing and exterior cladding are then installed on site.
Combining modular and conventional construction is a hybrid method that can reap the advantages of prefabricating the repetitive components of buildings such as hotel rooms, residences, or offices spaces off-site while at the same time constructing site-specific and unique elements, such as lobbies or other amenity spaces using traditional methods.
Advantages and challenges of modular design
Time
Weather is one of the top three reasons for schedule delays in traditional construction and is avoided with modular construction due to a factory-controlled environment. Reduced project schedules are also attained from the concurrent assembly of off-site modules with site and foundation work vs. the traditional sequence workflow of on-site construction. Research by the Modular Building Institute has shown construction schedules can be shortened by 30 to 50%.
Though construction time can be decreased, more design and engineering decisions need to be made upfront during the design phase and changing project details during construction can be more costly than with traditional construction.
Cost
Construction costs for multifamily projects typically represent 50 to 70% of the overall project budget, alongside the land acquisition, design services, financing, and permitting fees. Finding ways to reduce these costs can lead to significant benefits.
Increased controls inherent in a factory setting allow for more efficient materials planning, increased predictability of labor teams, decreased labor costs, and the overall reduction in the possibility of cost overruns often encountered with traditional construction. Some studies have shown potential cost savings of up to 25% compared to a typical construction budget.
However, choosing modular construction holds inherent risk due to the significant percentage of the overall construction assigned to a single supplier. Cost savings can also be reduced due to inexperience of the design or construction teams with modular design.
Safety, quality, and sustainability
Research has shown that fatal injuries overall are substantially lower in manufacturing settings than in traditional on-site construction settings. And it is estimated that modular construction can shift as much as 80% or more of a project's construction to a factory-controlled setting, substantially increasing worker safety.
Quality is also enhanced in a factory setting due to the more systematic monitoring and supervision of labor. In addition, the use of precise fabrication tools and the ability to automate processes allow for a high level of quality control and consistency. This increase in precision in fabrication also allows more environmentally conscious design, including a tighter building envelope, and less waste of raw materials.
In addition to reduced use of raw materials, discarded construction materials can more easily be reintroduced into other projects in a factory-controlled setting. Optimizing the delivery of modules can also reduce the total job site deliveries by 90%, reducing vehicle emissions and disruption to the surrounding communities. Finally, modular construction provides flexibility of disassembly of components for reuse, reconfiguration, or recycling.
Expressive design and placemaking with modular construction
Modular construction has suffered from misconceptions and stigma concerning its lack of originality, innovation, and design options. Through an expressive variety of projects, designers are currently showing that modular construction can be used to form unique and site-specific structures that allow for the particulars of topography, climate, and program, providing opportunities for natural light, air, and views, while creating a design expression unique to its place and context.
Gensler is working with Relevant Group on the prefabricated, modular design for three residential high-rise buildings in Los Angeles, each with its own expressive design: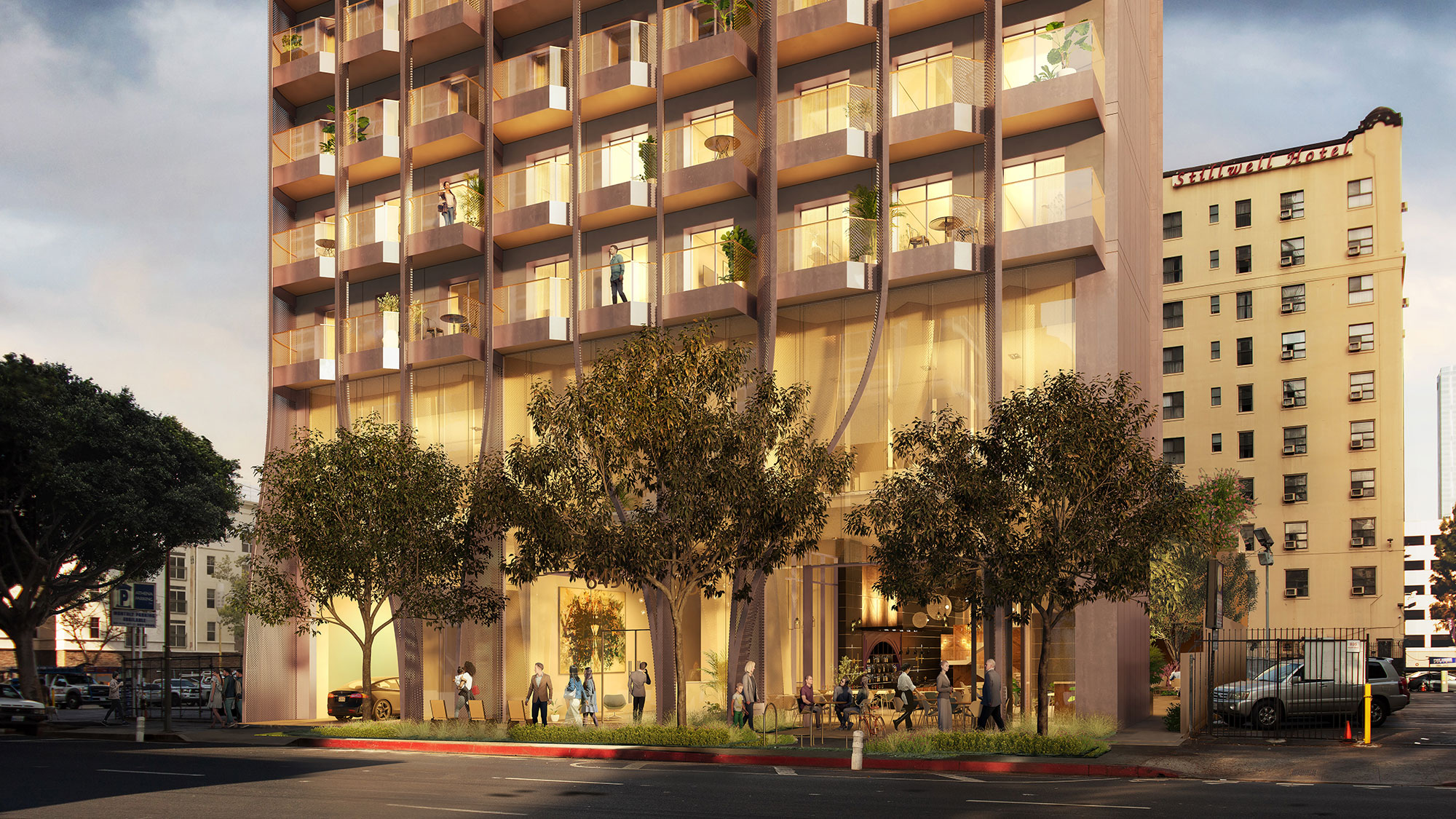 At 845 S. Olive Street in downtown Los Angeles, 329 residential units stacked over 16 levels are being proposed on a former narrow parking lot site. This urban infill project stacked the residential modules on top of one below grade level and three above grade podium levels of traditional construction. With just 100 feet of frontage along S. Olive Street and 60 feet of frontage along S. Grand Avenue, the project accentuates a verticality in the densifying South Park neighborhood.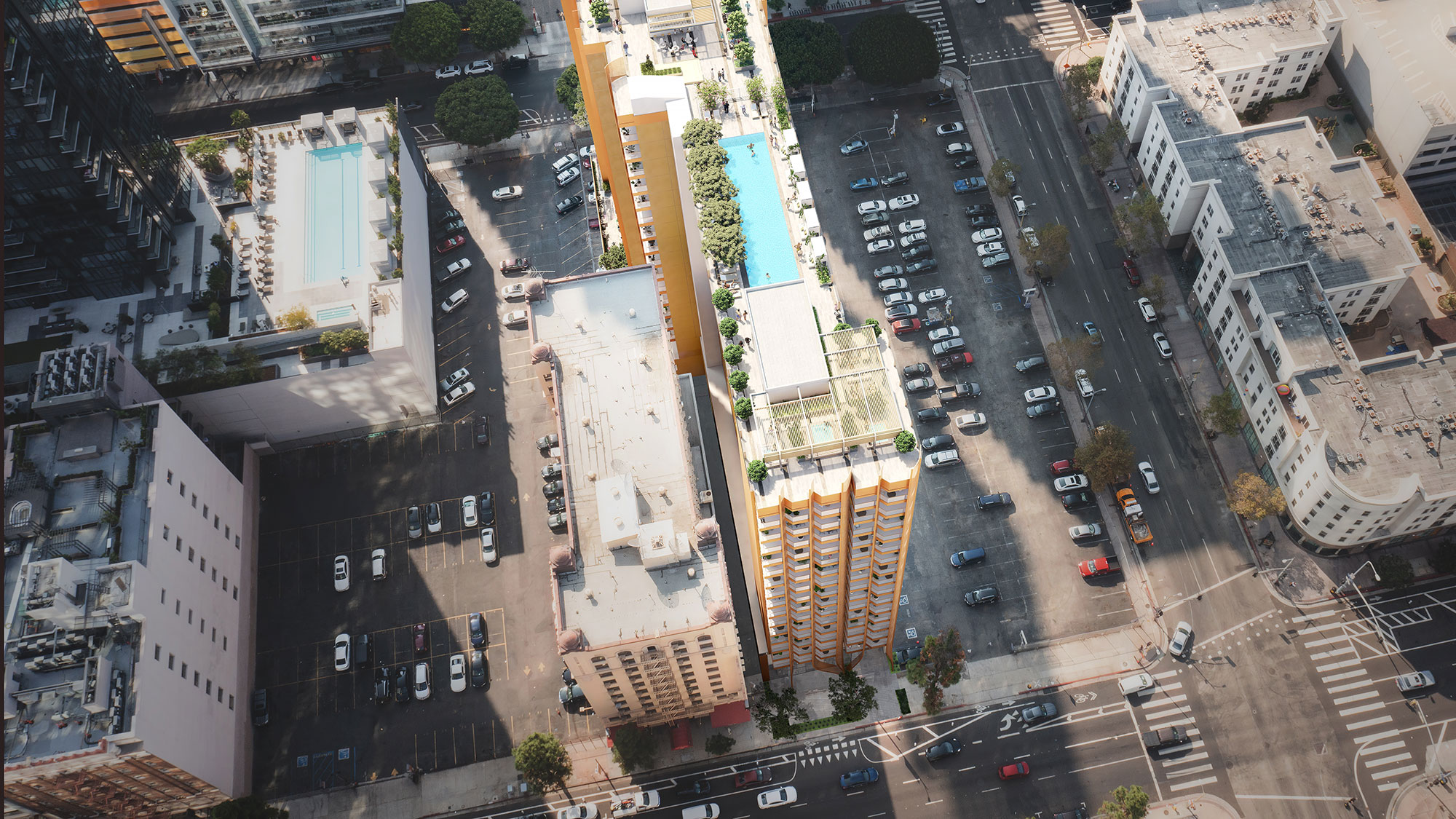 At 121 W. Third Street, Gensler is redeveloping a surface parking lot with a 15-story modular apartment tower, with 331 residential units on top of two above grade levels and one below grade level of traditional construction. Relevant will set aside 37 of the apartments as very low-income affordable housing.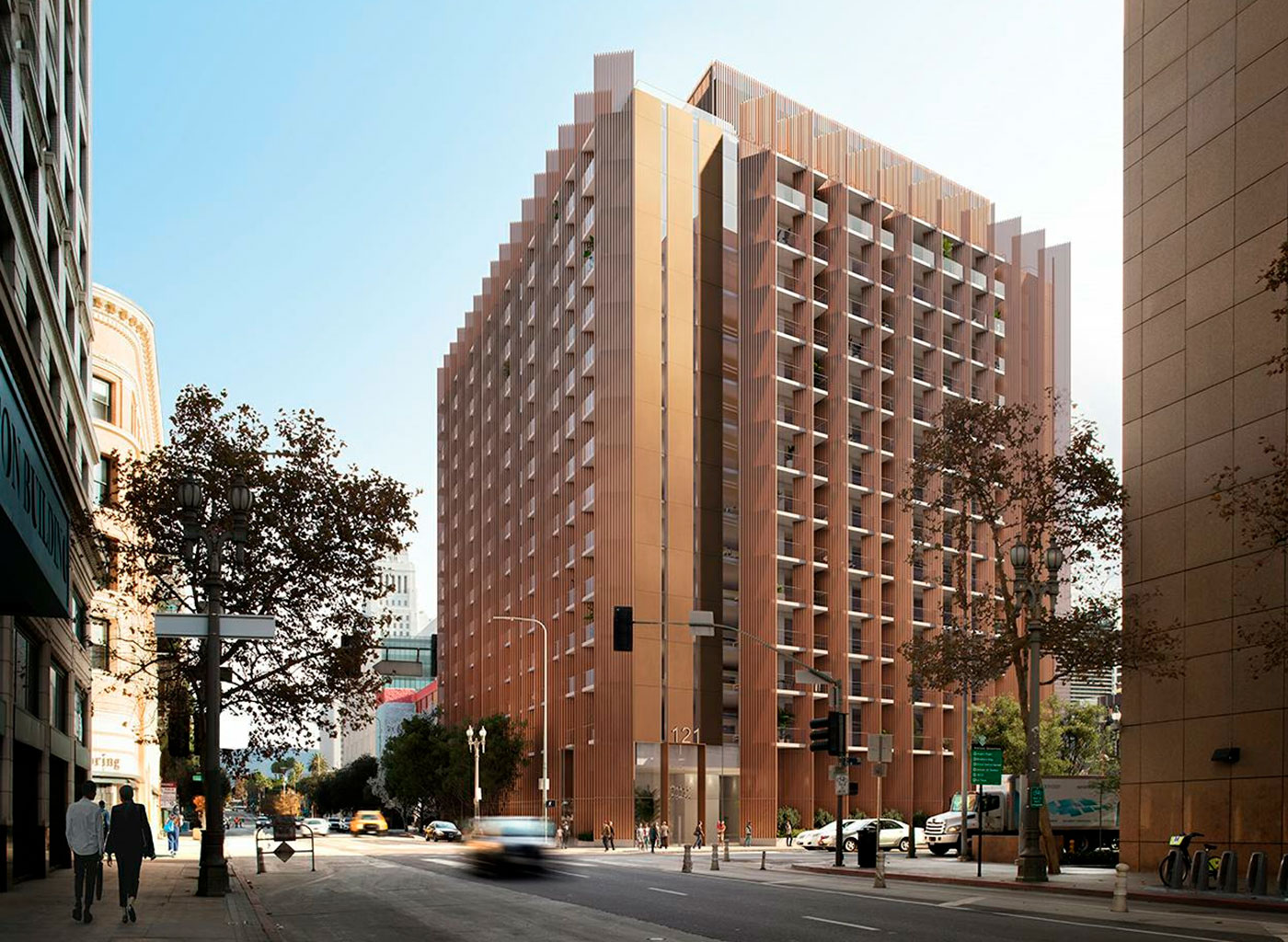 At 1200 S. Olive, an L-shaped scheme of 19 levels of residential modules sits atop two above grade levels and one below grade level of traditional construction to include 355 residential units on a disused warehouse site in the South Park neighborhood. The units range from 320 square-feet, two-module studio apartments to approximately 850 square-feet, four-module two-bedroom units. Generous amenity areas near the ground level and on the rooftops provide community spaces for coworking, exercising, dining, and swimming.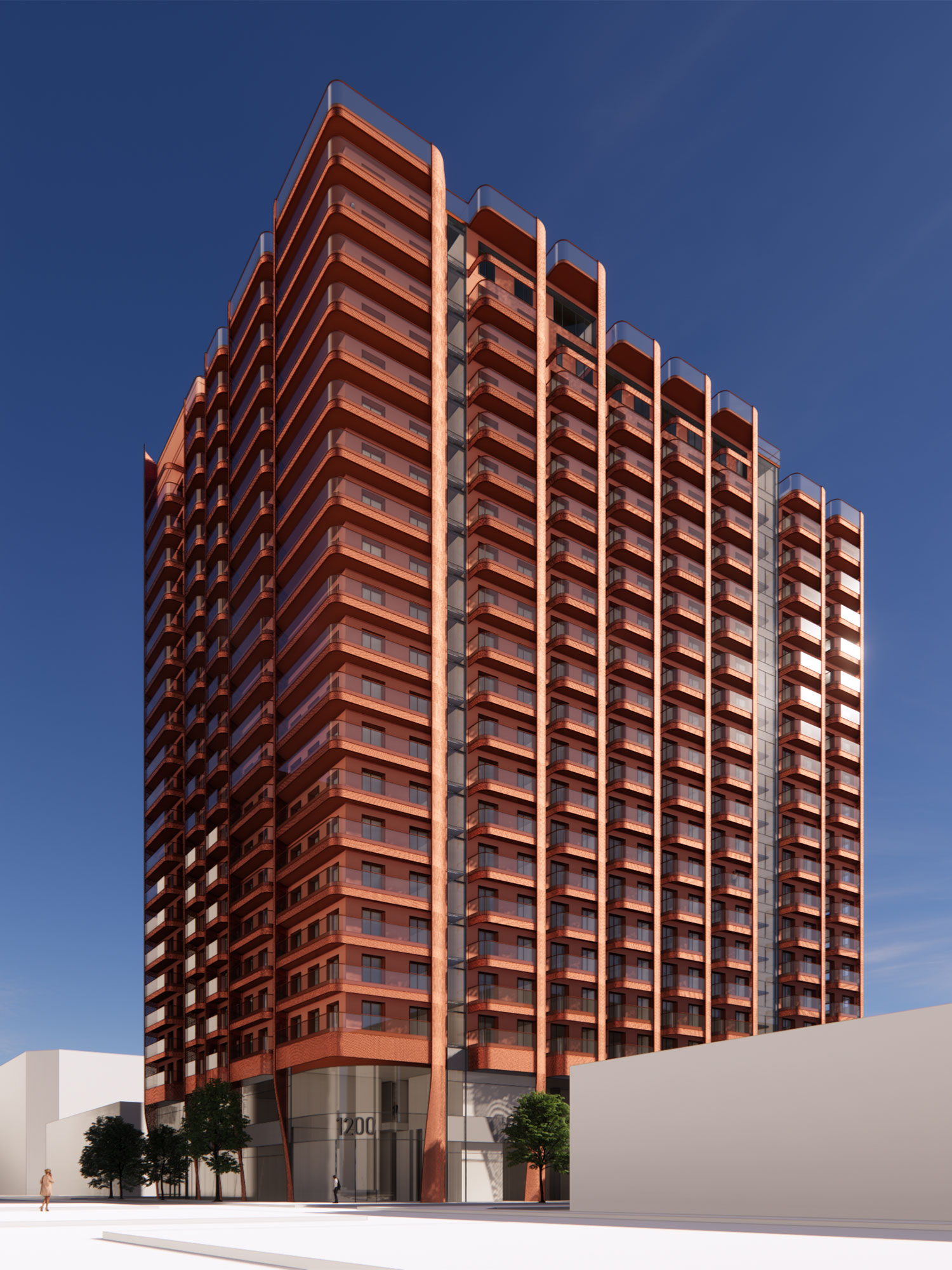 For these three projects, the programmatic shape of each building is unique to its own specific requirements and context. Combining the modules with traditional construction gives a building the opportunity to be imbued with an intrinsic character or spirit and create a poetic connection to its place — making it singular and unique.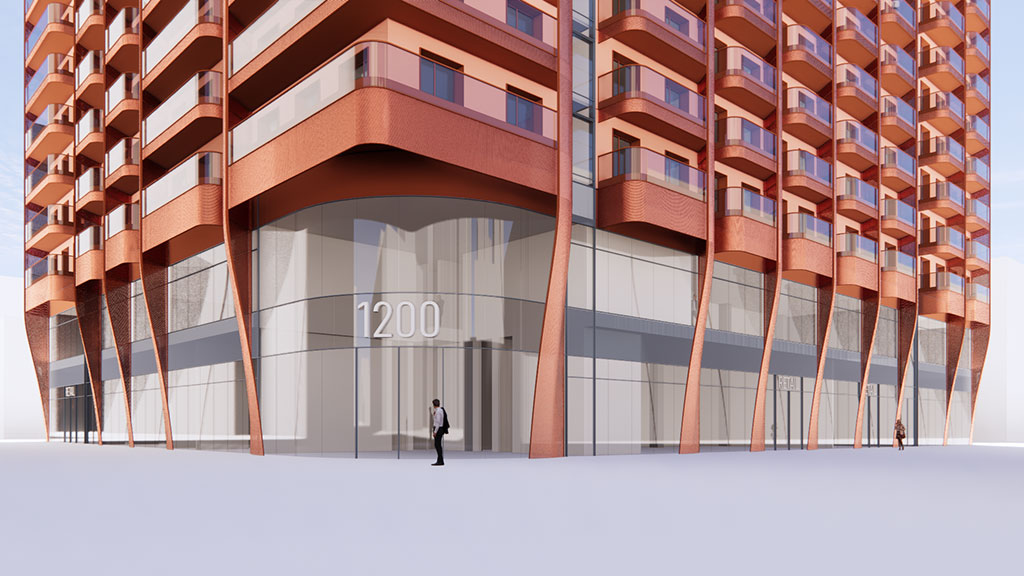 Façade treatments protect the modules from the elements but also create an opportunity to connect the building's design to its context through form and materiality. Vertical fins on all three projects provide sun protection and privacy for the individual unit balconies and each project attunes the fins to its site's specific requirements. Each building's verticality is accentuated and designed to relate to adjacent structures and the neighborhood's historical art deco façades. Other elements of façade materiality have been maintained similar between the three projects to support cost savings and a branding identity.
Modular construction may be seeing a sort of renaissance as it is being used as a method to save time and money with improved construction quality. An increased number of designers and developers are also realizing its potential for adversely remote, dense, or challenging sites and an interesting and expressive design option for a multitude of building projects.
For media inquiries, email .