Improving the Air We Breathe: Design Strategies for Action
By Gail Napell
Recent rains brought some respite to Northern California, where news broke that the Camp Fire is 100 percent contained. The fire has been the most destructive in California's history with far-ranging impact, including some 150 miles away to the city of San Francisco, where toxic air quality ratings exceeded 300 on the Environmental Protection Agency's Air Quality Index. That ranked as the worst in the world, prompting school and business closures. But after two weeks of looming smoke and dense particulates, the Bay Area was treated to a sky washed crystal clear by several days of showers and clean air quality in the "good" (0-50 AQI) range.
Many communities around our planet have not yet experienced a personal climate change wake-up call. Two years of devastating urban-wildland fires may be ours. We think of ourselves in the Bay Area as a community of active, aware, conscientious global citizens. It's an affront to be driven indoors by unhealthy air, scratchy throats, and the smell of smoke. Our buildings aren't all designed to filter this level of pollution.
In the short term, wildfires are here to stay. As Ken Pimlott, Director California Department of Forestry and Fire Protection told NPR, wildfires are no longer seasonal in our state. They're a way of life. And it's not just California wildfires that create such conditions – smog is as old as the Industrial Revolution.
The research is solid – unhealthy air doesn't just make us feel bad both physically and emotionally, prolonged exposure to it decreases life spans as well. According to the recent U.S. National Climate Assessment, "Unless counteracting efforts to improve air quality are implemented, climate change will worsen existing air pollution levels. This worsened air pollution would increase the incidence of adverse respiratory and cardiovascular health effects, including premature death." Fire and unhealthy indoor air are global issues. What can we do to improve air quality under such conditions in the environments we design? And how can we do it in ways that help mitigate, not exacerbate, global climate change? We can take action at several scales, ranging from the personal to the global.
Personal scale
With many existential challenges, the first human instinct is toward self-preservation. When air pollution levels are unhealthy, like they were in the Bay Area over the past two weeks, we can don N95 filtration masks and buy personal air purifiers (if we can get them). We can also try to stay indoors and limit activities that require physical exertion. But these options are not available to everyone, and many people may find themselves exposed due to their job, their personal responsibilities, or the realities of their living condition. As Bay Area residents learned over the past two weeks, staying indoors isn't an automatic solution either. Not all buildings were created equal when it comes to filtering outdoor air.
Building scale
Of course, in San Francisco the air quality has improved dramatically as the fire has subsided, but in many parts of the world, pollution is a year-round problem. For example, it's not unusual for Shanghai residents to regularly experience AQI levels over 300 (the World Health Organization has set the allowable AQI level at 50). Keeping interior air quality healthy is a huge issue in China, but the fix isn't easy.
Published research examining air pollution in China highlights the dilemma of keeping building interiors healthy when the outdoors isn't. Addressing issues of daylighting, energy consumption, and ventilation is an ongoing challenge in such heavily polluted environments. We can increase filtration rates in our building systems and use frequently-changed MERV filters, but that increases energy use. MERV 10 filters are typical in California, but MERV 16 or higher are required to filter out smoke particulates. We can't rely on air pollution reduction; we need to design buildings to withstand high levels of pollution.
Gensler research also shows that living walls can help filter the air and provide biophilic benefits, so it makes sense to include them in our designs. We can continue research to more accurately quantify their filtration capacity.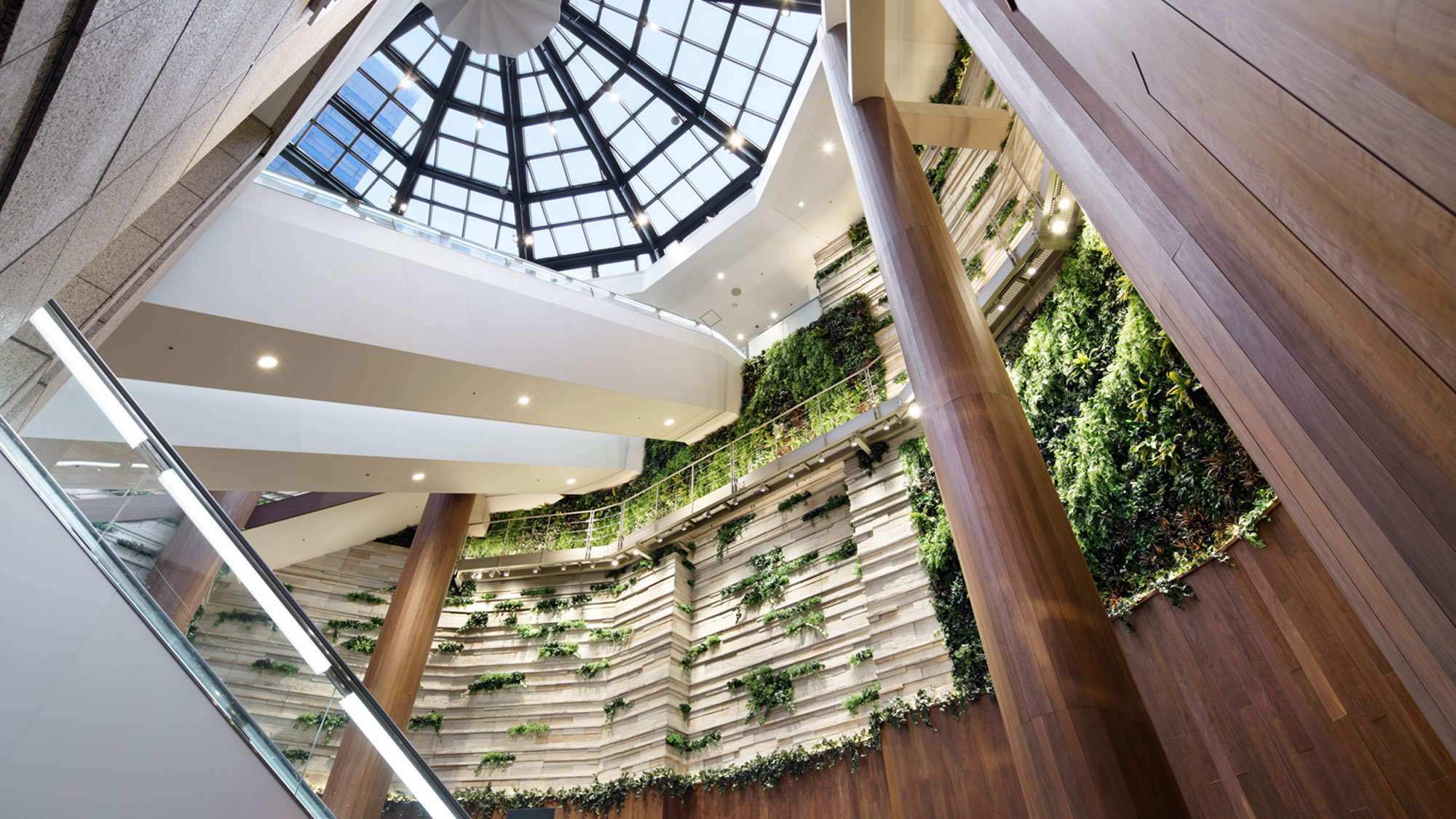 Another option for addressing indoor air quality is to employ automated systems that can respond to particulate levels and recirculate or adjust intake through enhanced filters as required.
We could also design "endless" closed-loop air recirculation systems like the one in the International Space Station, which converts water into oxygen on board through an electrolytic process powered by solar panels. But solutions like these are expensive on a building scale.
Community scale
We can retrofit our existing community cooling and heating centers to be 'clean air centers' as well. Where such support centers don't exist, we can create them. Schools, libraries, and community centers are obvious locations for housing clean air centers, but we can get creative! Art and archaeology museums have highly-controlled indoor environments by necessity. Communities could create 'hazy day' funds so these museums could be admission-free on extreme air pollution days. And as we design new communities, these centers can be an alternative to designing every building as a clean air shelter.
City and regional scale
In the New York Times article "What the Dutch Can Teach Us About Wildfires," former firefighter Crystal Kolden recommends several ways in which we can design to "live with fire," including use of non-flammable materials, conscientious landscaping, and clear circulation routes for safe evacuation. Australia's SDLE (Stay and Defend or Leave Early) policy has been studied in the U.S. for at least a decade. In the Southern California city of Rancho Santa Fe, newer subdivisions were specifically designed as shelter-in-place communities, with strict building codes that increase the likelihood homes will withstand a wildfire. While these solutions minimize the loss of life and property in the event of catastrophe, they do nothing to address the issue of air pollution that follows.
Global scale
Ultimately, we're part of the global community, so anything and everything we do to mitigate and adapt to climate change will improve air quality indoors and out.
We know the key elements for resiliency: design for public transit; design for net zero energy use; design for human equity; and design for wellbeing. There's never been a more important time to put them into practice.
Refer to our 2017 and 2018 Impact by Design reports for more details and other recommendations at gensler.com/resilience.