The California Wildfires Are Yet Another Wake-Up Call for Resilient Design Strategies
September 23, 2020 | By Gail Napell
Two years ago, we experienced the worst wildfires in history in Northern California. At the time, we shared resilient design strategies for improving the air we breathe. Sadly, the fires have continued. Last year saw another devastating series of wildfires across the western U.S. And now, 2020 has been catastrophic in Australia and the United States, with burned area shattering all previous records.
The COVID-19 pandemic is compounding the challenge we face. Vulnerable citizens now have to find a shelter with safe social distancing — if one exists — and firefighters battling the fires have to take extra precautions while they're living and working in close quarters. Also, there are millions of people who aren't directly threatened by the flames but are severely impacted by the smoke. The pandemic has pushed everyone indoors, but many residential HVAC systems aren't capable of extracting wildfire smoke particulates.
It's a familiar dilemma. The California 2019 Building Code requires all new buildings and major renovations to have sufficient filtration systems to handle wildfire smoke, but most buildings are not new, and retrofitting them to provide these measures will take time and money. The same issue applies to retrofitting for increased fresh air to reduce pathogen transmission.
The design strategies we previously outlined for addressing the realities of climate change are still sound, and in the best tradition of adaptation, we must add to and develop them further to serve the current situation and ultimately, to create resilience for the world we're rapidly moving into.
Gensler is committed to taking action to address the climate crisis. At the United Nations Climate Action Summit in Sept. 2019, Gensler Co-CEO Diane Hoskins shared the Gensler Cities Climate Challenge (GC3), our vision for ALL our work to be completely carbon neutral by 2030.
The recent surge in wildfires and hurricanes we're experiencing now are a wake-up call for climate action. Elimination of operational and embodied carbon emissions from the building sector will provide significant health benefits for people and the planet alike. Going forward, we need to design and retrofit resilient spaces and buildings we can adapt on a dime to sometimes diametrically opposed needs.
Here are seven additional design strategies we can use to achieve climate resilience:
1. REUSE: Sometimes the best thing to do is not to build at all.
The first step to carbon reduction is to reposition existing buildings and retrofit what we already have wherever feasible.
There are multiple benefits to this approach, including leveraging existing transit, urban and utility infrastructures; a significant reduction in embodied carbon footprint; and preserving an historic sense of place.
An innovative example of this is Gensler's "Experience Fresh Air," a collection of ideas for rethinking office building lobbies and plazas and introducing alternate indoor and outdoor spaces that would enable people to work, engage, and rejuvenate in fresh air environments that offer less exposure to communicable disease. One of these projects in downtown Los Angeles hacks an existing high rise by removing the old façade and replaces it with a high performance, porous envelope that includes outdoor spaces on all floors.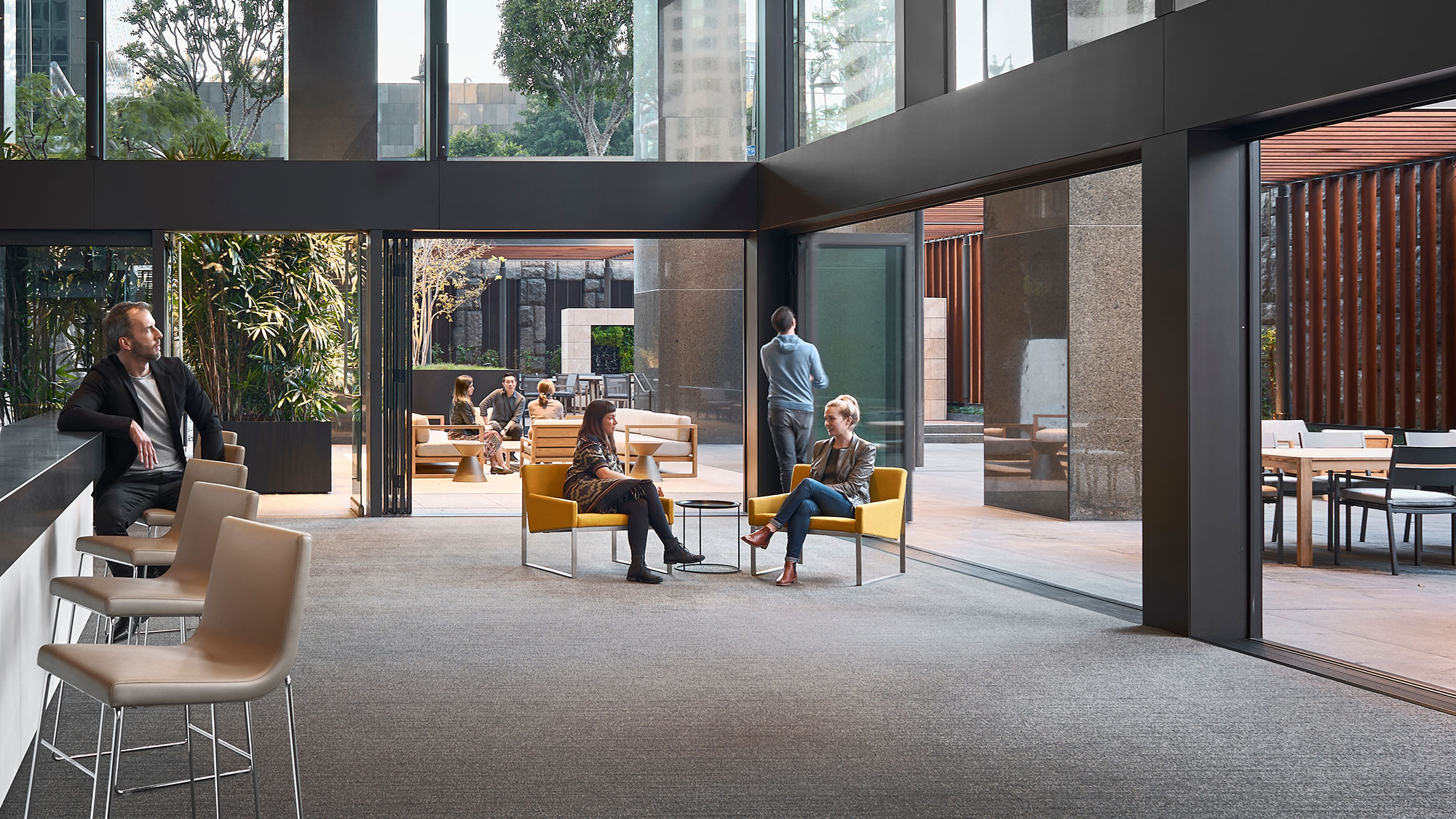 2. RIGHT SIZE: When we do build, right size.
Take the time to do future scenario planning and program thoughtfully, so we can build the least amount of space needed without sacrificing function.
COVID-19 presented the dilemma of requiring more space for social distancing, but also proving to us that we can accomplish more tasks remotely than we thought possible. We're all eager to get back to seeing each other in person, but we also know that can and must be done safely. Think density not crowding.
3. ORIENT & DAYLIGHT: Leverage the sun.
As designers, the greatest impact we can have on a building's overall performance comes via the design of the building itself. New buildings can take advantage of daylight and shadow. For existing buildings, retrofit façades responsively to their orientation. For tips on this strategy, see Impact by Design 2018.
4. MATERIAL REDUCTION: Use as few materials as possible.
Minimizing materials impact is a powerful tool for fighting climate change. This includes using structural frames that use less steel, an elegant design where every element serves a functional purpose.
A great example is UPCycle, a dilapidated warehouse in Austin, Texas, repositioned into a creative office space. Rather than building anew, the client prioritized adaptive reuse to help preserve and improve the neighborhood character and honor existing resources, reusing 95% of the existing structure.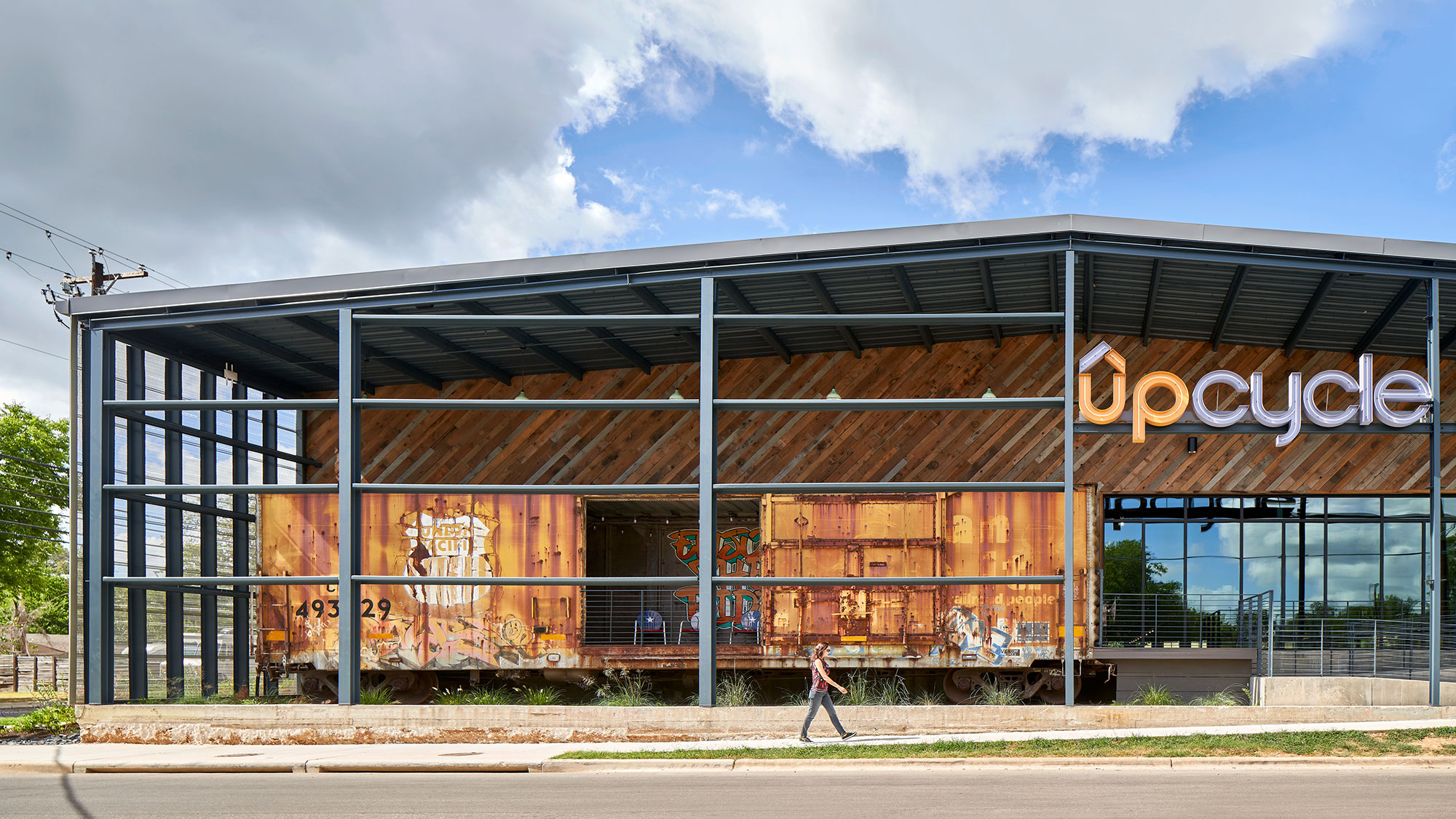 5. EMBODIED CARBON: Use the right materials.
The "right materials" are often local ones, and include resources that have low embodied carbon and are low-emitting and natural.
The building sector accounts for nearly 40% of annual greenhouse gas emissions, and over a quarter of that is due to embodied carbon, the impact of extracting, manufacturing, and transporting construction materials. Reinvesting in local materials could improve air quality across the globe by reducing transportation-related emissions.
Mass timber is becoming an important part of Gensler's portfolio thanks to its fire resistance, structural integrity, and environmental attributes. Because recent timber buildings weigh up to 20% less than their concrete counterparts, the foundation size is also reduced, ultimately contributing to a reduction in embodied energy. Recent studies of timber buildings have shown over a 20% reduction in embodied carbon.
No matter what local materials we select, we must consider how they'll play out over the lifecycle of the buildings and spaces in which they're used.
6. INCLUSIVITY: Design inclusively.
Buildings and spaces we design to support physical and emotional well-being and a positive experience for ALL people will attract the largest customer base, tenant or talent pool, and provide greatest durability over time.
For example, the Regional Transportation Commission's new Mobility Training Center (MTC) is a facility designed to educate Southern Nevadans on how to increase mobility, especially senior residents and persons with disabilities. This new facility consolidates the mobility evaluation and certification programs under one roof. Residents train at the Center to grow comfortable with the public transit systems in the area, which enables them to participate more fully in the community and reduces their reliance on paratransit.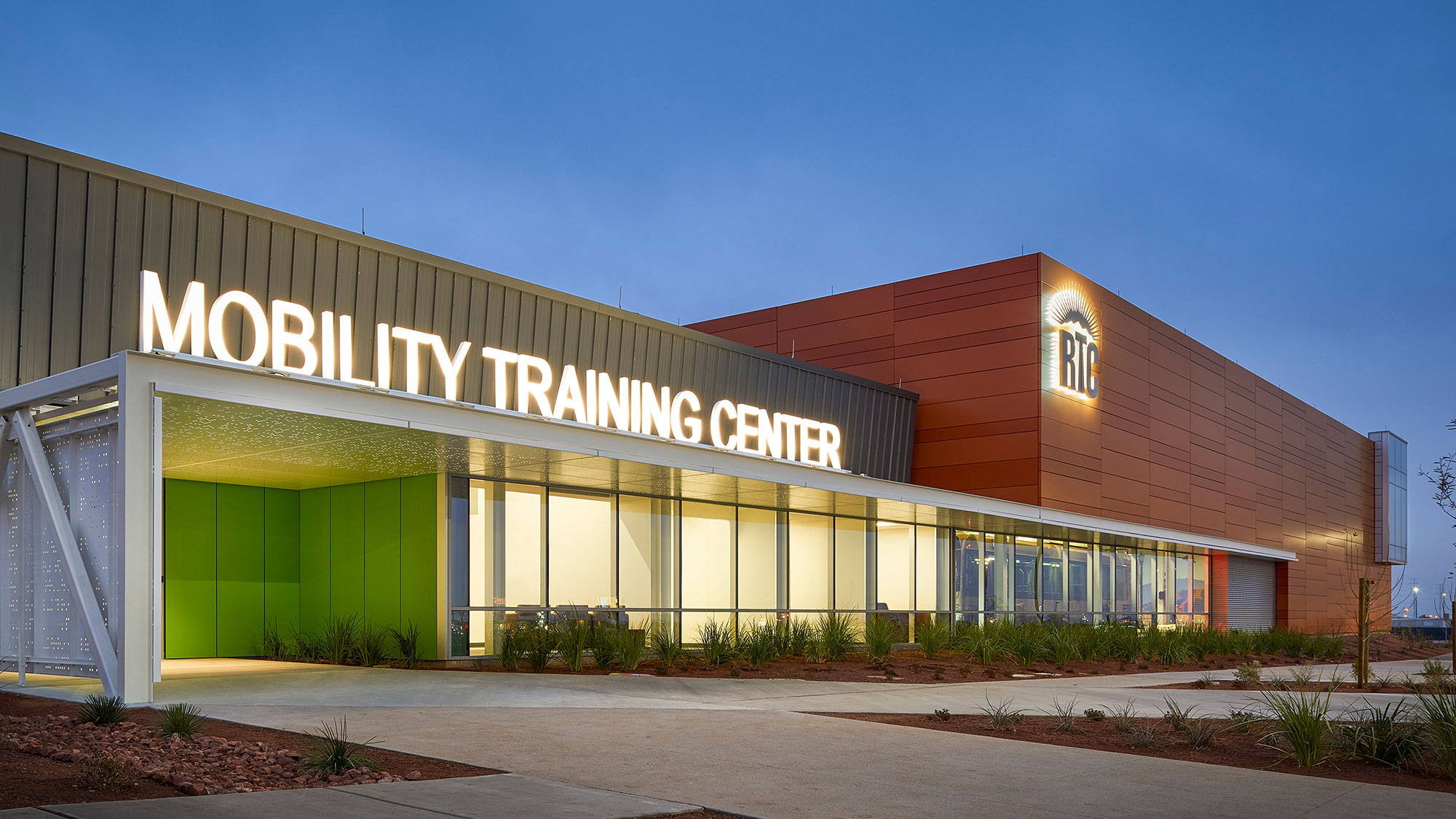 7. RESILIENCE: Design for a resilient future.
Construction is one of the most expensive things we do — it is expensive economically, environmentally, and emotionally. We really can't afford not to get it right.
For every $1 we spend making our buildings resilient and adaptive for future uses, shocks and stresses, we save $4-$13 in recovery or retrofit costs, according to a National Institute of Building Sciences 2019 hazard mitigation study.
The Houston Advanced Research Center, completed in 2017, survived all the recent Houston area floods, and continued operations uninterrupted due to 100% on-site heating, cooling, ventilation and power from a rooftop PV array. The project was built 10% below the market-rate construction cost, and the performance results equate to 76% in energy reduction and net-positive energy — a significant cost savings. It's on track to be one of the first net zero energy buildings in Texas.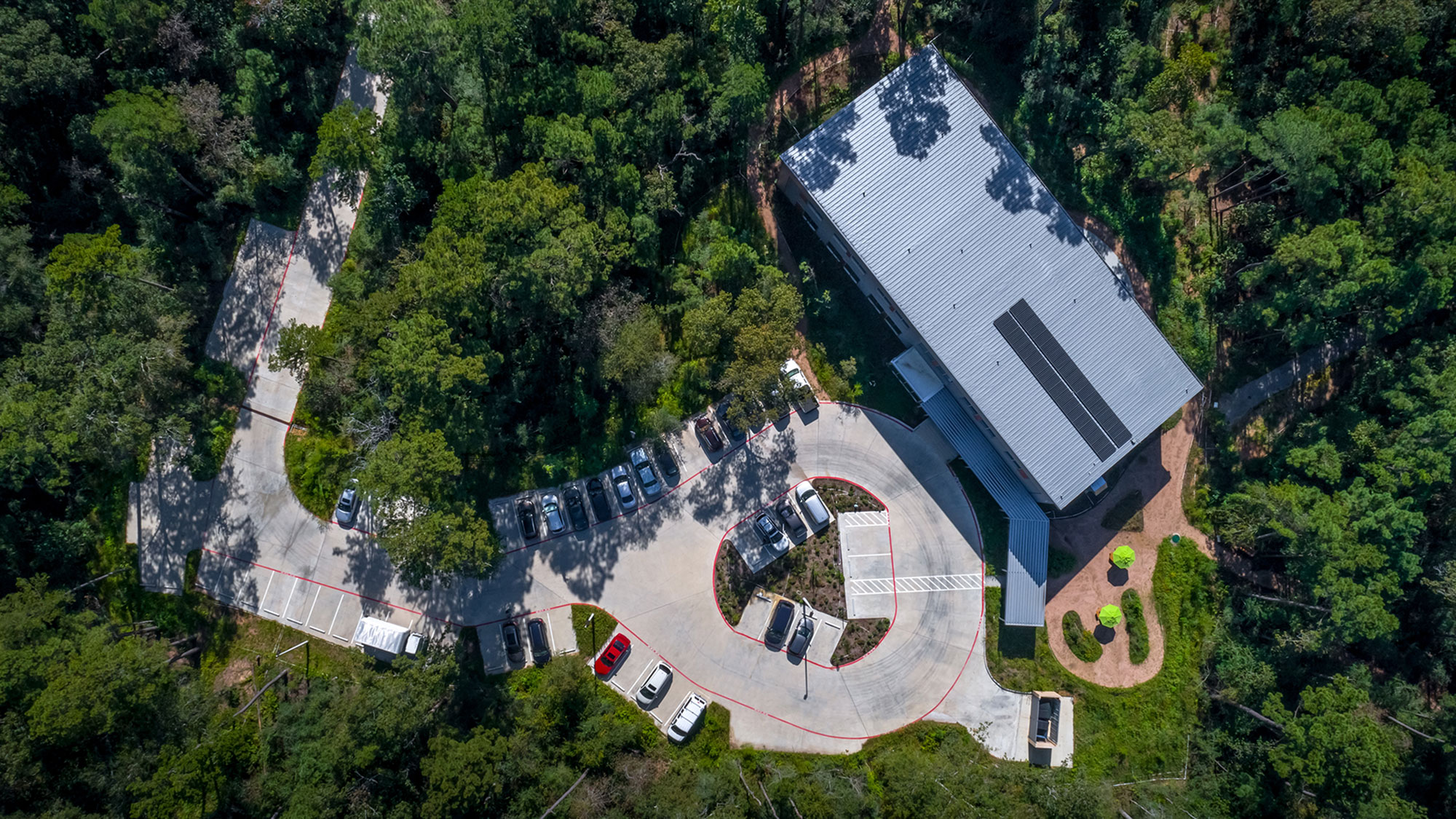 The climate events of the past few years drive home that we must make changes in the way we design, build, and use spaces and buildings. Since we must make changes, let's make the right ones. This is our opportunity to create the world we all want — healthy, inclusive, and resilient. We can't go back and avert our current problems. But we can tackle them now — with energy and optimism — all together, and all in.
For media inquiries, email .