As Wildfires Rage in California, Designing for Resilience Becomes Even More Urgent
By Anthony Brower
The recent wildfires in Northern and Southern California have caused widespread damage and destruction, resulting in at least 60 deaths, more than 240,000 acres of devastated land, and more than 270,000 evacuations. The largest of these fires, Camp Fire, which is located near Chico in the northern part of the state, is the deadliest and most destructive in California's modern history. Approximately 150 miles away in San Francisco, unhealthy air quality from the fire's smoke caused school closings across the city and health advisories to stay indoors.
With global temperatures on the rise, climate change is intensifying weather events, such as drought, heat waves, and hurricanes, which accelerate wildfires and severe flooding. No longer anomalies, these natural disasters have become regular occurrences, with catastrophic consequences.
The effects of climate change are increasingly evident—and urgent. While wildfires are part of the planet's natural carbon cycle, when combined with the increasing amount of carbon expelled into the atmosphere by human activities, the cumulative and comparative impact is staggering. Extreme fires can release as much CO2 into the atmosphere in a week as all of California's vehicular traffic does over the course of a full year. What can we do to create resiliency and mitigate the impact of these increasingly frequent and powerful events? Architects, planners, and designers must look towards the future to make cities, communities, and buildings safer and more resilient. The industry must generate new ways to set places up to recover at full strength from disaster. We call that power "resilience," the adaptation side of the climate change adaptation/mitigation equation.
The other side of tackling climate change is mitigation—finding ways to limit emissions by using everything from new green materials and building techniques to rethinking how spaces and resources are used. Fire-resistant materials and emergency reservoirs aren't enough to fend off extreme fires. Through better urban design and planning, for example, cities can reduce urban sprawl in areas where natural land and residential areas intersect and use landscaping or "defensible spaces" as a tool to mitigate potential fire hazards.
Success depends on taking a challenge like climate change seriously. Design needs to shift from merely responding to events precipitated by climate change. Instead, we should anticipate — and design for — what climate might ultimately become in the future.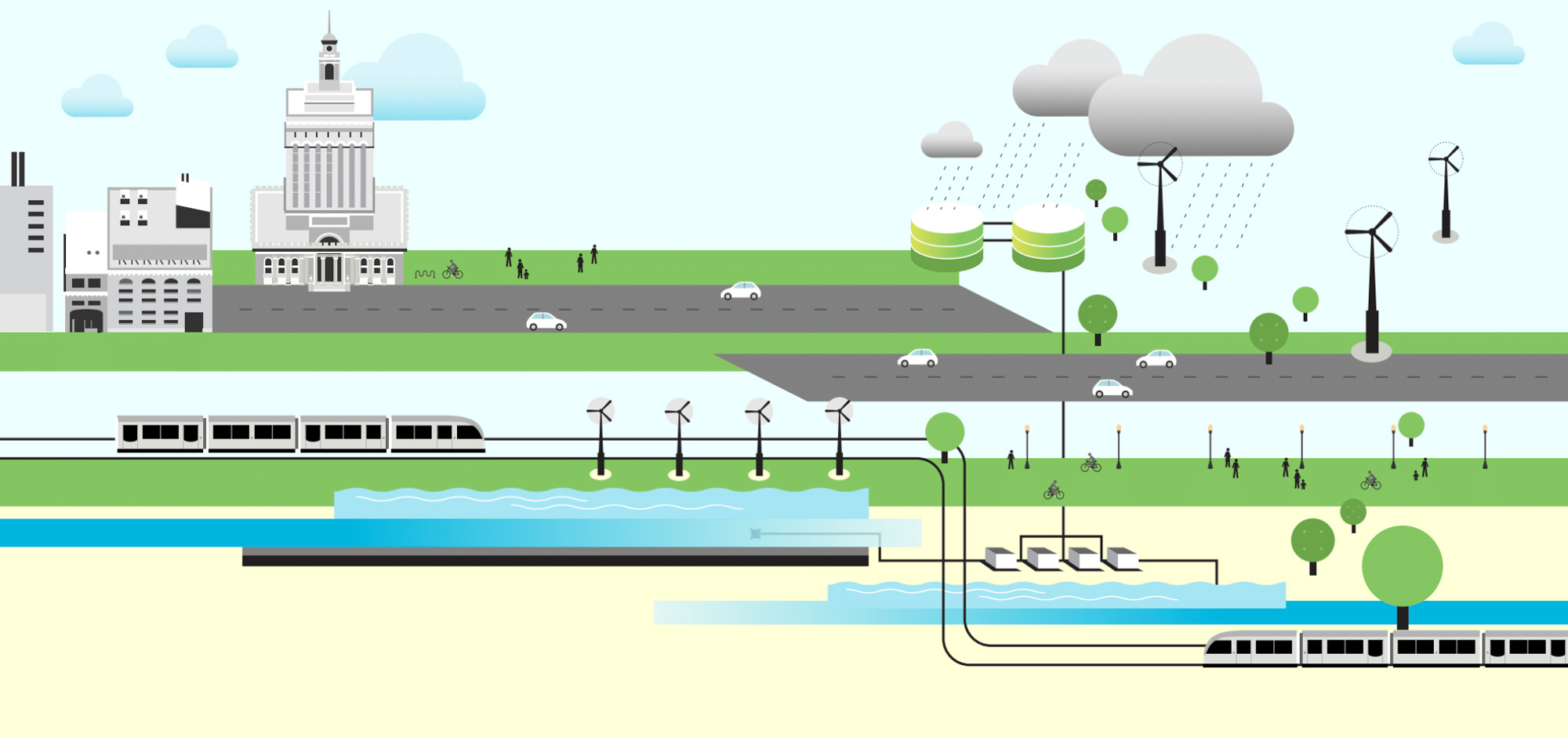 Everyday resilience
Cities are where interventions have the greatest potential for impact. Especially for mega-cities such as Mexico City, New Delhi, and Shanghai, resilient design is critical. Our buildings and cities will have to experiment with new climate responsive forms. Some cities are adapting climate-ready infrastructure that can withstand extreme weather events and come back into operation quickly, such as deploying microgrids ahead of hurricanes.
At the urban scale, resilient design begins with strategic planning and qualitative analysis, allowing planners to define resilience indicators for a particular context. The first step is to establish priorities, like access to fresh water or community connection. The scope of resilience, though, extends beyond immediate threats like storms and sea-level rise to encompass environmental, social, and economic factors. We refer to this approach as "everyday resilience," a concept that speaks to how a wide variety of indicators affect the overall social, environmental, and economic health of a community. The idea is simple: the things that are important for environmental resilience (such as smart densification and transit-oriented development or green space) are also important for promoting economic mobility and healthy, cohesive urban communities. And, when we think about designing communities so that they have everyday resilience, we're anticipating how a project will be used on a day-to-day basis—not just in case of an emergency.
The importance of everyday resilience is underscored by how an individual building's carbon footprint can have an immense impact. This is one of the central insights of Gensler's Impact by Design 2018 report, in which we make a case for more resilience planning, which includes both design strategies and the adoption of transformative practices that change how we approach climate change. The report introduces six strategies for positive impact that we believe have the greatest potential to improve the resilience of the environment in the coming years, from selecting low-impact materials to finding new strategies to reduce and procure energy.
Whatever the intervention, it's clear: the potential for impact is vast, and the time for climate action is now.
Learn more about Gensler's six strategies for positive impact and download the full Impact by Design report at: gensler.com/resilience.