How Affinity Districts Find Purpose in a Transactional World
August 02, 2022 | By Nate Cherry, Christopher Rzomp
After more than two years of isolation and cultural division, people are eager to discover the things that bring them closer together. The pandemic and other global events have encouraged people to make cities more inclusive, equitable places for human interaction and self-realization. Affinity districts offer an alternative to the purely transactional approach of selecting a place to live or work and herald a return to values-based planning and urban design.
Affinity districts are a new idea that has gained popularity in the recent post–COVID pandemic/endemic era. Unlike conventional projects, affinity districts do more than mix uses — they promote a sense of community around shared activities, especially mobility, food, and creativity. As cities struggle to get workers back, affinity districts can create new reasons for people to come together beyond just working or living. Affinity districts promote the idea that collective behaviors are essential to problem solving. They focus on behaviors, not just buildings.
Established urban neighborhoods practically impose a behavior on their residents; bodegas and corner shops are the organic responses to narrow streets and limited car ownership. Residents patronize businesses they like because they identify with those shops and with their neighborhoods. In new mixed-use developments, careful curation must stand in for organic patterns. In an affinity district, tenancy is deliberate and purpose-driven.
We have already witnessed a sea change in mixed-use/commercial environments in that the transactional "basic needs" of commerce are being met online, or "just-in-time." In this new landscape, the physical environment must take on the role of providing human connection and creating places in which people can commit to themselves, with elements that educate and inspire. While affinity districts may be more easily realized in master-planned environments, there is also great potential for reimagining existing urban neighborhoods through this lens. The framework for affinity districts consists of three tenets: activation, orientation, and regeneration.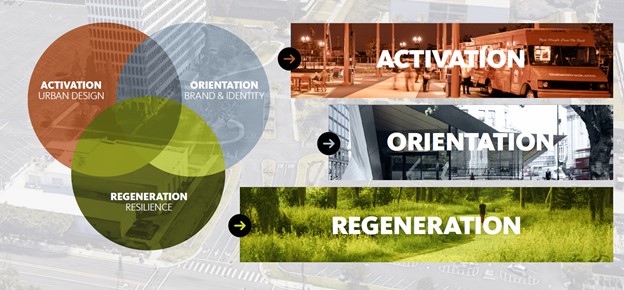 Activation: Use the public realm for human interaction and contemplation. Bring people together in a variety of ways, under the premise that human health is linked to shared experiences and personal growth. Activation relies on a robust public realm that supports a variety of activities that provide a reason for people to participate in and gain allegiance to their community.
Orientation: It is important that a community provides its residents some basic services that make its community legible and safe. Orientation covers a wide variety of design and performative features of a district — from community health care and public service opportunities to celebration of the history and legacy of the community.
Regeneration: Traditional cities are extractive in that they take natural resources and turn them into products for society to buy and trade. The future city will be regenerative, producing not only power and materials that will renew the city but also providing access to nature and biophilic processes that improve our personal well-being.
We have established how affinity districts differ from typical mixed-use projects. When thinking about affinity districts, key strategies should include:
A shift from a "place to go" to a "place to grow." As a result of COVID, many urban residents are now working a significant period of the work week out of their home. According to our global workplace research, what many workers miss about the office is the opportunity to share ideas, learn, and grow — both professionally and personally. While the office still plays a central role, coffee shops, libraries, parks, and other "third places" are increasingly critical components in the new workplace ecosystem.

Affinity districts promote the idea of personal and professional growth as something done best when part of a community, what is often termed "creative collisions." Affinity districts often have a variety of activities that encourage people to come together in numerous ways to exchange ideas, debate, and learn: maker spaces, grange halls, community forums, mobility hubs, and educational offerings are important features to have on site. A calendar of daily, weekly, monthly, and seasonal events that cater to a variety of interest groups is a good gauge of how healthy an affinity district is functioning.
Diversity of mixed uses, both on the vertical and horizontal axis: Affinity districts provide mixed uses stacked in close, but also interactive layers along the horizontal axis that blur inside and outside, give people more choice in terms of how they want to live and work, while also providing a greater mixing of people and interests. A greater diversity of land use typologies is typically integrated (for example, housing typologies can range from luxury to affordable, and demographics can range from senior living to student housing), encouraging greater mixing of cultures and interests within the district.
Small blocks, shared streets, active spaces. Instead of thinking about streets as a grid, affinity districts take an approach best described as a "tartan plaid" of blocks, pedestrian ways, and streets that vary in scale and relationship of building face to ground plane, creating moments of discovery and surprise. There is a strong emphasis on pedestrianization of the district by eliminating cars on at least one frontage of every block within the core to accommodate community-oriented events and non-automotive mobility throughout the day.
Mobility choice: Affinity districts are often under parked by traditional standards, instead emphasizing mobility choices and district parking strategies that encourage people to use transit, walk more, and interact along the ground plane. "Intentional inconvenience" is important to get people to slow down, live in the moment, and be a part of the community. Mobility hubs, which promote active mobility, are an important feature in affinity districts.
Wellness and regenerative design: Affinity districts have an abiding interest in human wellness and creating a sense of well-being through connection to the land. Biophilia in design, use of renewables both in terms of building materials and energy production, on site agriculture, urban forestry, PV arrays, recycling programs, composting, and community service programs all provide closer connections to the community, as well as the natural world.
Not an Innovation District
"What affinity districts do is significantly different from other types of districts, specifically innovation districts. Whereas innovation districts are tech centered, business oriented, and institution anchored, affinity districts are humanistic, community oriented, and connected to the land," says Lauren Adams, a strategist in Gensler's New York office.
Innovation districts require strong governance and must shift priorities when institutional leadership changes. Affinity districts are more community organized, with input from developers or non-profits, such as Business Improvement Districts or Community Development Corporations.
One of the oldest examples of an affinity district is Midtown in Manhattan with Bryant Park. Whereas in the '80s, the park became associated with urban blight and the challenges of making the city attractive, a renovation, combined with aggressive event programming and maintenance, made the park viable again — not only as a hub for workers around midtown but as a cultural hub in the center of the city. Amenities such as restaurants, passive seating areas, canopy shade trees, a fountain, and flexible seating all support a central lawn, which can be quickly converted to an event set up.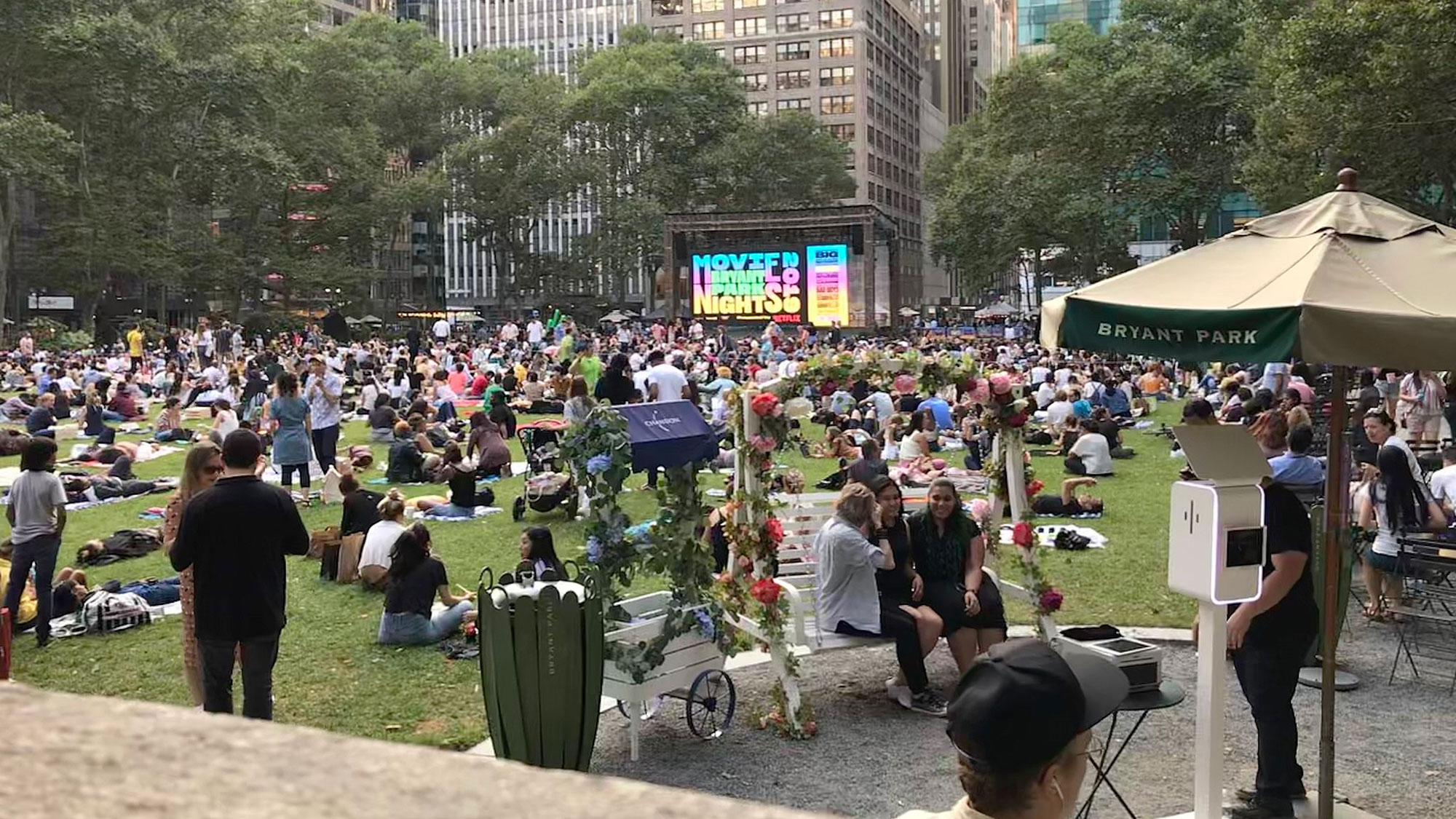 Affinity districts are real neighborhoods where people live, work, and build community, with a variety of amenities and services that promote human interaction. According to Imran Aukhil in the New York office of HR&A, "Affinity districts offer a framework for planning a mix of uses that prioritizes community and shared interests. Though different from innovation districts, which often feature an institutional anchor or mission, affinity districts promote an experience of alignment between the interests of people and urban design, encouraging the collaboration and interaction that are fundamental to innovation and community-building."
Although they cannot answer every challenge, affinity districts present a new model for city life — one that promotes human growth and behavior as the grist for change in how we interact with one another.
For media inquiries, email .